Students snub Can Tho vocational schools
Last update: 10:11 | 21/05/2018
VietNamNet Bridge – While many universities in Can Tho City have managed to reach 65-100 per cent of their enrolment quotas this year, many vocational schools and colleges there are struggling to find students since admission to universities is easier than ever before.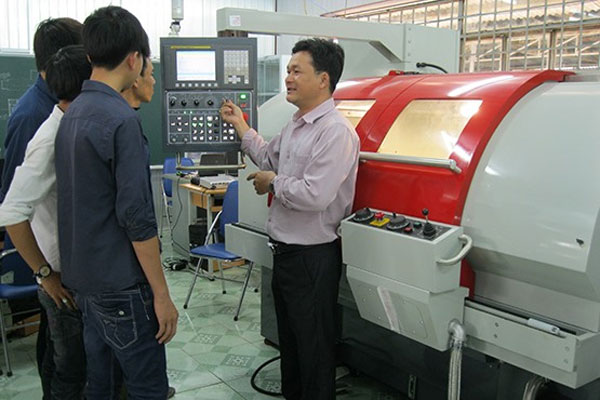 Many vocational schools are having problems recruiting students this year after the scrapping of entrance exams has made entry into university easier. – Photo giaoduc.edu.vn
According to the city Department of Labour, War Invalids and Social Affairs, there are 10 vocational colleges and 14 vocational high schools in the locality.
According to the Can Tho Job Centre, 21 per cent of job vacancies on average require at least university graduates, 12 per cent require college graduates and 28 per cent require high school graduates.
Earlier this year the Ministry of Education and Training has scrapped minimum entrance scores for universities, colleges and vocational schools, except for teacher training institutions; this is to provide more opportunities for students to attend universities and make it easier for the lesser-known universities to attract students.
This change, however, made it harder for vocational schools to recruit students.
Vocational schools say that more students are applying to universities than colleges after the change.
Many apply to universities to be close to their friends or pick saturated career streams, they say.
Hau Giang Community College only managed to admit 250 students to its college last year — and none at all to its high school — and all of them had been unable to get admission to university.
It is feared that many schools could be forced to close down this year.
Dr Ho Thanh Tam, vice principal of Can Tho College, said to satisfy employers and reduce the number of unemployed graduates, frequent surveys of job demands and proper career/university guidance are important.    
The Ministry of Education and Training should adjust universities' admission criteria, which should not be based exclusively on school scores since some students may not be able to keep up at university, he said.
Huynh Ngoc Chinh, head of the Can Tho Technical Economic College's education department, said the ministry should reintroduce university entrance tests to prevent unqualified students from entering universities and high jobless rates among graduates.
VNS