Students' award-winning ideas, creativity lauded by scientists
Last update: 07:10 | 09/04/2018
VietNamNet Bridge - Scientists have been surprised by students' creativity and practical ideas, including a non-Braille book reader for the visually impaired and a smart garbage can.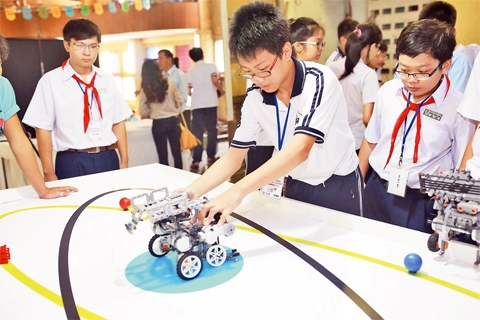 Students' creativity is lauded by scientists
Finger reader for the blind
Five students from Da Nang University of Technology won first prize at ASU/AWS EduHackathon 2017 organized by Arizona University for their FingerReader, a machine that supports visually impaired people to read non-Braille books. 

The ASU/AWS EduHackathon 2017 was co-organised by Arizona State University, BUILD-IT Alliance, and Amazon Web Services (AWS). The Hackathon focused on solving problems that are present in Vietnam and many countries around the world.

This year, EduHackathon attracted 17 teams of 68 students from different universities in Vietnam.

Curiosito, the team of five students, Nguyen Thai Hoang, Nguyen Khanh Trinh, Nguyen Thien Phuoc, Ta Sinh Phuc and Bui Le Dat, impressed the jury with the way they applied technology to improve the quality of life of people.

The students invented a device which helps people read books without the support of other people. The device has simple structure and looks small and compact with a size just equal to a cigarette pack.
Scientists have been surprised by students' creativity and practical ideas
The device includes a small camera mounted on a 3D box specifically designed to be wearable on the hand. The camera is connected with a Raspberry Pi embedded computer which receives and transmits data to the cloud.

When readers point their hands to letters in a book and to photographs, the system will put data in the cloud for processing and then receive data back to the audio file.

The device converts letters in books to voice so that the visually impaired can hear.

With the device, one can read all kinds of books, not only books in Braille.

Smart garbage can

Tran Gia Huy, a student in Da Nang, showed his smart garbage can at an event for high school students. Tran The Vu from the Vietnam-UK Institute for Research & Executive Education said the idea was interesting and highly practical. 

The smart garbage can automatically move to dumping grounds after it becomes full.

"It will help ease the hard work of cleaners," Huy said, adding that the garbage can move on the routes set for it and return.

Meanwhile, Nguyen Quang Hao, a 10th grader at Phan Chau Trinh School, has created a green box that grows vegetables.

Hao will receive support from technology experts to turn the idea into reality at Maker Innovation Space at Da Nang University.
RELATED NEWS
VN student wins US invention prize
High school students win top prizes at tech creativity competitions
Mai Thanh