Native Russian teacher has shared culture since 1980s
Last update: 10:05 | 02/12/2017
VietNamNet Bridge – In contrast to the number of English, Chinese and Korean teachers in Vietnam, Natalia Zolkina stands out as being one of the few Russian-language lecturers in HCM City.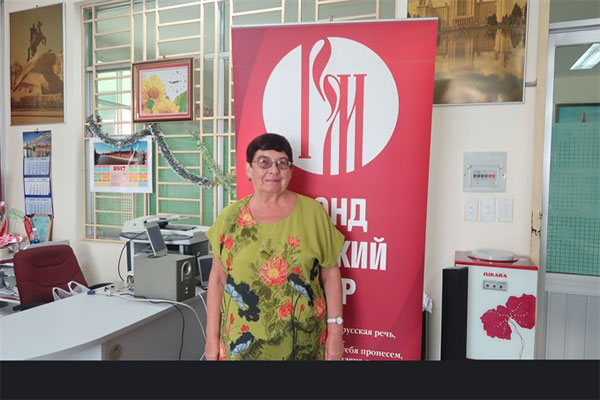 Language link: Natalia Zolkina, a Russian language lecturer and director of the HCM City University of Pedagogy's Russian Centre, has won national friendship medals for her teaching contributions. VNS Photo An Phuong
Zolkina first visited Vietnam during the early 1980s when she was assigned by the Ministry of Education and Training and other authorities to work in Hanoi and the University of Pedagogy in HCM City for two years.
"I was the first lecturer to teach Russian language and culture in HCM City then," she said.
Zolkina returned to Vietnam in 2008 and later took up a position as director of the HCM City University of Pedagogy's Russian Centre two years later. She is the only native Russian speaker at the centre.
"I visited other countries before Vietnam, and Korea was one of them. Though it provided me with better conditions, I've decided to stay in Vietnam as my heart belongs here," she said.
"Maybe this explains why I've found no troubles living here, considering that I could not understand either Vietnamese or English," she said. "Vietnam is also where I met my husband. We got married in Hanoi."
Under Zolkina's administration, the Russian Centre has become a common house for individuals interested in Russia and its culture.
Multiple courses on Russian language, culture, cuisine and art are offered at the centre, together with activities including meetings between local students and Russian artists and experts, contests on rhetoric and culture, and Sergei Esenin's poetry readings, among others.
"All aim to improve students' language skills, spread the distinctive Russian culture to the public, and strengthen the Vietnam--Russia relationship," she said.
Sometimes, Zolkina travels to neighbouring provinces to launch Russian clubs at provincial universities.
Nguyen Thi Hang, dean of HCM City University of Pedagogy's Russian Faculty, said that Zolkina's extensive experience had brought a breath of fresh air to the teaching of Russian.
Zolkina provides students with lessons that deal with different fields.
"Her significant contributions to Russian language development in Vietnam earned her the Vietnam Friendship Medal in 1981 and Vietnam – Russia Friendship Medal in 2008," Hang said.
Among the different subjects that Zolkina teaches, she most enjoys "How to Teach Russian as a Foreign Language".
"Since the Russian language itself is difficult, it requires learners to understand pedagogical methods specific to the language in order to effectively teach other people," she said.
The demand for Russian is high, especially in the tourism and translation sectors, she added.
"An insufficient number of Russian-speaking tour guides has made Russian tourists, especially the older generation, hesitant to visit Vietnam. Similarly, the lack of Vietnamese–Russian language translators has left open many job opportunities," she said.
"I've had many friends who complained about Phan Thiet and Mui Ne where they couldn't find a tour guide with Russian-speaking skills," she added.
Though it might seem that Russian language courses are not popular, it is actually one of the six most common languages in the world and many local students are attending technology courses in Russia, she explained.
"Knowing multiple languages boosts people's chances to land their dream job. Considered that the bilateral relationship between Russia and Vietnam is getting better, don't be afraid of the Russian language," she said.
As for Zolkina's future plans, she will continue to teach Russian in Vietnam and participate in language development programmes organised by Russia's language association.
"I'm actually a bit old to do anything too ambitious but retire," she laughed, adding that she had been working in the field for about 40 years.
"I'm happy to work and live in Vietnam as it has become my second hometown. I'm also positive about the development of Russian language in Vietnam." 
by An Phuong
Source: VNS