Vietnamese pour money into casinos for Chinese players
Last update: 15:53 | 15/02/2014
VietNamNet Bridge – Vietnamese investors are considering building casinos worth billions of dollars in Quang Ninh province and Phu Quoc Island to attract Chinese travelers after noting the sharp rise in the number of Chinese travelers to Vietnam recently.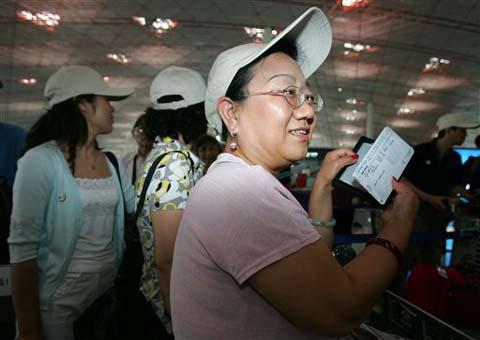 China People's Daily reported that 97.3 million Chinese traveled abroad in 2013, increasing by 16.8 percent over the year before, predicting that the number would outstrip the 100 million threshold this year.
The sharp rise in the number of outbound tourists has been explained by the Chinese high economic growth rate maintained over the last three decades. There are more middle income earners who are willing to pay higher on travel. The Chinese increasingly high demand for travel has turned China a fertile market for the countries with developed tourism industries to exploit.
A report of UNWTO showed that Chinese travelers spent $102 billion during their trips in 2012, the highest in the world.
However, every Chinese only spent $75 a year to travel abroad, which was much lower than $266 of the US and $1,000 of German, Canadian or Australian. But this means that the great potentials are still there to be exploited.
A lot of Asian and European countries have simplified their procedures on granting visas to Chinese in a hope to attract more Chinese travelers. The UK has recently launched a campaign to lure Chinese to the country in a plan to attract 650,000 Chinese by 2020.
Thailand has printed tour books in Chinese language to satisfy the travelers from the large country.
Vietnamese investors have been urged to "take actions" to "make money" from the "stream of Chinese people."
A report showed that more than 1.9 million Chinese came to Vietnam in 2013, an increase of 33.5 percent over the year before. Supposed that every Chinese spent $75 in Vietnam, then Vietnam earned $142.5 million from Chinese in the year.  
Analysts have also pointed out that Vietnam, with its great advantages, can attract the Chinese who come to Vietnam for both the business and travel purposes.
The Chinese foreign direct investment in Vietnam in 2013 soared to $2.3 billion from $345 million in 2012.
Business Monitor International (BMI), a market survey firm, once predicted that most of the foreign travelers to Vietnam would be from Asia Pacific, especially from China, South Korea and Japan.
The firm forecast that 2.1 million Chinese would come to Vietnam by 2017. However, if noting that the figure reached 1.9 million in 2013 already, one would believe that the BMI's predicted figure would turn realistic sooner than expected.
Analysts believe that it is now the right time for Vietnamese investors to pour money into restaurants, hotels and entertainment services.
VinaCapital is planning to develop a resort-casino complex worth $4 billion in Quang Nam province. It is also developing another resort in Da Nang City, also in the central province.
VinaCapital's CEO Don Lam said in the eyes of the investor, the central region of Vietnam is in its first stage of development. It takes 1.5 hours only to fly from the southern part of China to the beautiful beaches. This would be really attractive to Chinese. Especially, the hotel expenses here are clearly cheaper.
A series of big casinos is expected to arise in Quang Ninh province and Phu Quoc Island, and some other localities.
The investors have got investment licenses for the Hoang Dong casino project in Lang Son province, capitalized at $2 billion, Saigon Atlantic in Ba Ria – Vung Tau ($4.1 billion), New City in Phu Yen ($4 billion).
NCDT