Start-ups need more support policies
Last update: 15:30 | 15/08/2018
Viet Nam still faces a shortage of policies for start-up development. Ministries therefore are striving to research and propose to the Government new policies for start-up community development, heard attendees at a conference on investment in start-up and innovative firms held in Ha Noi on Tuesday.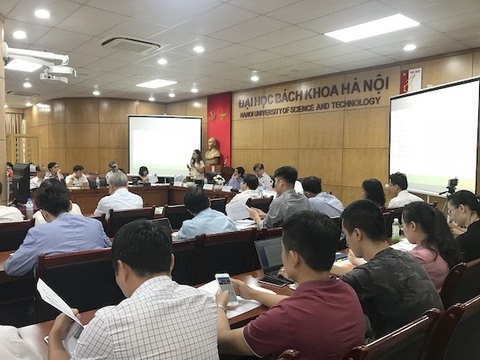 The conference aimed to share new regulations and policies that encourage investment in start-up and innovative companies under the national start-up support scheme by 2025 called Project 844; and Decree 38/2018/ND-CP on investment in small-and-medium start-ups and innovative firms, which took effect on March 11, 2018.
Phan Hoang Lan, from the National Agency for Technology Entrepreneurships and Commercialisation Department (NATEC) under the Ministry of Science and Technology (MOST) said Decree 38 created a strong consensus among businesses. Many investors have started to pay attention to Vietnamese start-ups after the encouraging policies were introduced.
"Policies relating to start-ups in Viet Nam are still quite new. It will take three years for the country to complete a legal framework as well as support policies in the sector," Lan said.
For example, the Government has only given funds to research and development at start-ups and innovative firms. Those relating to market research and expansion in international markets have not yet had support policies.
Sharing the sentiment, Trịnh Thị Huong from the Enterprise Development Agency under the Ministry of Planning and Investment (MPI) said Viet Nam does not have investment models such as transaction floors calling for capital or floors for start-ups.
Before promulgation of Decree 38, investment funds for start-ups and innovative firms were mainly foreign ones. Local investors had operated under the company form. In addition, domestic investors have found it hard to establish an investment fund for start-ups and innovation under the international model as they could not meet requirements on establishment conditions and the Law on Securities. Local investors therefore had not participated in investment for start-ups.
Huong said Decree 38 supplemented a new investment channel on investment funds for start-ups and innovative firms. It provides detailed regulations on investment for start-ups. The start-up investment fund does not have legal status. It can receive capital contribution by a maximum of 30 investors.
Capital contributions could be in Vietnamese dong, gold, land use rights and other assets, which could be valued in Vietnamese dong. Investors are not allowed to use loans to contribute to the fund.
The fund could deposit their money at commercial banks and invest less than a half of their charter capital after receiving investment. All the capital contributions and assets of investors must be independently audited by fund management companies.
Investors could establish and hire a company to manage the fund.
"Although this decree does not entirely help attract investment for startups, it is a move to help streamline innovation through encouraging the establishment of investment funds for start-up and innovative companies. However, the Decree does not have a guiding circular. As a result, the MPI is still adding industries for start-up and innovation investment," she said.
MOST said Project 844 would continue to study investment policies and mechanisms for start-ups and innovative firms to attract investment from both local and foreign investors, especially Vietnamese overseas.
Hò Nghĩa Thú, chairman of OHSHO Company, said the connection between businesses and investment funds for start-ups has been limited. Decree 38 was expected to be a bridge connecting investors.
"The decree could bring more preferential mechanisms to investment funds," he said, suggesting that the Government could consider the piloting of transaction floors to call on investment and build links between investors and start-ups and innovative firms. — VNS