Last update: 11:54 | 16/07/2018
Expert: Low share prices attractive to investors
The recent correction on the local stock market is necessary and provides a buying opportunity to investors as share prices have turned much more affordable, said economist Dinh The Hien.
Speaking to Dau Tu Chung Khoan website, Hien said stocks remain attractive to investors at the moment. The property market is seen bringing low profitability in 2108 while the domestic gold price is still around VND2 million per tael higher than the global price.
Investing in the greenback is not a wise choice as the dollar may just appreciate by a maximum 5% against the dong. Besides, the Government is still able to control the dong-U.S. dollar exchange rate.
Meanwhile, share prices have been attractive after the recent deep correction, offering a good buying opportunity to medium-term investors, Hien said.
Vu Quang Dong, general director of Vietcombank Fund Management Company, said investors overreacted to market risks as the Government has recognized external challenges and is ready to apply flexible policies to meet macro-economic targets.
"What we should do is to wait and see how the Government will deal with the challenges," Dong said on vietstock.vn.
The market continued unusual fluctuations, going through eight recovery sessions in a row in early June after slumping rapidly in April and May. It has resumed its downturn over the past month, with a heavy loss on July 5 sending the VN-Index down below 900 points.
There are many reasons for the market decline, including the sharp rallies of a number of large caps in 2017 and the first quarter of 2018. In addition, the greenback has turned firmer after the U.S. Federal Reserve has lifted up interest rates twice this year, with three more hikes predicted from now to the end of the year.
However, according to Dong, the local economy remains solid with positive growth rates of the gross domestic product, production and service sectors reported in the second quarter. Therefore, the market still has a bright outlook in the long term, with listed firms seen obtaining better business results in the coming time.
The VN-Index rose for a second day last Friday, closing up 1.25% at 909.72, but trading value on the Hochiminh Stock Exchange remained subdued at VND2.8 trillion.
Despite the back-to-back gains, the index fell 0.9% for the week for a fifth straight week of losses.
Banks led the market higher, including VCB, CTG, BID, VPB and MBB. Retail group FRT hit the ceiling price, extending a 13% jump over the last four days.
Urgent measures in the wake of trade war
The ripple effects from the China-U.S. trade war may gain strength to become a powerful storm battering the global economy, and for those countries in close proximity to the world's two economic superpowers, consequences will certainly be more devastating. Numerous countries, including Japan and South Korea, have voiced their concerns of late over the implications of the trade war, and are quickly preparing themselves for the worst-case scenarios. Such changes serve as stern warnings to Vietnam.
Early this month, the U.S. decided to slap 25% tariffs on US$34 billion worth of Chinese goods entering the U.S., and last Tuesday, the Trump administration announced it would slap 10% tariffs on an extra US$200 billion worth of Chinese commodities.
Although China has immediately retaliated, alongside efforts to challenge the U.S. moves at the World Trade Organization, it is apparent that much of goods from this country will hardy be able to surmount the high barriers stateside. And, as a matter of course, Chinese manufacturers will seek all possible ways to channel their products to other markets, and the Vietnamese economy will take a direct hit.
A readily-seen measure taken by China is to allow its currency, the yuan, to depreciate against the greenback. Yesterday, the exchange rate hit 6.6899 Renminbi to the dollar, which shows the Chinese currency has weakened by 0.37% compared to two days earlier, and by 1.18% against one week ago. This steep weakening is apparently an effort to sharpen the competitiveness of Chinese commodities on the global market, and Vietnamese consumers will see Chinese goods increasingly cheaper.
In the short term, Vietnamese-made products will find it hard to enter the Chinese market, which itself will also face a glut of local products, while Chinese goods will further penetrate Vietnam, pushing local manufacturers to the corner. In the long run, if the trade war persists, more Chinese enterprises will seek to shift their manufacturing to Vietnam to dodge the U.S. sanctions, making it even more devastating for local manufacturers.
Although the grave challenges are looming large, it seems little effort has been made to safeguard local consumers and manufacturers altogether. From macroeconomic management, a more visible reaction is perhaps a move by the State Bank of Vietnam to weaken Vietnam dong a little against the greenback, but the extent of depreciation still lags the Chinese move. From other agencies like the Ministry of Industry and Trade or the Vietnam Chamber of Commerce and Industry, no substantial measures have been tabled or discussed.
There are numerous issues to worry about now. That could be the loose border to be further taken advantage of by Chinese traders; that could be legal loopholes allowing for trade fraud such as the fishy origin of commodities to cheat both local consumers and other international buyers; and that could be the absence of effective trade measures like antidumping and tax-evasion lawsuits to hedge against unfairly-priced Chinese goods.
Therefore, it is high time for all relevant agencies to roll up their sleeves to prepare counter measures.
Numerous hi-tech agriculture enterprises licensed: ministry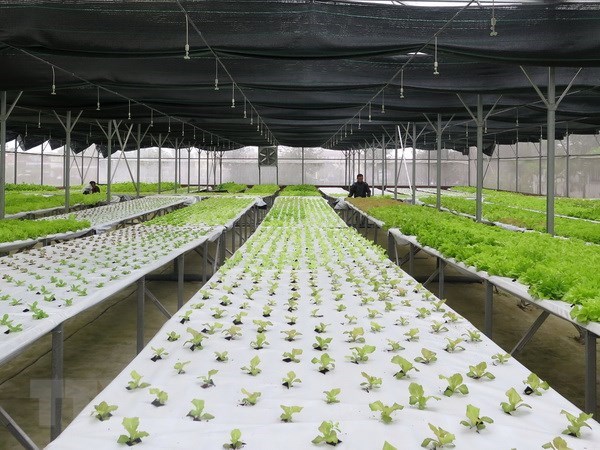 As many as 40 hi-tech agriculture enterprises have been granted licenses so far, including 12 ones operating in cultivation, 19 in aquaculture and nine others in animal husbandry, according to the Ministry of Agriculture and Rural Development (MARD). 
As of June 2018, Vietnam has 35 hi-tech agricultural zones established under decisions issued by the Prime Minister and local authorities. 
Under Decision No. 575/2015/QD-TTg on approving the master plan of hi-tech agricultural areas and zones by 2020 with orientation to 2030, eight hi-tech agriculture zones have been implemented. They are in Ho Chi Minh City, Can Tho city, and Binh Duong, Khanh Hoa, Lam Dong, Thai Nguyen, Thanh Hoa and Quang Ninh provinces.
Meanwhile, there are five zones recognised in Kien Giang, An Giang, Phu Yen, and Lam Dong provinces, which specialise in shrimp farming, flower and rice growing.
MARD Minister Nguyen Xuan Cuong said although the number of hi-tech agricultural areas is small, thousands of billions of Vietnamese dong have been invested in the field by enterprises and localities in order to promote hi-tech application in agriculture production since issuance of the Law on High Technology.
The hi-tech application has been also included in national target, socio-economic and sci-technology development programmes at State and ministry levels as well as development tasks of sectors and localities, he added. 
Corporations, companies and cooperatives have cooperated with farmers in applying high technologies to produce goods in a large scale, thus bringing high economic efficiency.
Many hi-tech agricultural production areas have been developed nationwide such as high quality rice variety and rice production areas; fruit production areas meeting VietGAP standards; organic and safe vegetables production areas; and industrial-scale livestock areas meeting VietGAP and GlobalGAP standards. 
A credit package worth 100 trillion VND (4.32 billion USD) has been launched to encourage hi-tech and clean agriculture development. 
According to the State Bank of Vietnam, by the end of May 2018, outstanding balance for the field was estimated at about 40 trillion VND (1.73 billion USD), with 14,723 clients. The interest rates are around 5.3-6.5 percent per annum for short-term loans, and about 8.5-10 percent per annum for medium and long-term loans.
Agribank offers 15 trillion VND to support import-export
The Vietnam Bank for Agriculture and Rural Development (Agribank) is running an import-export assistance package worth 15 trillion VND (649.46 million USD) between now and December 20.
Accordingly, corporate and individual customers, who meet Agribank's current requirement for obtaining loans, are eligible to preferential loans for import-export activities, with short-term interests ranging between 5 and 5.5 percent per year.
Qualifying customers must carry out international payments and trade in foreign currencies at Agribank, while using at least three of the bank's services, for example in money transfer, card service, internet and mobile banking, and insurance.
They must also commit transferring foreign currencies generated from export contracts to their account opened at the bank.
The borrowers are not allowed to join other preferential loan programmes at Agribank at the same time.
Leaders of the bank said the import-export assistance package aims to realise the Government's policies on helping enterprises access bank loans and allocate capital for import-export business amid integration.
Founded in 1988, Agribank, the only commercial bank whose charter capital is completely owned by the State, now owns nearly 2,300 branches and transaction offices with almost 40,000 employees.
Land economy management spotlighted at Hanoi conference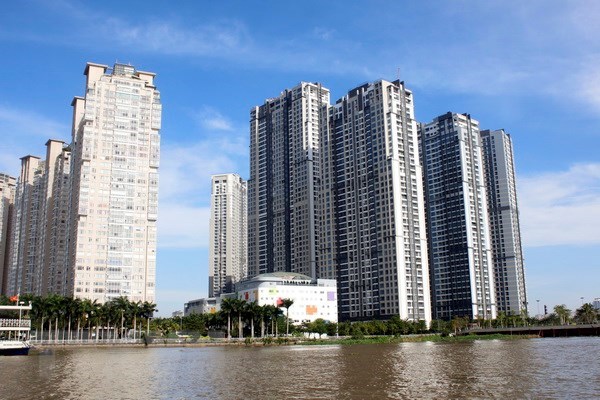 Domestic and foreign experts shared their experiences in land economy during a conference jointly held by the Ministry of Natural Resources and Environment (MoNRE) and the World Bank in Hanoi on July 13.
Addressing the event, MoNRE Minister Tran Hong Ha said that in recent years, the legal policies related to land use have been completed so as to catch up with management methods on international standards.
Making land economy suitable to the market is now an urgent need, requiring the review of land value as well as policy and management solutions for Vietnam in order to encourage the efficient use of land.
Experts from the MoNRE and other ministries, agencies, and research institutes, as well as foreign specialists from France and Japan, discussed various issues related to the building of land prices, while sharing experience in defining land prices and regulating added value from land.
They also debated matters regarding the amendments and supplementations to the Land Law; economic foundation of land policies; and the management of public land and land prices.
Dang Hung Vo, an expert from the World Bank held that Vietnam has yet to make full use of resources from public land despite high potential.
Currently, land tax remains low, while losses in public land value are still occurring in various forms, mostly due to corruption.
Payments from allocation and lease of public land currently account for 85 percent of income from land, he noted, adding that the land use fee and land rent, which are equal to just 30 percent of the market price.
He proposed that in the time to come, the Land Law should be adjusted to help reform the land financing system, as well as overcoming any challenges and obstacles in the public mindset to create more chances for national development.
Vice President of the Japan Association of Real Estate Appraisers Yamashita Masayuki said that the most important aspect in dealing with land economy issues is grasping the land price trend and gathering information related to land to clarify reasons behind land price fluctuation.
Therefore, it is necessary to improve the framework for land pricing and price listing towards pricing land in accordance with the market and take measures to adjust land fees in alignment with market fluctuations.
At the event, participants also gave recommendations on a number of topics, including supplementations of the Land Law and Government's decree on land prices; the formation of a land price appraising council; and the in-depth research of land economy to serve as a foundation for regulation mechanisms and the building of legal framework in the field.
Vietnam advised to make full use of sharing economy
Vietnam is in a favourable position to take advantage of development opportunities brought by the sharing economy, Chargé d'Affaires at the Australian Embassy in Vietnam Rebecca Bryant stated at a conference on this kind of economy in Hanoi on July 12.
According to Bryant, with a well-educated and young population and almost 70 percent of people owning smart phones, the country's economy stands to benefit significantly from these developing technologies.
She said that one of the greatest changes in recent years has been the development of the sharing economy, which is estimated to grow from 14 billion USD in 2014 to 335 billion USD by 2025, increasing by 22 times within 10 years.
"So while the sharing economy is still in its infancy at the moment, it will inevitably become a major part of the economy – both at a national and global level," she noted.
Sharing the same point of view, Nguyen Thi Tue Anh, deputy director of the Central Institute for Economic Management, stated that the nature of the sharing economy is a new business model which takes advantage of digital technologies, thus reducing transaction costs and accessing a big number of customers through digital foundation.
The sharing economy is different from the traditional model, as all transactions have been implemented only by a third party. It provides more choices to customers with cheaper prices. Individuals joining in the sharing economy can be part-time to provide them more jobs and increasing income.
The sharing economy has developed in the sectors of transport service (Uber, Grab, Lyft and Zipcar), tourism and hotel (Airbnb, VRBO), labour (Homejoy and Handy, TaskRabbit, Upwork), and financial service (Kickstarter, Indiegogo, Lending Club).
The sharing economy will become a consumption trend in the future and expand to different sectors in the upcoming time, Anh said, adding that people in developing countries are expected to join in resources sharing with others more than in developed ones. 
Sharing economy can also create new business methods, opening new business opportunities based on digital foundation and the fourth Industrial Revolution, she noted.
"With the sharing economy, the market would become more competitive with diversified services, thus bringing benefits to consumers. Moreover, it would also bring more investment opportunities, creating jobs ad increasing incomes," she added.
The sharing economy can be an opportunity for Vietnam's administrative reform toward e-government to effectively participate in the digital economy and Industry 4.0, while helping save natural resources, make use of abundant assets, protect the environment, and foster the development of a renovation and startup ecosystems, she noted.
However, the sharing economy can also have potential challenges, making new relations arise and causing benefit conflicts with traditional business methods.
"These challenges could be named as unequal competition, economic concentration and lack of tools to protect consumers online. State management agencies could struggle to control the new models, especially financial duties," Anh stated.
Therefore, she suggested the Government continue improving the business environment to adapt with the rapid development of the digital economy while ensuring equality between the new model and traditional one. Suitable policies should be studied to encourage the model development.
The building of an e-government and information and technology foundation should be accelerated, especially building an open data system to serve for State management on the sharing economy model, she added.
Deputy Minister of Planning and Investment Vu Dai Thang said Vietnam has not been an exception in the development of business model.
According to him, both benefits and risks for the economy and consumers have been seen. It was the reason for the building of new policies and amending the current regulations has been vital to fully tap into opportunities brought by the sharing economy while minimising negative impacts.
He added that Vietnam has been studying international experience on the impacts of big trends of digital technologies to the economy. This can help the Government have necessary information to provide a suitable strategy in the wave of the Fourth Industrial Revolution.
Hai Phong looks towards green port city by 2020
Prime Minister Nguyen Xuan Phuc has recently approved adjustments to the master plan on socio-economic development of the northern port city of Hai Phong to 2025, with a vision to 2030. 
Accordingly, Hai Phong will be developed into a modern green port city with breakthrough economic growth and a competitive service and industrial centre. 
It is hoped to become a key coastal economic area of the country and a centre of education and training, health and science-technology, and also serve as a crucial traffic hub.
By 2020, the city's population is expected to reach 2.1 million people with an urbanisation rate of 50-55 percent. 
The city's GRDP is hoped to account for 19.6 percent of the total GDP of key economic zones in the north, and 4.86 percent of the national GDP. 
The per capita GRDP is forecast to reach 86.3 million VND (3,748 USD) per year by 2020. 
The city is expected to be one of the top ten localities in the provincial competitiveness index by 2020.
The city plans to focus on promoting the development of the service, industry-construction and agro-forestry-aquaculture sectors. 
Attention will be paid to developing seaport services, logistics, airlines, finance-banking, trade, tourism, education-training and healthcare. 
The logistics centre of the northern key economic zone will be located in the Nam Dinh Vu industrial park with four satellite logistics centre namely Lach Huyen, the Vietnam-Singapore Industrial Park, Trang Due and Tien Lang.
Hai Phong's tourism sector is set to be developed to become a spearhead economic sector with high professionalism and quality. 
In terms of industry, Hai Phong will focus on developing key industries with high productivity, value-addition and science-technology content such as clean industry, maritime industry, electronic industry and support industry, aiming to make products capable of joining the global value chain.
Bac Ninh attracts over 206 million USD of FDI in 6 months
Authorities in the northern province of Bac Ninh licenced 92 new foreign-funded projects worth 206.58 million USD in the first half of 2018, up 3.29 percent from the same period last year.
The province also allowed 45 existing FDI projects to add 211.11 million USD to their capital.
Head of the provincial Department of Planning and Investment Nguyen Dinh Xuan attributed the results to the province's efforts in building a favourable business climate, which has supported investors in research, technology transfer, and land clearance. The investors were also facilitated to collaborate with universities and vocational centres to meet their demand of human resources.
Xuan said the province held three dialogues between authorities and enterprises during the period to help clear obstacles hindering their business.
By the end of June, Bac Ninh had licenced 1,228 FDI projects, with their capital amounting to about 16.66 billion USD. Of the total, 836 projects worth 15.5 billion USD were located in local industrial parks.
BNI Vietnam National Conference draws over 1,000 entrepreneurs
The Business Network International (BNI) Vietnam National Conference opened in the northern port city of Hai Phong on July 12, drawing more than 1,000 entrepreneurs.
The annual event, the biggest held by BNI Vietnam, has been popular among business organisations and the entrepreneur community in Vietnam.
According to BNI Vietnam President Ho Quang Minh, through the conference, themed "Inspiring Business Globally", BNI Vietnam hopes to highlight the significance of spreading inspiration to the business community by means of updating knowledge in building trademarks and improving their businesses on a global scale.
The message also aims to underscore the value and role of connecting domestic firms in order to expand the business network and bring closer links with the world economy, he said.
At the two-day event, Murali Sundaram from BNI Global will spotlight measures to exploit BNI technology applications and make global business more effective.
Nguyen Tran Quang, an expert in building international trademarks, will also share some of his stories and experiences.
The world-leading business coach Charmian Campbell will also update participants on methods to develop business in a sustainable manner.
Within the event's framework, a trade promotion conference will also be held, giving a chance for representatives from different countries to share investment and cooperation opportunities in Australia, the US, India, and the Republic of Korea.
A ceremony will be held to honour female entrepreneurs, along with a seminar on how Vietnamese firms can rise to a global scale.
A charity event will also take place, during which 50 bicycles will be presented to poor students in Do Son district. 
Ministry to hold trade activities to promote longan consumption
Many trade activities will be launched in the coming time to promote the consumption and export of fresh longan, said the Department of Farm Produce Processing and Market Development under the Ministry of Agriculture and Rural Development (MARD).
Accordingly, the department will join hands with the provinces of Hung Yen and Son La to organise trade promotion conferences for the fruit and other farm produce of the two northern provinces. Celebratory longan weeks and festivals will also be held in Hanoi and the two localities. 
Northern provinces are set to start harvesting longan in late July until September this year. Thanks to favourable weather conditions, the fruition rate is expected to hit 95 percent.
Son La and Hung Yen are the largest longan growing provinces in Vietnam's northern region, with over 12,250ha and 4,320ha in dedicated land, respectively. From the start of this year, the MARD has worked with these localities to devise plans for longan cultivation and consumption.
The two provinces have focused on raising the fruit's productivity and quality over the years, meeting requirements by both domestic and foreign markets. 
Son La is home to 60 longan growing cooperatives, among which 12 have received certification from the Vietnamese Good Agriculture Practice (VietGap). Longan from the province is shipped to the US, Australia, the Republic of Korea, and other ASEAN nations. 
The province's Song Ma longan was accredited by the National Office of Intellectual Property, under the Ministry of Science and Technology. 
Meanwhile, Hung Yen has three areas of longan cultivation, with 62ha being grown under VietGap standards. 
Central, Central Highlands provinces asked to boost connectivity
A conference held in Tuy Hoa city in Phu Yen province on July 12 looked into the industry and trade sectors of 15 localities in the central and Central Highlands regions, urging them to strengthen their connectivity to tap into the local market and boost development.
Statistics showed that the regions' industrial production value exceeded 198 trillion VND (8.58 billion USD) between January and June this year, up 11 percent from the same period in 2017.
The localities have paid attention to developing economic zones, and industrial parks and clusters, thus creating better conditions for attracting investment and creating jobs. There are now 13 economic zones in the regions. As of June 2018, 1,558 projects worth 150.5 trillion VND (6.52 billion USD) had become operational there.
The regions were also busy with trading activities in the first half of the year. While total retail sales of consumer goods and services reached 341.46 trillion VND (14.79 billion USD), import turnover was estimated at 2.14 billion USD, up 14.7 percent and 16.9 percent year-on-year, respectively.
Despite vibrant industrial and trading activities, officials at the conference pointed out the shortcomings in regional connectivity, noting that asynchronous infrastructure has hampered the development of trade and logistics services. The abundance of individual small- and medium-sized enterprises has also challenged efforts to expand the market.
An official of the Binh Dinh provincial Department of Industry and Trade said that in order to address these problems, it is necessary to better connect the supply and demand of goods so that businesses can seek cooperation chances to form value chains in the region and serve exports. The localities also need to enhance trading connectivity to capitalise on the consumer market in the region, as well as the whole country.
Vice Chairman of the Phu Yen provincial People's Committee Tran Huu The also underlined the importance of locality-to-locality connectivity. 
He said Phu Yen is a gateway to the sea for the Central Highlands provinces, featuring many types of transport infrastructure such as seaports, roads, and railways for the development of logistics services. If regional localities team up with one another, they will successfully attract investors and facilitate trading activities.
At the conference, Deputy Minister of Industry and Trade Cao Quoc Hung asked central and Central Highlands localities to pay more heed to the domestic market while producing goods with high value typical for each province and city.
Aside from promoting industrial and inter-region trading, he also called on them to step up administrative reforms to improve the investment climate, popularising new policies and free trade agreements among enterprises.
For the remaining months, the 15 localities aim to achieve an industrial production value of 278.19 trillion VND (12 billion USD) and export turnover of 4.2 billion USD, raising the respective total figures to 485.2 trillion VND (21 billion USD) and 8.29 billion USD this year. They also target over 357 trillion VND (15.46 billion USD) in total retail sales of consumer goods and services in the latter half of 2018.
Vietjet transfers operations to Terminal T1 at Yangon int'l airport
Vietnam's budget carrier Vietjet Air has transferred its flight operations from Terminal T2 to Terminal T1 of Myanmar's Yangon International Airport in order to meet the airport's renovation requirements.
At Terminal T1, Vietjet's check-in counters are at row B – counters 7, 8 and 9, with synchronous design and equipped with modern equipment and branding signs, making it easier for customers to locate them. 
The opening time of check-in counters for international flights is still three hours before departure time while the closing time is 50 minutes before departure time. 
Terminal T1, which was inaugurated in March 2016, is one of the main gateways greeting visitors to Myanmar. 
Since conducting its first flight to Yangon in 2015, Vietjet has played an important role in connecting and boosting cooperation between the two countries while meeting demand for travel and trade. 
Following the "Consumer Airline" model, Vietjet is continually opening new routes, adding more aircraft, investing in modern technology, and offering more added-on products and services to serve customers' demand. 
With 60 A320 and A321 aircraft, the carrier runs over 380 flights per day to and from domestic destinations and Hong Kong (China), Singapore, the Republic of Korea, Taiwan (China), Thailand, Indonesia, Myanmar, Malaysia and Cambodia.
Chances for Vietnam's leather industry abundant in 2018
According to the Vietnam Leather, Footwear and Handbag Association (Lefaso), the country's leather industry is enjoying good chances to benefit from the shift of orders from China as a result of the tendency of moving to the production of high-tech goods.
Industry sources also said the signing of a number of trade agreements like the Vietnam – EU Free Trade Agreement (EVFTA) and the Comprehensive and Progressive Agreement for Trans-Pacific Partnership (CPTPP) is ushering in chances of development for Vietnam, especially in attracting investment and boosting export to the markets in the EU and CPTPP members.
Lefaso president Nguyen Duc Thuan affirmed that export activities of Vietnam's leather industry are seeing a stable growth with positive signs for the second half of this year and the years to come. The forecast for the world economy in 2018 is rosy, that is why the demand in Vietnam's major export markets like the US, the EU, China, Japan and the Republic of Korea will be better than that in 2017.
China is believed to continue the policy of reducing investment incentives in the industries of garment and leather to focus on high-tech ones, and orders for footwear and handbags is expected to keep moving from China to Vietnam in anticipation of chances created by those FTAs. However, Vietnam's leather industry is now facing numerous difficulties like rising labor costs and low productivity compared to other countries in the region. Especially, the Fourth Industrial Revolution will also cause impact on the enterprises in the industry as they will head to investing in modern machinery and reducing work hands.
The leather industry's production is planned to turn out about 279 million pairs of footwear in this year, with 72 million pairs in the third quarter and 80 million pairs in the last.
The first half of this year continued to witness a growth in the production by the industry, with 127.4 million pairs produced, an increase of 5.1 percent year-on-year. They brought back 9.45 billion USD to the country, rising by 8.4 percent compared to the same period last year. The export revenue of this kind of product is forecast to reach 19.5 billion USD, or 10 percent higher than the figure recorded in 2017.
Agribank aims to maintain top commercial bank status
The Vietnam Bank for Agriculture and Rural Development (Agribank) aims to maintain its status as the leading commercial bank in Vietnam in its strategic business orientation to 2025. 
Chairman of the Agribank's Member Council Trinh Ngoc Khanh said one of the important tasks for the bank in the near future is to offer services based on high-tech platforms such as QR Pay, Samsung Pay and Autobank while improving services quality. 
Agribank has a strategy of bringing capital and banking services to each household and working with the Farmers' Union, the Women's Union and the War Veterans' Association to assist enterprises and households in agriculture and rural development. 
For the first time in its lending regulation, Agribank has set rules on providing loans for clients in case they face business risks. It also plans to offer many services to customers such as lending for farmers and small-scale enterprises, and financial proofing. 
Riding the trend of the fourth industrial revolution, it has offered such services as money transfer or payment via SMS, and Agribank E-mobile Banking with financial and non-financial transactions on the mobile application. 
With a network of 2,300 branches and transaction offices worldwide, Agribank is offering more than 200 banking services in the fields of credit supply, capital mobilisation, domestic and international payment, and e-banking.
Ministry urges handling of imported scrap backlogs at ports
The Ministry of Natural Resources and Environment has proposed that the Government, ministries and agencies take drastic measures to deal with large backlogs of imported waste at ports, the Government news website reports.
At a meeting on July 12 with ministries and agencies in charge of managing the import and use of second-hand products, Minister of Natural Resources and Environment Tran Hong Ha said the ministry has proposed that the Government amend and supplement several articles of a decree guiding the implementation of the Law on Environmental Protection, including regulations on the import and use of scrap as production material.
Accordingly, the temporary import of second-hand products for export, and the transit of containerized waste at ports in Vietnam, will be prohibited.
Minister Ha also called for the cooperation of relevant ministries and agencies to handle the huge volume of containerized waste found at seaports. Particularly, the Ministry of Finance should assign customs agencies at border gates to closely coordinate with environmental protection agencies to urge waste importers to promptly complete customs clearance procedures.
Also, enterprises should send their waste shipments to ports having fewer abandoned containers.
Additionally, containers abandoned for more than three months should be destroyed if container owners do not take responsibility for such waste imports.
Ha proposed that the Ministry of Transport ask transport firms to check the certificates for environmental protection in scrap imports as production materials before loading containers on ships, and seaport service providers to check certificates for environmental protection before receiving waste containers.
The Ministry of Natural Resources and Environment will swiftly certify enterprises importing scarp as production material if they meet environmental protection regulations and enhance the application of the one-door policy, Ha said.
Moreover, the Ministry of Public Security will investigate the origins of abandoned containers and impose sanctions on those forging waste import certificates.
As of June 26, up to 4,480 containers storing scrap have been kept at ports under the management of Saigon Newport Corporation, including nearly 3,500 containers at Cat Lai Port in District 2. Paper containers accounted for 20% of the total, while the remainder contained plastics and other kinds of waste.
In addition, ports in Haiphong City have accommodated 737 containers of waste for more than three months, and 507 others for one to three months.
Explaining the mounting backlog of abandoned containers at ports, Hoang Van Thuc, deputy director of the Vietnam Environment Administration under the Ministry of Natural Resources and Environment, said since late last year, China has stopped importing 24 types of waste for recycling. As a result, those countries which previously exported waste to China had to seek new markets, including Vietnam, leading to a surge in scrap imports, especially plastics, at seaports.
According to shipping companies, large amounts of plastic and paper waste will arrive at Vietnam's ports in the near future, as these firms had inked importing deals with their partners, and scrap is now being transported to the country.
Another reason is that waste importers have yet to complete customs clearance procedures due to a lack of, or invalidity of certificates of eligibility for environmental protection in scrap imports as production materials.
Thuc said some importers have also provided false addresses, so customs agencies cannot contact them. Meanwhile, some shipping companies have not honestly declared their imported commodities.
Also, Vietnam lacks mechanisms to prevent and control scrap imports from afar. Customs agencies cannot detect  containers storing waste until vessels transporting them dock at local ports, making it difficult to cope with those deliberately violating regulations on waste imports.
Markets called key to hi-tech agriculture

Markets play a key role in the success of high-tech agriculture in the Mekong Delta, as explained during a seminar on high-tech solutions for agriculture in the Mekong Delta held in Can Tho City on July 13.

It is necessary to introduce high-tech applications to the agricultural sector and others, but the country has recently seen a series of localities following the trend towards high-tech agriculture without considering the demands of the market, which is a key to success.

"High-tech applications for the agriculture sector may help enhance productivity and quality, and reduce prices, workforce and negative impacts on the environment," a participant told the Saigon Times on the sidelines of the seminar, noting that agricultural products will be useless unless there is consumption of the products.

The participant suggested that choosing products for hi-tech applications should be based upon market demands and customers' tastes.

"Therefore, analysis of customers' interests and demands, in the short-term and long-term, is essential." 

Addressing the seminar, Do Van So, chairman of the Camau Cooperative Alliance, raised a question about where high-tech applied products will be consumed.

Farmers may follow technology procedures recommended by scientists to produce high quality products and increase output, but the difficulty lies in product consumption markets and benefits for farmers, So emphasized.

Tran Minh Hai, director of the cooperative economy training and consulting center at Institute of Management for Agriculture and Rural Development II, said that some countries in the world developed high-tech agriculture after their research of specific markets. Taking a Japanese firm as an example, he said that the firm, growing rice in under 300-hectare farms in Long An Province in Vietnam, seeks to export the products to Europe, instead of the Japanese market.

Also speaking at the seminar, Dang Kim Khoi at the Institute of Policy and Strategy for Agriculture and Rural Development, said that countries applied high-tech to a market forecast, and that the market forecast is divided into two groups, including domestic markets and international markets, in the short, medium and long terms.

If Vietnam applies high-tech to market forecast systems to connect with data systems of localities nationwide, it will create a transparent information system to improve the planning of zones, as well as  the construction of infrastructure.

"It is necessary to focus on production, high-tech applications and target markets, as they are a system," he noted.
January-June retail sales exceed US$69 billion
Domestic retail sales reached some VND1,597 trillion, or US$69.45 billion, in the first half of 2018, up 11.3% year-on-year, according to the General Statistics Office.
Last month, retail sales picked up 12.9% against the same period one year earlier to reach an estimated VND272 trillion. With such a result, total retail sales of goods in the past six months increased to some VND1,597 trillion, up 11.3% year-on-year.
It can be seen that the domestic retail market is on an upward trend, with stable growth of over 10% over the past few years. In particular, retail revenue in January-June 2017 inched up 10.2% year-on-year. Similar growth rates were recorded in 2015 and 2016.
Retail revenue at the end of last year posted a record amount, with an estimated VND2,937 trillion, equivalent to US$129.56 billion, but rose by only 10.9% against 2016. Therefore, the 11.3% increase in this year's first half was seen as quite considerable.
According to the GSO, such growth was attributed to the diversity of goods on the market, offering stable prices and good quality, which meet the demands of local consumers and tourists. Of these, foods and foodstuffs were up 12.4%, apparel 12.3%, household appliances 12%, educational and cultural products 9.5%, and transportation 8.8%.
Localities reporting strong growth included Thai Nguyen with 13.1%, HCMC 12.7%, Thanh Hoa 12.5%, Hanoi 12.4%, Binh Dinh 12.4%, Nam Dinh 12.2% and Hai Duong 11.6%.
Having a large population of more than 94 million people, a significant proportion of young people and a busy retail market, Vietnam continues to attract the attention of local and international retailers. Notably, according to local retailers, their advantages include the ability to change young people's easily developed consumption habits.
Besides the business expansion of existing retailers like Aeon, Lotte, Big C, Auchan, Ministop, FamilyMart, B's Mart, 7-Eleven and Circle K, some foreign retailers have plans to enter the market.
For instance, China's Xiaomi and Vietnam's Digiworld Corporation have joined hands to develop a Mi Store chain in Vietnam to distribute Xiaomi products, such as phones, health bands, power banks, LED lights, vacuum cleaners, electric cookers and water purifiers. Mi Store is expected to open stores in 15 large cities across the country towards the end of 2018.
South Korea's GS25 has also opened its first convenience stores in HCMC, in partnership with Sonkimland, to become the first South Korean retailer to participate in the competitive convenience store market in Vietnam. The retailer has an ambitious plan, calling for the opening of more than 2,500 stores in the next ten years.
As Vietnam Report Company noted in a 2017-2020 retail report, released last October, Vietnam's retail sector is forecast to remain stable and attract investments from many foreign firms, thanks to the nation's large population, its improving economic performance and big spending.
However, competition will become more intense, forcing domestic firms to work out new strategies to retain their market shares and improve their reputations when competing with foreign rivals, which have strengths in capital, technologies, experience and personnel.
According to analysts, foreign firms are well-established and have strategies and long-term visions, whereas Vietnamese firms are flexible, highly adaptive and have a solid understanding of local cultures and consumers' habits.
According to the Hanoi Supermarket Association, about half of the retail market share is held by foreign firms, though this figure might be higher, in reality. Therefore, operations of domestic retailers might be reduced in the future, due to a lack of experience, limited investments and human resources.