Trade ministry's draft decree on supermarkets faces objections
Last update: 12:23 | 12/06/2018
The Ministry of Industry and Trade (MoIT)'s draft decree on the development and management of traditional markets and supermarkets is facing criticism as it imposes restrictions on retail businesses.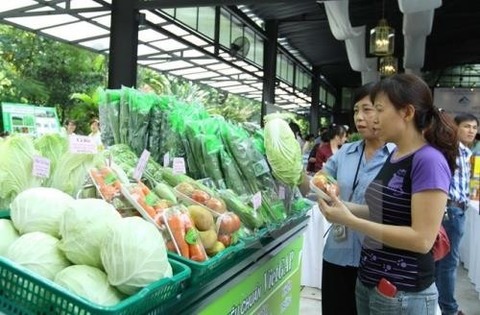 According to the draft decree, retail establishments must satisfy standards to be called "supermarkets" or "shopping malls."
The decree also stipulates that supermarkets must not run more than three sale promotional programmes every year, with each programme lasting for at least 30 days. 
The next programme can only be organised after a month of the previous one.
At least 70 per cent of the goods available in supermarkets and shopping centres must be covered by the programmes.
The draft also mentions that supermarkets should have an area of 250-10,000sq.m. They must meet the requirements on construction, sale equipment, storage conditions and services for disabled people as well as for children.
Supermarkets and shopping centres must remain open on all days of the week, including holidays, from at least 10am to 10pm.
According to market experts, the government and MoIT are trying to slash unnecessary business conditions to make life easier for enterprises. 
However, the draft decree prepared by the ministry creates new business conditions, which is contrary to the efforts of simplifying administration procedures.
Prime Minister Nguyen Xuan Phuc had earlier asked the ministry to review the Government's Decree 2 and Decree 114 on the development and management of markets. However, the draft decree is intended to strengthen the management of the entire distribution sector and not just markets.
Viet Nam Retailers Association's chairwoman Dinh Thi My Loan said the decree's scope went beyond the Prime Minister's requirement as it stipulated the management of stores, auction centres, supermarkets and shopping centres.
The proposed regulation on the area of supermarkets does not reflect the reality and limits the operational scale of retailers, Loan said.
Earlier, the Viet Nam Chamber of Commerce and Industry (VCCI) said the regulations on sale promotional programmes demonstrated the ministry's deep intervention in retailers' businesses.
If MoIT fears that the sale promotional programmes will affect the competitive market, it needs to control the activities in accordance with competition laws, VCCI said.
Responding to the comments, MoIT said it welcomed all feedback to build the draft decree and would continue to study and complete the draft following the stipulated process and regulations.
This is the first step to complete the application to the Ministry of Justice for assessment.
MoIT said the decree aimed to resolve shortcomings while ensuring inhabitation of the suitable relevant regulations. 
The decree is expected to create a legal framework for the operation of markets, supermarkets, trade centres and auction centres as well as for retail, wholesale, agents, franchising and mergers and acquisitions. 
It will help improve the business environment, national competition and international integration on distribution sector management. — VNS