Pharmacy firm faces difficulties as competition rises
Last update: 12:14 | 12/06/2018
Hau Giang Pharmaceutical Joint Stock Company (DHG) is gradually losing its share on the traditional OTC distribution channel, according to Viet Dragon Securities Company (VDSC).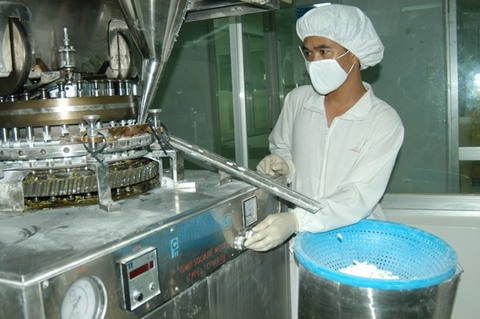 An automated production line for soft capsules at a factory of Hau Giang Pharmaceutical Joint Stock Company. 
OTC stands for over-the-counter, meaning distributing drugs through drugstores.
While the OTC channel is witnessing competition between many drug companies, DHG still lacks distinctiveness in its products, VCSC said in a statement, adding that the company has reassessed the potential growth of DHG stock as "underperforming", forecasting the compound annual growth rate (CAGR) of DHG's after-tax profit in the 2017-2020 period would stand at only 3 per cent per year.
VDSC said DHG had made little progress in order to gain market share in the OTC channel.
Previously, the firm had built up professional marketing strategies and organised a dense distribution network. But in the last four years, its business of self-produced products has worsened, VDSC said.
The securities firm attributed DHG's underperforming businesses to its saturated distribution network.
The OTC channel, which brings 90 per cent of revenue to DHG, is also gradually losing market share to the ETC channel as health insurance is becoming more and more popular.
ETC channel means pharmaceutical firms sell drugs as prescribed and bringing drugs to hospitals through bids.
Local pharmaceutical companies are also struggling in distribution through the ETC channel as they have to compete with lower priced imported products from foreign rivals. That's why Vietnamese pharmaceutical firms are shifting their direction to the OTC channel.
On the other hand, gross profit margin from DHG's self-produced products is forecast to decline in 2018 due to the sharp rise in active pharmaceutical ingredient (API) prices.
"In Q1 2018, the gross profit margin for the year 2018 will reach only 51.8 per cent, down 3.5 percentage points from 2017," VCSC said.
Another factor negatively affecting DHG's profit is taxation. In Q4 of 2017, the tax authorities issued a new decision on tax calculation for DHG, which caused the tax level imposed on the company to increase significantly.
In addition, DHG has announced its plan to raise its foreign ownership ratio cap from 49 per cent to 100 per cent, which means that the firm will have to stop its pharmaceutical provision to two foreign partners of MSD and Mega.
VDSC said this would have a big impact on DHG's revenue in 2018 and 2019.
DHG planned to earn net revenue of over VND4 trillion (US$175 million), equivalent to the target set for 2017. However, pre-tax profit is expected to increase by 6.7 per cent to reach VND768 billion.
Revenue from self-manufactured products will account for VND3.5 trillion and grow by more than 13 per cent compared to 2017. — VNS