Steel firms find ways to secure exports
Last update: 17:42 | 11/06/2018
Tariff pressure on steel exports to the United States, a market comprising over 10% of Vietnam's steel exports, has been less extreme as local steel firms have diversified their material supplies to avoid dependence on Chinese materials, officials said.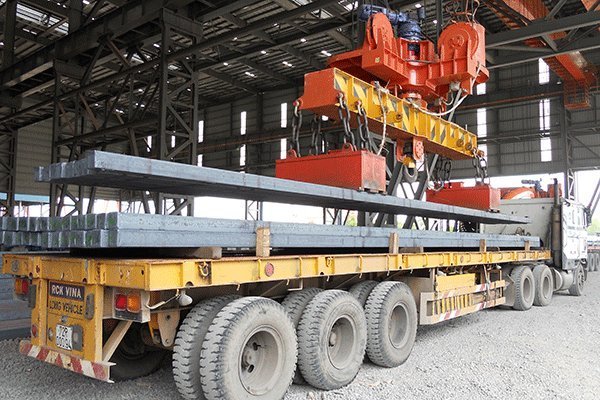 The United States' plans to impose high tariffs on steel products from several countries, including Vietnam, has raised concerns for the steel industry
Chairman of the Vietnam Steel Association (VSA) Ho Nghia Dung noted that the steel industry has been under pressure because of the United States' high tariffs on steel imports from Vietnam.
The United States slapped import duties on corrosion-resistant steel and cold-rolled steel imported from Vietnam and originating from China. This resulted in a sharp decline in Vietnam's steel exports to the United States, dropping from some one million tons in 2016 to some 500,000 tons last year.
The United States' plans to impose high tariffs on other steel products as well, from several countries, including Vietnam, has raised concerns for the steel industry, he added.
According to Dung, Vietnam's steel products account for a mere 1.6% of the United States' annual steel imports; thus, it is unreasonable to argue that Vietnamese steel is threatening the United States' steel industry.
As a result of this tariff pressure from the US market, besides diversifying import materials to reduce imports from China, such as using steel materials from the Formosa plant in Ha Tinh Province and materials from South Korea, local steel firms have made use of materials that can be produced locally.
Thanks to these solutions, steel exports in the year's first quarter did not decline, Dung said. The export volume bound for the United States during this period was some 217,000 tons, equivalent to that of the same period last year.
The news that the United States is looking to protect its industry by imposing tariffs on steel and aluminum imports has raised concerns among Vietnamese steel firms.
According to data from the VSA, Vietnam's 2017 steel exports grew by 28% against 2016, with 4.7 million tons. Among the buyers, Southeast Asian countries form the largest at 59.3%, followed by the U.S. market at 11.1%.
It can be seen that the US market is important to Vietnam's steel industry. If the United States continues to impose duties and quotas to prevent steel and aluminum imports, the local industry will suffer even further.
Steel firms have also invested in modern technologies to increase product quality and have explored new markets.
Diversifying across markets is an effective way to reduce risks. Regarding the Southeast Asian market, despite accounting for a large proportion of Vietnam's steel exports, it still holds potential for increased buying from Vietnam.
In addition, steel firms are planning expansions to the European Union in preparation for a free trade agreement having been signed with Vietnam which will soon come into force.
According to some representatives of steel firms, besides these measures, they still need further support from the competent authorities to prevent steel disguised as alloy steel from entering Vietnam and being sold at lower prices than locally produced steel and to block cheap steel billet imports.
VSA data showed that material imports from China dropped significantly in the January-March period, at 1.1 million tons, down 50% in volume and 30% in value.
SGT