Last update: 08:30 | 09/06/2018
EVN's electricity production rises 10.5% in five months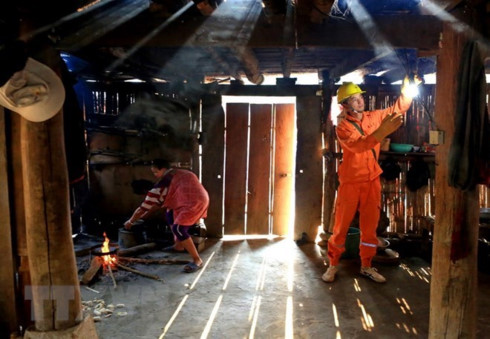 The State-run Electricity of Vietnam (EVN) Group produced 74.42 billion kWh of electricity in the first five months of 2018, an increase of 10.5% from a year earlier.
Electricity losses in the January-May period were estimated at 6.2%, 1% lower than the target of 7.2%.
In May alone, the group generated 16.02 billion kWh of electricity, up 10.06 percent year on year, and ensured a stable supply of power as the summer came.
The group's electricity output from domestic production and import reached 19.59 billion kWh of electricity in May. 
The EVN has submitted to Prime Minister Nguyen Xuan Phuc a plan to restructure its subsidiaries and reported to the Ministry of Industry and Trade a revised plan on electricity supply by 2030 and a project to separate wholesale and retailing distribution in the group's power corporations. It also directed the power corporations to review electricity prices for tenants.
According to the EVN, the second quarter is the peak of the dry season and also the most challenging time of the year for the group to maintain power supply for the country.
In the coming months, the group plans to ensure sufficient power supply for the national high school examination in late June as well as safety of hydro-electricity dams and plants as well as the lowland areas during this year's rainy season.
KOVA Paint puts Dong Nai factory into operation
The Vietnam-based KOVA Paint Group put into use a manufacturing facility at Phu Thanh industrial cluster in Nhon Trach district, the southern province of Dong Nai on June 6.
The new factory uses advanced technology and is designed to produce 65 million litres of paint and waterproofing and 35,000 tonnes of powder and paste skimcoat annually.
The facility was built on an area of 2.4 hectares, consisting of a number of subareas, including one for production of new-generation paints, using silica nano separated from rice husk to make paints, a technology developed by Dr Nguyen Thi Hoe, Chairwoman of the KOVA.
It has the largest capacity among the KOVA factories. 
The company's products include nano fireproofing paint and bacterium-sterilised paint, which are used in kindergartens and hospitals and exported to dozens of countries, such as Cambodia, Laos, Thailand and Singapore. 
The nano fireproofing paint made from rice husk is claimed to be able to protect surfaces, such as concrete, steel, or wood following exposure to heat up to 1,300 degree Celsius for a period of 4 to 6 hours.
Vinacomin records high coal output, sales
The Vietnam National Coal and Mineral Group (Vinacomin) has accelerated coal production and sales in order to meet targets set for the first six months of this year.
The group said that its coal output during January-May reached 16.87 million tonnes while 17.6 million tonnes were sold, or 47.7% and 48.9% of the set yearly target. Of the total sales, 16.87 million tonnes were consumed domestically and 727,000 tonnes were exported. 
In the period, the group's revenue was estimated at VND52.5 trillion (US$2.28 billion), accounting for 46.1% of the yearly plan and up 23% on a yearly basis. 
Coal inventories of the sector were around 7.35 million tonnes, down 1.66 million tonnes from the beginning of the year. 
In June, Vinacomin aims to produce 3.4 million tonnes of coal and sell 4 million tonnes, of which 3.77 tonnes will be sold to domestic customers and 230,000 tonnes exported, thus reducing the coal inventories to under 7 million tonnes.
The group has revised its coal sale target from 36 million tonnes to 38 million tonnes in 2018.
Global high coal prices are creating favourable conditions for Vietnam's coal export, according to Vinacomin. From mid-May, coal price has increased to more than US$100 per tonne.
As part of efforts to realised the goal, Vinacomin has asked its units to balance production and demands to reduce inventories, while making rational investment and streamlining the apparatus in accordance with their restructuring project.
Vinacomin's members have focused on coal that is in high demand and processed high-quality coal. High productivity was recorded in Deo Nai coal company, Coc Sau company, Duong Huy company, and Tay Nam Da Mai company.
Besides coal, the group aims to produce 112,000 tonnes of alumina and 850 million kWh of electricity in June, bringing the total production in the six-month period to 660,000 tonnes and 5.1 billion kWh, accounting for 54% and 55% of the set target for the whole year, respectively.
Slowdown in economic figures challenges growth efforts
Although Vietnam's economy maintained an uptrend in the first five months of 2018, growth rates in some industries have slowed down, making it difficult for the country to achieve this year's targets.
According to the General Statistics Office (GSO), industrial production in May rose by 7.1% year on year. Of which, mining contracted 7.6% while processing and manufacturing increased 9.1% and electricity production and distribution expanded 11.2%.
These rates are lower than the corresponding figures in April. Notably, the mining industry fell by a further 2.6 percentage points and processing and manufacturing dropped 3.2 percentage points. Only electricity production and distribution hiked 1.5 percentage points due to an increase in power consumption in summer.
Between January and May, industrial production climbed 9.7% from a year earlier, higher than the 6.6% growth in the same period last year. Processing and manufacturing grew 11.8%, electricity production and distribution rose 10.6%, but mining declined by 2.2%. 
The GSO said although processing and manufacturing continued to post a fast growth pace, it has slowed down, from 15.5% in January – February to 14.1% in January – March, 12.5% in January – April and 11.8% in the five months.
Meanwhile, food prices have rebounded, which will boost food production but also influence the consumer price index (CPI), which is targeted at 4% at most in 2018.
The CPI in May grew 0.55% from the previous month, the highest rate since 2012, 3.86% from the same period last year and 1.61% from last December.
Do Thi Ngoc, Director of the GSO's Price Statistics Department, pointed out the surge in pork and animal feed prices. The Price Management of the Ministry of Finance attributed the CPI hike partly to the increases of petrol and gas prices and grain food prices, which was boosted by stronger rice export demand.
On the other hand, GSO data also showed less positive signs for business activities. More than 11,000 new enterprises with registered capital of VND104.8 trillion were set up in May, down 24% in the business number and 21.5% in capital from April. They registered 80,500 employees, down 24.5%.
The number of firms resuming operations in May was more than 2,300, down 29.7% month on month.
A decrease was also recorded in foreign direct investment (FDI). This year to May 20, Vietnam granted new investment licenses to 1,076 FDI projects worth over US$4.65 billion, up 14.6% in the project number but down 16.8% in value. As many as 393 existing projects registered to raise their capital by over US$2.49 billion in the five months, down 47.4% year on year.
New and additional FDI capital in the period hit about US$7.15 billion, an annual decline of 30.8%.
Aside from the abovementioned factors, there remain problems in the economy, including growth's dependence on quantity instead of quality, low labour productivity compared to many countries and the upward trend of CPI in the months to come.
Vietnam aims to achieve economic growth of at least 6.7% in 2018, the same target as 2017.
To reach this year's targets, Minister of Industry and Trade Tran Tuan Anh stressed the necessity for more support for businesses in processing and manufacturing, a core industry of the economy.
Meanwhile, Director of the GSO's Industrial Statistics Department Pham Dinh Thuy called on industrial investment projects to be sped up to improve production capacity, services with high added value to be developed and domestic consumption stimulated.
Bui Quang Tin, CEO of BizLight Business School, suggested monetary policy be more flexible to fuel production activities and keep the CPI stable.
Viettel eyes 50 million USD from online film website
The Viettel Military Industry and Telecoms Group's Viettel Media aims to earn revenue of 50 million USD from its online film store Keeng Movies by 2020, a representative from the firm said at the official launch of the website in Ho Chi Minh City on June 6.
Thanks to Viettel's large market share in Vietnamese telecommunication (52 percent), Keeng Movies has attracted more than 2 million users after a one year trial period. 
This year, Viettel will bring Keeng Movies to Laos, Cambodia and Myanmar and the website will be developed in seven other nations by 2020. In the future, Keeng Movies will expand its presence in Europe and North America, the Republic of Korea (RoK) and Japan by cooperating with local telecommunication providers and prestigious film producers.
Keeng Movies owns the copyright to distribute movies of giant film producers like 20th Century Fox, NBC Universal and Warner Bros, and television stations like Hong Kong's TVB and the RoK's MBC and KBS.
The film store is available on Keeng's website, mobile, app and on smart TVs.
Customers will receive Viettel's free 3G and 4G services if they register to buy Keeng Movies's retail or monthly package.
Mavin Group opens animal feed mill in Mekong Delta
Animal feed producer the Mavin Group has recently opened the Mavin Austfeed Dong Thap Animal Feed mill at the Cai Tau Ha Industrial Zone in the Mekong Delta's Dong Thap province.
This is Mavin's fifth feed mill in Vietnam and the first in a series of advanced technology agribusiness projects it will conduct in the Delta, fulfilling demand for high-quality, hygienic, and reasonably-priced agriculture products.
Construction of Mavin Austfeed Dong Thap began in early 2017, under the consultation of European experts, on an area of 4.9 ha and is the largest and most advanced feed mill in the Delta. It's located in the focal point of commerce and trading for all of the western Delta provinces and is convenient for both land and waterway transport. With a capacity of over 400,000 tons per year, the mill is designed under the European food safety and hygiene and practical production standards, GMP Plus.
Total investment for the feed mill is $30 million. All production lines and equipment are imported from the US and Europe, utilizing the latest automation technology in material processing, production, and packaging as well as advanced information technology control systems and management.
The stand out feature of the mill is that, besides regular land transport, it also possesses wharves with advanced technology capable of berthing large vessels of up to 5,000 tons. Goods are transferred by automatic conveyer belt and robots from the warehouse straight to the vessel, saving time and cost and making it efficient and convenient for customers.
"For Mavin, Dong Thap province plays an important role in terms of geographical advantage, supporting our transportation within the Mekong Delta and optimizing our customer service processes," said Mr. David John Whitehead, Chairman of the Mavin Group.
"Dong Thap also has a very advantageous and transparent investment environment, with efficient administration procedures. We have received full support from authorities as well as local people. This is why Mavin chose Dong Thap as our next investment location, after investing in four other provinces. We believe that Mavin's contribution will provide great support for Dong Thap province as well as other Delta provinces to develop in the future."
The opening of the feed mill coincided with the opening ceremony for Cao Lanh Bridge, an Australia-Vietnam friendship project, which was attended by the Prime Minister and the Australian Foreign Minister.
Beside the feed mill in Dong Thap, the Mavin Group will also invest in an Advanced Technology Breeding Research and Development Center in Cao Lanh district, Dong Thap, to provide high quality swine, chicken and duck breeds to southern Vietnam. It also plans to establish a European standard food processing plant in Dong Thap for supplying sausages, ham, and cold cuts to the domestic market as well as for export. Total investment for all its projects in Dong Thap will reach $70 million.
The Mavin Austfeed Dong Thap feed mill will be the biggest and best in Vietnam, utilizing advanced technology and robotics and providing high-quality animal feed at a reasonable price, supported by excellent customer service and technical support.
Mai Linh signs deal for tablets in taxis
Vietnamese taxi company Mai Linh has signed a memorandum of understanding (MoU) with IDOOH International to deploy 5,000 of IDOOH's In-Ride Out-of-Home (OOH) tablet screens.
The agreement will commence with an initial in-taxi screen roll-out to 1,000 taxis by December 2018, followed by another 4,000 vehicles in 50 cities around Vietnam. The fully interactive 10-inch media tablets will provide high-quality entertainment, information, and full e-commerce ability.
"Emerging economies like Vietnam are important for us and this partnership with Mai Linh, Vietnam's largest taxi fleet, is an opportunity for us to grow our regional network of in-vehicle screens," said IDOOH Group CEO Mark Forsyth. "We look forward to working with them to transform the in-taxi passenger experience and provide brands with an opportunity to reach a growing middle-income segment through our intuitive media technology."
Mai Linh is IDOOH's third transport partnership in Asia-Pacific, following its tie-up with Micab Philippines in May and Comfort DelGro's outdoor advertising arm Moove Media in April.
Out-of-Home advertising is now a $29 billion market, with revenue expected to grow 3 to 4 per cent per year over the next five years and reach $33 billion by 2021, according to a MAGNA Intelligence and Rapport study.
With its distinctive green color, which represents life, the environment and traffic safety, Mai Linh has become a familiar brand not only among domestic consumers but also foreigners.
Mai Linh has asserted its top position in the passenger transport industry. Following mottos of "The Customer is King" and "Safe and Convenient Every Time, Everywhere", it has kept expanding, upgrading its fleet, developing new services, training its drivers, and updating and applying technology.
Berjaya Land sells finance centre to Vinhomes
Malaysia's Berjaya Land Bhd. (BLand) has finally decided to sell its entire stake at Berjaya Vietnam Financial Center Limited (BVFC) to local real estate developers Vinhomes and Can Gio Tourist City Corporation for VND884.93 billion ($38.7 million).
In a statement published on Bursa Malaysia, BLand, through its wholly-owned subsidiary Berjaya Leisure (Cayman) Limited (BLeisure Cayman), signed a capital transfer agreement to sell the entire 32.5 per cent capital contribution in BVFC to local firms Vinhomes and Can Gio.
According to the agreement, Vinhomes will pay VND871.32 billion ($38.16 million), while Can Gio will pay VND13.61 billion.
BVFC, which has not commenced operations, is developing a project comprised of an office building, a five-star hotel, serviced residences, and a shopping mall on a 6.64-hectare land plot in Ho Chi Minh City.
Together with the proposed BVIUT disposal, the BLand group is also in negotiations on the potential sale of another of its Vietnamese subsidiaries.
Initially, BLeisure Cayman's capital contribution of VND967.31 billion ($42.37 million) represented 100 per cent of the charter capital of BVFC.
However, following the conditions imposed by the Vietnamese authorities, BVFC was required to increase its charter capital and Vinhomes had in March 2018 injected VND2.01 trillion ($88.05 million) of fresh capital to fulfill the above requirement which resulted in the dilution of BLeisure Cayman's holding to 32.5 per cent.
On the other side, in December 2017, Vinhomes and its affiliates spent massive funds buying a 99.2 per cent stake in Berjaya Vietnam International University Town One Member Limited Liability Company (BVIUT) from BLeisure Cayman.
According to a source of Dealstreetasia, BLeisure Cayman planned to dispose of the remaining 0.8 per cent stake in BVIUT in the near future.
"Together with the proposed BVIUT disposal, the BLand group is also in negotiations on the potential sale of another of its Vietnamese subsidiaries," BLand told Dealstreetasia, but did not elaborate on the details.
BLand, an investment holding company, primarily operates in the Malaysian and international gaming and lottery management business. It operates Toto betting and related activities; motor vehicle dealership; property development and investment; hotels and resorts; as well as club, recreation, and others service segments.
Can Gio was established in September 2004 with a 99.05 per cent stake holding by Vinhomes. The principal activities of Can Gio include real estate trading, real estate brokerage, and real estate services.
Novaland opens Azerai Can Tho Resort
Novaland Group and the international hotel brand Azerai have officially inaugurated Azerai Can Tho Ecological Resort at Cai Rang district of Can Tho city on June 2.
The Azerai Can Tho project is the combination of the passion of the leading real estate developer in Vietnam—Novaland Group—and the Azerai Hotel brand of legendary hotelier Adrian Zecha, presenting a distinctive experience for visitors.
Positioned as "affordable luxury," Azerai offers an ideal resting place, with a perfect blend of stunning landscape and heritage values of local culture and history, enriched by refined services, ensuring relaxation and discretion for world-class travelers.
According to Bui Thanh Nhon, chairman of Novaland Group, the Mekong River is beyond doubt a masterpiece of nature, filled with cultural history.
Famous for its variety of tropical fruits, fresh food and riverside beauty, Can Tho is truly a heritage for the generations to come.
"It is unfair for the Mekong Delta to suffer from climate change: rivers run out of fish, saltwater intrusion destroy crops, fertile gardens disappear, thousands of households are forced to leave their houses. That is why the Mekong Delta needs to be reserved with proper investment," Nhon said.
Adrian Zecha, chairman of Azerai said that Vietnam is a fascinating and promising travel destination, and the Mekong Delta region is considered one of the most beautiful landscapes in Asia.
"With deep local understanding, Novaland Group shares Azerai's orientation and business vision—to develop Azerai in line with sustainable tourism development in Can Tho. After three years of construction and lots of efforts by many people, Azerai has exceeded my expectations," Zecha said.
As one of the international guests who recently enjoyed her one-week stay in Azerai Can Tho, international supermodel Naomi Campbell also commented that with the inspiration of fashion, music, and traditional art conveyed in a fresh way, Azerai Can Tho offers a relaxing resort experience with great open spaces.
This is also the first project in the Nova Phu Sa chain of resorts developed by Novaland Group across the Mekong Delta region.
Will Toyota drop prices to take on imported competition?
Thousands of completely built-up (CBU) cars imported from the ASEAN and enjoying tariff exemption have arrived to Vietnamese seaports, while domestic automobile manufacturer Toyota Motor Vietnam has just expanded its local factory. Will TMV reduce the price of Toyota vehicles to compete with tax-exempt imports?
A cargo ship carrying thousands of CBU cars imported from Thailand has arrived at Haiphong Port several days ago, carrying Honda, Chevrolet, Ford, and Nissan vehicles, according to dantri.com.vn.
An officer at Haiphong Port told that this cargo ship came from Thailand and could carry around 4,000 vehicles. In late June, another cargo ship from Indonesia will arrive, carrying Toyota vehicles among others.
Thus, after a spell of quiet, tax-exempt imported cars from Thailand are flowing into Vietnam, matching consumers' "thirst" for cars. Honda dealers sign contracts with customers and agree to handover the cars a few months later. Ford dealers also announced that they have no Rangers in stock, however, higher value orders are fast-tracked as per company policy.
Meanwhile, the Navara model is expected to enable Nissan to sharply increase sales after the Sunny and X-Trail models' weak performance in the past months. Navara was the best-selling Nissan's model last year.
All these new arrivals have to pass import testing before they can be marketed.
During the first months of the year, only Honda and General Motors have passed all requirements of Decree 116 to import tax-exempt CBU cars. Four Honda models (CR-V, Civic, Accord, and Jazz) were imported in early March, and started selling on the market half a month later. Meanwhile, GM only imported a batch of Chevrolet Trailblazers.
After successfully importing and discounting its first batch of tax-exempt cars by VND200 million ($8,800) for the first tax-exempted cars, Honda raised prices a short time later. A dealership told VIR that Honda CR-V vehicles went from the already rather high price of VND963 million ($42,500) to VND1.073 billion ($47,300), while the Honda Civic went from VND763 to 903 million ($33,600-40,000). On the other hand, some GM models have been reduced by $1,000-3,000.
The consumer demand seems to exceed the number of tax-exempt cars imported as consumers have been waiting for lower prices. However, it seems difficult to buy a cheap car, despite previous expectations.
In this context, TMV has just announced expanding manufacturing in Vietnam to 90,000 vehicles annually, while they sold only 50,381 semi-knocked down (SKD) cars in 2016 and 41,424 in 2017.
The Japanese auto-maker is considering reducing the number of SKD models assembled in Vietnam to two-three from the five before 2017 and the four in 2017.
TMV's president Toru Kinoshita said that while reducing the number of SKD models in Vietnam, they will increase the quantity of remaining SKD cars and reduce their cost. Additionally, TMV will maintain manufacturing in Vietnam if the annual output reaches 50,000 cars.
As a result, consumers can expect Toyota SKD models to get cheaper in the time to come. Against the thousands, even tens of thousans of tax-exempt cars imported from the ASEAN, reducing the price of SKD models may be an unavoidable policy for Toyota and other domestic automobile manufacturers.
Viettel announces business strategy for Mytel
Mytel's development strategy will focus on trading in the data and new digital service segments in Myanmar, based on the four-word motto D-A-T-A.
Mytel's D-A-T-A stands for Digital & new services, Advanced technology, Trustworthy, Affordable & various services.
According to the plan, within the first year of starting operations in Myanmar, Mytel will have 7,000 base transceiver stations (BTSs) nationwide and 30,000 kilometres of optical fibre cables.
After the official launching ceremony on June 6, Mytel will become the first and only telecommunication provider in Myanmar supplying 4G services nationwide.
This business plan is different from existing competitors' who prioritise on rolling out 4G services in large cities before extending their reach to rural and remote areas.
Regarding the charges, at first, Mytel will charge calls and texts at half the going rate at competitors in Myanmar, while data charges will be even lower, at 37 per cent of market rates. Especially, calls will be billed in 1-second blocks instead of the current 15- or 20-second blocks from June 9.
In addition, on the occasion of opening, Mytel will issue the strategic data package named Mite Tal. Accordingly, by paying VND68,000 for this data package, customers will enjoy 5GB of data and 250 minutes of free calls for 30 days. Besides, they will enjoy 1.5 GB and 150 minutes (expiring in three months) plus a 100 per cent bonus on every top-up and calling rates will be billed in one-second blocks after the free calls are used up.
Le Dang Dung, deputy general director of Viettel, stated, "Mobile phone usage in Myanmar is not high yet, and the country's economy has opened to foreign investment and is now growing at a fast pace, thus there are ample opportunities to develop the telecommunication industry. Mitel set the target to have 2-3 million customers in this year alone."
Mytel is a joint venture company of Viettel Global, Myanmar National Telecom Holding Public Limited (MNTH), and Star High Public Company Limited (Star High). The company has a total investment capital of $2 billion, 49 per cent held by Viettel.
Mytel's project has a total investment capital of $1.5 billion, equaling 66 per cent of Vietnam's overseas investment in Myanmar.
With this project, Vietnam climbed from the 10th to the 7th position on the list of 49 countries and territories investing in Myanmar.
Mytel is the 4th mobile phone network in Myanmar, following state-owned MPT, which has a 42 per cent market share, Telenor from Norway (35 per cent), and Ooredoo from Qatar (23 per cent).
Myanmar is a potential market for Viettel due to its high economic growth speed. Additionally, it has the largest population among Viettel's overseas markets, with 53 million.
Myanmar reported high growth in the telecommunication and technology sectors. Notably, the country used to rank among the countries with the lowest mobile phone usage in the world. However, in only three years, the rate of SIM cards per person increased to 90 per cent from 10 per cent. Besides, the number of people using data packages increased to 16 million from the 600,000 three years ago.
The International Monetary Fund (IMF) said Myanmar could increase the scale of its economy four-fold to $200 billion by 2030. The IMF also said the finance, banking, energy, telecommunications, and IT sectors offer the most opportunities for foreign investors both in terms of market potential and human resources.
Viettel Global JSC (a subsidiary of Viettel Group), plans to list its shares on the Unlisted Public Company Market (UpCOM) in the second quarter of this year.
However, the firm has yet to disclose details about the share volume, its capitalization, as well as the date of listing.
Established in late 2007 with the charter capital of VND960 billion ($42.3 million), Viettel Global specialises in investing and developing infrastructure and telecommunications services abroad. At present, Viettel Group owns 98.68 per cent of the company.
Viettel Global is currently one of the biggest Vietnamese overseas investors. It now operates nine telecommunications companies in nine countries across Asia, Africa, and Asia, representing a total population of over 175 million people, 13 million of whom are Viettel customers.
In 2017, Viettel Global reported a net revenue of VND19.02 trillion ($833.5 million), up 24 per cent on-year and a consolidated profit of VND4.48 trillion ($196.3 million) and net profit of VND62 billion ($2.7 million).
US – major export market of southern Dong Nai province
The US is the largest export market for the southern province of Dong Nai, accounting for nearly 30% of the province's total export value, according to the provincial Department of Industry and Trade.
Businesses in the southern province of Dong Nai have exported more than US$1.5 billion worth of products to the US since early this year, a year-on-year rise of 10%, with key products such as wood, bags, suitcases, hats, steel, coffee, pepper and seafood. Products with huge export values like footwear and garments grew by 4-10% against the same period last year.
However, the Ministry of Industry and Trade says the US legal system imposes many strict regulations on imported goods. In addition to common criteria, each state has its own regulations. Therefore, if Vietnamese businesses want to ship their products to the US, they must research the laws and regulations of individual states as well as the country.
Besides, the US will continue to protect its domestic goods by issuing new regulations on the quality and origin of products, particularly for agroforestry and seafood products, which causes a number of difficulties for goods exported from Dong Nai and for the whole country as well.
To avoid an overdependence on certain big markets, businesses in Dong Nai province are finding ways to expand to new markets, especially the countries Vietnam has signed free trade agreements with, to improve their competitiveness.
Duong Minh Dung, director of the provincial Department of Industry and Trade, says the province helps businesses keep traditional markets and supports them in market expansion to reduce risks due to an overdependence on certain markets.
Dong Nai has exported goods to 171 countries and territories around the world, including big markets such as the US, the Republic of Korea, Japan, China and Europe.
Asia Pacific Foundation hails growing Vietnam-Canada ties
Asia Pacific Foundation of Canada, an independent and not-for-profit think-tank on Canada's relations with Asia, has given an analysis by Elizabeth McIninch on its webpage applauding Vietnam's economic progress and its growing ties with Canada.
As the Chair of G7 this year, Canada has invited Vietnam to attend the G7 Summit due for later this week. The gesture helps uphold Vietnam's higher position in the international arena and Canada's respect to its relations with Vietnam on the occasion of their 45th anniversary diplomatic relations.
McIninch said Vietnam has been a center for the manufacturing of smart phones and technological devices of the world. The article noted a 20% increase on average in bilateral trade between Vietnam and Canada with US$6 billion generated last year.
Vietnamese students rank first among Southeast Asian peers in enrolments in Canadian universities with 14,000 students last year.
The article has a promising view about bilateral ties with more cooperation for mutual prosperity thanks to industrious people and close cooperation in trade, arts, science, and education.  
Rubber exports see robust growth in May
May's rubber exports are estimated to have reached 93,000 tons, worth US$133 million, a rise of 31.7% in volume and 33% in value compared to April, and up 54.4% in volume and 32.1% in value against the same period last year, according to the Ministry of Industry and Trade.
Last month's results mean the country exported 424,000 tons of rubber in the first five months of the year, bringing in US$620 million, up 17.4% in volume but down nearly 20% in value on the corresponding period last year.
Meanwhile, according to statistics from Vietnam Customs, exports of most kinds of rubber during the first four months of the year saw growth compared to the same period last year, with SVR 3L up 14.3%, SVR 10 up 54.2%, RSS 3 up 66.2%, and SVR CV60 up 4.5%. Exports of synthetic rubber amounted to 163,880 tons valued at US$238.04 million, making up 49.4% of total rubber exports. However, export prices for rubber dropped sharply in the period, with SVR 5 down 30.8%, synthetic rubber down 28.7%, and SVR 3L down 26.7%.
Rubber prices on the world market began to rise in May due to a forecast of increased demand from China and India, which consume 48% of the global volume of natural rubber. Correspondingly, the prices of rubber latex in the Vietnamese provinces of Binh Phuoc, Binh Duong, and Tay Ninh also surged upwards.
The Association of Natural Rubber Producing Countries (ANRPC) predicted the global output of natural rubber to reach 14.2 million tons this year, a year-on-year rise of 6.4%, while consumption volume is forecast to increase 6.4% to 14.3 million tons.
Vietnam, Canada boost trade ties
The participation of Prime Minister Nguyen Xuan Phuc in the G7 Outreach Summit and his visit to Canada from June 8-10 are expected to create more opportunities for Vietnamese and Canadian businesses to expand their partnership. 
According to the Ministry of Industry and Trade, Vietnam is ranked fifth in Asia in terms of export turnover to Canada, after China, Japan, the Republic of Korea and China's Taiwan. 
The bilateral trade enjoys an annual average growth of 20-25 percent and hit nearly 6 billion USD in 2017.
Vietnam mainly exported mobile phones, printers, electric cables, telecommunication equipment, wood furniture, garment-textile, footwear, aquatic products, coffee, cashew nuts, means of transportation and spare parts, sport equipment, rubber, plastic products, and processed fruit and vegetables to Canada. 
The Southeast Asian country imported from Canada agro-fishery products, soft wood, medicines, wine, navigation services, high technology and clean technology.
Canada is ranking 13th among the total 112 countries and territories investing in Vietnam with 161 projects worth 5.2 billion USD.
Vietnamese Trade Counselor in Canada Do Thi Thu Huong said there is still large room for Vietnamese enterprises to boost exports to Canada, a country that relies on imports for consumer goods. Although the country's market scale is only one tenth of the US' but its per capita import value doubles that of the US.
She noted that made-in-Vietnam goods only make up over one percent of Canada's total imports.
According to Huong, the large number of people of Asian origin, including around 250,000 Vietnamese, in Canada is an advantage for businesses to boost exports of farm produce to the market. 
The trade official added that the Canadian Government plans to diversify the market and reduce its import from the US. Therefore, Vietnam is one of the nations with which Canadian companies want to increase trade and investment ties, she said.
Huong revealed that the Vietnamese Trade Office in Canada has worked with Canada's Trade Facilitation Office to implement projects helping Vietnamese firms make inroads into the market.
Minister of Industry and Trade Tran Tuan Anh appreciated Canada's dynamism in cooperation with the ASEAN alongside with the Trans-Pacific Partnership (TPP). 
In the context of rising protectionism, the role of countries with remarkable influence such as Canada is very important to international integration and globalization, the minister said. 
He was of the view that the Regional Comprehensive Economic Partnership (RCEP) and other bilateral and multilateral trade deals that both Vietnam and Canada might join will continue to provide an impetus for globalization.
Minister Tuan Anh affirmed that Vietnam shares other ASEAN countries' interest in researching and reaching a free trade agreement between the bloc and Canada besides the RCEP and other regional cooperative framework.
The ministry has directed trade offices and relevant units to apply measures to boost exports of Vietnamese key products to Canada, he said.
Apart from long-term strategies, businesses should make use of commitments and incentives from the signed agreements such as the Comprehensive and Progressive Agreement for Trans-Pacific Partnership (CPTPP) and the RCEP to promote exports to Canada, the minister added.
Over the past two decades, Canada has been one of the leading providers of development assistance for Vietnam.
Canada considers Vietnam a priority partner in Asia in its global market action plan, international education strategy, and development assistance policy.
The two countries have also closely work at multilateral mechanisms such as the United Nations, the Asia-Pacific Economic Cooperation (APEC) Forum, and the International Organization of Francophone (IOF).