VN cement industry on the clinker road to recovery
Last update: 15:18 | 30/05/2018
Vietnam's cement market is seeing the light of recovery at the end of the tunnel, thanks to the strong clinker exports.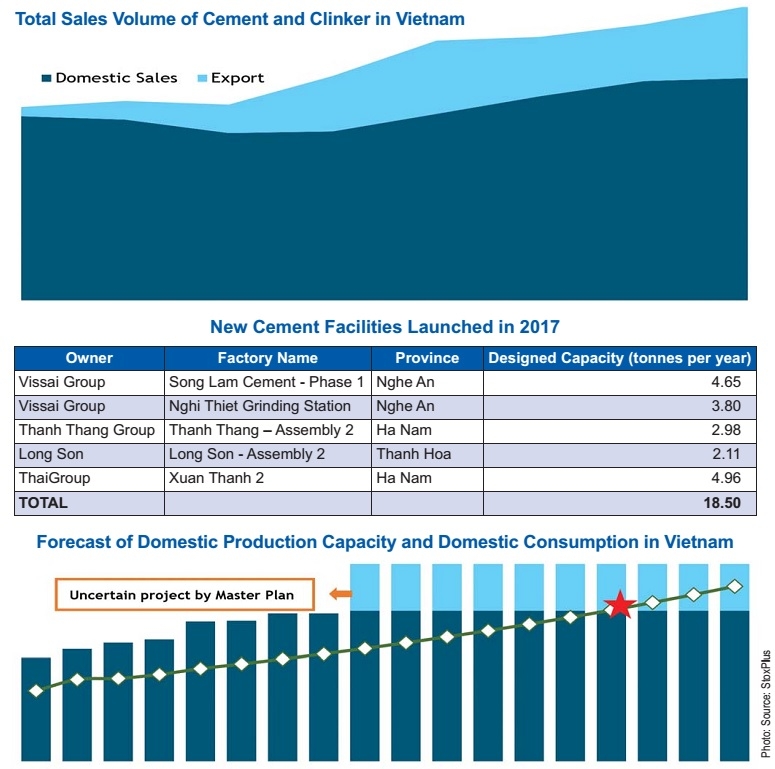 The country's cement and clinker sales volume reached 80.3 million tonnes in 2017, posting a positive growth rate for the third year in a row.
Although domestic consumption has been making up the lion's share of total sales for several years with over 70 per cent, recent years have witnessed its growth rate slowing down, from 9.5 per cent in 2015 to 1.4 per cent in 2017.
While domestic consumption was beginning to stagnate, export activity drove the market, with export volume surging up to 19.7 million tonnes, meaning a strong on-year growth of 27.7 per cent, thanks to increasing demand from key markets like Bangladesh and the Philippines.
Besides, China emerged as a potential exporting market, since China's government implemented an unprecedented pollution crackdown in November 2017, leading to the shutdown of tens of thousands of cement factories in an effort to combat this nation's infamous pollution.
In comparison to 2016, cement export volume fell sharply by 21.4 per cent, while clinker posted a strong growth of 53.8 per cent, making clinker the key driver for cement export activity in 2017. This can be explained by the fact that foreign countries tend to favour clinker over cement imports due to the costs. This trend could continue to shape Vietnam's cement export picture in the long term.
While local private companies continued to launch mega-projects, foreign giants strengthened their presence through mergers and |acquisitions (M&A) activities.
According to the StoxPlus database, there are 107 cement facilities belonging to 93 companies in Vietnam, with total capacity of 120.9 million tonnes per year – with state-owned Vietnam Cement Industry Corporation (Vicem) and foreign-owned companies recording a high utilisation rate of over 80 per cent.
In 2017, private companies continued to operate five new mega-projects – with designed capacity of over two million tonnes per year – equivalent to 18.5 million tonnes per year, resulting in an 18-per-cent surge in total production capacity.
The projects are not only developed by giant local companies such as Vissai or ThaiGroup, but also by other local players like Thanh Thang and Long Son, which indicates a trend in favour of large-scale projects.
In line with StoxPlus' analysis, cement facilities can hardly operate efficiently if the designed capacity is less than one million tonnes per year, especially when taking into account electricity costs, maintenance expenses, and other fixed costs. As for foreign players, 2017 witnessed an upturn in M&A activities when Siam City Cement Company and Siam Cement Group invested heavily into share acquisitions in LafargeHolcim and Vietnam Construction Materials JSC, respectively.
Last December, the Vietnamese government issued Decree No.125/2017/ND-CP, which is expected to boost Vietnam's cement export activities. The 0-per-cent export tariff for cement has heightened Vietnam's competitiveness, especially in the fierce race with other ASEAN countries. It is estimated that export companies can enjoy an increase in profits of $3-4.5 per tonne under the new tariff. Additionally, enterprises are being encouraged to participate in exporting activities, thanks to VAT reimbursement schemes. New regulations have taken effect immediately, which shows in the export numbers for the first four months of this year. In these months, total cement sales reached 29.83 million tonnes, recording a growth rate of 13 per cent on-year, mostly thanks to the active export activities, which increased by 29 per cent on-year.
Based on StoxPlus' analysis of macro-economics and historical cement demand from 2000, taking under consideration the impact of related factors such as the status of infrastructure development and the residential sector, demand growth for cement is projected to hit a rate of 5 per cent until 2030.
Vietnam is expected to be faced with continuous supply surplus before reaching an equilibrium in 2027 at 130.8 million tonnes of cement, not taking into account uncertain cement projects in Vietnam. Even though Vietnamese cement still moves in tandem with the real estate boom, this industry is still expected to enjoy healthy growth in the years to come.
Hai Khieu Analyst, StoxPlus
VIR