HCM City seeks more funds for metro
Last update: 11:12 | 21/05/2018
HCM City authorities have asked the National Assembly (NA) to increase investment for the city's first two metro lines that start near Ben Thanh Market in District 1 and end at Suoi Tien Theme Park in District 9 and Tham Luong depot in District 12.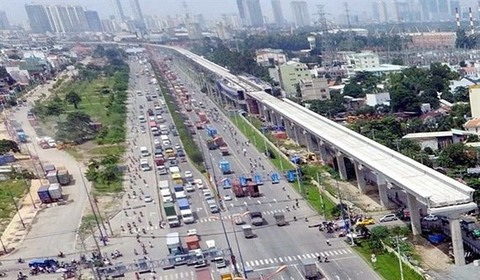 An elevated section of HCM City's metro line No 1 from Ben Thanh in District 1 with Suoi Tien Theme Park in District 9.
The city's People's Committee has proposed an adjusted total investment of VND47.3 trillion ($2.076 billion) and nearly VND48 trillion ($2.107 billion) for metro line No. 1 and No. 2, respectively.
Metro line No 1 (Ben Thanh in District 1 to Suoi Tien in District 9) was approved by the city in April 2007 with an investment of VND17.4 trillion ($766.4 million). Approval by the NA was not needed at that time.
After investment costs were re-calculated by consulting agencies, costs increased to more than VND47.300 trillion.
The city administration attributed the rising costs to price changes for construction materials, an increase in the minimum wage, and the depreciation of the Vietnamese dong and Japanese yen, among others.
In August 2011, the PM agreed to the city's proposed project adjustments. But with investments reaching more than VND47.3 trillion, the NA then had to approve the amount.
According to the city's People's Committee, the city has signed three loan agreements worth VND31.208 trillion, of which VND11.929 trillion has been disbursed, accounting for 38 per cent of the total signed loan agreements.
The project has implemented four bidding packages and has completed around 52 per cent of the work on metro No 1, with most of the work on an elevated section and depot at metro No. 1 completed.
As for the metro line No 2, which connects Ben Thanh market in District 1 with Tham Luong in District 12, the city People's Committee in 2010 approved a design by a local consulting firm, with a total investment of $1.37 billion.
Meanwhile, investment capital for the second metro line Ben Thanh-Tham Luong also increased, from VND26 trillion to nearly VND48 trillion, after the completion deadline was extended from 2020 to 2026.
According to the Ministry of Construction and Ministry of Finance, the project needs to be reported to the PM before being submitted to the NA for approval.
The city People's Committee said suspension or cancellation of the projects would lower trust among the funding sponsors, and increased commitment fees for unallocated loans. It would also affect the trust of residents affected by the project. — VNS