Provinces ban land speculation
Last update: 11:04 | 21/05/2018
After land prices, and, along with them, instances of violation of land laws, surged in certain places, the provinces involved have temporarily banned land transactions pending the approval of new regulations, helping cool off the market.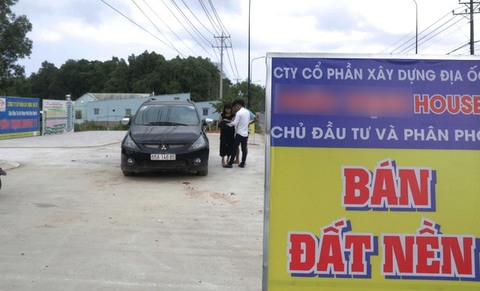 A plot of land for sale in Phu Quoc. Kien Giang has temporarily banned the subdivision and repurposing of land on the island to control a rush of speculation. – Photo tuoitre.vn
Last month Prime Minister Nguyen Xuan Phuc instructed related authorities to tackle land-use rights violations and speculation on Phu Quoc Island, Bac Van Phong in Khanh Hoa Province and Van Don in Quang Ninh Province.
They are slated to become special administrative zones if approved by the National Assembly at a session next October.
The designation would allow them to offer incentives to investors, meaning land speculators have been targeting land plots there.
In respond to the PM's request, Pham Vu Hong, chairman of Kien Giang Province – home to Phu Quoc -- has instructed departments to stop subdividing and repurposing land on the island this week.
Earlier the Phu Quoc People's Committee had petitioned the Natural Resources and Environment Office to put a stop to all subdivision of land plots.
The province People's Committee had admitted it was becoming difficult to control violations of land-use regulations on Phu Quoc.
The island has seen an increase in the illegal appropriation of unplanned lands, subdivision of lands without approval, illegal construction, and speculators buying up lands.
A river in Duong Dong town was reduced from 20 metres in width to four metres after people slowly encroached land in it.
The prices of certain lands which have been divided into lots have quadrupled in the last year to VND1 billion now. Yet, every day hundreds of transactions are recorded at notary offices on the island.
The violations and speculation have made things hard for land administration authorities and affected the development of the property market.
Van Don and Bac Van Phong are in exactly the same situation.
In the last four months there have been 2,400 property transactions in Khanh Hoa's Van Ninh District where the Bac Van Phong special administrative economic zone will come up.
In Van Don District in Quang Ninh, some land plots have seen prices go up five to seven times since last year.
Authorities begin crack-down
Quang Ninh Province has temporarily stopped all land-related activities including sales in Van Don except for special cases.
This has come in for sharp criticism, with experts saying this could have a devastating effect on the district property market.
Khanh Hoa has only banned the repurposing, sale and subdivision of agricultural and forest lands.
A property expert in Quang Ninh said as prices and the number of transactions skyrocket, authorities are keeping a closer eye and uncovering many cases of fraud.
Van Dung Chinh of the Vina Real Group's board said stopping the repurposing and sales of lands in the special economic zones is necessary to stop the price surge seen in the last few months.
The provinces'decisions have helped cool off the market.
In Van Don for instance, prices have fallen by VND2 million a metre in some places.
At the Van Ninh District land registration office, the number of customers queuing up for land in Bac Van Phong has decreased by half.
Notary offices in Phu Quoc are also seeing fewer transactions, with the number declining to around 100 a day from hundreds earlier.
However, the Ganh Dau Commune People's Committee said in certain places land prices are still increasing since people are trading illegally. – VNS