VN stocks may keep weakening
Last update: 11:02 | 21/05/2018
Vietnamese stock markets will likely remain gloomy in the coming week as investors could maintain poor confidence amid the volatility of the market, thus keeping overall liquidity low and too weak for a market's short-term comeback.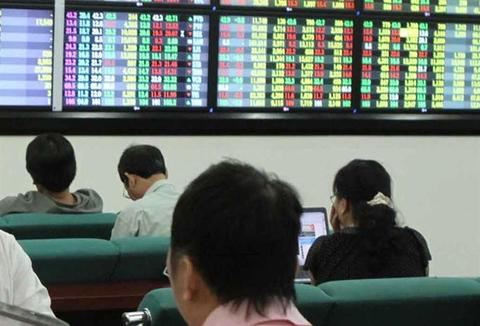 A trading session at Maybank Kim Eng Securities Company in HCM City. 
The benchmark VN Index on the HCM Stock Exchange (HOSE) advanced nearly 1 per cent to close Friday at 1,040.54 points, totalling a weekly loss of 0.4 per cent.
The VN Index has erased 13.6 per cent since it hit the record high of 1,204.33 points on April 9.
The minor HNX Index on the Ha Noi Stock Exchange inched down 0.19 per cent on Friday to end last week at 121.27 points.
The northern market index fell a total 1.2 per cent after one week.
An average of 246 million shares were traded in each of the five trading sessions last week, worth VND11 trillion (US$489 million).
The daily average trading figures last week increased by 16.6 per cent in volume and 92.5 per cent in value after Vinhomes JSC, the hi-end property arm of Vingroup, debuted on HOSE on Thursday with nearly 2.68 billion shares with code VHM.
VHM shares soared on its debut and hit the daily trading band of 20 per cent, ending the day at VND110,500 per share, making it the second-largest listed company by market capitalisation after Vingroup.
Some 267.8 million VHM shares, worth VND31.57 trillion, were traded through advance negotiations between foreign investors. The massive trading amount of VHM shares helped Viet Nam's stock market trading value exceed $1 billion for the first time, reaching VND35.83 trillion ($1.59 billion).
If the trading liquidity of VHM shares was excluded from the market's total figure, the remaining amount was some VND3.32 trillion worth of 197 million shares, proving market sentiment remained low and kept investors from making new purchases on the stock market.
The trading of VHM shares also turned foreign investors into net buyers last week as they posted a net buy value of nearly VND28 trillion.
However, without VHM shares being traded, foreign investors remained as net sellers with total net sell value of VND567 billion, compared to a net foreign buy value of only VND5.75 billion made in the previous week.
According to securities firms, the short-term gaining momentum of the stock market is short-lived as large-cap stocks are having mixed performances and there are no signs of improvement in investors' confidence.
Energy stocks played the main role to drive the markets upward last week following the increases of crude prices on global trade. Brent crude had gained as much as 0.6 per cent on Friday before finishing at $78.51 a barrel, up total 4.9 per cent since May 8.
The stock market may keep encountering strong selling pressure this week if recovery does not come along with improvement in trading liquidity, securities firms said.
According to Sai Gon-Ha Noi Securities Co (SHS), the stock indices have yet defined their bottoms and risks will likely appear in coming sessions.
Bao Viet Securities Co (BVSC) wrote in its weekly report that strong last-minutes buying for large-cap stocks in the afternoon session of Friday lifted the VN Index and offered a chance for an uptrend early this week.
"However, as liquidity has weakened lately, maybe the market has yet to hit the bottom" and it has not ended the downtrend so it can rebound from the current price range, BVSC said, adding that liquidity remained relatively below the 21-session average amid negative market breadth, turning investors cautious and worried about a market's breakdown through the bottom. — VNS