Last update: 08:30 | 18/04/2018
Dialogue talks Vietnam – Iran business opportunities
A Vietnam – Iran business dialogue took place in Hanoi on April 17 to discuss business opportunities between the two countries. 
The event was co-organised by the Vietnam Chamber of Commerce and Industry (VCCI), the Vietnam – Iran Business Council and Iranian Embassy in Vietnam on the occasion of the ongoing visit by Speaker of the Parliament of Iran Ali Ardeshir Larijani. 
Speaking at the dialogue, VCCI Vice President Doan Duy Khuong said bilateral ties have grown towards lifting two-way trade to 2 billion USD, with a focus on oil and gas, telecommunications, agriculture and aquatic products. 
Two-way trade hit 164.6 million USD last year, a modest figure compared to the two countries' potential. Vietnam could export rice, tea, coffee, cashew nuts, pepper, rubber, motorbike and bicycle spare parts to Iran while the Western Asian country could ship petrol, asphalt, chemicals and plastics to Vietnam. 
Apart from trade and investment, tourism remains a promising field, given that Vietnam is home to a number of tourist landmarks and beautiful beaches. 
Khuong said Vietnam established the Vietnam – Iran Business Council in April 2017 with an aim to serve as a bridge connecting cooperation opportunities between the two countries' businesses. 
Larijani, for his part, suggested bilateral cooperation in oil and gas, petrochemicals, especially liquefied gas, seaports, information technology, telecommunications and tourism, adding that Iran needs to import seedlings, plant oil, rice, and wood materials for paper production. 
He expressed his hope that difficulties in payment method and visa will be removed to contribute to raising two-way trade. 
A representative from Iran said the country is now home to six free economic zones where enterprises will enjoy tax exemption within 15 years and many other incentives.
Hai Phong port welcomes largest ever container ship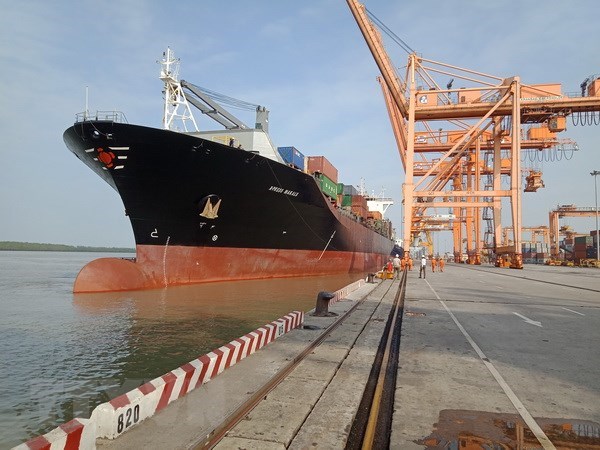 Singaporean-flag X-Pree Feeder container ship has become the largest ship of its kind to dock at Tan Vu port in the northern port city of Hai Phong. 

The ship, which is 210.96 metres in length and 32.2 metres in width, has a deadweight tonnage of 32,161. 

The vessel left China's Hong Kong port for the Port of Hai Phong JSC's Tan Vu Port to offload cargo on April 16 and will leave the port at 0:30 am on April 17.

According to Cao Trung Ngoan, deputy director of the Port of Hai Phong JSC, the arrival of X-Pree Feeder is a landmark for Hai Phong Port as it proves the port's capacity and affirms the significance of investment to modernise the port.

The company has fulfilled its plan to develop Tan Vu Port into the largest and most modern container port in the northern region, he added, expressing his hope that relevant authorities will take more actions to ensure the safe reception of cargo ships as well as comprehensive development of port businesses.

Quality labour improvement needed for sustainable development: experts

Economic and social experts have stressed the necessity to raise the quality of human resources, thus improving the labour productivity and promoting sustainable development in the country. 

According to Chairman of the Vietnam Chamber of Commerce and Industry (VCCI) Vu Tien Loc, labour quality is a great pressure for Vietnam as this is one of factors to Vietnam's sustainable development in the future.

Education reform has become an important requirement, he said, noting that education and training in universities has to meet the market's demand.

At workshops on human resources quality improvement, economists said it is necessary to apply a range of feasible and effective solutions to improve the quality of human resources towards the increase of labour productivity, the capacity of business management, thus raising the competitiveness of the economy, especially in the context of intensive and multi-dimensional international economic integration. 

Associate professor PhD. Pham Van Son, director of the Education Ministry's Support Centre for Manpower Training and Supply, Vietnam's labour force has a great opportunity to participate in the regional and world labour allocation process.

He, however, stressed that in order to achieve this goal, it is necessary to raise the quality of human resources in a variety of ways, such as improving educational level and labour skills, encouraging self-study, developing talents and building learning society, and combining the human resources development strategy and the socio-economic development strategy. 

"In order not to fall far behind, Vietnam needs to innovate human resources training, while devising appropriate mechanisms, policies and solutions to quickly better the quality of current human resources", he said.

This is a long-term and vital strategy to sustainably develop the high-quality labour force, meeting the country's industrialisation, modernisation and international integration, he affirmed. 

Experts also underlined the need to improve not only specialised knowledge, but also foreign language and other knowledge, saying that this is important for Vietnam's international integration target. 

According to the Association of Southeast Asian Nations (ASEAN), skilled human resources with good education and foreign language ability, particularly English, will be prioritised to freely work in ASEAN member nations. In addition, labourers can find suitable jobs and receive additional skills training. 

According to the Ministry of Labour, Invalids and Social Affairs (MOLISA), a number of industries bring opportunities for labourers to collaborate with small and medium sized companies in other countries. However, the professional level of the workforce must meet the requirements set by those companies.

In a recent report by VCCI, 60 percent of foreign direct investment (FDI) enterprises said they would continue to expand their business in Vietnam. 

However, the issue of labour quality is their concern. Vietnam is attracting more and more FDI due to the advantages of institutional stability, large-scale market, abundant workforce, cheap labour cost, the report said.

HCM City summit talks social enterprises

Developing creative business models that help generate profits and at the same time improve the life of the community and well address social issues is the new way of doing business in Vietnam, heard the Impact Enterprise Summit in Ho Chi Minh City.

Impact enterprises are defined as financially self-sustainable and scalable ventures that actively manage to produce significant net positive changes in well-being across underserved individuals, their communities, and the broader environment.

Hui Woon Tan, founder of Alley 51 Ventures and The Purpose Group, said social impact-driven businesses are not merely built for the selfish capitalist man.

"But the man who understands true sustainability and the value of a business must also take into account the real world where we are reliant and dependant on each other to survive,"' she said.

Ly Truong Chien, chairman of Tri Tri Group, said about one fourth of the population of Vietnam is in need of support, which can be in education, healthcare, employment or others.

If more impact enterprises with innovative and sustainable business initiatives are established the number of people needing support would reduce, he said.

Shuyin Tang, partner at Patamar Capital, said: "The current investor narrative around Vietnam often highlights a fast-growing GDP, a young, high-density population, high smartphone penetration, and a deepening talent pool.

"However, around 30 per cent of Vietnamese adults are unbanked, representing a huge financial inclusion opportunity. Significant segments of the population lack access to affordable, high-quality education and healthcare services. There's a huge opportunity to tap into these underserved markets, which in our view will yield attractive financial as well as social returns."

In Vietnam, there are some successful social impact enterprises which provide life-changing opportunities for blind people, people with hearing impairments, street children, help solve social issues such as environmental and food safety concerns, distribute public services (bus and train online tickets), and follow other models to give back to the community.

At the summit, sustainable businesses that have made positive social impacts in many spheres such as education, agriculture, technology, and micro-finance shared with more than 300 young participants their stories, including the advantages and challenges they have had.

Replying to a question about how young entrepreneurs with limited experience and funding can create the impact they desire, Hui's advice for young people was "to find the hard problem you want to solve first. Find something that is intimate to you if that's possible. Immerse thoroughly into it with passion. Get down and dirty, talk to the real people you are impacting. Immerse in their stories. And then think out of the box, apply creativity.

"Your biggest asset is that you have naivety and won't be bogged down by what others tell you won't work. You will need all this as you develop your solutions that are truly impactful.

"After that, build your business like any other good old traditional revenue-generating business. Get your boring fundamentals like basic accounting, treating talent properly, organisation, operations and all that right."

The summit was organised by Seed Planter, the first entrepreneurship institute for impact entrepreneurs in Vietnam, and the Centre for Social Initiatives Promotion.

Vietnam firms advised to invest in Indian garment market

A representative of the Indian Consulate General in Ho Chi Minh City recommended Vietnamese companies look for investment opportunity in the Indian market of 1.3 billion people, particularly in garment and textiles.

Currently Vietnam and India are among the five leading garment exporters in the world. Last year, the value of India apparel exports to Vietnam grew 44 percent to 429 million USD, while Vietnam's shipment of garment-textile products to India reeled in 178 million USD, an annual increase of 42 percent.

The Indian Government is allowing 100 percent foreign direct investment (FDI) in single-brand retail via automatic route, which means foreign investors can pour money into the market without prior permission from the authorities. Vietnamese garment companies can take advantage of the policy by investing in the production of threads, fabrics and ready-made clothes.

It was estimated that between April 2017 and January 2018, Vietnam – India trade reached 10.39 billion USD, surpassing the figure of 10.13 billion USD recorded from April 2016 to March 2017.

Improving trade transactions and connectivity have been classified as a strategic target by the two countries' leaders.

The two countries aim to bring bilateral trade to 15 billion USD by 2020.

Last year, Vietnam exported 31 billion USD worth of textile and garment products, up 10.23 percent from the same period last year while its imports of textile and garment materials, mostly yarns and fabrics, amounted to 19 billion USD.

Garment sector needs manpower development strategies: workshop

To develop and enter global supply chains, the textile-garment industry needs to have strategies for developing high-quality human resources right from now, insiders said at a recent workshop in Ho Chi Minh City.

Pham Xuan Hong, Chairman of the HCM City Association of Garment, Textile, Embroidery and Knitting (AGTEK), said at the event on April 14 that textile-garment is not only a spearhead export industry of Vietnam but also one of the sectors generating the biggest numbers of jobs, about 2.5 million.

However, most of employees in the sector are manual workers in charge of simple steps while the steps requiring technical skills like dyeing or designing are facing a shortage of skilled workers.

Hong said the shortage of high-quality manpower is also one of the reasons why local production of apparel materials remains undeveloped and Vietnam has to depend on imported materials. Meanwhile, the steps generating high added value like designing products and building brands are still limited.

Although Vietnam is one of the five biggest apparel exporters in the world, global consumers haven't known any Vietnamese fashion brands, he said.

Dr Pham Xuan Thu from the HCM City College of Foreign Economic Relations said only about 30 percent of over 6,000 textile-garment businesses in Vietnam operate in textiles, including weaving, dyeing, printing and finishing fabric. Most the remaining firms make products ordered by foreign fashion brands. Only few of them are able to create their own products, from manufacturing fabric, designing to making apparel.

Many companies still have to hire foreign experts and technicians at high costs to be responsible for dyeing, completing fabric and designing products, thus augmenting production costs and reducing their products' competitiveness compared to foreign rivals, he added.

Amidst growing integration and competition, to retain development and engage in global textile-garment value chains, the country needs to invest in training and improving manpower quality in an appropriate manner, participants in the workshop said.

Dr Thu said the textile-garment sector has expanded to a certain size and now it's time for it to make changes in quality, which means switching to the stage creating more added value.

To do that, the sector has to restructure both production and manpower, he noted, adding that only when labour quality increases can businesses make use of material sources well, raise labour productivity and improve management capacity to boost their competitiveness.

He suggested them invest more in manpower training, recruit and give intensive training to committed employees, and offer appropriate salary and bonus to encourage workers to make self-improvement.

Another problem facing textile-garment companies is that their employees tend to switch to other firms to look for better opportunities after getting training and experience. Therefore, to keep employees, aside from appropriate salary, businesses should also create conditions for workers to show their capacity, create a friendly work environment and pay attention to workers' spiritual needs, Thu said.

At the workshop, AGTEK Chairman Hong also called for more active participation of State management agencies and training schools to boost training in the textile-garment industry.

Pig farms disappearing
     
The ratio of individual animal farmers has significantly declined in the southern province of Dong Nai in the last two years, with foreign-invested companies often replacing them.

Dong Nai is a southern animal husbandry centre with 50,000 farming households, but the situation has changed since late 2016 as pork prices plummeted. Since then, pig prices have not recovered while costs have kept increasing, pushing many husbandry households into bankruptcy.

To mitigate the situation, the Ministry of Agriculture and Rural Development and other authorities plan to review and amend the development master plan for the industry, and encourage households to have a closed production chain to control input quality and enhance value. However, the relentless decline in pork prices has not allowed these solutions to be implemented and thousands of households have quit for good.

According to the local agriculture department, the number of sows in the province reduced by 24,000 in the last few months to 290,000.

"However, the number of female pigs is still high," one official said."They could deliver 5.8 million piglets each year, one million more than the demand."

But foreign-invested companies have begun to invest in the local husbandry sector. Thailand-based company CP raises 7.25 million meat pigs a year and accounts for all the sows in the province,.

The company supplies 40-45 per cent of all the pork sold in the southern region, and each time it changes prices the entire market has to follow suit.

"The husbandry market trend is hard to predict, but due to losses in the last two years households have been the first to quit followed by small- and medium-sized farms, even big ones," Pham Duc Binh, chairman and CEO of the Thanh Binh Ltd Company told Phu Nu (Women) newspaper.

Construction firms to focus on partner rating system
     
Partner rating is a necessary and significant step, directly improving the quality of construction, and indirectly helping to improve the capacity, responsibility and professionalism of enterprises.

The statement was made by Ngo Huu Tiep, chairman of GIZA Engineering and Construction JSC (Giza E&C) at a conference held in Ha Noi on Monday.

Contractors participating in construction are important factors contributing to the success of projects. The ability of partners, especially sub-contractors, as well as the co-ordination between contractors and sub-contractors, has a direct impact on the progress and quality of implementing project, followed by the prestige of the general contractor.

Understanding the role of sub-contractors, construction workers and suppliers in the value chain of the construction industry, Giza E&C has researched and issued a partner rating system to help improve the contractor's awareness of construction management, quality and safety.

The ultimate and most important goal of this rating system is to select suitable partners to carry out the project, encourage contractors to improve and enhance their own capacity, thereby improving the quality of the building, Tiep told Viet Nam News.

The main topic of discussion at the conference was the promulgation of criteria for evaluating bidders participating in the project in two stages: pre-bidding and post-bidding. The four key stakeholder groups involved are subcontractors, suppliers, construction teams and credit institutions, with different rating scales.

The selection of pre-bids to help classify to determine the subcontractor's construction specialty as well as the size of construction work that the contractor can take. Accordingly, the evaluation criteria will be based on five groups (finance, human resources, technology and techniques, experience), with each criterion group containing different indicators, Tiep said.

Giza E&C also pays attention to evaluating, ranking partners during and after construction.

The year 2017 has marked the success of Viet Nam's economy in achieving GDP growth of 6.81 per cent - the highest level in the past six years. The domestic construction sector has witnessed an impressive growth, with many new emerging names which are quickly meeting the quality requirements of international investors, besides the well-known companies in the sector.

With the motto of co-development, new contractors are catching the new trend - design and construction (D&B) in order to provide full package services for investors from design to construction, equipment installation and maintenance.

Room to foster VN-Taiwan ties
     
There remains massive untapped potential for bilateral co-operation between Vietnamese and Taiwanese firms in the sectors of automotive parts, green energy and e-commerce, said Chening Fan, director of the Taiwan External Trade Development Council (TAITRA) - a Taiwanese nonprofit trade promoting organisation.

The director made the remarks to the press on the sideline of a business matching conference held on Monday in Ha Noi. The event witnessed the participation of approximately 138 enterprises, 100 of which were Taiwanese.

Viet Nam has experienced high economic growth rates in recent years and is a lucrative market for Taiwanese products, he said.

Alongside this, Viet Nam has signed many free trade agreements (FTAs) with various countries and blocs. This has resulted in tax incentives that Viet Nam could benefit from when exporting goods to many large markets. As a result, Taiwanese enterprises hope to foster their co-operation with Vietnamese partners in developing products which could then be shipped to these markets, the director said.

Sales Director of Long Tsuen Industrial Co Howard Ko, which manufactures and exports valves and pipe fittings, boiler parts, and water, gas and steam accessories, said his company seeks to expand its partnership to more Vietnamese businesses to increase its distribution to further tap into the market.

Long Tsuen Industrial Co exports US$100,000 worth of products to the Vietnamese market annually. This is a modest figure compared to the potential that the market holds, he said, addding that the industry and construction sectors in Viet Nam have grown rapidly over the past few years, resulting in high demand for his company's products.

During the business forum, firms from Viet Nam and Taiwan also discussed co-operation opportunities in many other areas such as home appliance, farm produce, cosmetics and sports equipment.

A representative of a Vietnamese company specialising in producing and processing cinnamon-made tea products said during the event that his company hopes to advertise its products and seek new trade partners from Taiwan because of similarities in tea culture between the two economies.

Bilateral relations between Viet Nam and Taiwan in trade and investment have been improving over past years.

Bilateral trade reached $12 billion in 2016 and over $12.4 billion in the first 11 months of 2017. Viet Nam exported nearly $2.88 billion worth of goods to Taiwan during this period, up 16 per cent year on year while its imports from the market hit close to $9.55 billion, up 9.4 per cent year on year. This means that Viet Nam saw a trade deficit of more than $6.7 billion with Taiwan, 7 per cent more than the same period of 2016.

Among Viet Nam's major exports to Taiwan are live animals and animal products, vegetable, processed food, and beverages, as well as minerals, crude oil, chemicals, rubber goods, and textiles and garments.

Its imports from Taiwan consisted mainly of seafood, plastic materials, wooden goods, chemicals, paper and paper pulp, electronics components, machinery and transport vehicles.

As of March, Taiwan was Viet Nam's forth largest source of foreign direct investment with 2,549 projects, capitalised at $30.94 billion.

VN firms to exploit Malaysia opportunities
     
Many Vietnamese firms are set to participate in the 2018 Selangor International Business Summit (SIBS) in Malaysia to exchange information and seek business opportunities, a meeting heard in HCM City on April 16.

To be held from September 6 to 16 at the Malaysia International Trade and Exhibition Centre in Kuala Lumpur, it will feature three main events – the 2018 Selangor International Expo, the 2018 Selangor-Asean Business Conference, and the 2018 Selangor Smart City and Digital Economy Convention.

Dato' Hasan Azhari Haji Idris, CEO of Invest Selangor Berhad, the event's organiser, said amid the current global economic situation it was imperative for ASEAN members to operate as a united community and support each other.

As the gateway to ASEAN, Selangor would act as a centre point that hosts and connects a rich network of trade industry players globally by leveraging a solid platform like SIBS, he said.

Sofian Akmal Abd. Karim, the Malaysian consul general in HCM City, said: "Through its rich network, the summit presents opportunities for local and foreign multi-national corporations to showcase their products and services. Subsequently, it also acts as a strategic avenue for marketing, collaborations and partnerships, and provides exposure as well as information on the latest technological developments."

Faizal Izany, trade counsellor at the Malaysian consulate, said one of the summit's main events, the food and beverage-focused 2018 Selangor International Expo, would be a good platform for Vietnamese food producers to promote their products in Malaysia as well as ASEAN and global markets.

Vietnamese enterprises would also have a chance to learn about halal food and how to get the certification to penetrate the huge global halal market, he said.

Idris said the 2018 SIBS was expected to have a total of 1,000 booths and 25,000 visitors, up from 691 and 22,071 last year.

At the meeting, the Viet Nam Exporters Association and other business groups based in HCM City said they would send business delegations to the summit.

Trade between Viet Nam and Malaysia was worth US$10.06 billion last year after rising by 19 per cent.

The two countries are striving to lift their trade to $15 billion by 2020 under their Strategic Partnership framework.

Karim said Selangor was the largest of Malaysia's 13 states in terms of GDP, making up about 22.7 per cent of the country's economy in 2016. It was also one of the most developed states and most populated, he added.

Invest Selangor provides information, facilitation services and start-up and expansion assistance for businesses planning to invest in the state.

Lawmakers lament lousy logistics limitations
     
High logistics costs and inefficient logistics networks continue to provide a challenge for policy makers, hamper businesses, and threaten competitiveness.

Prime Minister Nguyen Xuan Phuc, during his speech at a national logistics conference on April 16, reaffirmed the importance of capable logistics infrastructure in Viet Nam's economic growth. The industry is valued at billions of US dollars, and is one of the 12 priority industries supported by the ASEAN community.

And yet, this attractive service sector may soon be taken over by foreign firms, seeing as domestic ones have yet to become fully established on the market, said the PM.

He quoted Benjamin Franklin, "Beware of little expenses. A small leak will sink a great ship", emphasising the potential harm that high logistics costs and ineffectual transport can cause to the economy.

As assessed before by the World Bank, logistics costs in Viet Nam are equivalent to about 20.9 per cent of total GDP, of which transport costs account for 60 per cent.

The same number in China is around 19 per cent, while it is 18 per cent in Thailand; 11 per cent in Japan and roughly 10 per cent in European countries. This puts Viet Nam at number 64 out of 160 countries on the World Bank's Logistics Performance Index.

"High logistics costs are among the biggest barriers for Vietnamese enterprises' competitiveness, mainly due to unreasonable investment and poor connections between different modes of transport," said the PM.

Therefore, the Government must actively promote reducing the cost of logistics for businesses via concrete deeds, such as the recently approved Action Plan to improve Viet Nam's competitiveness and develop logistics services by 2025.

There should be strong State support mechanisms and policy planning in the sector, since its functions are not just limited to freight forwarding, but also include other activities such as warehousing, packaging and cargo handling.

"If the logistics sector is well and good, it will save transportation and product costs, and increase firms' competitiveness and profit", added PM Phuc.

Speaking at the conference, Deputy Prime Minister Trinh Dinh Dung addressed four current issues facing the logistics sector, as well as possible solutions to be enforced.

The first and foremost problem involves institutions and policy, as current legal regulations on logistics may need to be amended to keep up with present day industry demand. There is also indication that some localities with domestic ports have yet to properly locate warehouses and shipyards to store goods, thus pushing transport costs up.

The second issue that the Deputy PM mentioned was related to infrastructure development, chiefly with regard to connecting transport routes between logistics centres such as ports, railways, airports, and cargo transshipment ports.

Thirdly, he discussed inefficiency in linking different modes of transport, highlighting some difficult to explain issues such as market favourability for high cost transport modes. Sea and railway transport account for 4.7 and 0.39 per cent of total transport respectively, while road transport accounts for nearly 80 per cent, yet road transport is favoured over the cheaper alternatives.

Finally, he suggested that logistics firms focus on the operation scale expansion and human resources training.

Meanwhile, Deputy Minister of Transport Nguyen Van Cong stated that the domestic aviation sector is accelerating air cargo services development and establishing its own freighter network, encouraging investors to finance regional cargo airports with the appropriate incentive mechanisms.

According to the Ministry of Transport (MoT), the estimated cost of transporting a 40 foot long container (about 12 metres) by road from Ha Noi to HCM City (excluding the cost of unloading and loading at both ends) is about VND40 million (US$1,780), practically 10 times more expensive than by sea, and 2.5 times more expensive than by rail.

Cong said that the high cost is due to unfair competition, mainly through intermediaries, which has done little to optimise the national transport sector. Notable examples are high petrol prices and Build–Operate–Transfer (BOT) charges.

Railway, inland waterways and seaway transportation are lower in cost, but transport time is much longer, with higher loading and unloading fees and outdated carriers.

Cong added that in order to reduce logistics costs, the MoT should invest in the formation of a national high-speed road network, dedicated to ensuring efficient connections between industrial parks, key economic centres, and important traffic hubs, as well as between sea ports, railway stations and inland water ports.
RoK's exports to Vietnam drop 3.3 percent in March

The Republic of Korea (RoK)'s exports to Vietnam sank 3.3 percent in March 2018, according to the Korea Customs Service (KCS). 

The KCS said on April 16 that the RoK's exports rose 6.1 percent in March from a year earlier, largely thanks to strong demand for semiconductors and petrochemical goods. 

The country's outbound shipments were estimated at 51.6 billion USD in March, compared with 44.6 billion USD a year earlier. 

Meanwhile, the RoK's imports rose 5.2 percent in the reviewed period to 44.8 billion USD, resulting in a trade surplus of 6.8 billion, it added. 

March 2018 marked the 74th month in a row the RoK's trade balance has stayed in the black, said the KCS.

Chip exports surged 43.9 percent in March from a year earlier, leading last month's export expansion. Oil product shipments added 1.1 percent, but those for automobile and ships declined 8.1 percent and 30.9 percent respectively.

Export of telecommunication devices, such as smartphone, fell 9.2 percent as local companies increased production in overseas factories.

Shipments to China, the RoK's biggest trading partner, increased 16.6 percent, but those to the US, the second largest overseas market for locally made goods, fell 1 percent.
German delegation seeks trade cooperation with Viet Nam
     
Viet Nam has changed dramatically in the last three decades, thanks to its dynamic economic growth, and is close to being called an industrialised country. This is a promising start for further expansion of business relations between Germany and Viet Nam. 

The statement was made by Volker Wissing, Deputy Prime Minister of the State of Rhineland-Palatinate cum Minister of Economic Affairs, Transport, Agriculture and Viniculture of Rhineland-Palatinate, at a conference in Ha Noi on Monday.

Despite being one of the 16 smallest States in Germany, Rhineland-Palatinate is a successful and forward-looking business region on the international stage. Besides its traditional strengths in chemical, pharmaceutical, automotive and mechanical engineering industries, the State is well-positioned in the environmental technology, agriculture and healthcare industrial sectors.

Last year, Rhineland-Palatinate's gross domestic product reached 144 billion euros (US$177.56 billion) and created some 20,000 jobs. The State has a clear orientation for export, with 55.9 per cent of economic output for the exporting sector.

According to Joe Weingarten, head of Innovation and Technology Department under the Ministry of Economic Affairs, Transport, Agriculture and Viniculture of the State of Rhineland-Palatinate, the State is currently targeting six key sectors: life sciences and health economy; energy and environmental technologies and resource efficiency; automotive and commercial vehicle industry; information and communication software systems; material and surfaces as well as microsystems, sensor technologies and automation.

At present, there are some 300 German enterprises doing business in Viet Nam, of which 68 per cent said they were satisfied with the country's business environment and 75 per cent hoped to further invest in Viet Nam in future.

However, one of the main obstacles for German firms is seeking skilled workers in Viet Nam, said Marko Walde, chief representative of German Industry and Commerce Viet Nam.

One of the advantages for Vietnamese firms doing business in Germany is the large community of Vietnamese people living there. Some Vietnamese companies, such as FPT Telecom Joint Stock Company and Viet Nam Bank for Industry and Trade, are running successful businesses in Germany.

It is hoped that when the European Union-Viet Nam free trade agreement comes into effect, Viet Nam will have a better advantageous position than neighbouring countries such as Thailand, Malaysia or the Philippines, Walde said.

"Germany makes it easy for foreign companies to open branches or do business. The legal conditions are minimum. The only thing a firm needs is capital---a minimum of 25,000 euros to open a limited liability company in Germany," Unal Kaykci, director of legal and consultancy firm Kaymakci & Koil.'s, told Viet Nam News.

Regarding difficulties faced by Vietnamese firms in cooperating with German enterprises for importing German products, Vu Bich Ngoc, chairman of Dung Giang Construction and Trading Company Limited, told Viet Nam News that the legal procedures in tax, import and transportation were the main obstacles for domestic firms in importing and distributing products from foreign countries.

Indirect investment from RoK to Viet Nam promoted
     
Finance Minister Dinh Tien Dung is chairing a conference in Seoul from 16-19 to promote indirect investments from the Republic of Korea (RoK) to Viet Nam, according to the State Securities Commission (SSC).

At the investment promotion conference, Vietnamese officials will publicise the country's policies on economic restructuring, equitisation of State-owned enterprises (SOEs) and measures to encourage foreign indirect investment into the stock market.

The conference also creates a venue for Vietnamese management agencies to meet and encourage RoK financial investors, bankers and insurers to conduct business in Viet Nam, as well as to hear assessments and recommendations from Korean investors regarding Viet Nam's financial and insurance markets.

According to SSC Chairman Tran Van Dung, RoK is currently the largest foreign investor in Viet Nam, and its increasing presence in Viet Nam's stock market is helping attract indirect Korean investment in the country.

He added that, last year, Viet Nam's stock market continued to be a magnet for foreign indirect investment, which totaled US$32.9 billion, up by 90 percent from the previous year. Foreign indirect investment continued entering the country in the first three months of 2018, rising by 14 percent from the end of 2017 to $37.6 billion in late March.

Korean indirect investment is rising sharply, though it has yet to match its potential, Dung said, noting that 4,846 Korean investors are present in Viet Nam's stock market.

There are currently five South Korea-invested securities companies in the Vietnamese stock market, namely Korea Investment & Securities, Mirae Asset Daewoo, Shinhan Investment, KB Securities and Woori, Dung said, adding that these securities firms, together with banks and representative offices of fund investment companies from RoK, are playing an important role in boosting the inflow of Korean indirect investment into Viet Nam.

The Northeast Asian nation is also operating projects in securities with Viet Nam, Dung said, adding that the Ha Noi Stock Exchange and the HCM Stock Exchange are working to update their technological systems, with the help of the Korea Stock Exchange. Meanwhile, the SSC and the Korea Financial Investment Association are also discussing their working together on financial technology, he added.

According to Dung, to further attract foreign indirect investment from RoK, the SSC will strengthen cooperation with RoK's managerial agencies to learn about Korean investors' investment demands, and then both sides will work to remove obstacles to Korean investment in Viet Nam's stock market.

SSC will also strive to attract indirect foreign investment into Viet Nam through building a stable, safe, fair, open and effective stock market, to protect the interests of investors and respect market rules, gradually integrating with other stock markets in the region and throughout the world.

In addition, it will further accelerate the listing of large-scale equitised SOEs and reduce State ownership to bolster attractiveness, besides diversifying products on the stock market to ensure that foreign investors have more investment opportunities.

According to experts, Viet Nam's stock markets are attractive to foreign investors, including South Koreans, especially when 64 SOEs will become equitised, while 181 others will be divested between now and 2020.
VN e-commerce firm Cat Dong joins Japan's Scroll
     
Cat Dong Service Trading Joint Stock Company on Monday reported that it had sold a 26.9 per cent stake to Japanese online marketer Scroll Corporation.

But it did not disclose the value of the deal.

On Monday the two companies signed an agreement to jointly develop e-commerce and tourism and provide e-commerce development solutions.

Under the deal, they will maximise their management resources and strengths in various fields ranging from sales to e-commerce solutions and travel operations. Cat Dong will sell Japanese products provided by Scroll on its websites like CungMua.com, NhomMua.com and Shipto.vn.

Furthermore, tours to Japan operated by Scroll will be sold on these websites.

The two sides will together offer solutions in e-trading, logistics, warehousing and business expansion.

Cat Dong, launched in 2010 as a website selling vouchers, owns multiple e-commerce websites, provides e-commerce solutions related to logistics, freight and online marketing.

It acquired NhomMua.com in 2014 and last year started partnering all major e-commerce platforms in Viet Nam.

Scroll is a Japanese e-commerce company trading fashion goods, cosmetics and dietary supplements.
TAC increases dividend by half to 24 per cent
     
Cooking oil producer Tuong An Vegetable Oil Joint Stock Company (TAC) announced an increase in the dividend for last year to 24 per cent from the earlier plan of 16 per cent at its annual shareholders meeting on April 16.

It came on the back of outstanding business results, with pre-tax profits growing by over 98 per cent to VND166 billion (US$7.3 million).

Revenues only rose by 9 per cent to VND4.3 trillion ($188 million).

The company attributed the results to the strong growth in the economy and the cooking oil market.

Nguyen Thi Hanh, chairwoman of TAC, said: "The cooking oil industry is expected to grow by 8.7 per cent in 2015-20. Consumption in Viet Nam is still lower than in neighbouring countries."

TAC last year made changes to its product portfolio with a focus on healthy products, she said.

Hanh also hailed the merger with food producer KIDO Group.

"The merger with KIDO has helped us develop our logistics and distribution systems."

She said the company was now the second biggest cooking oil producer.

The meeting also approved a 24 per cent dividend for this fiscal year. In 2018, TAC targets pre-tax profits of VND250 billion on revenues of VND5.1 trillion ($223.6 million).

Hanh told the meeting that the targets were challenging but achievable since demand remained huge.

TAC plans to enter new segments with a focus on high-end products to meet the relentlessly growing demand for healthy products, she revealed.

"We will partner with domestic and foreign investors to enter the canned/packaged products market including sugar, instant noodles, sauces and spices."

The company would continue to expand its distribution system, she said.

TAC, established in 1977, has two plants in Nghe An Province's Vinh City and Ba Ria–Vung Tau Province.
National, Asia-Pacific quality awards to run in April
A ceremony to honour the 2017 winners of the annual National Quality Awards and International Asia Pacific Quality Award (IAPQA) will take place on April 22.
The information was released at a press conference introducing the awards on April 17.  
The ceremony will be broadcast live on the Vietnam Television's channel 2 between 9 and 11 pm.
Seventy-three enterprises have won the 2017 National Quality Awards. Among them, 15 received National Quality Gold Awards, while 58 took Silver. 
At the press conference, Deputy Minister of Science and Technology Tran Van Tung said the National Quality Awards is the only one of its kind approved by the Prime Minister and included in the IAPQA system by the Asia-Pacific Quality Organisation.
It is an annual award to honour businesses with outstanding operation in boosting the quality and competitiveness of their products and services amid regional and global integration, he added.
Tung said to optimise the award's impact, firms are being encouraged to consider it a performance assessment tool.
As of 2017, 1,842 enterprises won National Quality Awards and 44 others obtained the IAPQA.