63% of local firms expect positive impact from CPTPP
Last update: 14:41 | 11/03/2018
63% of businesses in Vietnam believe the Comprehensive and Progressive Agreement for Trans-Pacific Partnership (CPTPP) signed on March 8 will have a positive impact on their operations, according to HSBC's comprehensive survey of global businesses.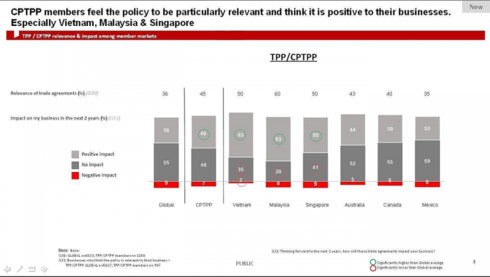 Of the 1,150 firms based in CPTPP member countries surveyed by HSBC, almost half (46%) expect to see benefits.
The survey covers six of the 11 countries signing the CPTPP, including Australia, Canada, Malaysia, Mexico, Singapore, and Vietnam.
"The CPTPP is a big, ambitious deal for Vietnam. It will matter hugely for future growth, jobs, and living standards. Now is the time for both firms and governments to focus on implementing today's agreement to achieve its full potential. It is encouraging that many businesses are already expecting to see benefits," said Winfield Wong, country head of Wholesale Banking, HSBC Vietnam.
Across the 11 economies involved, recent estimates from the Peterson Institute for International Economics (PIIE) suggest that trade flows will be boosted by 6% to 2030, with members enjoying total real income gains of US$157 billion every year.
VIR