Last update: 18:17 | 03/01/2018
Agricultural reform needed in Plain of Reeds region: experts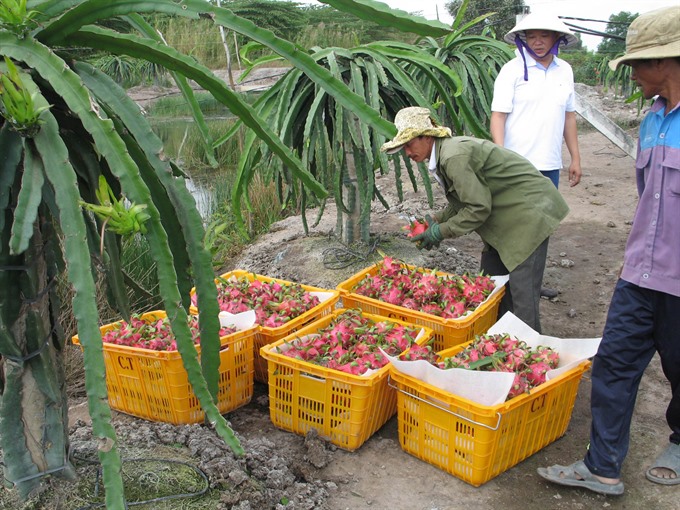 The Đồng Tháp Mười (Plain of Reeds) area in the Mekong Delta, known for its agricultural prowess, is in need of major agricultural reform to reach its true potential, experts have said.

Authorities in the Plain of Reeds region, which spans Long An, Tiền Giang and Đồng Tháp provinces, have been dealing with the effects of climate change and rising sea levels, including drought, floods and saltwater intrusion.

Last year, for example, salt intrusion affected around 10,000 hectares of rice crops in the region.

At a conference about the effects of climate change on the Mekong River, Dr Nguyễn Văn Khang, chairman of the Tiền Giang Union of Science and Technology Association, said that increased demand for hydroelectricity was affecting the flow of the Mekong River, leading to a drop in silt, an important element for soil fertility.

Trương Hữu Trí, director of the Gò Gòn Farmer Cooperative in Long An Province's Tân Hưng District, said that officials must work to train farmers about new farming techniques since some of them were still reluctant to use advanced technology.

Many farmers are also pursuing inefficient methods. For example, pineapple farmers in Tiền Giang Province's Tân Phước area, well-known for pineapple cultivation, have not made enough profit during this year's harvest season.

Đặng Văn Hòa, a pineapple farmer, said: "Traders are only paying VNĐ1,500–4,500 for each pineapple, which is a lot lower than the mid-year price. Most of us can only break even."

Although demand for pineapples continues to be stable, the spike in output during the peak season has resulted in lower prices.

Farmers have been urged by Hậu Giang Province's Department of Agriculture and Rural Development to join farmer cooperatives and spread the harvest throughout the year, rather than harvesting the entire area at the same time.    

Đào Văn Hồ, director of the Việt Nam Trade Promotion Centre for Agriculture, said that more modern technology and better farming techniques should be used to cut costs and improve productivity as well as the quality of goods.

According to Hồ, the increased demand for high-quality products has led to a need for a better agricultural value chains. Distribution channels that keep track of the origin of crops, for example, are needed to ensure health standards, while regional markets need to be more standardised to ensure quality standards.

At a recent conference about Đồng Tháp Mười's agricultural development, Dr Đặng Kiều Nhân from the Mekong Delta Development Research Institute said that industrial and service sectors must be involved in agricultural reform and be a part of the value chain, including producing a wider variety of processed products for different market segments.  

Environmental protection and infrastructure development are also needed to improve the region's agriculture, Nhân added.

At the conference, Lê Văn Hoàng, director of Long An Province's Department of Agriculture and Rural Development, said that more research on better-yielding crops is needed to replace low-yielding crops now being cultivated.  

Đồng Tháp Province was chosen for a pilot run to test agricultural reform policies three years ago, which included the application of modern technologies and farming techniques, promotion of processing of goods, and selection of better crops for cultivation and export.

The province has also encouraged farmers to form social clubs to share farming techniques.

Trần Văn Bình, president of a social club in Tân Quy Đông District, said: "Previously, some households kept their secrets and techniques to themselves, but now all members of the club share their knowledge and learn from each other. So a lot of households have benefited."

Farming experts have also been helping connect farmers with better distribution channels and educate them about new techniques and market demand.

Officials in the area are looking to apply these policies to the rest of the Plain of Reeds region.

Southern Power Corporation improves power supply reliability

The Southern Power Corporation (SPC) of the Electricity of Vietnam has said it will supply up to 66.154 billion kWh of electricity for commercial use in 2018, or a 9.74 percent increase from 2017. 

Apart from ensuring stable power supply and safely operating power lines and transformer stations, the SPC will improve power supply reliability index.

In 2017, the SPC's total power output rose by 9.5 percent to 63.089 billion kWh while the daily production hit 177.8 million kWh, up 8.5 percent annually.

The output of power for commercial use reached 60.280 billion kWh, or 100.04 percent of the plan and up 9.67 percent from 2016.

Chu Lai EZ draws record 1.4 billion USD in 2017

The Chu Lai Open Economic Zone attracted 23 projects in 2017. Three were foreign investment projects worth 16 million USD.

Total investment of 1.4 billion USD was made during the year, 13.5 times as much as the year before.

Director of the Economic Zone Authority (EZA) Do Xuan Dien said this was the biggest growth in investment since the economic zone opened in 2003.

He said business promotion forums were held in the province, HCM City, Macau-China and this year's APEC meeting in Quang Nam.

Dien said infrastructure and administrative reforms had been promoted to smooth the way for investors.

He said the zone had attracted 138 projects, of which 34 were FDI projects worth 1 billion USD involving total investment of 3.68 billion since 2003.

Eighty-eight projects worth more than 1.3 billion USD, are in operation, including 24 FDI projects worth 227 million USD.

At an investment promotion conference in June, the province presented investment licences to 32 projects with a total registered capital of 15.8 billion USD. The biggest licence was a 10 billion USD framework agreement signed between Exxon Mobil and the State oil and gas giant PetroVietnam to develop a power plant using natural gas from the Blue Whale field off the coast of Quang Nam.

A series of huge tourism property projects also began construction in 2017, including Vinpearl South Hoi An worth 213 million USD; An Thinh resort complex (191 million USD); beach resort Opal Ocean View (205 million USD); Binh Duong resort complex (206 million USD) and an infrastructure project at Tam Thang Industrial Park (220 million USD).

Last year, Japan's Mazda Motor Corporation, in cooperation with local Truong Hai Automobile Joint-Stock Company (Thaco), started construction of a new Mazda plant at a total investment of 380 million USD.

The 32,400ha zone has invested $39 million to dredge the main ports of Tam Hiep and Ky Ha for ships with a capacity of 10,000 DWT (deadweight tonnage) and 20,000 DWT.

Direct sea routes were launched from Chu Lai to Incheon in Korea, and Fangcheng in China for hosting textiles, automobiles, logistics experts, exports and investment flows from the Republic of Korea and Japan.

According to Nguyen Hong Quang, head of the provincial secretariat, the budget carrier VietJetAir and US partner Parsons Brinckerhoff have proposed a master plan for development of Chu Lai airport as an international airport in 2020-25.

It will host 2.3 million passengers and handle 1.5 million tonnes of cargo per year.-

Hue imperial relic site welcomes over 3 million visitors in 2017

The Hue imperial relic site in the central province of Thua Thien-Hue served more than 3 million visitors in 2017, earning over 320 billion VND (14 million USD), 22.05 percent higher than the plan.

In the three-day New Year holiday from December 30, 2017 to January 1, 2018, the site welcomed nearly 31,000 tourists, of which 80 percent were foreigners.

The Republic of Korea was the biggest source market, with 207,783 visitors to the site, accounting for 25.5 percent. It was followed by France (9.6 percent), the UK (6.2 percent), the US (5.9 percent); and Germany (4.1 percent).

Director of the Hue Monuments Conservation Centre Phan Thanh Hai said, in recent years, the Hue imperial relic site has welcomed more and more tourists, reflecting its attractiveness, particularly the signature tour of  "Hue-One destination- Five heritages", including the complex of Hue ancient capital, Hue royal court music, moc ban (wood blocks) and chau ban (royal official documents) of the Nguyen Dynasty, and poetry in Chinese-language scripts on Hue royal architecture which was recognised as world documentary heritage by UNESCO.

In 2017, the centre launched the programme "Dai Noi by night", serving 28,000 tourists, and generating over 3 billion VND (132,000 USD).

It also earned over 16 billion VND (704,000 USD) from services offered at the site in the year.

Over 176 billion VND (7.74 million USD) was spent on upgrading and maintaining the site's landscapes, such as Tang Tho palace, the Temple of Literature, Truong Co tomb, and the Hon Chen shrine. Nearly 150 billion VND (6.6 million USD) has been disbursed, accounting for 84.97 percent of its plan.

The centre welcomed 21 international delegations to the cultural and historical exchanges held in the year, with the highlight of the visit of the Japanese Emperor and Empress to the Hue ancient citadel.

International cooperation was also strengthened in upgrades and maintenance work.

In 2018, the provincial tourism sector hopes to welcome between 4 – 4.2 million visitors, of which foreigners make up of 40-45 percent, up 10 percent and 12 percent from 2017, respectively, generating 4 – 4.2 trillion VND (176 million – 184.8 million USD).

Vietsovpetro eyes 4 million tonnes of oil in 2018

The Vietnam-Russia Oil and Gas Joint Venture Vietsovpetro has set targets for 2018 of pumping 4 million tonnes of oil and condensate and 126.5 million cubic metres of natural gas. 

Vietsovpetro General Director Tu Thanh Nghia announced the goals at a conference reviewing operation in 2017 held on December 28.

The joint venture set plan to generate 1.55 billion USD in revenue, and profit for the Vietnamese side is expected at 115 million USD and that for Russia is nearly 111 million USD.

In 2017, the company exploited over 4.73 million tonnes of oil and condensate and 234 million cubic metres of natural gas, or 95 percent and 124 percent of the yearly plan, respectively. It pocketed 1.97 billion USD in revenue, 3.5 percent higher than the yearly goal.

The success was partly thanks to the venture's efforts to apply advanced solutions and internal services to save costs.

Ben Tre ponders pomelos, rambutans

Representatives of farming co-ops and the Cultivation and Plant Protection Division under the Ben Tre Department of Agriculture and Rural Development have discussed measures for sustainable development of  green-skin pomelos and rambutans in the province at a seminar.

Ben Tre has more than 5,600ha under rambutan, mainly in the districts of Cho Lach and Chau Thanh. A fifth of the total area grows the fruit, and produces more than 107,000 tonnes a year.

Three rambutan processing firms have been set up in the province in the past few years, and recently Ben Tre rambutan were exported to China, the United States and Europe.

But the Chau Thanh-headquartered Tropical Fruit Export Ltd. is the only firm to sign a contract to buy the fruit, the partner being a local co-operative.

Son Dinh Commune in Cho Lach district has one farming co-operative and 17 co-operative teams growing the fruit over 500ha, but they have signed no agreements to sell their output.

According to Ly Tan Phuong, chairman of the Son Dinh Commune Farmers' Association, it is difficult to sign sales contracts for Son Dinh rambutan because of price volatility. The prices vary from 5,000 – 6,000 VND per kilogramme at harvest time to 20,000-30,000 VND in other seasons.

Nguyen Thi Hong Thu, director of the Chanh Thu rambutan export company, said no long-term contracts had been signed between farmers and buyers because prices changed greatly and the fruit could not be preserved for long.

With 27,700ha of fruit orchards, Ben Tre grows many iconic fruits of the Mekong Delta, including the green-skin pomelo.

It has over 7,200ha under this fruit, mainly in Ben Tre city and the districts of Chau Thanh, Giong Trom and Mo Cay Bac, and produces 57,000 tonnes a year. But only 35.4ha of orchards grow the fruit for export.

Dam Van Hung, head of Huong Mien Tay Co. Ltd., said the export of the famous Ben Tre green skin pomelo faced challenges because the small scale of production led to inconsistent quality.

Lam Van Linh, deputy head of the Ben Tre Cultivation and Plant Protection Division, said green skin pomelo and rambutan were mainly consumed in the domestic market and their exports faced challenges due to buyers' stringent requirements.

Green skin pomelo and rambutan are mainly consumed as fresh fruit with only a small proportion of pomelos being used to make juices, jams, wines and other kinds of foods. This is why their value has not been fully exploited yet, Linh said.

Hung said, "Collaboration (between growers and buyers) is a necessary condition for rambutan production and consumption."

The huge demand for rambutan in the local market has not been met, he said.

Huong Mien Tay has signed contracts to buy nearly 1,238 tonnes of green skin pomelo a year on 277ha in Ben Tre province.

It plans to establish a quality management team to help co-operatives develop a production process and quality standards to meet market needs.

It will sign purchase contracts with growers at market prices while demanding that they ensure clean standards and steady output.            

The province's cultivation and plant protection division has co-ordinated with district authorities and other relevant agencies to establish green skin pomelo and rambutan co-operatives. In Ben Tre, there are now 109 co-operatives growing pomelo and 42 growing rambutans.

Sixteen contracts have been signed by processors to buy the pomelos, but farmers growing 13,500 tonnes of the fruit on nearly 500ha have yet to sign up.

Not a single contract has been signed with rambutan farmers, Hung said.

According to Phan Thi Thu Suong, deputy director of the Department of Agriculture and Rural Development, only a few contracts have been signed between Ben Tre farmers and firms due to the small scale of farms and the inconsistent quality of the fruit.

Next year the department will ask the Ben Tre People's Committee to estimate market demand for fruit and draw up production plans.

Ceremony honours young entrepreneurs in 2017

Ten entrepreneurs, whose firms have made outstanding contribution to community development, received Red Star Awards at a ceremony in Hanoi on December 28.

These entrepreneurs together earned a turnover of over 235.44 trillion VND (10.36 billion USD) in 2016, contributing over 35.5 billion VND (1.56 billion) to the State budget and creating 46,600 jobs.

The event, the tenth of its kind, saw the participation of Deputy Prime Minister Truong Hoa Binh; Minister of Labour, Invalids and Social Affairs Dao Ngoc Dung; First Secretary of the Ho Chi Minh Communist Youth Union Central Committee Le Quoc Phong; and 3,000 entrepreneurs from nationwide.

Addressing the event, Deputy PM Truong Hoa Binh said the Party and State have always valued the role of enterprises and businessmen in the national construction and development, saying that they have made active contribution to the nation's achievements in 2017.

He underlined difficulties and challenges facing Vietnam's economy in the fourth industrial revolution, urging businesses and entrepreneurs to reform and adapt to new economic models and expand their business globally.

He expressed his hope that the Red Star award winners will make greater efforts to ensure sustainable development, contributing to making Vietnam a modern, industrialized nation in the new stage.

The Red Star Awards, initiated in 1999, aims to honour outstanding young entrepreneurs for their sustainable economic achievements and contributions to social development.

The 100 top businessmen created nearly 320.7 trillion VND (14.11 billion USD) in revenue in 2016, contributing nearly 40.68 trillion VND (1.79 billion USD) to the State budget, and creating jobs for 119,000 labourers.

Bien Dong POC Company fulfils yearly target

The exchange value of gas and condensate of the Bien Dong 1 project carried by the Bien Dong Petroleum Operating Company (Bien Dong POC) hit 511 million USD in 2017, a rise of eight percent compared to the yearly plan.

The Bien Dong 1 project has been operated for five years.

The Bien Dong POC has finished a report updating the Hai Thach – Moc Tinh oilfield reserve and submitted a plan to clean up the oilfield to the Vietnam Oil and Gas Group (PVN) and Gazprom EP International B.V (GPEPI), which received an approval from the Ministry of Industry and Trade in November, 2017.

It has also finished a feasible study for the future drilling of the Kim Cuong Bac oilfield as well as the budget plan and budget spending monitoring programme in 2017.

PVN Deputy Director General Nguyen Quoc Thap said the Bien Dong POC obtained high workplace safety rate in the harsh working environment.

The PVN and GPEPI have created favourable conditions for the company's operation, ensuring sustainable development and creating jobs for workers, he added.

Hanoi's customs collects 960 million USD for State budget

Hanoi's Customs Department has announced that it collected 21.5 trillion VND (around 947.1 million USD) for the State budget as of December 29, up 4 percent from the estimated figure of 20.65 trillion VND. 

Till December 31, it expects to collect an additional 300 billion VND (13.2 million USD), raising the total to 21.8 trillion VND (some 960.3 million USD), marking a 5 percent increase from the estimate. 

Tran Dai Thang, head of the department's Export-Import Tax Office, attributed the revenue growth to the policy of moving cross-border customs and logistics procedures to My Dinh inland clearance depot from July 1, 2017, enabling more firms and border gates to transfer goods. 

The sector also attracted more 130 enterprises, 15 agents and three contractors to do customs clearance procedures, thus accomplishing assigned tasks this year, he said.

Tourism sector works to improve service quality

Twenty travel companies were fined and another had its business licence revoked for 18 months for violating administrative regulations in travel business activities in 2017, according to the Vietnam National Administration of Tourism. 

The firms' violations were mainly failure to set up and store documents, use of tour guides without labour contracts, lack of tour guides, and having no report of travel operations to authorised agencies.

During the year, inspectors from the Ministry of Culture, Sports and Tourism conducted inspections at 55 agencies in seven provinces and cities, namely Hanoi, Ho Chi Minh City, Kien Giang, Ba Ria-Vung Tau, Vinh Long, Tien Giang and Quang Ninh, which are popular tourism destinations in the country. 

A series of measures were also taken to improve the quality of travel services and human resources; and enhance inter-sectorial coordination and management work. 

About 13 million foreigners chose Vietnam as their holiday destination in 2017, a year-on-year rise of nearly 3 million.  Meanwhile, the sector served 73.2 million domestic tourists. It earned 510.9 trillion VND (22.5 billion USD) from tourism activities this year.

At a recent meeting in Hanoi, Deputy Prime Minister Vu Duc Dam, head of the state steering committee for tourism, asked the tourism sector to improve products, accommodation facilities, manpower, while devising appropriate strategies and plans. 

More attention should be paid to quality, he noted, stressing that it must successfully carry out the plan on restructuring the tourism sector so as to develop tourism into a spearhead economic industry.

Agriculture sector fulfills targets set by government

The Ministry of Agriculture and Rural Development has accomplished targets set by the government this year, said Deputy Minister Ha Cong Tuan during a press conference in Hanoi on December 29. 

The sector posted a growth rate of 2.94 percent, higher than the 2.84 percent set by the government. It earned 36.37 billion USD from agro-forestry-fisheries export, over 4 billion USD higher than the same period last year, and posted a trade surplus of 8.55 billion USD, up more than 1 billion USD year-on-year. 

Under the National Target Programme on New Rural Development, 2,884 communes have been recognised as new-style rural areas, or 32.3 percent of the total, surpassing the goal of 31 percent. 

The rate of forest coverage reached 41.45 percent while violations in forest protection management fell by 23 percent and damages from deforestation and forest fires declined by 68 percent year-on-year. 

Those achievements were made despite unfavourable weather conditions this year with a record 16 tropical storms, along with floods on wide scale. Total damage from natural disasters is estimated at roughly 60 trillion VND (2.66 billion USD) this year, much higher than 39 trillion VND in 2016. 

Tuan attributed the growth to agricultural restructuring in combination with new rural development in adaptation to climate change. 

Instead of rice cultivation, priority is switched to high-value produce such as aquatic products, fruits and vegetables, and wooden furniture. 

Export of aquatic products hit a record 8.4 billion USD for the first time while wood and forestry shipments reached an all time high 8 billion USD. 

More than 1,400 cooperatives and 1,000 working groups were established, raising the total number of cooperatives to 12,200, more than 30 percent of which operate efficiently. 

Nearly 2,000 firms operating in agro-forestry-fisheries were established, marking a 3.8 percent increase annually. A number of major corporations choose high-tech and organic agriculture as main business field. 

The ministry also chose 2017 as a year of food quality and safety management. 

Up to 744 model chains of safe agro-forestry-fisheries supply have been built successfully nationwide. 

In 2018, the sector will continue taking drastic measures to ensure the safety of fresh food and small-scale slaughter houses, as well as develop material growing zones based on strength of each region, improve processing and expand new and promising markets.

Vietnam Airlines to sell 191 million shares to shareholders

The Vietnam Airlines Corporation has announced that it will issue over 191 million shares for existing shareholders at 10,000 VND each to increase its chartered capital. 

Proceeds will be used to invest in the company's Boeing 787 and Airbus 350 fleet and raise its floating capital. 

The decision was approved at an annual meeting of shareholders in June 2017. 

According to Vietnam Airlines, State shareholders will also sell more than 57 million call options, or 4 percent of the stake. 

The State will reduce its stake in the corporation to 51 percent in 2019.

Over 3,200 new firms established in Central Highlands

As many as 3,256 enterprises were established with a combined registered capital of 20.37 trillion VND (897.35 million USD) in the Central Highlands provinces in 2017, representing year-on-year rises of 21.62 percent and 18 percent, respectively.

According to the Steering Committee for the Central Highlands, the figure raised the total number of local firms to 23,328, up 15 percent. Most of the new businesses locate in Lam Dong, Dak Lak, and Gia Lai provinces.

In 2017, the regional provinces have taken numerous active measures to encourage investors to establish new firms, contributing to promoting local socio-economic development.

The provinces have focused on improving the business environment, offering assistance to businesses, enhancing the effectiveness of market management, protecting intellectual property, and ensuring fair competition.

They have also simplified administrative procedures while regularly organising dialogues with local firms to address their difficulties and better investment attraction policies.

Currently, the regional provinces are carrying out a plan to restructure state-owned enterprises and striving to remove obstacles hindering operations of businesses.

HCM City targets 10 pct growth in retail sales, export revenue

The industry and trade sector in HCM City is targeting a growth rate of 8-8.5 percent in the industrial production index (IPI) and 10 percent growth in the total retail sales of goods and services for 2018, according to the HCM City Department of Industry and Trade. 

The sector will also strive to obtain 10 percent growth in total export revenue via the city's ports in 2018.

Speaking at a December 29 meeting to review the department's performance and set tasks for next year, Nguyen Tien Dung, head of the department's finance bureau, said the industry and trade fields had outstanding growth rates this year with a 7.9 percent increase of growth rate in the IIP, 11.32 percent growth in the total retail sales of goods and services and 10.8 percent growth in export turnover.

The industry and trade fields gained added value of over 355.6 trillion VND (15.6 billion USD), accounting for 33.5 percent of the city's Gross Regional Domestic Product (GRDP), he said.

Industrial production developed in a stable manner both in the short and long-term, he said, adding that modern trade infrastructure, with an increase of 18 supermarkets, three commerce centres and 218 convenience stores, together with online retail, contributed to boosting total retail sales in the city.

The department has implemented measures to help untie difficulties faced by businesses in the city and organised programmes to help businesses expand their market share in domestic and export markets.

For 2018, the department would work to create more favourable conditions to hasten the development of the retail sector and e-commerce, intensify activities to support businesses to develop production and trading, and promote exports, he said.  

Nguyen Phuong Dong, the department's deputy director, said the department had successfully implemented the first phase of the programme to trace the origin of pork this year, with origin of over 95 percent of pork available in the market put under control.

To enhance quality control of pork, the department would implement the second phase of the programme starting from early next year by tracing the origin of the pork from the pig breeding period (with information related to feed, vaccines and medicines, veterinary staff and others), to the final retail points, he said.

Also on December 29, the department announced that it had officially put into operation 55 online public services at level 4 in 11 groups of fields. This is expected to help businesses and residents greatly reduce the amount of time needed to complete these administrative procedures.

Level 4 online public services will allow users to make online payments for the fee, if any.

Pham Thanh Kien, the department's director, said the 55 online public services were among 107 administrative procedures that the department had managed. These 55 online public services also received the highest number of transactions from businesses and residents.

All public services at the department would be conducted online by the second quarter of next year, he said.

The 55 online public services include services such as registering to implement promotion programmes or trade fairs, establishing representative offices of foreign traders in Vietnam, and granting permits for eligible production and trading in some sectors and others. 

According to the department's figures, about 60,000 people come to the department to conduct administrative procedure each year.

Online public services will help businesses and residents reduce the time and costs needed to complete procedures, and will also trace their application process online.

EVNNPT to run smart grid in 2018

The National Power Transmission Corporation under the Electricity of Vietnam (EVNNPT) is implementing a project applying geographic information system (GIS) in the management of power transmission, which is expected to be put into operation in 2018.

This technology will help computerise the technical and operational management and support the operation quickly and effectively.

Seventy-nine percent of the 135 transformer stations will use computerised control systems and intelligent electronic devices.

The EVNNPT is also implementing digital transformer stations, which are scheduled to become operational in 2018-2019.

Smart grid is a pilot solution in many places in the world for power management from manufacture, transmission, distribution to the end-customers. 

In Vietnam, the Prime Minister has issued a decision in November 2012 approving the roadmap of smart grid development with the aim of improving power supply quality and reliability; encouraging safe and effective use of electricity; boosting effective exploitation of energy natural resources, and promoting environment protection and sustainable socio-economical development.

HCM City households up income with wild veg

Many households in HCM City's outlying district of Cu Chi have started growing rau mop (pimply lasia) since it brings a good income.

Rau mop is an edible plant that grows wild in wet environments, and Trung An commune which lies along the Saigon River makes an ideal habitat for it.

In the past the main livelihood of people there used to be raising pigs and cows and growing cassava and fruits.

But a few years ago when rau mop was sold in local markets, traders came to buy and sell it to people in the inner city, and it began to gain viability as a crop.

Local households then started to grow it in their orchards. Some even switched from other crops to grow only rau mop.

Tran Ngoc Sinh of An Hoa hamlet has 2ha of land under rambutan and jackfruit. She grew rau móp in ditches in her orchard to supplement her income. But after one year of growing the plant it has in fact become her main source of income.

People do not have to water the plant or apply fertilisers since it needs very little care, she told Thanh Nien (Young People) newspaper.

She does not even have to go to the market to sell it since traders come and buy it, paying 20,000-25,000 VND (0.9-1.1 USD) per kilogramme, she said.

She harvests 50-60kg of rau mop every four days and earns dozens of millions of dong a month after paying pickers' wages.

Next to An Hoa is Bon Phu hamlet, which has the largest number of rau mop growers in the district.

Ho Van Hoan once grew rice on his 6ha field, but since rice yields were not high due to pests and diseases he has given up the crop altogether and grows only rau mop since it is "easier."

"I just need to clean the grass. Every four days pickers will come and harvest it and then traders will come and buy it," he said.

The plant grows on its own again after being picked, and so there is no need to replant it, he added.

He said locals now prefer to grow rau mop because it does not require much work and brings a steady income.

Though there is plenty of demand for rau mop in the district and great potential for large-scale production, it is little known to people in HCM City.

Households in Cu Chi still grow the plant on a small scale and do not work together to create a production network, according to Tran Trung Hieu, an official at the district economic bureau.

Rau mop growers have little knowledge of how to take care of the plant, and most of the time they treat it as a wild plant, he said.

"Rau mop can grow well on its own but during the rainy season, when pests are active, growers do not know how to handle them. Some just spray pesticides and wait to harvest just as they do with other crops.

"That leads to a decrease in yields."

He said the district administration is working on establishing a cooperative and nominating a person who can represent household growers to sign contracts with wholesale markets and other large consumers to ensure their output is sold.

"Our main goal is to build a brand for rau mop and take it to major supermarkets and restaurants in HCM City."

The city Department of Science and Technology is working with the Cu Chi economic bureau and Trung An commune administration to study rau mop growing.

The department plans to use technology to improve the plant's yield and quality and market it.

Besides, it seeks to train growers in using technology to produce, process and sell the plant.

Then, it will bring together companies and growers to expand the market and attract investors to expand production.

Fruit, veggie exports set record of 3.45 billion USD

Vietnam earned a record of some 3.45 billion USD from fruit and vegetable exports in 2017, rising by 40.5 percent from last year, according to the Ministry of Agriculture and Rural Development (MARD).

Fruit and vegetable exports in December alone are estimated at 276 million USD.

MARD said China, Japan, the US and the Republic of Korea were the biggest importers of Vietnamese fruits and vegetables between January and November. The markets with soaring imports from Vietnam were Japan (70.6 percent), the United Arab Emirates (57.4 percent), and China (54.9 percent).

Meanwhile, the country imported 145 million USD worth of these commodities in December, raising total fruit and vegetable imports this year to 1.56 billion USD, up 68.1 percent from 2016.

The ministry said 2017 was a "bumper" year for Vietnamese fruits with surging export turnover and entrance into many demanding markets.

MARD Minister Nguyen Xuan Cuong said there remains huge potential for Vietnamese fruits and vegetables in the global market. To tap this potential, the country needs to pay more attention to processing which is still the weakest point of Vietnam at present.

He said many processing plants with high productivity and modern technology are under construction nationwide. 

He also emphasised the need to explore new markets, instead of focusing on traditional ones.

Japanese automobile maker recalls cars for airbag replace

After Honda, Nissan and Toyota, Subaru – another automobile maker from Japan will recall 24 Legacy and Outback car models to replace their front seat airbags from now to December 5, 2018.

The cars produced from 2010 to 2012 were imported by Subaru Vietnam from Japan and distributed in the Southeast Asian country.

It would take about three hours for each car to replace its airbag free of charge.

The replacement aims to ensure traffic safety.

Subaru Vietnam will help customers whose cars were not distributed by the company contact with manufacturers to check and replace their airbags.

Vietnam faces difficulties in exporting to Algeria

Vietnam's export to Algeria will continue to face difficulties once the new import policy of the country takes effect from January 2018, warned the Vietnamese Commercial Affairs Office in Algeria.

The Algerian government has recently issued a new import policy for 2018, under which more than 850 products will be banned from entering the country, including those from Vietnam. 

The Government of Algeria aims to reduce total import value to 30 billion USD at the end of 2018. The country's imports lowered from 46.7 billion USD in 2016 to 45 billion USD in 2017.

The banned goods include dried fruits, cheese, fresh fruits (excluding banana), fresh vegetables (excluding garlic), a number of meat, tuna, products processed from corn and meat, chewing gum, confectionary and chocolate, sweet cakes, soup, mineral water, household appliances and construction materials, among others.

Algeria's Ministry of Trade will also cancel the import licensing system for 21 products in 2018, after the two years of implementation.

The Vietnamese Commercial Office also added that Vietnam's exports to the market, not only mobile phones but also other products including confectionery, cereals, fruits and vegetables, plastic products, iron and steel, and ceramics, will be negatively affected.

According to the General Department of Customs, Vietnam's exports to Algeria hit 264 million USD in the 11 months of this year, up 9.3 percent from the same period of 2016, mostly coffee, mobile phones and rice. The country also spent 6 million USD on imports from the African country.

Since the Algerian government tightened imports by issuing licences for various imported products in June 2017, including mobile phones, and banned imports of enamelled tiles and wood, Vietnam's exports to the country has declined remarkably. 

In August, September and October, Vietnam was unable to ship mobile phones and spare parts to Algeria.

In November, Vietnam earned only 12.63 million USD from exports to Algeria, down from 38.8 million USD in May and 36.5 million USD in June.

VinEco to expand retailing network three times this year

VinEco, the agriculture arm of VinGroup, expects to expand its distribution network three times to more than 3,500 supermarkets and convenient stores in 2018, said Nguyen Thi Nguyet from VinEco.

VinEco Agricultural Investment, Development and Productions LLC., an emerging producer of clean farming produces in Vietnam, has been selling its products across 80 outlets of retail chain VinMart and more than 800 VinMart convenient stores all over the country. Its products are also available at online retailer adayroi.com.

Since early 2015, the company has been at the frontline of Vietnam's hi-tech, large-scale, certified agricultural production, with focus on clean, standardised crops using technology from Israel, Japan and other developed countries.

It has developed large-scale farms, covering a total area of more than 3,000 hectares, in Ha Nam, Vinh Phuc, HCM City and more, and established partnership with about 1,000 agricultural cooperatives and agribusinesses in 23 cities and provinces.

The company is advancing towards exporting to foreign markets like Japan, Singapore and the EU.

Tien Giang targets 2.65 billion USD in export revenue

The Mekong Delta province of Tien Giang will strive to raise its export revenue by 6 percent to 2.65 billion USD in 2018.

According to Ngo Van Tuan, Director of the provincial Department of Industry and Trade, local export earnings reached 2.5 billion USD in 2017, up 19.3 percent from the previous year and 6.4 percent higher than the plan.

Robust growth was seen in key earners like agro-fishery products and industrial products, he said, adding that seafood continued to be the driving force for local export.

Last year, the province earned 410 million USD from seafood exports, a year-on-year increase of 43 percent. 90 percent of the value was contributed by processed tra fish products.

Major importers of local seafood were China, the EU and American countries.

In addition, the province earned 150 million USD from exporting 328,000 tonnes of rice, up 2.6 times in both value and volume.

Regarding the industrial sector, most local companies have paid due attention to bolstering investment in modern machines and equipment to improve products' quality as well as promoting trade to gain foothold in foreign markets.

Garment and textiles, shoes, handbags and copper pipes made up 70 percent of province's total export revenue.

To realise the set target in 2018, the province will prioritise traditional markets and make inroad into potential markets.

It will encourage local firms to deploy comprehensive investment measures to upgrade machines and products' quality and better trade promotion efficiency to break into fastidious markets.

Hanoi aims to collect over 218 trillion VND for State budget in 2018

Hanoi aims to collect 218.27 trillion VND (9.6 billion USD) for the State budget in 2018, a rise of 20 percent against the previous year, according to the Hanoi Taxation Department. 

Nguyen The Manh, deputy head of the General Department of Taxation and Director of the Hanoi Taxation Department, said to achieve the 2018 target, the municipal Taxation Department has rolled out five groups of solutions, focusing on administrative reform and tax management modernisation. 

Besides, efforts will be channeled into communication work, the removal of difficulties facing businesses and inspection activities to prevent losses and settle tax debts, he said. 

Chairman of the municipal People's Committee Nguyen Duc Chung has asked the taxation sector to cut the time of filing tax and facilitate tax payment for businesses. 

As of 12am on December 31, 2017, the Hanoi Taxation Department collected more than 190.85 trillion VND (8.4 billion USD), completing 101.7 percent of the yearly estimate and up 17 percent year-on-year.

HCM City's outstanding loans up

Total outstanding loans by commercial banks in HCM City in 2017 rose 18.5 percent from 2016 to more than 1.74 quadrillion VND (76.73 billion USD), according to the State Bank of Vietnam's HCM City branch.

Figures from the State bank's branch also show total mobilised capital of credit institutions in the southern metropolis was 2 quadrillion VND, an increase of 15 percent year-on-year.

Lending rates for short-term loans in five prioritised sectors of agriculture, exports, supply-parts industries, small- and medium-sized enterprises and hi-tech businesses last year were kept at around 6-6.5 per cent, down 0.5 percentage points compared to the end of 2016.

Several lenders in the city said their 2017's targets have all been reached. In particular, the retail sector showed great potential to grow faster in the new year.

Deputy Governor of the State Bank of Vietnam Dao Minh Tu urged commercial banks in the city to closely watch the market to ensure timely lending to firms in order to help them boost production and cover expenses for import and export of goods to meet the demands of consumers for the upcoming Tet (Lunar New Year) holiday.

In addition, banks should ensure enough cash for ATM withdrawals during the holiday, he added.

Tourist arrivals in Hanoi, Thua Thien-Hue up during New Year holiday

Up to 228,900 visitors arrived in Hanoi during the New Year holiday 2018 from December 30 – January 1, up 11 percent annually, according to the municipal Department of Tourism. 

Of them, 68,900 were foreigners, marking a 29 percent increase. The number of foreign tourists staying overnight in Hanoi was estimated at 53,000, up 39 percent year-on-year.

The total revenue from tourism rose by 17 percent to 755 billion VND (33.5 million USD).

Major tourist attractions include Van Mieu – Quoc Tu Giam, Imperial Citadel of Thang Long, Hoan Kiem walking street, and Huong Son relic site. 

Meanwhile in the central province of Thua Thien – Hue, more than 30,000 visited Hue heritage sites, including over 24,000 foreigners, said Director of the Hue Monuments Conservation Centre Phan Thanh Hai. 

On January 1, the US native Allicock Stephangary aboard the Vietnam Airlines flight from Hanoi to Hue was welcomed in Phu Bai international airport as the first visitor in the province in 2018. 

Last year, the centre welcomed over 3 million tourists, including more than 1.8 million foreigners, earning roughly 318 billion VND. 

Nguyen Van Phuc, Deputy Director of the provincial Department of Tourism, said the province strives to lure 4-4.2 million holidaymakers in 2018, up 10-12 percent, 40-45 percent of them will be foreigners. Tourism earnings will increase by around 15 percent to 4.2-4.3 trillion VND. 

The province plans to hold a series of cultural, art and sports activities to attract visitors, expand new tourism markets via partnering with airlines and twinning localities, and offer famtrip and presstrip to foreign travelling and press agencies from major markets in Europe, the Republic of Korea, Japan, Southeast Asia, North America and Australia, he said.