Ranked ninth among foreign investors in VN, the US seeks better policies
Last update: 16:00 | 01/01/2018
VietNamNet Bridge - US investors poured $10 billion worth of FDI (foreign direct investment)  into Vietnam by October 2017, becoming the ninth largest foreign investor in Vietnam among 128 countries and territories, according to FIA (Foreign Investment Agency).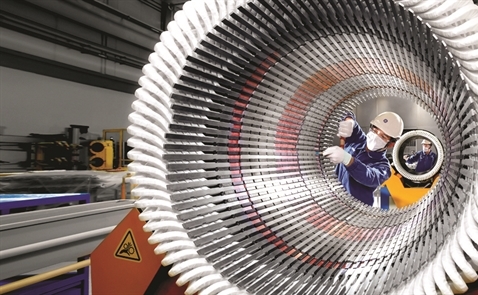 Foreign investors registered $33 billion worth of investment capital in the first 11 months
In 2017, South Korea invested $57 billion, Japan $46.3 billion, Singapore $41.7 billion and Taiwan $30.8 billion.

Amcham's Managing Director Adam Sitkoff said to attract investors, it is necessary to create a good business environment, which improves productivity and reduces costs. 

Amcham's members often meet problems in Vietnam – inconsistent policies and unfair treatment.

Citing the draft Cyber Security Law, Sitkoff said it is 'special' because, besides the measures to protect cyber security, it includes provisions to control information on the internet, though the issue is covered by other laws.


In 2017, South Korea invested $57 billion, Japan $46.3 billion, Singapore $41.7 billion and Taiwan $30.8 billion.
He also pointed out that tentative regulations that require foreign service providers to have hosts in Vietnam is unreasonable, which won't help improve cyber security and will create unnecessary burdens for foreign companies.

Sitkoff also pointed out the inconsistency between the Pharmacy Law and Decree 54 that guides the implementation of the law. 

The enforcement of the decree will force some foreign investors to stop providing storage and transportation services though they were licensed, he said. This would cause losses of hundreds of millions of dollars and interruption of essential drugs.

He went on to say that imposing a luxury tax on soft drinks is uncommon and not encouraging. 

Meanwhile, the requirements in Decree 38 that guides the implementation of the Food Safety Law have had a big impact on the food & beverage industry, but no change in state management.

Economists commented that Vietnam needs foreign capital, but foreign technology even more. And investments from the US, Europe and Japan can bring high technologies.

FIA's deputy director Nguyen Noi admitted that there are still problems in attracting FDI that need to be fixed in the context of the 4.0 revolution, which will lead to changes in FDI structure and trend.

Nguyen Van Toan, deputy chair of VAFIE (Vietnam Association of Foreign invested Enterprises), believes that the problems lie in transparency in investment and economic relations and administrative procedures. 

Moreover, Vietnam's limited capability of absorbing capital has caused US investors to be cautious.

According to Noi, the foreign invested sector makes up 20 percent of GDP and 70 percent of export turnover. 

In the first 11 months, foreign investors registered $33.09 billion worth of investment capital.
RELATED NEWS
Next-generation FDI: what's the new strategy?
Vietnam seeks higher-quality FDI: experts
Chi Mai