VN-Index declines for a second day
Last update: 10:25 | 07/12/2017
The benchmark VN-Index declined for a second day on December 6, dropping 0.59 percent to close trade at 947.64 points.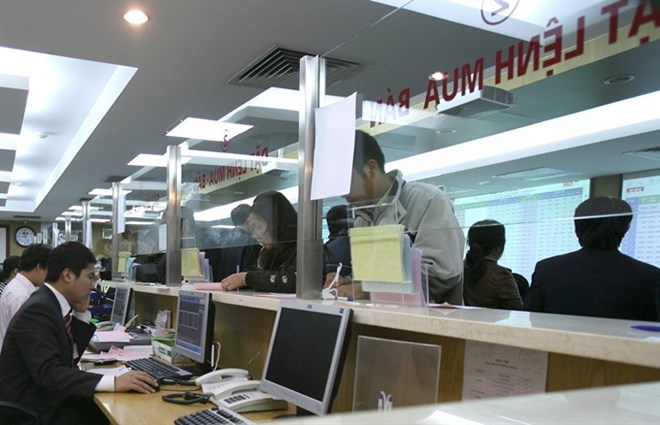 Investors and staff at Saigon Securities Inc's Hanoi branch
The southern market index decreased 2.3 percent in the last two sessions after expanding 13.5 per cent in November.
Investors continued to earn profits in large-cap stocks but increasing demand cushioned many stocks. 16 of the top 30 largest shares by market value and liquidity on the HCM Stock Exchange lost value and 11 advanced.
Declines in big stocks such as Vinamilk (VNM), brewer Sabeco (SAB) and IT giant FPT Corp (FPT) narrowed towards the end of the session with decreases of 0.6-2 percent each. Meanwhile, VinGroup (VIC), Military Bank (MBB) and Vietinbank (CTG) bounced back from losses to close flat.
However, FLC Faros (ROS) still slumped over 4 percent.
Many blue chips also recovered in the afternoon trade, including insurer Bao Viet Holdings (BVH), PetroVietnam Drilling and Well Services (PVD), Sacombank (STB), Tien Phong Plastic (NTP), of which BVH and PVD were the biggest gainers, up 3.3 percent and 2.4 percent, respectively.
According to Quang Vo, an analyst at Viet Dragon Securities Co, the decrease of over 5 points in the VN-Index (0.6 percent) was not a very bad signal, considering the recent gains of over 10 points per session.
"We think investors may have temporarily earned profits or reduced their margin positions as the market became hotter. Considering that capital in the market has been ample, we found no clear evidence that the market is entering a downtrend," Vo wrote in a note to clients.
According to Vietnam Investment Securities Co, a positive factor was that demand increased and cushioned the market fall and there was a sign that cash flow gradually ran into mid-cap stocks.
VN-Midcap on December 6 inched up 0.2 percent while the VN30 (tracking the top 30 largest shares by market value and liquidity) was down 0.5 percent and VNSmall-cap decreased 0.4 percent.
Many stocks, particularly rubber companies, bucked the market trend and posted gains, including Southern Rubber Industry (CSM), up 3.4 percent, Da Nang Rubber (DRC), up 2.8 percent and Sao Vang Rubber (SRC), up 1.5 percent.
On the Hanoi Stock Exchange, the HNX-Index inched up 0.12 percent to close at 113.37 points after a 3-percent decline on December 5.
Liquidity remained high with 319.2 million shares, worth a combined 7.2 trillion VND (316 million USD), traded on the two markets.-VNA