Forum to celebrate VN-Korea relationship
Last update: 15:05 | 06/12/2017
The first-ever Maekyung Korea-Viet Nam Forum will begin in Ha Noi on December 6, as part of activities to celebrate the 25th anniversary of Viet Nam-Republic of Korea (RoK) relations.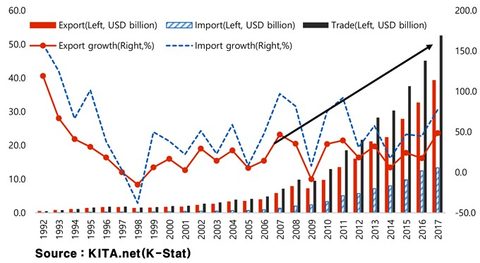 Bilateral trade between Viet Nam and RoK from 1992 to 2017.
Organised by Seoul-based Maekyung Media Group, the Korea Cultural Industry Forum and the Viet Nam Chamber of Commerce and Industry (VCCI), the forum will focus on building new partnerships, gathering some 350 participants, of which 70 to 80 people are CEOs.
"Since the beginning of diplomatic relations between the RoK and Viet Nam in 1992, the two countries have developed a strong bond. Now the two states are living under a 'one-day living zone'," said Chang Dae-Whan, Chairman and Publisher of Maekyung Media Group.
"This year's Korea-Viet Nam Forum will be an opportunity to gather the brilliant minds of the world to find ways to reinvigorate the Korean economy through strengthening its ties with Viet Nam," Chang said.
Viet Nam is the RoK's fourth largest trading partner and investment destination while the RoK is Viet Nam's third largest trading partner and largest foreign investor.
Trade between the RoK and Viet Nam has increased 91-fold, from US$500 million in 1992 to $45.1 billion in 2016. The ASEAN-Korea FTA (2005), Viet Nam's joining of the World Trade Organisation in 2007, and the Viet Nam-Korea FTA (2015) have contributed to expanding bilateral trade.
"The investment of RoK companies in Viet Nam has gradually advanced from labour-intensive industries such as sewing and textiles to high value-added industries. In particular, business possibilities related to the 4th Industrial Revolution are increasing," Chang Dae-Whan said.
People-to-people ties between two countries have strengthened. Viet Nam is an attractive destination for Korean tourists. Some 1.5 million Korean visitors visited Viet Nam in 2016. Vietnamese people, especially youngsters, are now quite familiar with Korean culture.
The forum will feature presentations by both governments' representatives, namely Trinh Dinh Dung, Deputy Prime Minister of Viet Nam, Vu Tien Loc, Chairman of VCCI, Lee Hyuk, Korean Ambassador to Viet Nam, and Lee In-ho, the RoK's Vice Minister for Trade, Industry and Energy.
It will also gather speakers and decision makers across various industries, sharing visions and insights on a wide range of issues, including 'New Business Partnership in the 4th Industrial Revolution Era', 'Enhancing Korea-Viet Nam Cooperation', 'The current state of Hallyu (Korean Wave) in Viet Nam' and 'The Future of Viet Nam's cultural industry through Korea-Viet Nam cooperation'.
Notably, the event will highlight the two countries' efforts in strengthening Viet Nam's competitiveness in the 4th Industrial Revolution through private-public cooperation, with key tasks including improving internet infrastructure, improving energy supply infrastructure, fostering professionals for the 21st century and enhancing technological competitiveness.— VNS