Last update: 08:30 | 05/12/2017
Electronic toll collection available nationwide in late 2019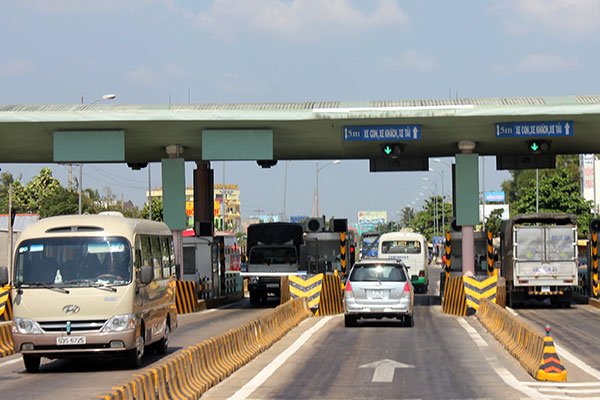 The Ministry of Transport has plans to provide electronic toll collection (ETC) service at all toll stations nationwide in late 2019.
The ministry on November 29 held a meeting to review the installation of ETC systems at toll stations located on National Highway 1A and a section of Ho Chi Minh Highway passing through the Central Highlands.
According to ETC system provider VETC, up to 22 of 24 toll stations on these two routes have signed contracts with the company to install the systems. It is in talks with the two remaining stations – Can Tho-Phung Hiep in Can Tho City and Cam Thinh in Khanh Hoa Province. 
To date, the ETC systems have been operational at 13 stations. VETC has also finished installation work at six stations and is setting up ETC systems at three others.
The company has also supplied E-tag cards for 270,000 automobile owners.
In addition to VETC, Vietnam Bank for Industry and Trade (VietinBank) will launch the service at nine other toll stations. The bank has submitted the feasibility study to the Ministry of Transport for approval.
Minister of Transport Nguyen Van The has urged the Directorate for Roads of Vietnam to draw up specific roadmaps to ensure that ETC service will be available at all toll stations on National Highway 1A and the section of Ho Chi Minh Highway passing through the Central Highlands in late 2018 and stations nationwide in late 2019.
The minister also asked the Department of Science and Technology to study other toll collection technologies that shall be used for expressways in the future.
The Ministry of Transport earlier had plans to finish installing ETC systems at 28 toll stations on National Highway 1A and Ho Chi Minh Road's Central Highlands section in June 30.
However, it failed to meet the schedule due to protracted negotiations between providers of ETC systems and build-operate-transfer (BOT) road builders.
Some BOT road investors have not finalized contract terms over fees charged by ETC system providers. They said there should be more providers so that they can have more choices.
According to the Ministry of Transport, ETC will help save VND3.4 trillion (US$150 million) a year, including VND700 million to VND1 billion in paper ticket cost, if all toll stations on National Highway 1A and Ho Chi Minh Road's Central Highlands section use ETC service.
In order to pay a fee through an ETC system, automobile owners will be issued an E-tag card based on Onboard Unit (OBU) equipment installed on their vehicles, along with a toll payment account.
When the vehicle passes through a toll collection lane, the system will activate a camera to photograph the vehicle's number plate while reading the card. The vehicle owner's account will be deducted, and a text message will be sent to their mobile phones.
If drivers do not use the system or their accounts do not have enough balance, they will have to pay in cash as in the traditional toll collection way.
Ministry targets US$5 billion from sale of Sabeco stake
The State will sell more than 343 million shares in Saigon Beer-Alcohol-Beverage Corporation (Sabeco) at VND320,000 each, fetching an estimated VND110 trillion, or nearly US$5 billion.
The Ministry of Industry and Trade, after several delays, on November 29 announced the starting price of VND320,000 per share, quite high compared to market prices, at a roadshow in HCMC. This price is equivalent to the closing price of Sabeco shares (coded SAB) on the Hochiminh Stock Exchange (HOSE) on Tuesday.
According to the ministry, the Government has permitted the sale of State-held shares equivalent to 53.59% of Sabeco's chartered capital, thus reducing the State stake in the brewery from 89.59% to 36%. The remaining shares are sufficient for the State to have veto rights at Sabeco.
According to Truong Thanh Hoai, director of the ministry's Heavy Industries Department, foreign investors showed keen interest in Sabeco at the roadshows in Singapore and London owing to the brewery's high profitability. There is no chance that the brewery brand would disappear following foreign acquisitions of huge volumes of shares since the State still has a 36% stake with veto power. 
The share sale will not be divided into stages but be made all at once, depending on the market's absorption.
Local investors are not confined to a certain volume out of 343 million shares on offer, whereas the foreign ownership cap is 49%. Given the SAB shares that foreign investors are holding, the room left for foreign investors in Sabeco is 38.59%, equivalent to around 247 million shares.
At the share auction on December 18, investors can bid either in local or foreign currencies, or in the form of guarantee.
New FDI approvals in Binh Duong up 127%
New foreign direct investment (FDI) approvals in the southern province of Binh Duong in January-November have picked up a staggering 127% year-on-year to over US$2.5 billion, beating the full-year target by 79%.
Nguyen Thanh Truc, director of the provincial Department of Planning and Investment, gave the statistics at a meeting with Taiwanese enterprises on November 29. 
According to Truc, the province approved 178 new projects in the period with total pledged capital of US$1.3 billion. In addition, investors of 111 operational projects injected an additional US$965 million to expand their operations, plus US$247 million worth of share sales and stake transfers to foreign investors. 
The province's attraction of FDI capital has turned more effective owing to the improving investment environment, Truc said.
Priority areas of the province such as electricity, electronics, mechanical engineering, pharmaceuticals, chemicals and services have continued to attract the attention of foreign investors, Truc added.
Binh Duong has so far licensed 3,027 FDI projects with total registered capital of US$28.28 billion from 64 countries and territories. Compared to other localities in terms of pledged FDI capital, the province ranks second, just behind HCMC.
Regarding Taiwanese investment in Binh Duong, Truc said that Taiwan had invested in 772 projects worth a combined US$5.8 billion, making it the largest foreign investor in the province.
However, some Taiwanese enterprises at the meeting complained about a number of difficulties they have encountered, such as tax payment, residence permit, visa and payment of social insurance for laborers.
Hanoi reports 8.5 percent rise in industrial production in Nov
Hanoi's industrial production index showed an 8.5 percent rise year-on-year in November, according to the city's statistics office.
The office attributed the increase to production gaining speed for the year-end holiday season in such industries as confectionery, beer, ceramic bathroom fixtures and wood furniture.
Total retail and services revenues in the month were estimated at 52 trillion VND (2.28 billion USD), up 2.1 percent on October's figure.
Export activities by Hanoi-based enterprises earned 1 billion USD in November, up 2.9 percent on month. Meanwhile, imports surpassed 2.4 billion USD, increasing 7.6 percent from October but dropping 2.9 percent from one year ago.
The Consumer Price Index (CPI) for November in Hanoi was equal to just 99.83 percent of the previous month's figure, with prices for food catering services, food and grains dropping slightly.
During the month, the capital city welcomed 390,000 foreign visitors, an 11.4 percent increase from October and up 40.1 percent from the same period last year. Domestic visitors to the city numbered 867,000. In all, the tourism sector reported revenues of 5.7 trillion VND (250 million USD).
Proptech to alter real estate industry
After financial technology (fintech), which changed the way the financial sector worked, now, property technology (proptech) is expected to effect a change in the real estate industry.
Proptech has emerged in the world after nearly a decade and has started to grab attention in Vietnam.
A report by real estate and investment services firm, Jones Lang LaSalle (JLL), showed that 4.8 billion USD, out of 7.8 billion USD worth of funding, was poured into Asia Pacific proptech start-ups between 2013 and 2017.
Asia Pacific was leading the investment into proptech start-ups, with a great deal of potential, according to JLL. "With its young population, rapid urbanisation and popularity of mobile phones, all the conditions are in place for this new sector to grow," JLL's report said.
According to Nguyen Quoc Anh, deputy director of Dai Viet Group, which owns property information website batdongsan.com.vn, proptech would help minimise risks for both buyers and sellers.
Proptech is defined as technology applied to real estate information, transaction and management to digitalise services and products, so as to improve real estate processes and solve modern challenges.
Proptech would help property developers and real estate businesses to make changes and adapt to a new generation of customers via the internet, build brands and direct their products to the right targeted buyers, Quoc Anh said. He said that applying the technology would also promote sales efficiently.
With proptech, customers could search for products to meet their demands, compare prices and choose the best financial solutions to minimise risks. In addition, all transaction procedures would be conducted online, Quoc Anh said.
Besides Dai Viet Group, other firms in Vietnam also invested in proptech or hastened the application of proptech in their real estate business, such as Holomia – a startup offering virtual reality in marketing for real estate projects and Homedy – a website which helps search project information and compare projects.
Recently, a number of developers such as Vingroup, Sun Group and BIM Group made use of virtual reality and augmented reality to provide customers with real-life experiences of their projects.
According to the Vietnam Association of Real Estate Brokers, the development of proptech was an indispensable trend, but it was important to improve the awareness of both buyers and firms in applying proptech to fuel a boom in Vietnam.
Nguyen Thanh Hung, chairman of the Vietnam e-Commerce Association, said at a recent online forum that proptech would also help promote the transparency of the real estate market because it made access to real estate information much easier.
According to Pham Van Hung, from property developer CenGroup, technology such as big data, artificial intelligence, augmented reality and the Internet of Things was being applied in the real estate industry of Vietnam, catching up with the global trend.
Vietnam Airlines and Agribank sign co-operation agreement
National carrier Vietnam Airlines and Agribank have signed a co-operation agreement to promote the sale of each other's products and services in the future.
Accordingly, Vietnam Airlines will provide airfreight services with special incentives for officials and employees of Agribank. 
The bank, meanwhile, is committed to providing a variety of financial services to Vietnam Airlines, such as deposits in term, payment of airfare and credit co-operation.
The two sides will strengthen co-ordination to conduct regular customer care programmes. At the same time, they also agreed to share experiences and document information to reach co-operation efficiency.
Vietnam Airlines has inked many co-operation agreements with large companies such as FPT Corporation, Vietnam Post Corporation and Vietnam Oil and Gas Corporation.
Vietjet offers promotional tickets on routes to Thailand
Jubilantly welcome new routes to Thailand, Vietjet gives a series of golden days from November 30 to December 2, offering 15,000 tickets priced only from zero Vietnam dong within the golden hours from 12:00 to 14:00 on websitewww.vietjetair.com.
The promotional tickets are applied on the following international routes: Ho Chi Minh City – Phuket/ Chiang Mai (Thailand) and Dalat/ Hai Phong – Bangkok (Thailand) with the flight time being from November 30, 2017 to March 24, 2018. Except for the travel period for Ho Chi Minh City – Chiang Mai route runs from December 12, Ho Chi Minh City – Phuket route from December 15 and Da Lat – Bangkok route from December 18, 2017.
Opening new routes from December this year, Vietjet will operate six international routes connecting Thailand and Vietnam, offer more traveling and trading opportunities between these cities. Recently, Thai Vietjet also has officially received new Air Operator Certificate (AOC) which is in line with the International Civil Aviation Organisation (ICAO) standards from the Civil Aviation Authority of Thailand (CAAT).
With high-quality services, diverse ticket classes, special low-fare tickets, Vietjet offers its passengers flying experiences on new aircrafts, comfy seats, delicious hot meals, beautiful and friendly flight attendants and other interesting added-on services.
HCM City needs faster economic growth to hit annual target
Ho Chi Minh City needs to speed up December growth to achieve its economic growth target of 8.25 percent, heard a review meeting on November 30.
"We had to reduce the growth target from 8.4 percent to 8.25 percent because of inaccurate computation at the beginning of the year," Vo Van Hoan, head of the People's Committee Office, told the meeting held to review socio-economic development in the first 11 months.
Hoan pointed out that the general growth index had risen sharply, and higher than last year, but the economy needed to accelerate to achieve the target.
"Revenue collection has been only 88.34 percent of the target and related authorities must work hard to fulfil the full-year plan."
Pham Thanh Kien, director of the Department of Industry and Trade, said the city should focus on its four key industries in the final month.
"Shopping malls, supermarkets and convenience stores have increased significantly, while e-commerce has grown 31 percent.
"The city should focus on e-commerce besides traditional businesses."
He said software exports had seen very high growth this year with revenues reaching 1.5 billion USD in the year-to-date compared to 1 billion USD for full-year 2016.
Su Ngoc Anh, director of the Department of Planning and Investment, said the city's revenues had grown by 12.6 percent to 307.3 trillion VND (13.5 billion USD), or 88.34 percent of the full-year target.
FDI has doubled to nearly 5.57 billion USD.
Services and retail sales grew by 11.5 percent and industrial output by 7.9 percent.
The city's four key industries -- engineering and automation; electronics; chemicals, rubber, plastics; and food processing -- continued to perform strongly, expanding markets, investing in technology and improving quality and competitiveness, and growing at over 12.9 percent.
This year, 37,596 new companies with a combined registered capital of 778.5 trillion VND (34.6 billion USD) have been licensed, three times the number in the same period last year.
Job creation, vocational training and support for poor people have been carried out efficiently to ensure social welfare.
The number of jobs created rose marginally to 298,225 or 106.5 percent of the full-year target.
Exports were worth around 32 billion USD, an increase of 16.1 percent.
Exports to Singapore grew by 69.7 percent, to Myanmar by 75.1 percent, to India by 33.7 percent, to Malaysia by 24.1 percent, to Thailand by 25.8 percent, to China by 21 percent, and to the Republic of Korea by 22.2 percent but shipments to the Philippines, Indonesia, Italy, Germany, and the UK shrank.
Exports of rubber, vegetables, computers and electronics, and vehicles grew by 18 – 55 percent.
Imports were worth 38.9 billion USD, an increase of 13.5 percent.
Imports from China, India, the Philippines and Cambodia soared, with raw materials, equipment, electronic accessories and metals being the main imported items.
"Authorities have paid close attention to the environment, flooding and traffic as well as price stability," Hoan added.
Customs revenue to surpass target     
The budget revenue of the General Department of Customs (GDC) surpassed VND261.1 trillion (US$11.5 billion), or 91.6 per cent of the 2017 target as of November 28.
The information was released on Thursday during a press conference held by the GDC. Budget collection for the whole year is targeted to touch VND285 trillion. Collections of the export-import, special consumption and environmental protection taxes reached VND101.7 trillion, while those of the value-added tax reached VND183.3 trillion.
November budget revenue is estimated to reach VND25 trillion.
According to Luu Manh Tuong, director of the Import-Export Tax Department, budget revenue in December every year tends to surge as enterprises usually boost the import of goods before the occasion of Tet (Lunar New Year). The department expects this month's revenue to reach VND26 trillion.
GDC forecasts that budget collection for the whole year will likely surpass the annual target of VND285 trillion, to total VND295 trillion.
From now until the end of the year, the department will instruct local customs departments to tighten the collection and disbursement of the State budget and tackle difficulties in tax policies in a timely manner, GDC said.
The GDC will also increase the implementation of post-customs clearance and inter-sectoral co-operation to prevent and detect trade fraud.
In turn, the local departments must propose measures to prevent losses and increase management by price consultation and price and tax code assessment.
The high revenue was also attributed to the effective instruction of the Party, National Assembly and Government and provinces' implementation of plans to achieve annual national socio-economic development goals. 
HCM City gets Italy-Viet Nam Textile Technology Centre     
The Italy-Viet Nam Textile Technology Centre was set up at the HCM City University of Technology on November 29 to support training and research in textile technology.
It is an Italian-funded joint project between the university and the Italian Trade Agency with technical support from the Association of Italian Textile Machinery Manufacturers and the International Polytechnic for Industrial and Economic Development.
Prof Dr Vu Dinh Thanh, rector of the university, said the centre is equipped with Italian machinery and equipment, while Vietnamese lecturers and engineers have been trained by Italian experts.
The centre would be a reliable place for training and supplying manpower for Vietnamese and Italian textile-garment businesses, he said.
"With the Italy-Vietnam Textile Technology Centre, Vietnamese textile-garment enterprises will be able access advanced technology and interact with professors and researchers from Italian universities."
Nguyen Phuong Dong, deputy director of the HCM City Department of Industry and Trade, said the garment and textile sector has developed strongly with exports topping US$21.4 billion in the first 10 months of the year, a year-on-year increase of 9 per cent.
But the sector faces challenges like a reliance on imported materials and a lack of qualified designers and workers who can handle technology, he said.
"With active support from a global leading in the garment and textile sector, the centre would help train skilled human resources and improve design capacity, boosting the country's textile-garment industry and making it globally competitive," he said.
Paolo Lemma, chief representative of the ITA in Viet Nam, said: "Viet Nam is a promising market with many opportunities for Italian enterprises in textile and apparel, leather and footwear, tanning, agriculture, and infrastructure.
"Viet Nam has advantages in terms of human resources, economic conditions and an open market, and the two sides can help each other.
"I believe that if the two countries' enterprises strengthen their information exchange and co-operation, bilateral trade will increase steadily."
Italy is now the 18th biggest export market for Viet Nam. 
Sacombank's shareholders don't want listing transferred to HNX     
Shareholders of the Saigon Thuong Tin Commercial Joint Stock Bank (Sacombank) disagreed with the bank's decision to transfer its listing to the Ha Noi Stock Exchange (HNX) under new code SCM.
After collecting shareholders' opinions on the amendments, Sacombank on Wednesday released the result, which showed 83.36 per cent of the bank's shareholders disagreed with the change.
Previously, in October, Sacombank, which is currently listed on the HCM Stock Exchange as STB, sought shareholders' approval to transfer its listing to the HNX under new code SCM.
According to the proposal, Sacombank will cancel its registration of STB at the Viet Nam Securities Depository Centre (VSD), delist from the southern bourse, re-register SCM at VSD and finally list SCM on HNX.
This came as a surprise to investors because the code STB has been associated with Sacombank for the past 11 years.
Sacombank was the first bank to launch its IPO at the initial price of VND200,000 (US$8.8) per share in 1996 and also the first to list on the national bourse in July 2006.
In 2012, STB was included on the VN30, which consists of the largest stocks by market capitalisation. However, in 2015-16, Sacombank struggled with a huge stockpile of bad debts.
Duong Cong Minh, who became chairman of Sacombank on June 30, 2017, has been speeding up efforts to resolve bad debts. In the first nine months of this year, Sacombank announced it handled bad debts worth VND2 trillion and posted pre-tax profit of more than VND1 trillion, doubling its VND585 billion target for the full year.
STB shares yesterday closed at VND13,200, up against VND12,600 in the previous session. 
Ministry details Grab app's losses ahead of tax inspection
The Ministry of Finance has released a detailed report on Grab Vietnam's consistent annual losses since it began operating in the country, despite the ride-hailing app's mushrooming popularity among local commuters.
During the fourth session of the lawmaking National Assembly which wrapped up last week, a delegate demanded that the finance ministry explain why Grab Vietnam, with a total registered capital of only VND20 billion (US$881,057), has accumulated VND938 billion (US$41.32 million) in losses after three years of operating in the country.
The ministry has responded to the question with the release of a document on November 29 detailing the company's financial situation.
Grab made its Vietnam debut in 2014, launching in Hanoi and Ho Chi Minh City. Since then, the Malaysia-based company has adjusted its registered capital five times, totaling VND20 billion as of March 2017, according to the finance ministry.
In 2014, Grab Vietnam logged losses of VND51.6 billion (US$2.27 million). The company managed to take that number to VND441.8 billion (US$19.46 million) and VND444.7 billion (US$19.59 million) in 2015 and 2016, respectively.
The finance ministry attributed the steep losses to massive marketing expenses and service prices set deliberately low to undercut conventional taxi operators.
Grab Vietnam, financed by its parent company in Malaysia, has borrowed $50 million from Grab Malaysia with zero interest, the finance ministry said, citing Grab Vietnam's financial statement.
The Vietnamese ministry underlined that Grab Vietnam is considered a business with high operational risk, thus categorized as needing special tax oversight.
The finance ministry said it will cooperate with the State Bank of Vietnam (SBV) and relevant agencies to review the company's 'borrowing' and crack down on tax evasion or trade fraud, if any.
Grab Vietnam's Ho Chi Minh City headquarters are in District 10. According to the district's tax division, the company paid more than VND142 billion (US$6.26 million) in taxes between January 1 and November 24, 2017.
Last week, the General Department of Taxation requested that local tax departments countrywide focus their 2018 tax inspections on 'special' businesses, such as Grab, Uber, online shopping platforms, and multilevel marketing companies.
Danang Hotel Association to provide training to scale up low-rated hotels
The Danang Hotel Association is starting a training and assistance programme in December to guide one- and two-star hotel members on transforming their business to attract a more lucrative clientele, in a bid to ensure Danang maintains her reputation as a quality destination.
In an interview in Singapore, Nguyen Duc Quynh, deputy chairman of the Steering Committee of the Danang Hotel Association cum deputy general director of Furama Resort Danang said, "The biggest issue we have in Danang is the large supply of one- and two-star hotels. 
There are 25,570 hotel rooms in Danang, 40% of which are in one-and two-star hotels. These hotels tend to attract lower-end tourists who may bring with them certain social issues that will ultimately influence Danang's reputation as a holiday destination. Da Nang needs to be a destination for quality tourists."
As a solution, deputy chairman Quynh recommends that one- and two-star hotels "convert into long-stay properties that are suitable for business travellers and domestic family groups on holidays."
He explained, "Following the APEC meetings in Danang on November 4-11, trade and foreign investment will pick up in Da Nang, which will result in more foreigners coming in for business projects. They will need a place to stay and one- and two-star hotels could provide that by scaling up their facilities and changing their business structure."
"Going after the long-stay market will also help alleviate these hotels' poor business during the winter season," he said.
The association will provide guidance on business transformation and training on critical knowledge such as revenue management.
When asked where the association will get its funding for these activities, Quynh said, "They will come from membership fees and sponsorship from businesses that have an interest in our members, for example hotel booking technology companies that hope to introduce their solutions to these one- and two-star hotels."
VIS divestment brings dual benefits for Thai Hung
Thai Hung Trading JSC's offer to buy an additional 5.35 per cent stake in Vietnam-Italy Steel JSC (VIS) right after selling 20 per cent of this steel company to Kyoei Steel Ltd. is considered a wise move aiming to retain Thai Hung's controlling right in VIS, while simultaneously receiving technology support from Japanese partners.
In early November, Thai Hung's offer to buy a 5.35 per cent stake in VIS right after handing over 20 per cent to Kyoei Steel surprised enterprises. However, this move will bring more benefits for Thai Hung.
The first is to receive technology support as Kyoei Steel is known as the leading steel manufacturer in Japan with the chartered capital of $166.5 billion. Besides, Kyoei currently has two steel manufacturing plants in Vietnam, namely Vina Kyoei Steel JSC in Ba Ria-Vung Tau and Kyoei Steel Vietnam JSC in Ninh Binh.
Previously, at the ceremony to announce its strategic shareholders, the VIS board of directors expressed their desire to receive technology support from Kyoei Steel to upgrade the existing manufacturing capacity and improve business results. 
The second is the controlling rights. Before handing over 20 per cent to Kyoei Steel, Thai Hung held a controlling stake in VIS with 65.66 per cent stake (which promptly decreased to 45.66 per cent after the sale). However, in case the offer to buy an additional 5.35 per cent is approved, Thai Hung will retain its controlling rights with a 51.01 per cent holding as well as its role as the parent company of VIS.
Remaining the parent company of VIS is important to Thai Hung because Thai Hung would retain the right to add VIS' business results to its consolidated financial report. 
Needless to say, Thai Hung has an advantage to recover its controlling right because, with the exception of Kyoei Steel, no investor can overcome Thai Hung's existing holding of 45.66 per cent to seize a controlling shareholding.
Along with the two above benefits, Thai Hung also acquired profit from the sale of the VIS stake to the Japanese partner because in September 2016, Thai Hung completed the purchase of 12.8 million VIS shares at the price of VND13,500 ($0.59) apiece and then bought an additional 12 million shares in July 2017 at the price of VND15,000 ($0.66). Selling 20 per cent to Kyoei at the price of VND25,597 ($0.99) apiece brought significant profit.
Regarding VIS, after Thai Hung's acquisition, VIS saw positive increases in its business results. Notably, in 2016, VIS reported a net revenue of VND3.7 trillion ($162.8 million) and a pre-tax profit of VND75 billion ($3.3 million), signifying on-year increases of 21 per cent in revenue and a 100 per cent in pre-tax profit. In 2017, the company targets making VND6.2 trillion ($272.9 million) in revenue and VND102.6 billion ($4.5 million) in pre-tax profit.
Thai Hung is well-known for its large-scale M&A deals. Besides, it is a major material supplier as well as the largest steel distributor of northern factories like VIS, Posco, Pomina, and Tisco.
Two billion dollar projects in Haiphong calling for investment
The two projects are a railroad construction to Haiphong International Port and a professional industrial park for Japanese companies.
The length of the railroad construction to Haiphong International Port is 57 kilometres and its width is 1.4 metres. The project would run under the formats of public-private-partnership (PPP) and build-operate-transfer (BOT) formats.
The total investment of the project is estimated at $1.6 billion, part of which will be financed from Japanese official development assistance (ODA) loans. It is expected to be implemented in until 2030 to construct 16.56 kilometres of railway, 26.9 kilometres of bridges, and seven new railway stations.
The main line, which is 35.7 kilometres long, starts at the new Hung Vuong Railway Station (equivalent to Km95+215 of the Hanoi-Haiphong railway route), goes through Dinh Vu Industrial Zone (IZ) (now known as Deep C IZ), crosses Nam Trieu Seaport, and arrives at Haiphong International Port in Cat Hai Island.
The secondary line, which is 7.78 kilometres long, starts at South Dinh Vu Railway Station (equivalent to Km23+940) and will run parallel with the main line until Km26+337, then turn left towards Dinh Vu Seaport and arrive at Deep C IZ.
After launching, it is estimated to transport 30 million tonnes of cargo per year by 2020 and 95 million tonnes per year by 2030.
The second project to call for foreign investment is the professional industrial park for Japanese companies in the north, located on an area of 300-400 hectares in Dinh Vu-Cat Hai Economic Zone.
Earlier, the Haiphong People's Committee announced the general master plan of Dinh Vu-Cat Hai Economic Zone (EZ) until 2025. Accordingly, the zone, which has a total area of about 22,540 hectares, will become a multi-sector economic zone of the North Central Coast and the whole country, in order to become an international logistics seaport.
Samsung elevates 29 Vietnamese vendors to tier-1 supply chain
Samsung completed the consultation programme for 12 enterprises in 2017 and has achieved the target of 29 Vietnamese businesses becoming Tier-1 vendors by the end of the year.
During the two days of November 29-30, 2017, the Board of Directors of Samsung Vietnam paid a visit, worked, and surveyed six businesses, including three in the north and three in the south, which have joined the consultation programme for vendors under the guidance of Samsung South Korea's experts.
The list of these vendors consists of Manutronics Vietnam JSC (Bac Ninh), Tien Thanh JSC (Bac Ninh), Bac Viet Technology JSC (Bac Ninh), Nhat Minh Company (Binh Duong), Minh Man Manufacturing Trading & Printing Labels Co., Ltd. (Ho Chi Minh City), and Vinavit Corp. (Ho Chi Minh City).
South Korean experts have spent two weeks surveying and evaluating each enterprise, and then directly consulted and worked with the Vietnamese vendors in the next 10 weeks in order to improve manufacturing procedures and satisfy Samsung's standards in supplying products and accessories for the corporation's plants in Vietnam.
With great efforts to seek and connect Vietnamese vendors, the number of Samsung's tier-1 Vietnamese vendors has increased dramatically from four businesses in 2014 to 29 at the moment.
Working towards the target of having 50 Tier-1 vendors by 2020, while creating support for the development of the Vietnamese supporting industries, Samsung has collaborated with the Ministry of Industry and Trade (MoIT) to expand the business consultation programme by establishing an advisory board in order to build and implement the programme on a larger scale.
According to Shim Won Hwan, president of Samsung Electronics Vietnam Complex, "The business consultation programme, which has been carried out by Samsung since 2015, has helped 26 Vietnamese enterprises attain many achievements in the process of business reforms and enhance competitiveness. We believe that this consultation model, with the co-operation from MoIT, will create a widespread effect. This is the motivation for us to persevere in our efforts to accompany the development of the Vietnamese supporting industries."
Vietnam ranks 8th in tourist arrivals to Korea
With a rapidly increasing inflow of tourists in 2017, Vietnam now ranks 8th in terms of arrivals to Korea, moving up two places since last year.
As of November 19, Korea welcomed more than 300,000 Vietnamese tourists, signifying an annual rise of 29.9 per cent even without December. The number of Vietnamese tourist arrivals is expected to reach 330,000 in 2017, according to the Korea Tourism Organisation (KTO) in Vietnam.
MICE tourism (meetings, incentives, conferences and exhibitions) also achieved healthy performance. As of November 30, there were over 55,000 MICE tourist arrivals travelling from Vietnam to Korea, up 61.7 per cent against the same period last year.
More tourism products by local agencies have been launched to cater to Vietnamese tourists visiting Korea. Tour agencies like Fiditour, Vietravel, Transviet Travel, TST Tourist, and Saigontourist have rolled out new Korean winter tours to serve the rising demand. KTO works in collaboration with these agencies to develop 15 Korean winter tour products in the price range of VND14-16 million ($617-705).
"2017 is a successful year for Vietnam and Korean tourism. With rapid growth and the 8th ranking, Vietnam presents huge opportunities for the Korean tourism sector," Jung Chang Wook, director of KTO in Vietnam, said.
He noted that KTO will continue its efforts to develop new and unique products for the Vietnamese market like Hallyu tourism and Korean beauty tourism. The organisation has hosted over 20 seminars to promote Korean tourism in Vietnam, including MICE and medical tours.
In the upcoming time, Korea will issue attractive programmes to lure in Vietnamese tourists during the 2018 Winter Olympics, which is scheduled to take place from February 9 to 25, 2018 in Pyeongchang county. In particular, Vietnamese visitors have been granted visa-free entry through Yangyang International Airport until April 2018.
VCIC to provide support worth US$75,000 to ideas on smart agriculture

The Vietnam Climate Innovation Centre (VCIC) will provide support worth US$75,000 to ideas and solutions in smart agriculture at the Vietnam International Exhibition on Machineries & Technologies of Agriculture, Forestry and Fishery (Growtech 2017), being held in Hanoi from November 30 to December 2.
Co-organised by the ministries of Science and Technology, Industry and Trade, and Agriculture and Rural Development, Growtech 2017 is the first event of its kind in Vietnam.
Addressing the opening ceremony, Pham Duc Nghiem, deputy head of the National Agency for Technology Entrepreneurship and Commercialisation Development, under the Ministry of Science and Technology, said that the event is not only a chance for professionals and businessmen to exchange new technology products but will also serve as a bridge to help farmers to gain better access to high-tech products.
Growtech 2017 has attracted more than 60 companies from countries with developed agricultural sectors, such as Israel, the UK, China, Japan, South Korea, Italia, India and New Zealand, to showcase their latest equipment and technologies.
During the expo, a number of agro technologies and pieces of equipment were introduced, such as hydroponics, urban farming, irrigation solutions, greenhouses, rice planting machines and a sowing robot that received significant attention.
Under the framework of the expo, two more conferences will be held to discuss the commercialisation of technology in the agricultural sector of Vietnam and strategies to develop the processing and preservation of agricultural products.
Taiwanese Group eyes Dong Nai food investment
Taiwan's Want Want Group is planning to invest in a $160-million rice cake factory in southern Dong Nai province.
The Group's CEO Lee Yu Sheng recently held a meeting with the Deputy Chairman of the Dong Nai Provincial People's Committee to determine its investment policies in the food industry.
The factory's estimated investment in the first phase is about $60 million and then $100 million in the second phase.
Want Want is a multi-disciplinary corporation founded in 1962. It began to produce food and beverages then expanded into other areas such as real estate, hotels, agriculture, medical, insurance, and media.
According to provincial figures, Taiwan ranks second out of more than 40 countries and territories investing in Dong Nai, with 1,457 valid FDI projects worth more than $27 billion.
In the first eleven months of this year, Dong Nai attracted 73 FDI new projects worth $586.1 million while 78 existing projects increased their investment, by $330.5 million. Projects include the $60 million Powerknit Vietnam Co. project from the British Virgin Islands, the $80 million in additional capital for the Pou Sung Vietnam project, the $55 million Pou Phong Vietnam Co. project from the British Virgin Islands, and the $24 million Phu Lam Plastic Industry JSC project from Taiwan.
The provincial Department of Planning and Investment estimates the province will attract FDI worth $1.5 billion in 2017.
According to provincial authorities, Dong Nai has advantages in climate, with enterprises investing in the province never at risk of suspending operations due to natural disasters. Its industrial zones have good infrastructure, so the cost of building a factory is cheap and transportation is convenient.
More FDI companies and groups have come to Dong Nai in recent times to determine policies and procedures when investing in the province in the fields of industry, agriculture, and the environment. According to Mr. Olaf Muller, Managing Director of the Eggersmann Equipment Manufacturing Group from Germany, the group is looking to invest in Dong Nai in the field of industrial and waste treatment, with the most modern technology in the world. Dong Nai has a very favorable location for investment because of its large land area, favorable climate, and transportation links.
Many investors from South Korea, Japan, China, Taiwan, Finland, the US, and France have come to the province with a desire to invest or expand their investment.
Bosch adds $67 million to Vietnamese plant

Bosch plans to further strengthen its presence in Vietnam with an additional EUR58 million ($67 million) investment in its gasoline systems facility in the southern province of Dong Nai.

"With this investment, we are able to meet the rising demand for continuously variable transmission pushbelts from automakers across the Asia-Pacific and North America," said Peter Tyroller, member of the Bosch board of management responsible for the Asia-Pacific region.

The additional investment will be used to extend production capacity and construct a new production building within the plant premises. With this investment, the company will have invested a total of EUR321 million ($372 million) in the plant.

"We are also on the way to turn the plant into a smart factory and started implementing Industry 4.0 solutions," said Martin Hayes, president of Bosch Southeast Asia.

The plant started operations in April 2008, producing continuously variable transmission (CVT) pushbelts for automobiles for the global market. By March 2017, the plant reached a significant milestone by producing its 20 millionth CVT pushbelt.

Bosch has become one of the largest European investors in Vietnam, operating in all four areas: research and development (R&D), manufacturing, sales, and services. Hayes said that, "The establishment of Bosch Vietnam as an organisation ten years ago was an important step for our success story here in the ASEAN."

Celebrating its 10th anniversary in the country, Bosch continues seeing great potential in the market.

"With a population of almost 96 million, a rising middle-income class, high internet penetration, and a growing tech-savvy consumer base, Vietnam has become one of the key growth drivers of Bosch in Southeast Asia," added Hayes.

After a fruitful decade, Bosch aims to continue making a difference in the country with its products and solutions as a top employer and by strengthening the local industry.

Cathay Pacific aircraft to offer Wi-Fi
     
Cathay Pacific has said it will offer high-speed Wi-Fi on its Boeing 777 and Airbus A330 aircraft from mid-2018.

It said it plans to offer the service in response to growing demand for in-flight connectivity. It already offers broadband services on its Airbus A350-900 aircraft.

The carrier's chief customer and commercial officer, Paul Loo, said: "we have been listening to our customers who have told us that staying connected in-flight is important to them.

"We envisage that by 2020 all of our wide-bodied aircraft will have in-flight connectivity. This will open up a wealth of opportunities for us to provide more innovative experiences for our customers."

Cathay Pacific and Cathay Dragon will be the first major carrier in Asia to adopt Gogo's 2Ku satellite-based broadband in-flight connectivity technology on their Boeing 777 and Airbus A330 aircraft.

It will allow passengers to check e-mails, browse the web, access social networks and shop online.

Minh Anh Group builds garment factory
     
Minh Anh Group held a groundbreaking ceremony for its garment factory in Quang Son Commune, Do Luong District, central Nghe An Province, on Tuesday.

The project is built on an area of 6ha with total investment of VND150 billion (US$6.7 million). The project is expected to be completed and put into operation in the second quarter next year.

After completion, the factory will produce and process some 60 million products per year for the domestic market and exports, and create jobs for 5,000-6,000 workers.

Nguyen Dinh Sinh, director of Minh Anh-Do Luong Joint Stock Company, said the company would accelerate construction to create jobs, generate income for employees and produce branded products for the domestic market and exports.

Speaking at the ceremony, Ngoc Kim Nam, chairman of the district People's Committee, said he hoped the group would focus on speeding up construction and ensuring quality, in addition to continuing to invest in other projects in Do Luong, generating jobs and income for the district's people and contributing to development.