VASEP plays down concern over slump in shrimp exports to U.S.
Last update: 00:58 | 14/09/2017
U.S.-bound shrimp shipments in the year to July had dipped 5.5% to US$344.7 million, but the Vietnam Association of Seafood Exporters and Producers (VASEP) said the decline was not cause for concern as general seafood exports still fared well.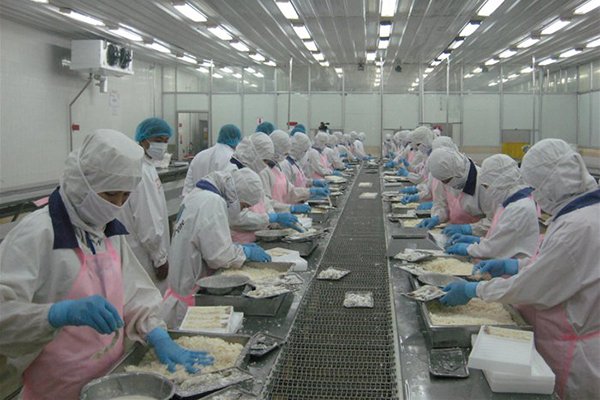 Workers process shrimp for export at a domestic company
A VASEP report shows Vietnam had fetched US$1.9 billion from shrimp exports in the year to July, an 18.5% rise against the same period last year. Among the key buyers, the U.S. was no longer the largest consumer as seen in 2016.
In fact, the United States had taken the fourth place among major Vietnamese shrimp importers in the year to July despite its first position in 2016 when Vietnam shipped US$729 million of shrimp stateside, followed by the EU with US$598 million, and Japan with US$590 million.
In January-July this year, however, Japan purchased shrimp products worth US$383.8 million from Vietnam, up 35.2% year-on-year. The EU came in second with US$380.6 million, up 20.5%, followed by China with US$348.4 million, up a staggering 106.3%.
VASEP general secretary Truong Dinh Hoe told the Daily that a decline of 5.5% in shrimp exports to the U.S. was not a problem since the difference in export revenues between the U.S. and Japan, the leading market, was insignificant, at US$344.7 million versus US$383.8 million.
Hoe explained each container of shrimp costs around US$20,000, so about a dozen containers are enough to offset the differential. Though the U.S. was ranked fourth, but the year-on-year decline of 5.5% was small, he added. Besides, he noted the contraction was attributable to the anti-dumping tariffs.
"Vietnam's shrimp processors are facing the highest anti-dumping duty (on shrimp exports to the U.S.) compared to shipments from other rivals like India and Thailand," he said.
As of late July, exports of white-leg shrimp made up 63.2% of the total value of US$1.9 billion, followed by giant tiger prawn (25.6%), and others, according to the VASEP.
The general secretary cited statistics of the Ministry of Agriculture and Rural Development as saying that the export turnover of seafood in the year to August totaled US$5.3 billion.
He said Vietnam could earn US$2.7-2.8 billion in the last quarter in order to meet the all-year target, which is seen attainable.
SGT