Film screening at French Cultural Center this weekend
Last update: 17:22 | 08/08/2018
The French cultural center L'Espace in Hanoi will screen favorite French films this weekend, allowing Hanoi audience to indulge in French culture, lifestyle and arts.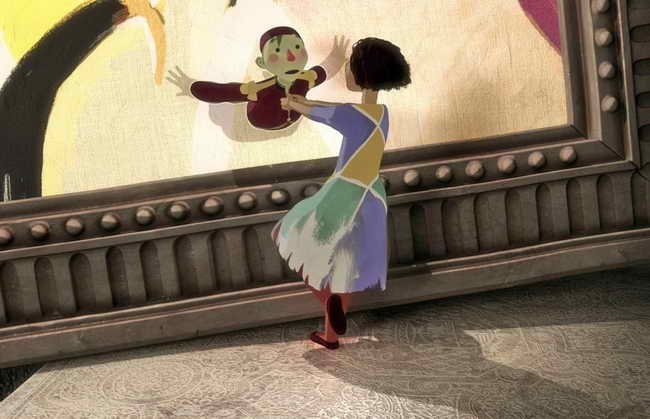 L'Espace will screen Le Tableau by director Jean-François Laguionie on Sunday evening
On Sunday, August 12, L'Espace will present a collection of eight cartoons produced by Folimage, starting at 3:30 p.m. Among the films, Le Tableau by senior French director Jean-François Laguionie is a special treat and will be screened at 6 p.m.
Adagio-beated, mysterious and thrilling, this feature tells a story of many meaning layers and satisfies those who love fine art.
Le Tableau is a feature-length film using both animation and live-action. The film has high concept and tells profound philosophical themes. The plot revolves around a group of half-drawn characters in a painting set off to search for the artist in order to ask why he did not complete the picture.
This film has slow rhythms, colorful and full picturesque classic frames. After debuting in 2011, the film won "Best Feature Film" award at the eighth Festival of European Animated Feature Films and TV Specials.
A chateau, flowering gardens, a threatening forest, here is what, for mysterious reasons, a painter has left incomplete.
Three kinds of characters live in this painting: the Toupins, who are entirely painted, the Pafinis, who lack a few colors, and the Reufs, who are only sketches.
Considering themselves superior, the Toupins take over power, chase the Pafinis from the chateau, and enslave the Reufs. Convinced that only the painter can restore harmony by finishing the painting, Ramo, Lola, and Plume decided to go looking for him.
Throughout the adventure, questions will follow one after the other: What has become of the painter? Why did he abandon them? Why did he begin destroying some of his paintings? Will they one day know the painter's secret?
The cartoon was produced by Folimage, which is a French animation studio based in Drôme. It was founded in 1981 by Jacques-Rémy Girerd. The studio produces animation films for cinema and TV (short films, TV specials and series, feature films). In 1999, the company founded animation school La Poudrière in Valence.
The eight short films for children produced by this studio that will be featured in this program include Paroles en l'air, Le Chat d'appartement, Petite Escapade, Le Trop Petit Prince, Le Génie de la boîte de raviolis, Marottes, Le Bûcheron des mots, and Bisclavret.
Apart from aforesaid cartoons, Hanoi audience will also be able to watch French Waves, a 65-minute film directed by Julian Starke, which will be screened on Friday, August 10. The film screening will begin at 7 p.m.
Through a series of interviews with iconic artists from yesterday and today, Julian Starke's documentary offers a take on French electro from the younger generation's perspective. He tracks down the American roots of techno and house music, brings the era of illegal raves to life, and tells the extraordinary tale of French Touch, a music style that has played a pivotal role in the recognition of electronic music throughout the world.
Most importantly, he showcases the newest wave of French artists, exploring how the heirs of this modern history are making it their own.
Ticket price is VND50,000 and VND40,000 (for members of L'Espace and students only). Tickets are sold at L'Espace, 24 Trang Tien Street, Hoan Kiem District. Discounted price is applicable before the event day.
SGT