First Asian Food Festival to be held
Last update: 15:46 | 16/04/2018
VietNamNet Bridge – Mon Asian Food Festival - MAFF 2018 will be held for the first time in Hanoi and Ha Long Bay to mark the National Tourism Year 2018 with theme Ha Long - Heritage, Wonder, Friendly Destination.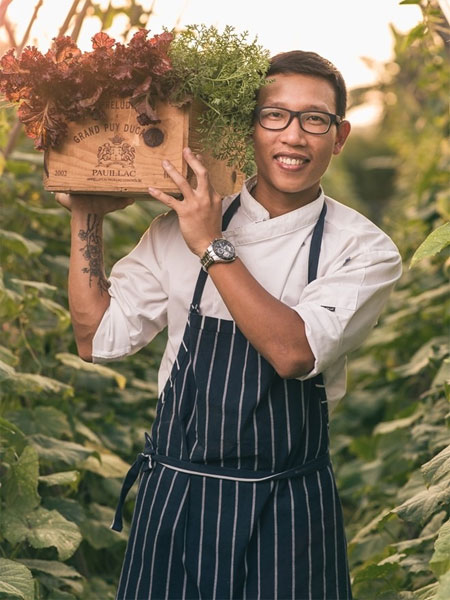 What's cooking?: Chef Nguyen Manh Hung will cook with Vietnamese ingredients from different areas of Vietnam at the festival. — Photo vietnamplus.vn
The festival will take place at Mon City My Dinh, Hanoi from April 20 - 22 and at 30/10 Square in Ha Long City, the northern province of Ha Long from April 27 - 29.
There will be a series of activities featuring food diversity and cultural characteristics from the countries taking part, such as Japan, South Korea, Myanmar, Laos and Singapore.
Popular chef and food writer Martin Yan will appear at Mon City My Dinh demonstrating his skills with Vietnamese chefs. Yan is a Chinese-American chef and food writer. He has hosted his award-winning PBS-TV cooking show Yan Can Cook since 1982.
More than 100 food booths will be placed to give the festival-goers a chance to enjoy food by regional and Vietnamese chefs. Visitors will have chance to see art and magic shows by international performers and bartenders. They will also learn how to cook tasty dishes from the chefs.
"We will bring special ingredients from every corners of Vietnam," said chef Nguyen Manh Hung. "Vietnamese food combines culinary techniques with culture to make tasty dishes. Food must be delicious first and then beautiful. We will make noodle from pumpkin."
The three-day festival in Ha Long will also feature a hot air balloon to give festival-goers a birds-eye view of the activities below.
There's also a colour run for those feeling a little more energetic.
It will begin at 4pm on April 29 with money raised helping Viet Nam Agent Orange Victims Fund.
Runners will be given a T-shirt and two bags of food colour powders to throw each other during the race. The people who run to the end of the road will be awarded VIP tickets to the festival's concert at night. 
Vietnamese and international artists such as pop singer My Tam, OnlyC and German DJ Markus Schulz will perform at the festival. 
Source: VNS