2017 Golden Kite Awards attracts nearly 120 movies
Last update: 14:11 | 08/04/2018
The 2017 Golden Kite Awards' organisation board received 117 cinematographic submissions in various categories, including featured film, TV series, documentary film, cartoon, scientific films and short films, as well as four film studies and critiques.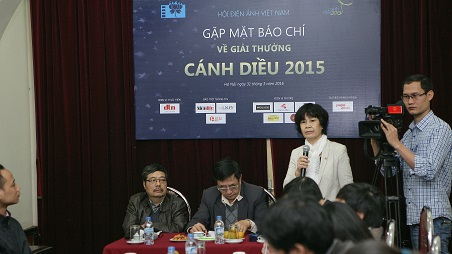 At the press conference in Hanoi on April 5
The information was announced by Nguyen Thi Hong Ngat, Vice Chairwoman of the Vietnam Cinema Association at the event's press conference on April 5.
She said that Vietnamese remakes of foreign films and scripts will not be considered for the Kite Awards – the most prestigious cinematographic awards in the country. According to Vice Chairwoman of the Vietnam Cinema Association Hong Ngat, the current number of remakes is enormous, and the awards will not accept nominations for this category. However, the awards will honour individuals involved in making those works, she added.
In addition, the 2017 edition of the annual awards will include two more prize categories, which are cameramen of scientific documentaries, and animators.
The award ceremony of the 2017 Golden Kite Awards will be held at the Hanoi Opera House on April 20 and will be broadcast live on the Vietnam Television VTV2 channel.
The nominated films will be screened free for the public at the August Cinema, the National Cinema Centre, and the Studio for Documentary & Scientific Film in Hanoi from April 9 to 13, with invitations given away at these locations starting on April 6.
On the occasion, the Kite Awards organising board will also run a conference to review the creation of films and series last year at the headquarters of the Vietnam Cinema Association (No 51 Tran Hung Dao Street) on April 9.
Nhan Dan