History of Reunification Palace goes on show
Last update: 17:18 | 15/03/2018
A special exhibition unveiling hundreds of artifacts about the history of the Reunification Palace, the former seat of the South Vietnamese regime, is now open to public viewing for free until March 23.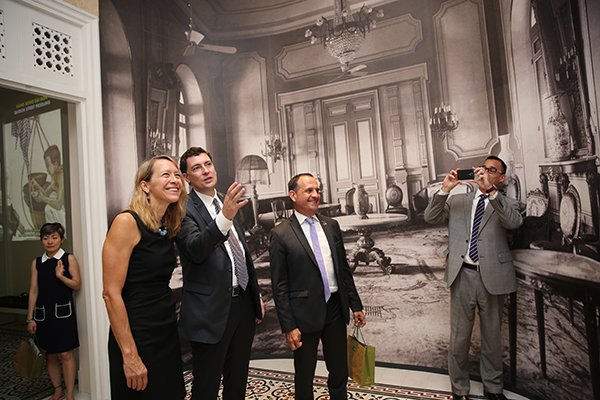 Foreign consul generals visit the exhibition about the history of the Reunifi cation Palace
The "From Norodom Palace to Independence Palace 1868-1966" exhibition features more than 800 photos, documents and artifacts amassed by many Vietnamese and international experts over the past years, providing visitors with a deep insight into the ups and downs of the city's iconic landmark.
The exhibition is housed in an old two-storey French mansion on the campus of the palace at the corner of Nam Ky Khoi Nghia and Nguyen Du streets.
The first floor is dedicated to displaying artifacts about the birth of the Norodom Palace, former name of the current Reunification Palace, and the lives of old Saigon during the French colonial period.
Meanwhile, the second floor is occupied by a multitude of valuable historical documents, collected by historians from around the world, depicting the rise and fall of the old Ngo Dinh Diem regime.
The Reunification Palace, which was acknowledged as a special national relic by the Government, has now become one of the city's famous places of interest to a large numbers of international visitors everyday.
SGT