Rice powder figurine making in Xuan La village
Last update: 10:10 | 31/12/2017
Xuan La village in Phu Xuyen district, Hanoi, has long been famous for making To He, a traditional toy made of rice powder. This is the only village in Vietnam that makes the toy figurines.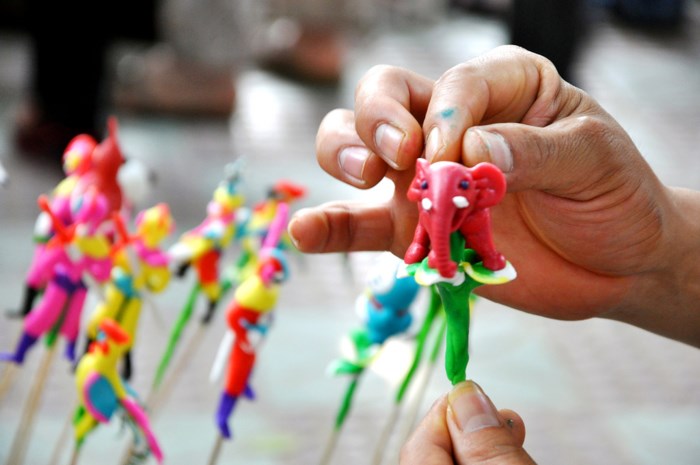 The craft has helped local people earn their living and has contributed to educating the younger generation about Vietnam's origin, history, and culture. 
To He (toy figurine) is a traditional toy for children. It is made of sticky rice powder, sugar, and food coloring.
When the toy was used just for worship, it was called an "animal toy" because it was molded in the form of familiar farm animals like buffaloes, chickens, cows, and pigs. In some rural areas, the toy also took the shape of banana bunches, arecas, and pigs' trotters, items that were often included in a tray of offerings. Later, the toy was attached to a trumpet, which, when it was blown, made a sound like "to te", which eventually became "to he".
Almost every villager in Xuan La knows how to make tò he, from white-haired elders to children still too young to go to school.
Dang Van Khuong, a local artisan, says "Xuan La village's art of making To He originated 300 years ago. 
At the annual village festival, which falls on the 15th day of the first lunar month, a competition is held to determine who is the best at making toy figurines. 
The village's 120-member To He club convenes monthly meetings to share their experience. We have participated in cultural exchange programs with other ASEAN countries, Japan, the Republic of Korea, China, and the US."
Xuan La artisan Dang Van Hau told VOV that many people imagine it is easy to make the toy figurines. In fact, the craft requires dexterity, creativity, and precision in every detail to turn out quality products.
Hau explained "The most important step is boiling the rice powder, which is sensitive to weather conditions. In winter the boiled powder must be more viscous than in summer. The rice should be sticky rice. In the past, colors were obtained from fruits and vegetables. Red, for example, came from gấc fruit, yellow from saffron, and green from the leaves of the star gooseberry plant. Today commercial food coloring is used instead. It's easier to obtain and the colors are more vivid."
In the past, To He were usually familiar animals, fruits, and national heroes. Now the figurines are created in a greater variety of imaginative forms. The artisans draw on cartoon characters that children love, like Aladdin, Doremon, Pokemon, the Monkey King, and Pigsy.
In October, 2010, during the 1,000th anniversary of the Thang Long-Hanoi citadel, Xuan La villagers exhibited, at an exhibition promoting the village's traditional craft, 3 giant To He figures – a 300-kg Ly dynasty dragon, a 250-kg tortoise, and a 25-kg tray containing 5 fruits. All 3 figures were recognized as Vietnamese records.
Chu Van Chien, an artisan from Xuan La, says "Today To He are much improved. The craft requires dexterity and a rich imagination. When a child says he or she likes something, the artisan must visualize the figurine and shape it immediately. Xuan La To He are widely known. Our people are eager to teach children how to make colorful, eye-catching, and diverse figurines."
Xuan La villagers often go to other cities and provinces to sell To he, especially during rural market sessions, Tet holidays, and Mid Autumn Festivals. The folk toy has been introduced to many countries around the world.
VOV5