Highlanders fight to save their giant friends
Last update: 15:34 | 29/11/2017
VietNamNet Bridge – Y Tat Knul, 56, often leads his elephant Bun Koong to bathe and soak in the stream to escape the heat of the summer. For him, Bun Koong is a member of the family. The elephant is also attached to him.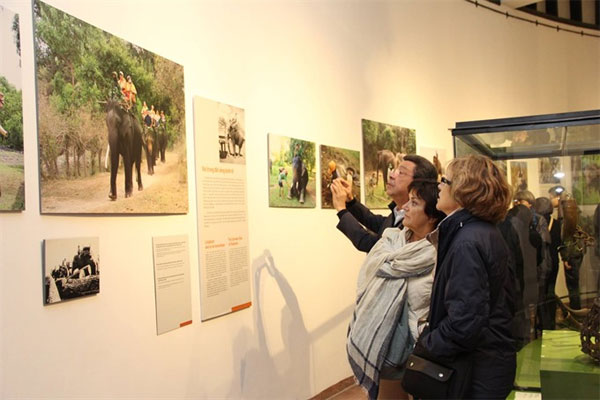 Pachydermia: Visitors learn about Central Highlands culture and history through elephant domestication. — Photo courtesy of the Viet Nam Museum of Ethnology
Knul shares many stories about his elephant and the role of the animals in the life of the Mnong people in Don Village in the Central Highlands Province of Dak Lak in an exhibition titled "Elephants in the Central Highlands".
The exhibition opened on Saturday at the Viet Nam Museum of Ethnology in Hanoi.
"Many months ago, our beloved elephant was injured by wild elephants, requiring us to take special care of it," said Knul. "Every morning we made medicine from tree bark mixed with salt to apply to the wound.
"If the owner is not faithful and caring, an elephant becomes sad, often to the point that it won't eat anymore.
"When an elephant dies, we sacrifice a pig to offer to the spirit of the elephant as it passes into the afterlife. After the third anniversary of the elephant's death, we sacrifice a pig or a cow to complete its burial ceremony."
Knul said that when a family loses an elephant, it's as woeful as losing the spirit of past ancestors.
The Central Highlands of Vietnam is a region known not only for Asian elephants but also a rich tradition of wild elephants capture and domestication.
For many local ethnic peoples, especially the Mnong, E de and Gia Rai, elephants are not only valuable assets but are also considered as family members who play an important role in community socio-cultural life.
"Previously, capture, domestication and care for elephants by the Mnong and other peoples in the Central Highlands, were traditional occupations that help people to travel and to transport products," said Vo Quang Trong, director of the museum.
 "During these processes, many customs were formed. People consider elephants as family members, give them names, take good care of them and conduct many rituals to ensure their well being.
"The exhibition helps visitors understand more about elephant customs and rituals by some ethnic groups in the Central Highlands.
"We hope the exhibition will contribute to the preservation of elephants," said Trong. "The displayed objects will help the public explore interesting information and get to know a part of Central Highlands culture."
The exhibition displays photos and objects, including biology and behaviour, capture and taming, elephant care, the economic role of elephants, elephants in social life and the cultural significance of elephants.
The exhibition is based on a collection of elephant capturing and domesticating objects donated to the museum by Kham Phet Lao, a son of Y Prong Eban (1910-2012) who was known as Ama Kong (King of Elephants).
Eban captured hundreds of elephants, including two rare white ones. He was also known for his medicinal remedies made from wild plants. He was heir of a family of people who developed elephant domestication techniques in Dak Lak Province.
Lao was born in 1963. He often followed his father Eban foraging for and researching medicinal plants.
He donated 30 objects from his collection to preserve and educate the public on his father's and the Mnong people's knowledge of elephant domestication.
"These objects are valuable to my family," said Lao. "They are the symbol of power and strength of my ancestors - elephants catchers, they are our pride, they are also expensive.
"However I decided to donate them to the museum because I want more people to understand the Central Highlands culture and tradition."
Lao said elephants were important in the daily and spiritual life of the Central Highlands people. "We believe that human and elephants' souls are connected," he said. 
"Before there were hundreds of tame elephants and the number of wild elephants was impossible to count. But now there are about 20-30 elephants in domestication."
Lao is afraid elephants will disappear in Vietnam, just as the last rhinoceros did about 10 years ago.
"If we don't protect elephants, they will be lost in the next 10 or 20 years," Lao said.
"Without elephants, the Central Highlands people have nothing. If we lose elephants, we lose both tradition and culture."
The capture of elephants for domestication is a tradition of the Mnong in Don Village, Dak Lak for centuries.
In the early 1990s, Vietnam signed the Convention on International Trade in Endangered Species of Wild Flora and Fauna (CITES). Elephants and many other species were listed in the Red Book and hunting these species were prohibited.
People have since stopped capturing elephants. However, deforestation is deeply affecting elephant habitats and the poaching for ivory and tail hair has threatened their existence and caused significant population decline.
On the other hand, developing tourism rapidly also harms elephants' health. Elephants work from dawn till dusk to carry tourists.
Knul, owner of elephant Bun Koong, said with elephant tourism, his family economic situation had improved. However, he acknowledged that tourism development and local people' farming had narrowed down elephant habitats.
Meanwhile, it is very difficult for elephants to mate because male and female elephants live separately. It isn't like it was before when they were left to naturally mate and roam in the wild.
Many organisations have become concerned about elephant protection. They agree that the role of communities especially those in the localities where elephants are living, is highly important.
Indeed, the knowledge of elephant domestication, care and use still remembered by many community members, are cultural values that need to be preserved, said Phạm Van Thinh, member of the Elephant Conservation Centre in Dak Lak.
"We can develop elephant tourism legally if we remain friendly to the elephants," he said.
"For example, tourists can watch elephants walk freely in the forests, find food, and soak in streams. The tamed elephants are friendly and people can take pictures with them. I think riding elephants harm can seriously harm their health," he said.
By Minh Thu
Source: VNS