Talented designer offers simple, practical designs
Last update: 14:32 | 16/05/2017
VietNamNet Bridge – Fashion designer Do Manh Cuong will organise the show Life in Colour on Phu Quoc Island on May 27 to celebrate the last 10 years of his career.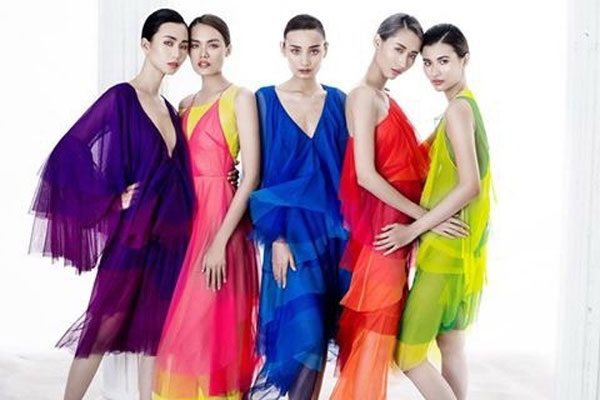 Fashion models try on clothes from fashion designer Do Manh Cuong for the show Life in Colour on Phu Quoc Island on May 27. — Photo courtesy of facebookdomanhcuong
The show will feature his latest collections of more than 100 designs on a stage with sound and light effects. 
His clothes are a combination of simplicity and utility in natural colours, including ready-to-wear clothes in high-quality materials like satin, silk and velvet.
Cuong uses not only white and black, his favourite colours, but also vibrant elements like golden yellow, lemon green, scarlet and lotus pink.
Cuong spent nearly VND5 billion (US$230,000) on making the collections and the catwalk.
"I decided to return home, Viet Nam, after studying and working in France because I wanted to develop my career here," said 36-year-old Cuong, a graduate of the Ecole Chambre Syndicale de la Couture Parisienme.
"I prefer a mixture of luxury fashion and simple, real life in clothes. I want my trends to be popular among urban women every season of the year," he added.
Although Cuong likes working on luxury designs, the designer believes "if designers can't create fashions for daily use, the industry will remain amateurish".   
After graduating from Ha Noi University of Industrial Fine Arts in 2003, Cuong moved to Paris where he lived for seven years to develop his ideas in fashion design.
In 2007, he worked as a trainee for Christian Dior. He improved both his love and skills in designing and catwalk.
One year later, he returned home and made his debut in HCM City. His collections of elegant and eye-catching designs dazzled audiences.
In 2009, he opened his first shop in District 1, later organising fashion shows and taking part in the Dep (Beauty) Fashion Show and Viet Nam Fashion Week.
He was named Man of the Year by The Gioi Nghe Si (World of the Artists) Magazine, one of the country's leading publications on fashion and celebrities.
He has worked for TV shows such as Project Runway Viet Nam and Vietnam's Next Top Model, and with top artists and fashion icons, including pop star Thanh Lam and ballet dancer Linh Nga.
He now owns three shops in the city and Ha Noi, offering two collections every season, with costs ranging from VND2 million (US$90) to over VND22 million ($2,000) per item. They usually sell out within a few days after release.
Though his designs use lace or metallic, their shapes are distinctly Vietnamese.
"My way is to adopt global styles but in an individual manner," Cuong said.  
Life in Colour will attract 60 fashion models, including top faces such as Le Thuy, Minh Trieu and Mau Thuy.
The show will take place at 3pm on May 27 at the JW Marriott Phu Quoc Emerald Bay in An Thoi Town.
VNS