Artist portrays VN, Dutch farmers
Last update: 15:24 | 13/09/2017
VietNamNet Bridge – Artist Hoang Ha Tung will display his paintings of Vietnamese and Dutch farmers at a solo exhibition in Amsterdam.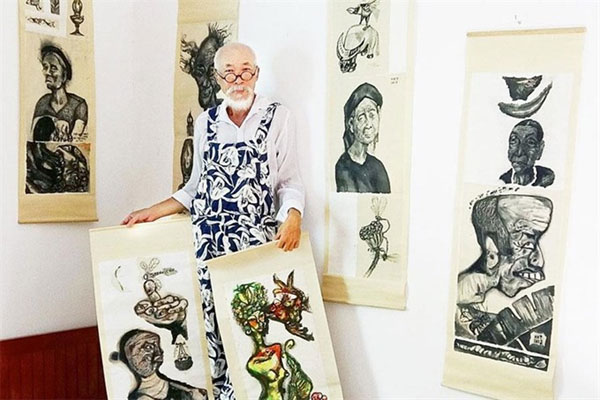 Black and white: Artist Ha Hoang Tung will display his portraits of Vietnamese farmers in Amsterdam. Photo news.skydoor.net
Tung went to the Netherlands yesterday with 12 portraits of Vietnamese farmers, which he painted from May to August using traditional Chinese ink and traditional do (poonah) paper.
"Do paper and Chinese ink are very traditional of Viet Nam," Tung said. "But I will not use this material to paint Dutch farmers. Netherlands was home to many artists, including Van Gogh, the famous oil-on-canvas painter."
Tung will go on a field trip with two Dutch colleagues who will help him to get to know more about Dutch farmers living along rivers so that he can paint them, too. 
"Vietnamese farmers represent water rice civilisation. But what about Dutch farmers? I'm curious about them," said Tung. "It is interesting to make a comparison between West and East in art such as painting at the upcoming exhibition in Amsterdam."
Tung painted his characters, women and men, in black and white. Most are very old and he found them through photos in a media data resource.
A woman named Hien in the northern province of Bac Giang is one of the characters Tung painted. She is 92 years old and still herds buffalo. Her teeth are strong enough to chew betel. Tung took about 30 minutes to paint her.
Another of his subjects is Le Thi Hien, whom he found by chance in Cat Ba fishing village, near Hai Phong City. He saw her lighting a coal-stove, was impressived and quickly painted her. She is 91 years old.
The paintings include one self-portrait in a mix of expressionalistic and surrealistic styles. 
Tung was born to a farming family in the northern province of Hai Duong. He graduated from the Faculty of Fine Arts Design, Ha Noi Academy of Theatre and Cinema. He has displayed his works at many solo and group exhibitions in Viet Nam, France, the United Kingdom, Finland, Japan, the US, and Canada. 
The exhibition in Amsterdam will be the third solo exhibition abroad following the first and second ones in the US in 2001 and in Canada in 2007. 
VNS