What to do in HCM City at weekend
Last update: 11:30 | 14/07/2017
Those bored with hanging out with friends at traditional coffee shops and restaurants at weekend should check out the following destinations for shopping, entertainment and relaxation.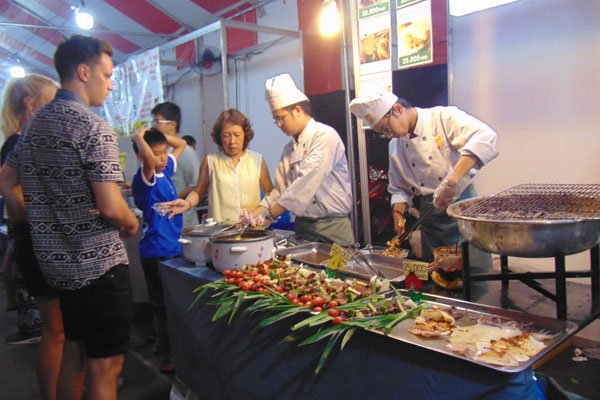 Foreign tourists buy grilled skewers at a weekend bazaar in District 1, HCMC last week 
Lotte Cinema Cong Hoa (Pico Plaza, 20 Cong Hoa Street, Ward 12 Tan Binh District)
Film-lovers can go to Lotte Cinema Cong Hoa on the fourth floor of the Pico Plaza to watch the movie "Co gai den tu hom qua" (The girl from July 12) directed by Phan Gia Nhat Linh which will be screened at 5 p.m., 7.20 p.m. and 9.40 p.m. this Saturday.
The film adapted from a novel of the same name by famous Vietnamese writer Nguyen Nhat Anh tells a story about high school crushes and childhood innocence. The film features singer Ngo Kien Huy and actress Miu Le.
Film director Phan Gia Nhat Linh has become popular to local audiences through his debutant film  "Em la ba noi cua anh" (Sweet 20) which hit local theaters in late 2015.
The film has been chosen to participate in the 21st Bucheon International Fantastic Film Festival (BIFAN) in South Korea from July 13 to 23, the Vietnam News Agency reports.
For further detailed information about movie schedule, visit https://lottecinemavn.com. 
CGV Hung Vuong Plaza (126 Hung Vuong Street, District 5, HCMC)
The movie "The Beguiled" (Vietnamese name: Nhung ke khat tinh), directed by Sofia Coppola will be shown at 5 p.m. and 9.20 p.m. this Sunday, July 16 at CGV Hung Vuong on the seventh floor of the Parkson Hung Vuong Plaza.
The film based on the novel of the same name by Thomas P. Cullinan features many renowned stars such as Colin Farrell, Nicole Kidman, Kirsten Dunst and Elle Fanning.
The 94-minute movie, set in the American Civil War, tells a story about an injured soldier who seeks refuge at an all-girl boarding school where young women have been sheltered from the outside world. However, his presence arouses sexual tension, dangerous rivalry and an unexpected turn of events at the school. 
The movie will be screened  in English with Vietnamese subtitle. Children under 18 years old are not allowed to watch the movie.
Further information about ticket prices can be found at https://www.cgv.vn.
"When Souls Connect" music concert (Nguyen Hue Boulevard, District 1, HCMC)
Vietnam's telecom major Viettel will hold a free music concert with its theme "When Souls Connect" on July 15-16 on Nguyen Hue Boulevard in downtown HCMC, according to a source from its website (www.vietteltelecom.vn).
Especially, local and international audiences will have the opportunity to watch interesting art shows performed by local pop stars including Son Tung M-TP, Dong Nhi, Isaac, Soobin Hoang Son and DJ Trang Moon on Sunday night.
As many as 1,000 free entrance tickets will be handed over to customers when transacting with Viettel stores in the city until tomorrow.
"Feel Japan in Vietnam" cultural event (Gem Center, 8 Nguyen Binh Khiem Street, District 1, HCMC)
A cultural event called "Feel Japan in Vietnam" will be held at Gem Center in HCMC's District 1 on July 15-16 , which is regarded as a leading festival of Japanese culture in the country.
Coming to the event, visitors can meet and take photos with Japan's popular cartoon character Doraemon apart from watching art shows by Japanese and Vietnamese artists, and joining a lucky draw and game shows.
Two Vietnamese singers, Dong Nhi and Lam Truong, will perform at the two-day event. On the occasion, participants can feel free to purchase fashion items of Japanese brands at discounted prices.
For further information about ticket prices, visit http://www.feeljapan.vn.  
The Box Market (Ho Xuan Huong Sports Club, 2 Ho Xuan Huong Street, District 3)
With nearly 139,000 likes on its Facebook page, The Box Market has become a popular rendezvous on two weekend days to many locals and foreigners who wish to find hand-made artworks, accessories and fashion items. The flea market is a shopping venue and a space for exchanges among artists, artisans and fashion lovers. Those missing the weekend bazaar at HCMC Labor Cultural Palace in HCMC's District 1 last week still have a chance to visit the same event which will take place at Ho Xuan Huong Sports Club in District 3 this Saturday and Sunday.
The organizer will host numerous interesting activities like talk shows and art performances. Visitors can also savor delicious street food at reasonable prices and meet artists in fashion, fine arts and home decoration.
The weekend bazaar features 200 booths selling fashion items of local and foreign brands, clothes, handmade products, and vintage items at negotiable prices. Admission to the market is free.
For further information about the market, check out the Facebook page https://www.facebook.com/theboxmarket.vn.
SGT