HCM City painters show works at museum
Last update: 11:01 | 20/03/2017
VietNamNet Bridge – Portraits of flowers and daily life, and the beauty of HCM City are the themes of a painting exhibition that opened at the HCM City Fine Arts Museum on Saturday.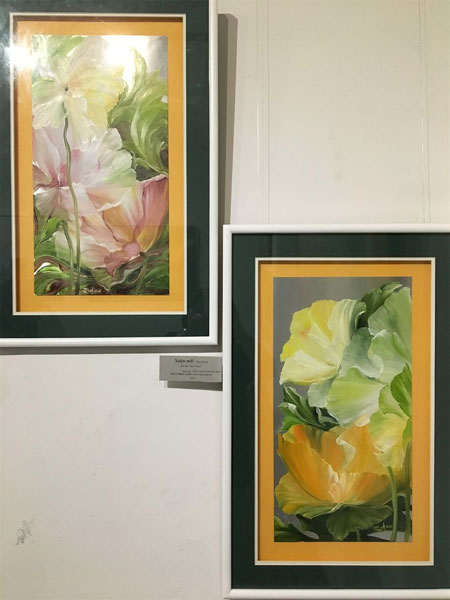 Xuan Moi (New Spring), a diptych using acrylic on aluminium dibond by Tran Thuy Linh. VNS Photo
The 108 exhibits on show at Gap 2017 (Getting Together 2017) include the latest oil, acrylic, water colour and mixed media paintings by eight artists from HCM City.
Tran Thuy Linh, one of the painters, said "Gap means the unity of eight artists with different styles, including cubism, realism, surrealism, semi-abstract, abstract and impressionism."
"This exhibition is also an opportunity for us to show our creations and progress in our painting styles," she said.
Linh, who follows semi-abstract and abstract styles, is exhibiting a collection of 14 paintings portraying flowers.
"I have a deep love for flowers, especially wild flowers," said Linh. "Each flower painting expresses my feelings."
Linh uses different materials of oil, acrylic and mixed media along with bright colours such as yellow, blue, and green to paint her works.
The Ha Noi-born artist said she brought the exhibition an experimental work titled Xuan Moi (New Spring).
"I wanted to renew my painting style. I tried to use acrylic on aluminium dibond. Now I'm pleased with the result," she said.
Linh began to learn painting with well-known artists from the Art Academy of Indochina in Ha Noi and her mom, a professional artist, when she was eight.
She followed the painting study in Viet Nam after graduating from the Leipzig University in Germany in 1988.
She has held several solo and group exhibitions in Viet Nam, the US, South Korea, Mongolia, and Taiwan.
Her paintings are kept by private collectors from Viet Nam, Germany, the US, Thailand, Malaysia and Singapore.
Nguyen Thi Mai, who is famous for lacquer paintings, surprises viewers with acrylic on canvas paintings, that look like lacquer paintings.
"I want to create lacquer paintings with a different material of acrylic," said Mai.
The 51-year-old artist used lines, colours and objects to depict life as well as folk culture.
Mai began painting in 2004. She has had several solo exhibitions in Việt Nam, India, and China.
Ngo Dong, the eldest artist in the exhibition, said of Mai's works that, "It's very hard to do a lacquer painting, especially for a woman like Mai. There are many steps and techniques in making a lacquer work, which is very heavy."  
"Mai's creation opens a new step for Viet Nam's fine art," said Dong, who brings to the exhibition beautiful realism paintings depicting daily life and young people.
While Hua Thanh Binh, deputy director of the Fine Arts Museum, displays eight paintings of the virtual world, Nguyen Duy Nhut's works feature himself in a chaotic world trying to find a way out.
The exhibition also showcases paintings on life and beauty of HCM City by Nguyen Thanh Nhan, Nguyen Hong Duc and female artist Viet Thi Kim Quyen.
The event will open from Tuesday to Sunday until April 2. The museum is situated at 97A Pho Duc Chinh in District 1.
Phuong Mai
VNS