Staying cool with a bowl of tao pho
Last update: 17:02 | 10/07/2018
VietNamNet Bridge – With outdoor temperatures hitting 50 degrees, Hanoians are suffering from another severe summer. Each year is hotter than the last thanks to climate change.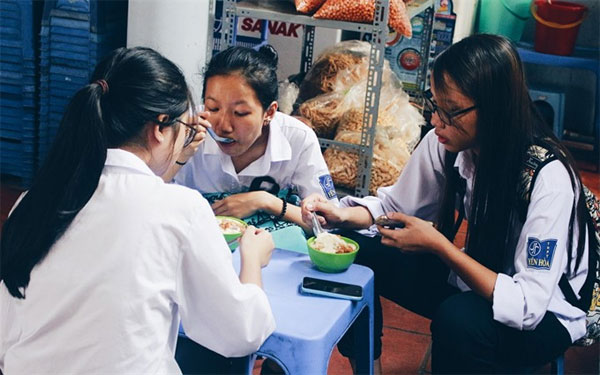 Cool kids: Yen Hoa students enjoy Mrs Chien's tao pho. — Photos monngonhanoi.com
Unlike the heat of the World Cup, which is really exciting, this heat can actually burn you. In an experiment by VTV, candles melted under the afternoon sun in minutes. The sweltering weather is a daytime nightmare for employees, especially those outdoors.
But luckily, tao pho (soya bean curd) comes to the rescue as one of the best summer foods in Vietnam.
"On July 1st, there were too many customers to count, but I went through about 1,500 plastic cups used to hold the tao pho. This wasn't counting servings ot caramel and sweet soup," said Le Thu Nga, the owner of a summer food shop in Linh Dam Market (in Hanoi's Hoang Mai District). She explained that tao pho helps to cool down customers during hot summer days, earning her more than VND8 million (US$347) per month.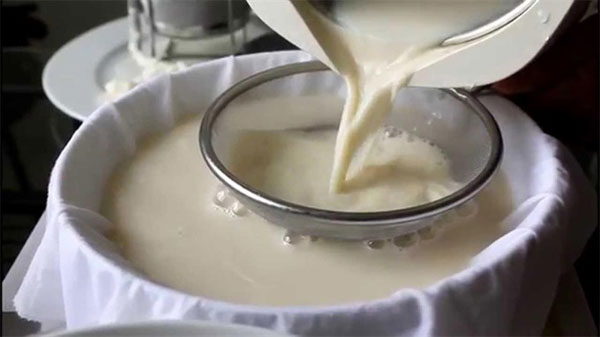 Simple: Tao pho can be made at home easily. — Photo wikiphunu.net
Tao pho is an iconic food for Vietnamese people with a long history of development in ingredients and processing throughout provinces from north to south.
From the familiar vendors on a bike that ride around town, waking kids and serving traditional cups of tao pho with soy-bean milk, tofu, and yellow sugar, to bigger, more modern shops with added ingredients, tao pho is always close to the heart of Hanoians, from children to adults.
In the central region, especially in Hue and Da Nang, tao pho is called dau hu. It differs slightly in flavour from tao pho, which has ginger. The taste of dau hu is more pungent but still very unique. 
Further to the south, dishes are generally sweeter. The tao pho is thicker with coconut milk and called tau hu. Saigonese usually eat tau hu with hot syrup, but during the summer months, tau hu with ice and cool coconut water is the best choice for students after a hard day at school.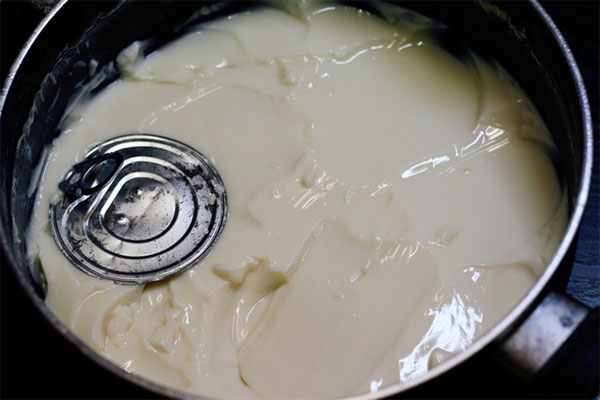 Nutritious: Tofu in tao pho contains a lot of healthy nutrients, including protein.— Photo mykitchies.com
Generations of Yen Hoa High School students have enjoyed tao pho at Mother Chien's shop. They all thought it was one of the most memorable high school moments.
With simple ingredients like tofu, syrup, black pearl, dried coconut and jelly, Mrs. Chien's motto is 'traditional at its best'.
"We call her "mother Chien" because she is very kind, friendly and her tao pho is the best. I eat the dish at her shop every day, especially in the summer, even if we don't have any classes. The simplicity of her tao pho is what I love, when we don't need to consider which flavor we should choose, and just enjoy the delicious genuine flavour of this food," said Nguyen Huyen My, a grade 11 student from Yen Hoa High School.
Mrs Chien, 67, started a new life in Hanoi decades ago after leaving a job as a clerk at the Thai Nguyen Steel Factory.
"I opened my shop without any experience, it was a gamble for my family at that moment. I kept learning every day. It's not complicated to make tao pho, but you have to be careful on the smallest details. The soybeans have to be meticulously selected, they have to be new, clean, and soaked in water for a long time, not to mention you need to change the water in order to make it softer and easier to take off the shell," Chien recalled.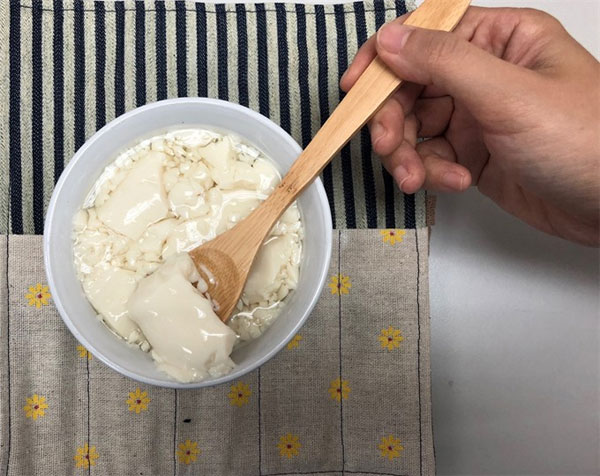 Original: Plain tao pho has its own attraction, too. — VNS Photo Le Huong
"I only add dried coconut, jelly, or black pearl because the students ask me to," she said.
"They call me 'mother' because we have a really good relationship. I still remember many years ago, when a cup of tao pho cost just VND500, the students had to save up every VND200 to buy one. Some were very thirsty but didn't have enough money. I still made the dish for them, looking at their happy eyes made my day, they promised to pay me back and they did. A bowl of tao pho is not expensive, but the warm affection between elders and youngsters is more important," she said about the relationship with Yen Hoa students.
For VND8,000 a bowl, Chien's shop doesn't just attract Yen Hoa students, but also other customers from around Hanoi.
"I've heard of Mrs. Chien's food a long time ago and finally had the chance to try it. It was so refreshing, especially in those hot days of summer. I also heard that tao pho is really good for pregnancy so I will buy it more of often as I work nearby and it's quite cheap but very tasty," said Pham Thanh Thao. 
Without doubt, the tofu in tao pho contains a lot of healthy nutrients, including protein, said Megan Ware, a nutritionist and author of Medical News Today. There are 10 grams of protein in every half cup of tao pho, which is really good for health especially during pregnancy.
"Tofu, with its high levels of isoflavones, carbohydrate and calcium, can provide a lower risk of several age- and lifestyle-related diseases such as cardiovascular, liver damage, osteoporosis, breast and prostate cancer," Megan Ware said about the benefits of tofu in tao pho.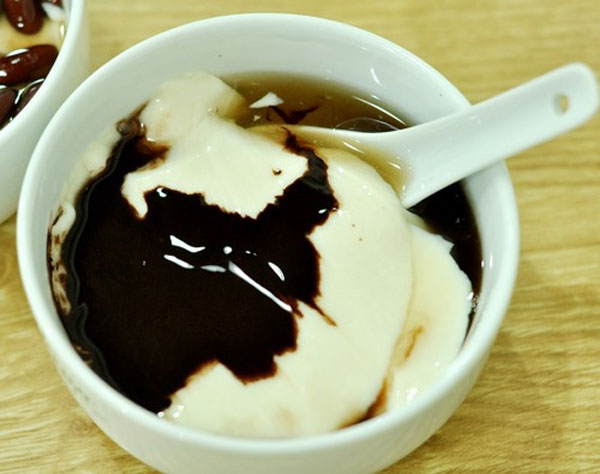 New twist: Young people prefer tao pho with coffee. — File Photo
"But everything is not good when you use it too much, remember to absorb no more than 200 grams of tofu per day, if you eat too much tofu, there will be risks of having reverse health effects to fertility as the phytoestrogen in soy produce may have a mildly feminising effect, and that this could lead to complications such as gynecomastia. Iodine deficiency, atherosclerosis and poor digestion are other risks when you eat too much tao pho as it also contains many saponins and methionine," she added.
Nowadays, tao pho is sold everywhere, from small stalls to big, modern shops. Types sold include original flavours to those with different ingredients. Jelly Bean (on Hanoi's Quang Trung Street) is leading the tao pho trend among young people. From tao pho with red beans and coconut milk, tao pho with coffee and chocolate to tao pho with ginger jam. The diversity of its menu brings fresh tastes to young customers.
"I had my own way of doing things. First, I researched the effect of soy beans and realised that this is a very good product for health, so I wanted to bring these products closer to everyone. Secondly, I researched the traditional products to fit modern styles of tao pho without losing the identity of those products. So, when putting new recipe on the menu, I have to study very carefully to ensure that consistency. I always ensure the quality and hygiene of food safety. Tao pho and soy milk at Jelly Bean are only for sale during the day, and what's left at the end of the day will be removed," Tran Duc Nghia – founder of Jelly Bean, proudly shared about his first restaurant.
Throughout the years, tao pho continues to cool customers in the hot summer, with new variations satisfying the tastes of new generations. But for those who prefer the dish with an original taste, there will always be tao pho shops like Mrs Chien's, in this nostalgic capital city.
Ho Hoang
Source: VNS