Cu Lao Cham, the reality of the conservation park
Last update: 15:31 | 19/06/2018
VietNamNet Bridge – Cu Lao Cham is only 20 minutes by speedboat from Hoi An. The island has been sitting on my must-see list for a long time. Not only was it a dream destination in children's adventure books, it was also known as a paradise of crystal clear water, lush green foliage, pristine beaches and, last but not least, an inviting seabed perfect for amateur snorkeling.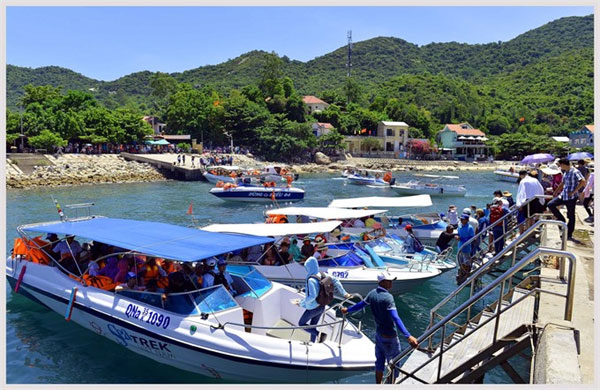 Tourists: Speed boats taking visitors to the Cham Islands leave the wharf in the morning and return in the afternoon. — VNA/VNS Photo Thanh Ha
We signed up for the most popular tour, with a ticket covering a return boat ride, snorkeling and swimming, a seafood lunch, and, of course, the environment fee.
Cu Lao Cham, or known in English as Cham Islands Biosphere Reserve, was recognised as a Global Biosphere Reserve by UNESCO in 2009, under its "Man and the Biosphere Programme", for its rich biodiversity.
The reserve covers an area of 5,000ha, including 165ha of coral reef and 500ha of underwater plant life.
It was the coral reef that was most inviting. Because our children loved the animated film 'Finding Nemo' we had high expectations of finding something lively and colourful like the famous little fish.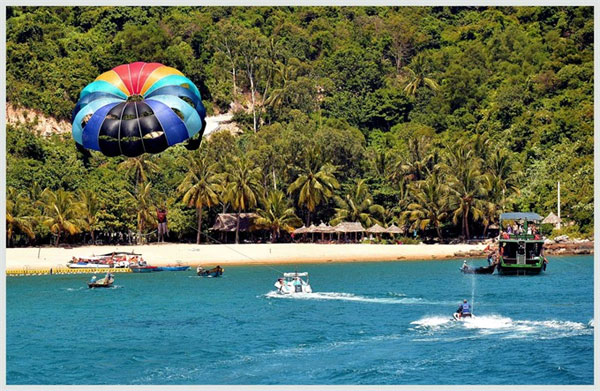 Thrill seeking: Watersports are available to try at one of many beautiful beaches on the Cham Islands. — VNA/VNS Photo Thanh Ha
Plastic still a problem
No plastic bags have been allowed on the island since it was recognised as a UNESCO reserve in 2009.
"Sea turtles love to eat jellyfish, but they can't tell the difference between jellyfish and plastic bags. If sea turtles eat them, they would eventually die," explained our guide Sang.
Just last month, the Cham Islands became the first marine park institution to ban plastic straws. As an eco-friendly team, we applauded the effort and were assured that the Cham Islands are well protected.
The fun boat ride went by really fast, but as the boat arrived at our destination, I watched in awe, not because of the white sand beaches, but because of the hundreds of plastic bottles that had washed ashore.
No one else seemed uncomfortable by the sight, or maybe they didn't see them at all. I could only pick up some bottles to put them in a garbage bin. That was when reality kicked in.
"There are three special things you must see on the island: the stone crabs, an ancient Cham well that has provided drinking water for the island for the past 200 years and a special 'lady's breast' escargot."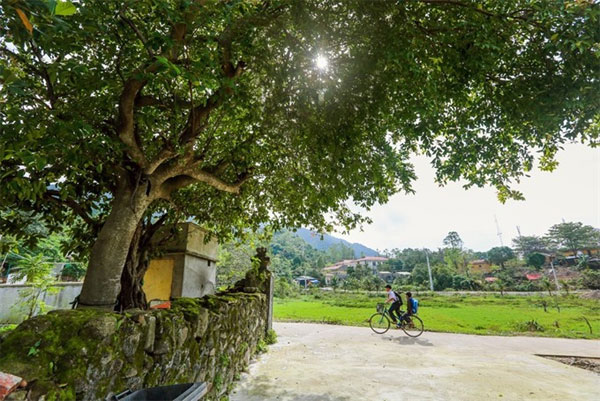 Peaceful: Pastoral life among rice fields on the island.
We walked to the island's Aquamarine Museum. It was smaller than the Aquamarine Museum in Nha Trang, but the items were different and very interesting.
My little girl jumped at the preserved giant sea turtle that she has seen in 'Finding Nemo'. It was the only time she asked to have her picture taken to send it to her classmates.
The museum did not have any live creatures on display. All of them are either dried or soaked in formaldehyde. Having been to some better aquamarine museums, I held a deep wish that more funding could go towards a better live marine creatures section for children to enjoy. Even just a glass wall dug into the water to see real fish and squid swimming around, no need for dolphin shows or the like.
"Where's the snails?" my daughter asked. On the shelf, next to the tag 'Lady's breast escargot' was an empty space.
We moved on to the ancient Cham well. "Cham people had a secret in digging this well so that it never stopped churning out clean water for the past 200 years," said Sang the guide.
"If you are a couple and wish to have children, you may drink the water from the well. The legend is true, because there were people who succeeded in having children after taking a sip."
The story was selling well to the crowd. Many people lined up for their turn with the bucket. And yes, the water was cool and refreshing.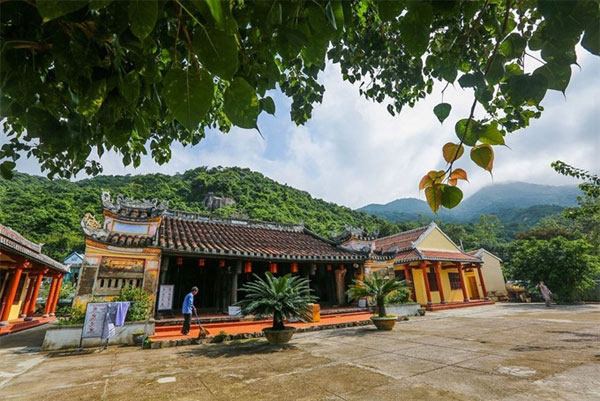 History: An ancient village houses Hai Tang Temple on the Cham Islands.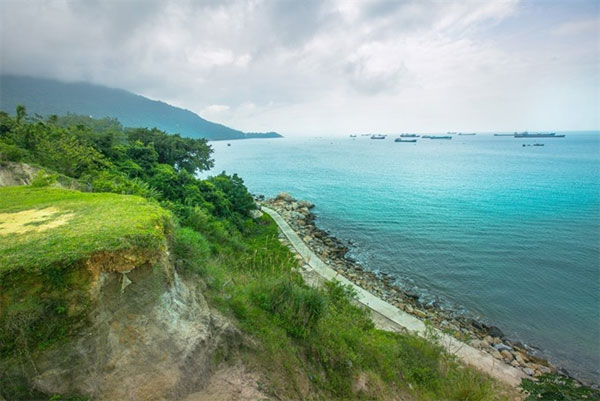 Snap happy: If you decide to visit, a great camera is a must have.
The land tour went very fast, after only 20 minutes we met again on the boat for snorkeling.
If you have more time, you can go further inland and visit the temple, which we did last time. Motorbike tours are available to go around the island and there are homestays for accommodation.
Hoi An and Cham Islands
In 2017, Hoi An topped the list of holiday destinations in the country. More than 3.2 million people, both domestic and international, visited the city of a little over 100,000 inhabitants. It means each resident of Hoi An, young and old alike, each year hosts roughly 30 visitors.
Unlike other chaotic tourist traps, Hoi An was calm and elegant. You see many people, but don't hear much noise. They don't talk loudly or play music. The air, the lazy river that runs through the ancient town, the street food that tastes so good for little money, everything happens as if life has been going on like that forever.
Of all the millions of tourists who visit and stay in Hoi An, only some 300,000 made the effort to go to the Cham Islands. On a popular English travel website, the islands have received some poor reviews. Visitors complain about the poor tours and abundance of garbage.
I had some basic gear for snorkeling, which means I had to wear a life jacket and some swimming goggles.
The water was so clear under the bright noon sun, I could see almost everything on the seabed.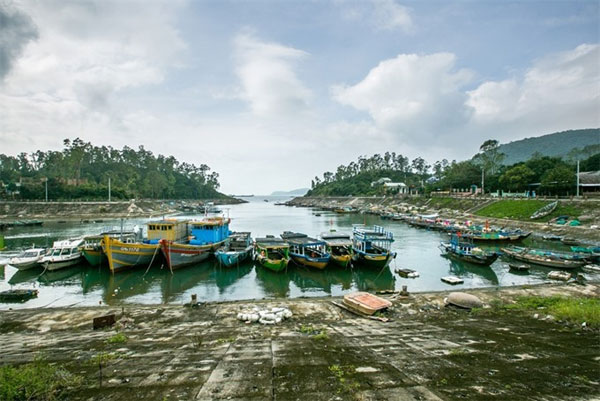 Moorings: The wooden boat wharf on one of the islands.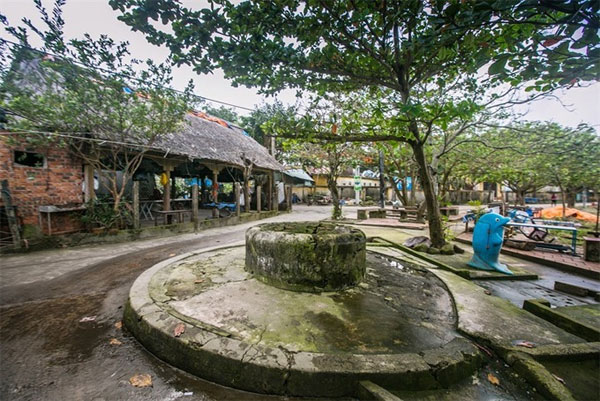 Wishing well: The Champa ancient well that has been churning out water for 200 years.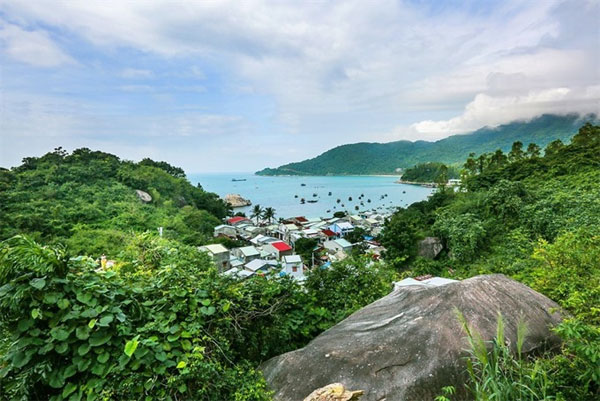 Greenery: An overview of the Tan Hiep Commune, the administrative unit of Cham island. VNA/VNS Photo Tran Le Lam
The coral reef looked brown and exhausted. The plants and the creatures were withering. I saw some small fish darting together, which reminded me of the fish going to class in 'Finding Nemo'.
I left the crowd and swam further out of the popular site. I was looking for more evidence of life around the coral reef.
All of the sudden I saw two bright green fins swim in front of me.
"Dory?" my child asked.
No, it was neither Nemo nor Dory. But I got a grasp of it: A beautiful fish as big as my two arms can wrap around. It had a blue and yellow trunk and sparkling green fins!
It was the most beautiful thing I had seen and I stayed as long as possible to admire the creature. Unfortunately, I left my underwater camera at home. No visual proof, but the sight of it stays with me to this day.
Source: VNS