Hanoi starts offering classes in tourism skills
Last update: 19:53 | 10/10/2017
VietNamNet Bridge – Ha Noi's Department of Tourism has begun offering training classes to residents living in areas that receive heavy tourist traffic, aiming to promote community-based tourism and improve the quality of tourist services.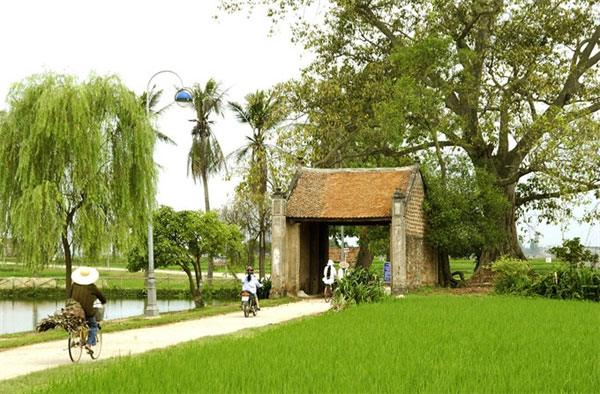 Duong Lam Village in Ha Noi's Son Tay City retains most of the characteristics of a typical Vietnamese village: a village gate, banyan trees, a wharf, a communal yard, pagodas, a well and rice fields. — VNA/VNS Photo 
According to the department, tourism is a key industry in Ha Noi's economy. The city boasts more than 1,300 craft villages, over 600 cultural and historical sites and about 1,000 annual festivals.  Last year, about 22 million visitors arrived Ha Noi, an 11 per cent increase from 2015. The city expects to get 23.6 million visitors this year, including 4.3 million foreigners. But serving visitors to help make sure they want to make a return visit to Ha Noi is an art and a skill that can be difficult to master.
Last year, to address this need for training, the tourism department opened three tourism-related classes for people in the communes of Ba Trai, Van Hoa and Ba Vi in the suburban district of Ba Vi.
In August 2017, another class was opened for people in Quang An Ward in Tay Ho District. Last month, nearly 100 people in Thuy Lam Commune of Dong Anh District participated in a similar class.
During these classes, people receive information about the benefits of tourism, skills to communicate and serve tourists and instructions on the need to keep the environment clean and green.
Pham Hung Son, head of Duong Lam Ancient Village Relic Management Board, said that Duong Lam villagers understand the benefits of tourism. More than 120 families in the village participate in the tourism industry, including by offering homestay services or other tourism products.
Nguyen Manh Truong, vice chairman of Quang An Ward People's Committee in Tsy Ho District, said that the ward was famous for decorative plants, lotus ponds and lotus-scented-tea as well as religious sites like Tay Ho Temple and Kim Lien Pagoda.
More than 700 families in the ward rent houses to foreigners. During peak times, he said, the ward hosts up to 3,000 foreign visitors.
"With such advantages, Quang An residents are excited to join tourism activities, particularly because of the economic benefits to families and localities," Truong said.
Chu Thi Minh Tam, head of Tay Ho District's Culture Division, said that in order to engage the local community in tourism development, it was necessary to facilitate opportunities for them to participate in tourism planning and then supervise the implementation of the plans.
"This will help to produce more practical planning and help local residents properly know about changes to the land they are living in," Tam said. "Improvement of public awareness of the need to preserve natural and cultural values of the locality also helps ensure stability in their lives."
Vu An Dan, head of Tourism Department under Ha Noi Open University, said that human resources should be the first area of focus in any effort to speed up tourism development.
"Poor human resources, poor service quality means visitors will not return," Dan said.
He said that such tourism training classes for local communities were very helpful, particularly if they addressed two widespread weaknesses among tourism industry employees: maintaining industry standards of professionalism and foreign language competence. 
VNS