Muong Luong – an exotic destination in northwestern Vietnam
Last update: 15:31 | 27/04/2017
Located at the foot of Khau A Mountain, Muong Luong is highly recommended as a destination for tourists to the nation's northwestern upland.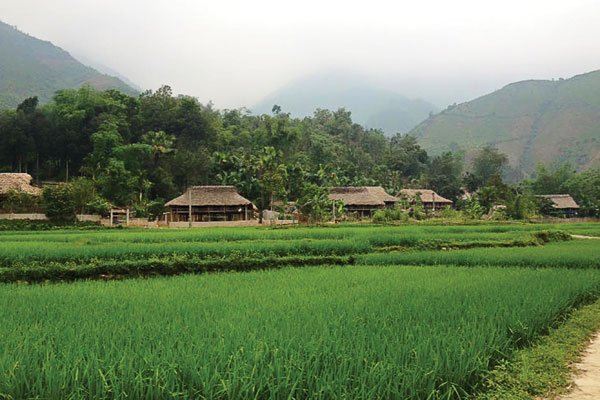 Muong Luong is located at the foot of Khau A Mountain
Muong Luong, around 30km northeast of downtown Lao Cai, is a valley which is surrounded by mountains and home to Tay ethnic minority group. 
Its natural beauty and peaceful atmosphere are what might captivate those coming there for the first time.
Visitors can taste local dishes and take a close look at some of nearly 100 traditional homes on stilts by Nam Luong stream, which create a poetic landscape. These houses were built 60-70 years ago.
Upon arrival at the site, tourists can indulge themselves in a tranquil place with cool climate and fresh air. 
They can also learn more about local culture as Tay ethnic people have preserved their traditions and folk culture well.    
Muong Luong is attractive to tourists thanks to its unique cuisine. Some of the dishes which visitors should eat are ga xao kieu (chicken fried with pickles), canh la chua (sour soup), and ca suoi nuong (grilled spring fish).
All year round, travelers can take a leisure walk on pathways to explore the daily activities of villagers. 
Tay people are friendly and hospitable, so visitors can drop by a house on stilts to have a look. Tay ethnic people are ready to perform folk dances to entertain guests.
SGT