AFC Cup: FLC Thanh Hoa draws 0-0 with Indonesia's Bali United
Last update: 11:25 | 14/03/2018
FLC Thanh Hoa of Vietnam drew 0-0 with Bali United of Indonesia in the fourth round match of the Asian Football Confederation (AFC) Cup 2018 at My Dinh Stadium in Hanoi on March 13.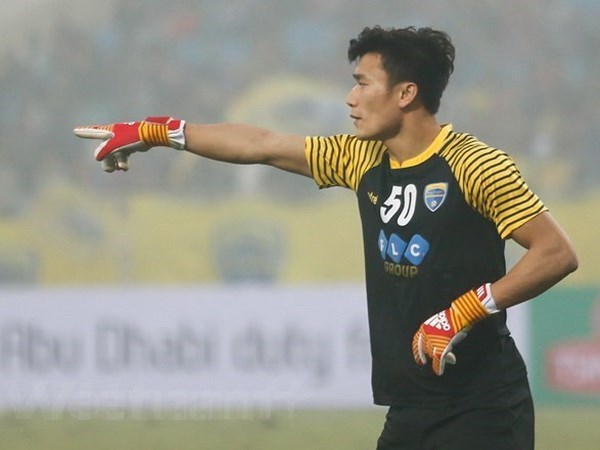 Goalkeeper Bui Tien Dung of FLC Thanh Hoa
Earlier, FLC Thanh Hoa lost 1-3 to Bali United on the away ground, ranking third in Group G with three points after one win and two consecutive losses. 
Meanwhile, Bali United was placed second, with one point higher than FLC Thanh Hoa. 
At a press briefing in Hanoi on March 12, coach Marian Mihail of FLC Thanh Hoa said Bali United had proven they were a good team with quality players on all lines.
"One of the reasons for FLC Thanh Hoa's loss last week was that we did not properly rate Bali's ability, losing concentration in some moments when they scored," he said.
However, despite the loss, Mihail praised his team and said the players had learnt lessons from that failure and that in the second-leg match, FLC Thanh Hoa would play with the best players and target a win.
Meanwhile, coach Widodo Cahyono Putro of Bali United said his team won the first leg match but admitted that FLC Thanh Hoa were a strong team.
He also said FLC Thanh Hoa would play attack as they had lost the last match, adding the coming game would be tough, but Bali United were determined to win at least one point.
With the draw on March 13, FLC Thanh Hoa still ranked third in Group G with four points. It still has hope to move further in the tournament after facing Global FC of the Philippines and Yangon United of Myanmar.-VNA