Hanoi Buffaloes score first win in VBA League
Last update: 17:20 | 08/09/2017
VietNamNet Bridge – Hanoi Buffaloes struggled to beat hosts Cantho Catfish in the second match of the Viet Nam Basketball Association League on Thursday in Can Tho City.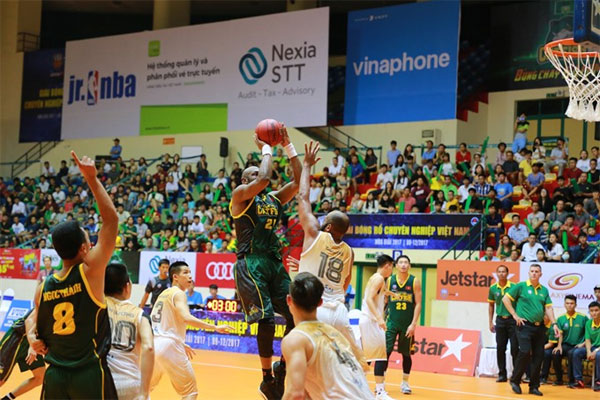 Jordan Collins of Hanoi Buffaloes (No 18) tries to prevent Angelo Hamilton of Cantho Catfish from throwing a ball during their VBA League match on Thursday. — Photo courtesy of VBA
Playing on the home turf and the return of Vietnamese Tam Dinh gave the Catfish a fair chance with the Buffaloes.
The match's highlights were Dinh and Jordan Collins from the visiting side. While Dinh scored 29 points with eight rebounds, Collins performed even better with 25 points and 12 rebounds.
The Catfish made a good start with a three-point throw by Le Hieu Thanh in the 18th second of the first quarter. However, the Buffaloes were not an easy rival. They quickly narrowed the scored and balanced the situation, with special credit going to their superb substitute Nguyen Phu Hoang, who played a key role in helping the Buffaloes finish the first quarter at 20-18.
In the second quarter, Tan Dung and Dinh scored several points for the Catfish, as did the Buffaloes' Collins and Nguyen Tien Duong. A three-point throw by Dinh Tien Cong near the end helped the Buffaloes end the second quarter at 36-35.
Dinh showed his tremendous skills in the third quarter, helping the Catfish gain a lead at 59-54.
The Buffaloes displayed their best performance in the last quarter, when both Collins and Duong bagged three-point throws, creating a strong lead before Dinh and Thanh levelled it, also through successful three-point throws. Angelo Hamilton wasted a chance to close the match with a win for the Catfish after missing both penalty shootouts in the last seconds.
The match was decided through free throws in which the Buffaloes did a better job and secured an 86-83 win.
This is the Buffaloes' second victory over the Catfish in the past two weeks. Earlier, they won 65-58 in the pre-season tournament in Ha Noi.
In the next fixture this Saturday, defending champions Danang Dragons will play HCM City Wings. It is the Dragons' second match after their 65-96 loss to Thang Long Warriors on Tuesday, and the Wings' first.
The Dragons will be playing without their key player Stefan Nguyen Tuan Tu as he has a back injury, which will prevent him from playing in the first three weeks of the season.
Meanwhile, the Wings' defender Ngo Tuan Trung also cannot play because of the ban after he swore at the referees last season.
On Saturday, the Warriors will play their second match against Saigon Heat on away ground at the CIS Arena. While the Warriors are the new face of the tournament, the Heat are the first national professional basketball team to have competed in regional tournaments for many years. 
Source: VNS