VN's SEA Games team have tales to tell
Last update: 12:26 | 16/08/2017
VietNamNet Bridge – Viet Nam is taking some of their best athletes to the 29th Southeast Asian Games in Malaysia this August, but it is little known that many have some interesting tales to tell.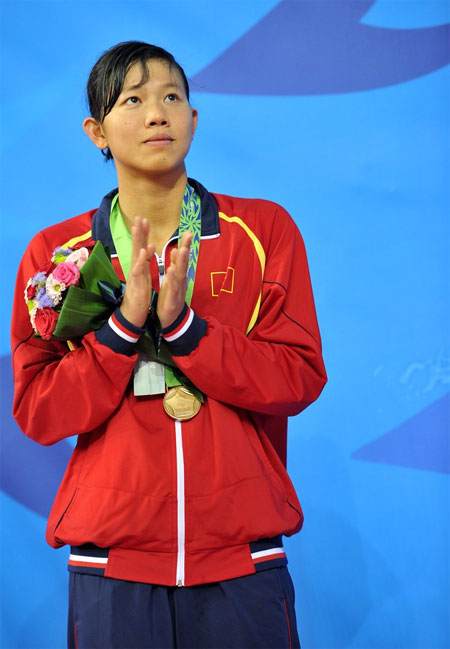 High hopes: Swimmer Nguyen Thi Anh Vien will shoulder the heaviest duty at the SEA Games. — File Photo
At the Kuala Lumpur event, the men's basketball team will be captained by 37-year-old Nguyen Manh Hung, who is a five-time SEA Games champion in taekwondo.
Hung, who stands 1.80m tall, was trained to be a volleyball player at the age of 14 in Thanh Hoa Province. However, he shifted to practise taekwondo when the volleyball team disbanded because of a budget crunch three months later.
He is well-known as the best athlete in the region in the above 80kg category. Hung found it hard to challenge a worthy rival who could beat him, leading to his triumph at the SEA Games five times in a row from 1999 to 2007.
After retirement, Hung worked as a coach and became the head of Thanh Hoa's Taekwondo Department.
"When I was an athlete, coaches asked me to play basketball as a kind of exercise to strengthen my physique. However, the more I played it, the more I loved it," said Hung, who trained in basketball regularly, apart from spending time on taekwondo, football, tennis and the catwalk as a model.
He surprised everyone when he joined Saigon Heat to play professional basketball in 2014.
After three years of competing for the first national pro club that has also taken part in the regional tournament ASEAN Basketball League, Hung proved his ability. He has his teammates' confidence and has been voted captain for the upcoming games, where Viet Nam have set a target to finish in the top four.
"When I was a taekwondo fighter, I was not afraid of anyone in ASEAN. Now with basketball, it is different; it will be my first games, and many challenges await me. However, I will do my best, like I have been doing to get high results, which could be a medal," he said.
In Kuala Lumpur, golfer Nguyen Thao My will have her father as her coach, when she tries her hand at the first ever golf medal for Viet Nam.
Ten years ago, Nguyen Huy Tien decided to quit as a sports journalist to take charge of the golf team in Ha Noi.
The amateur coach with little experience but strong determination helped develop the sport in the capital.
During that time, he also coached his talented daughter, who first played tennis for two years, before shifting to golf. She is now the best woman golf player in the country.
My, 19, is a member of the Seahawks golf club at the University of North Carolina.
After seven years of golf, My has grabbed a silver at the U16 national youth championship, participated twice in the Nick Faldo tournament for juniors and clinched a slot in the 2013 Asian Youth Games. She also championed the national competition's U18 category in 2014, which secured her a berth in the national team for the Asian Games in South Korea. She won the national title in 2015 but could not defend it a year later, because of her busy schedule at university in the United States (US).
"I have spent nearly a year practicing in Thailand and the US, where I played more than 10 events. My best result was a top-seven finish at a tournament in Malaysia this summer. I have learnt a lot from these competitions, which will help me during the SEA Games," said My, who appreciated her rivals from Thailand and Malaysia, whom she had met at the regional tournaments.
My said it would be a difficult event for the Viet Nam golf team because the Thais and the Malays have played golf from an early age, and have received strong support from the government.
The Vietnamese said her target was to be in the top seven in the individual pool event, and together with her teammates, she could clinch a medal in the team event.
Husband and wife
Nguyen Tien Minh and Vu Thi Trang will take part in their first SEA Games as husband and wife following their wedding last December.
The couple has been together for several SEA Games. They were first senior and junior teammates in the national badminton team. During the last Games, they were in a relationship.
This could be Minh's last SEA Games at 34, while Trang could still make it to several events.
However, both are keen to cement slots in the finals of the men's and women's individual pools. Their best results here were two bronze medals.
Another husband and wife couple is Truong Minh Sang and Nguyen Thu Ha. Sang is the artistic gymnastics coach, while Ha is the rhythmic gymnastics trainer.
Both were leading athletes for Viet Nam when they stopped competing.
They will be part of the SEA Games contingent this August, which means they have to leave their two-year-old son in the care of his grandparents.
Sang will have to ensure that his male gymnasts win at least four gold medals, while for Ha even a bronze medal will be a success, as her girls are only competing in the team event.
Quach Cong Lich and Quach Thi Lan are a pair of siblings competing in the athletics events.
Lich will take part in the men's 400m and 400m hurdles. He secured a silver medal in both the events at the previous games in Singapore in 2015.
Lan was second in the 400m and first in the 4x400m women's relay in Singapore. This year, apart from the above events, Lan will take part in the 400m hurdle.
Among the nearly 500 athletes, swimmer Nguyen Thi Anh Vien is the highest-ranked athlete. She is the defending champion in eight categories, and she also holds eight games' records.
In Malaysia, Vien is expected to win up to 12 titles, which is equivalent to one sixth of Viet Nam's target.
Fencer Vu Thanh An will take the honour of being the national flag bearer in the SEA Games' opening ceremony.
It is the second time for An as the flag bearer, after his first time at the Rio Olympics last August.
An will take part in the men's sabre individual event and is all set to defend his title in that category.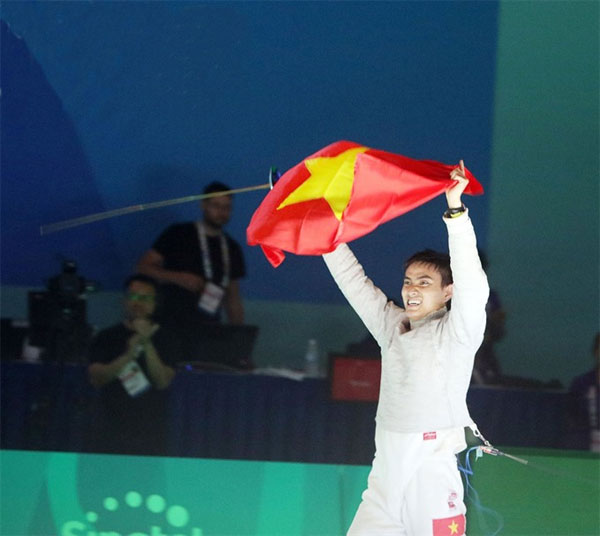 Pride of a nation: Fencer Vu Thanh An will hold the Viet Nam flag at the SEA Games opening ceremony. — Photo webthethao.vn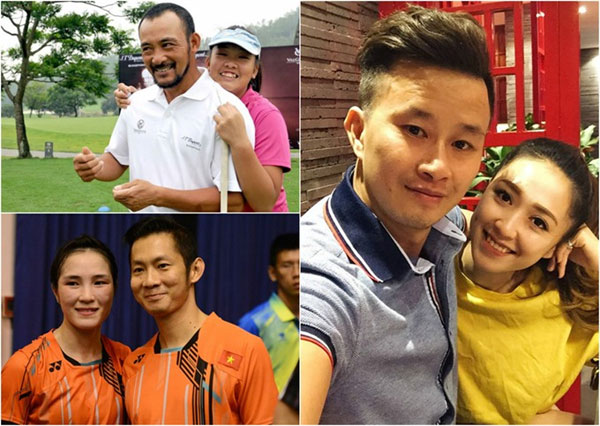 It takes two: A combo photo of Vietnamese athletes and coaches at the SEA Games. Golf coach Nguyen Huy Tien and golfer Nguyen Thao My (above, left), badminton couple Nguyen Tien Minh and Vu Thi Trang (below, left) and gymnastic coach Truong Minh Sang and Nguyen Thu Ha. — Photo mebongda.net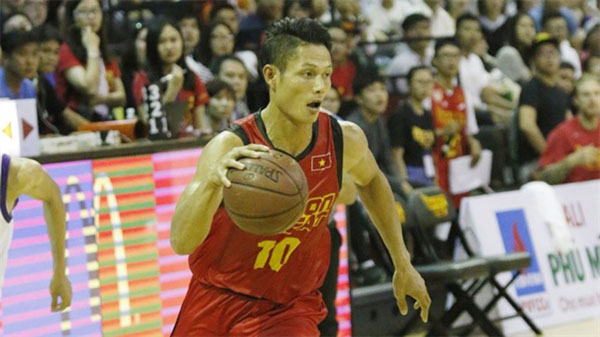 Switching sports: National basketball captain Nguyen Van Hung is back at the SEA Games after winning five taekwondo titles here. — Photo dantri.vn
VNS