Japanese Students win VTV Cup
Last update: 10:48 | 17/07/2017
Japanese Students team triumphed in the International Women's Volleyball Tournament, VTV Cup, beating Indonesian national team 25-14, 25-19, 25-14.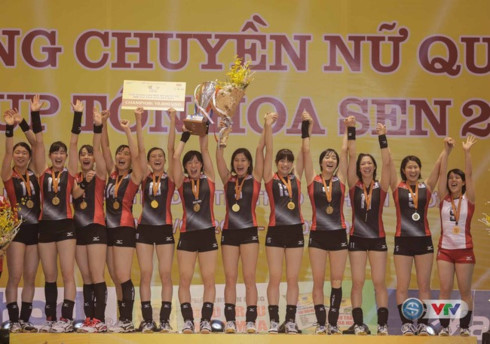 The Japanese created a record, as they did not lose a single set during the 14th staging of the event in Hai Duong City.
The Vietnam national team came third after beating South Korean Suwon Club 25-13, 25-23, 25-23.
Apart from awards for the top three teams, the organisers also presented bonuses to best spikers Aprilia Manganang of Indonesia and Tran Thi Thanh Thuy of Vietnam.
Indonesian Wilda Nurfadhilah and Nguyen Thi Ngoc Hoa of Vietnam were the best middle blockers.
The Japanese team is home to most valued player Yuka Imamura, best libero Manami Kojima, best opposite Masaki Yamauchi and best setter Mika Shibata.
The Miss Volleyball crown this year went to Lee Yun Jung of Suwon.
VNS