Cyclists set for Return to Truong Son tournament
Last update: 11:21 | 16/07/2017
A cycling tournament entitled 'Returning to Truong Son' began on July 15 in Hanoi, as one activity to celebrate the 70th anniversary of the War Invalids' and Martyrs' Day on July 27.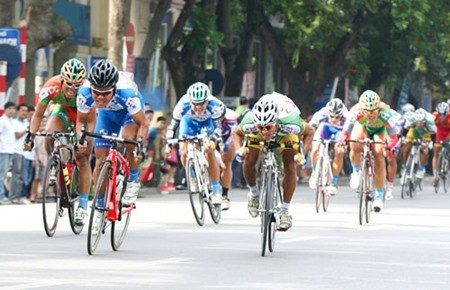 'Returning to Truong Son'cycling tournament starts on July 15
Seventy cyclists from 12 local and two foreign teams will participate in the six-stage tournament which runs nearly 750km from the capital city to Quang Tri province in the central region.
The first stage on the opening day is 30 laps around Hoan Kiem Lake, totaling 51km.
According to the organisers, Vietnamese national team cyclists will compete as it is the last warm-up event before August's Southeast Asian Games in Malaysia.
They will face strong foreigner competition from Thailand and Laos, including Laos' Alex Phounsavath, winner of the HCM City Television tournament in April.
Apart from cycling, athletes and officials will take part in charity activities such as awarding scholarships to underprivileged students, giving presents to poor people and houses for families of war invalids and martyrs, with total charitable value of about 7 billion VND (308,000 USD).
The race, its third edition this year, is organised by Quan Doi Nhan Dan (People's Army) newspaper, and will finish on July 20 with a 20-lap race around the Quang Tri Citadel (53km).
VNA