Da Nang beat Quang Ninh in Cup's quarter-finals
Last update: 00:57 | 18/06/2017
SHB Da Nang trounced Quang Ninh Coal 3-0 in the first leg of the National Cup's quarter-finals yesterday.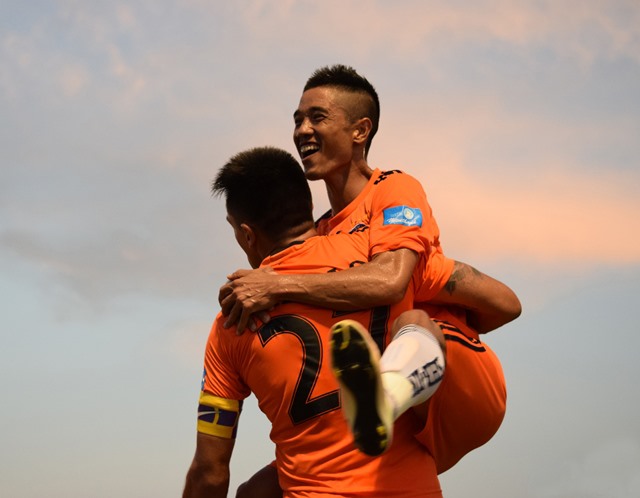 Do Merlo (left) and his teammate celebrate after the third goal of Da Nang in a 3-0 win over Quang Ninh at the National Cup's quarter-finals yesterday. 
Despite playing on away ground SHB Đà Nẵng had no difficulty netting thrice in the first 30 minutes of the match.
Defender Bùi Văn Long escaped from Quảng Ninh's defenders to break into the box and finished from a narrow angle.
Goalkeeper Nguyễn Tuấn Linh of Quảng Ninh ran out to stop Long but it was too late to save the net.
Phan Văn Long made it 2-0 at the 25th mark. He ran from outside to the penalty area to manage a chip from teammate A Mít from the right wing. Striker Long dived just 50cm above the ground to head the ball into the net.
The third goal of the match, three minutes later, belonged to Đỗ Merlo, an Argentinian-original who has just received his Việt Nam passport last week.
With the advantage of height at 1.90cm Merlo jumped the highest among players for a straight header that beat all Quảng Ninh's defenders and keeper.
It was the first time since 2014 that Quảng Ninh suffered three goals within 30 minutes.
Coach Phan Thanh Hùng made several changes in the second half and Quảng Ninh built up a stronger defence that helped them stabilise against Đà Nẵng's powerful attacks.
However, his strikers could not make any threatening moves against Đà Nẵng's side.
Last year's runners-up will face a big challenge to find their way to the semi-finals. They need to score at least three goals in Hòa Xuân Stadium in the second leg match on June 20.
Earlier, Hồ Phúc Tịnh, Phan Văn Đức and national Quế Ngọc Hải scored one goal each to help Sông Lam Nghệ An beat HCM City 3-1 on their home turf.
Playing at home has always made Sông Lam Nghệ An stronger. They played with only one foreign member Olaha Michael but easily set their domination over the visitors who worked with two.
Tịnh needed 15 minutes to find the opener which he netted straight away from a left-wing pass by midfielder Trần Phi Sơn.
HCM City found the equaliser 10 minutes later when Trọng Phi tapped in a low ball.
After the break, Sông Lam Nghệ An went ahead with halfback Hải scoring in a rare joint attempt at the front line.
Sông Lam Nghệ An strengthened their forward with Phan Văn Đức who needed only several minutes to make keeper Nguyễn Quốc Thiện Esele suffer the third goal in the 71st minute.
In the other matches, Sài Gòn FC beat former champions Becamex Bình Dương 3-2 and Cần Thơ were beaten 1-3 by Quảng Nam. 
VNS