Thailand's Wilavan to play for VN's Binh Dien Long An Club
Last update: 02:16 | 19/03/2017
Thailand's Wilavan Apinyapong will compete for VTV Binh Dien Long An in the International Women's Volleyball Tournament, VTV9 Binh Dien Cup in April.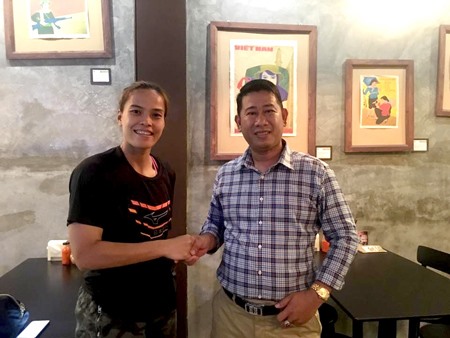 Wilavan Apinyapong (left) and Nguyen Trinh Anh Phuc.
Nguyen Trinh Anh Phuc, vice director of Binh Dien Sports Company made the announcement.
Apinyapong is a Thai professional volleyball player who plays in the Azerbaijan Super League and the Thai national team as an outside hitter.
She has captained the Thailand women's national volleyball team since 2008. She led the Thai team to the 2009 Asian Women's Volleyball Championship, beating China 3-1 to secure Thailand's first gold in history at the competition and repeated the feat in 2013, where she was named most valuable player of the event.
According to Phúc, Bình Điền are also trying to recruit Aprilia Manganang of Indonesia for the upcoming event, which will feature four domestic and four foreign teams. 
VNS