FLC Thanh Hoa holds V.League's top position
Last update: 17:31 | 17/02/2017
VietNamNet Bridge – FLC Thanh Hoa are currently at the V.League's top position in all five rounds.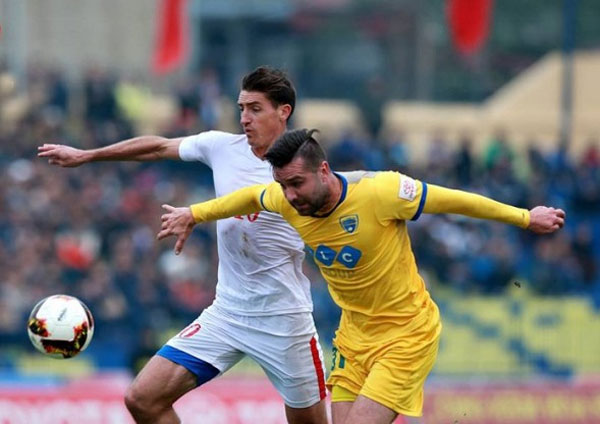 Nguyen Van Bakel of FLC Thanh Hoa (right) vies for a ball against Dyachenko Rodion Sergey of HCM City FC during their V.League round 5. Thanh Hoa will play SHB Da Nang on away ground on Friday. 
The two runners-up, however, are close on their heels, with just two and three points less, respectively. A win today over SHB Da Nang would help FLC Thanh Hoa maintain their position as the leading team.
FLC Thanh Hoa, with 13 points, are the only squad who have not lost this season. Ha Noi FC, who draw Hai Phong 1-1 in an early match of the round on February 16, are third with 11 points. Quang Nam are at third with 11.
This undefeated streak will be to Thanh Hoa's advantage when they visit Xuan Hoa Stadium to play former winners SHB Da Nang, who last week tied against defending champions Ha Noi FC 1-1 on away ground at Hang Day.
However coach Petrovic and his team are not at full strength for this match.
Their captain Pape Omar is serving a six-round fine. Midfielder Ngo Hoang Thinh and striker Uche Iheruome have not yet recovered from their injuries, and in latest news, attacking midfielder Le Quoc Phuong who is called Thanh Hoa's Messi has received a two-match ban.
Da Nang are speeding up to catch up with the top three teams. A win against the leading club will help them reach there.
Coach Le Huynh Duc has been worried from the beginning of the season when his three key players failed to compete for different reasons. However, Duc helped his team win eight points and stay at fifth place.
Their new stadium seems to be a lucky venue as they have won both their matches here.
Duc also said he is satisfied with how his players have worked hard to overcome several difficulties.
Talented forward Ha Duc Chinh has done a good job in his V.League debut at the age of 19. Chinh scored three goals in the national premier league and three more in the National Cup competition. He is now the best scorer of the team.
With Chinh at his peak, Duc's young side came from behind to wins points from two matches. They have two wins, two draws and only one loss in total.
SHB Da Nang has won one and drawn two of their recent three matches against FLC Thanh Hoa.
In other action, Hoang Anh Gia Lai will visit Becamex Binh Duong at Go Dau Stadium.
The visiting team are excited following their first win, 3-0, against Can Tho on Sunday. More importantly, their best striker Nguyen Cong Phuong netted for the first time after more than 500 days of not scoring.
His goal draught has finally ended and he is expected to score more frequently, according to Hoang Anh Gia Lai official Nguyen Tan Anh.
However, Becamex Binh Duong will not be easy to bully.
They are the home of former national striker Nguyen Anh Duc, who is now the best scorer of the V.League with six goals.
Previously, they destroyed Can Tho 5-1, before two unexpected draws to powerhouses FLC Thanh Hoa and Sai Gon FC.
HCM City, meanwhile, is the hot name of the tournament after the nation's best striker Le Cong Vinh was appointed the team's president.
Vinh has made several changes to introduce the best conditions for his team. The latest move is a contract with naturalised defender Dang Van Robert, who is expected to push the team, which is currently second from the bottom, up in the ranking.
Robert previously played successfully for Becamex Binh Duong in 2013-16. He enjoyed two champion titles and two Super Cup trophies.
Striker Nguyen Tuan Anh will also be back in action following his long rest due to injury.
Assistant coach Phung Thanh Phuong will be added to the team's coaching board. Phuong worked closely with the team when they were promoted from the First Division to the V.League. He was assigned to train the young squad from the start of the season but, at present, has been asked to help coach Alain Antoine Fiard from the sixth round.
In this round, the team will host Long An at home and are in search of a win following two consecutive losses. Long An also have no points from their three recent games.
Elsewhere, Quang Ninh Coal will host two-time champions Song Lam Nghe An, Sai Gon will meet Can Tho and Quang Nam will face Sanna Khanh Hoa. 
VNS