Vietnamese has shock win at world chess champs
Last update: 15:30 | 17/02/2017
Vietnamese Pham Le Thao Nguyen shocked the world to become one of the top 16 chess masters at the FIDE Women's World Chess Championship underway in Tehran, Iran.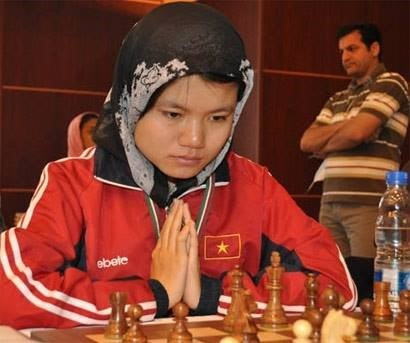 Pham Le Thao Nguyen


Nguyen, who ranks No 119 in the world, defeated No 21 Aleksandra Goryachkina of Russia 1.5-0.5 in the second round on February 15.
The Vietnamese forced Goryachkina, who is called chess genius in her native country, to a draw in the first match and secured a win in the second game after 69 moves, although she was at a disadvantage with the black pieces.
Her next rival is world rapid chess defending champion Anna Muzychuk of Ukraine. The world No 3 and European No 1 defeated Alina Kashlinskaya of Russia 1.5-0.5.
Meanwhile, in a must-win game, Chinese Tan Zhongyi equalised against Ukrainian Anna Ushenina, while Nataliya Buksa, also from Ukraine, struck back against Georgian Sopiko Guramishvili.
Another huge surprise in the round was the relatively quick defeat of Russian Valentina Gunina, who played some incorrect moves in this must-win game and was defeated for the second time by Ni Shiqun from China. 
Olga Zimina of Italy had a good chance to level the score against Nana Dzagnidze from Georgia, but just when victory was in sight, she let it slip due to a tactical oversight.
VNA