Last update: 15:27 | 12/07/2018
Binh Thuan releases official information about June disturbances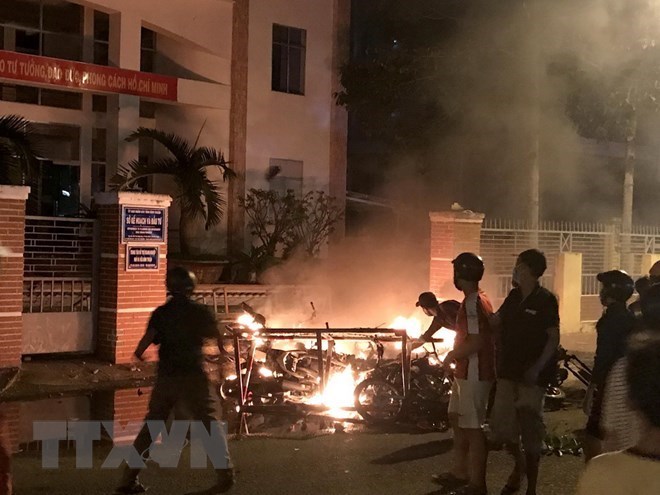 Some rioters burn motorbikes in front of the headquarters of the Binh Thuan provincial Department of Planning and Investment on June 10 
Official information about the disturbances protesting the draft law on special administrative-economic units in the south-central province of Binh Thuan last June were released by provincial authorities on July 11.
At a press conference, the information and communication board of the Binh Thuan provincial Party Committee said on the nights of June 10 and 11, more than 400 people gathered in front of the headquarters of the provincial People's Council and People's Committee in Phan Thiet city, partaking in acts the committee deemed as extremist. It was not until after midnight on these evenings that the crowds were dissolved by authorised agencies.
Among the damage caused by the rioters, three cars, 20 motorbikes, and some rooms of the provincial Department of Planning and Investment were burned down. Meanwhile, several rooms of the provincial People's Committee had their windows broken.
Authorities put 200 protesters in temporary detention and seized 218 vehicles to serve the investigation.
Meanwhile, on June 10, more than 500 protesters caused disorder on the National Highway 1A section in the Phan Ri Cua township of Tuy Phong district, and in Phan Ri Thanh commune of Bac Binh district, throwing bricks and stones, which resulted in traffic congestion. By about 11:20pm the same day, the crowd had been dissolved by authorised forces.
Around midday of June 11, protesters continued to attack the mobile police force with bricks and stones in this area. They burned down 10 cars and damaged 16 others and five motorbikes.
The rioters arrested in Phan Thiet city stated that they had received money from other people to cause disturbances, and none of them had known or had motivation for objecting to the draft law on special administrative-economic units, Binh Thuan authorities said.
Regarding the incident in Phan Ri Cua township, police identified 50 people who had incited and directly engaged in the disturbance, including 30 associated to drug circles.
The information and communication board said those inciting people to protest and disturb security and order were dissidents, and many of the rioters were criminals or affiliated to drug circles. They only took advantage of objecting to the draft law to incite crowds.
Binh Thuan police are seeking the instigators and masterminds behind the incidents to strictly deal with them in conformity with the law, officials added. 
New townships established in Binh Duong, Ha Tinh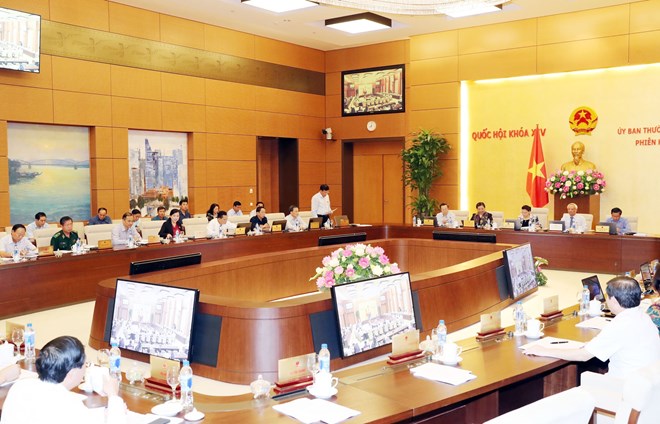 The 25th session of the National Assembly Standing Committee opens on July 11
The National Assembly Standing Committee approved the establishment of two townships in southern Binh Duong province and another in central Ha Tinh province on July 11, the opening day of the committee's 25th session.
Members of the committee passed a resolution on the establishment of Lai Uyen township in Bau Bang district and Tan Thanh township in Bac Tan Uyen district, both in Binh Duong. They also approved another resolution on the formation of Dong Loc township in Can Loc district, in Ha Tinh.
Lai Uyen township covers nearly 88.36 sq.km and has a population of over 32,000 from the former Lai Uyen commune, while Tan Thanh township covers 26.88 sq.km and has a population of nearly 8,600 from the former Tan Thanh commune.
With the establishment of these townships, Binh Duong province now has nine administrative units at the district level (one city, four towns, and four districts) and 91 others at the communal level (46 communes, 41 wards, and four townships).
Meanwhile, Dong Loc township is set up on the basis of the 18.69 sq.km with over 6,000 people from the former Dong Loc commune.
As a result, Ha Tinh province now has 13 administrative units at the district level (10 districts, two towns, and one city) and 262 others at the communal level (229 communes, 21 wards, and 12 townships).
At the meeting, the National Assembly Standing Committee also approved resolutions on the formation of the People's Court and the People's Procuracy of Phu My town, in the southern province of Ba Ria-Vung Tau. 
Da Nang workshop discusses data analytics for future cities research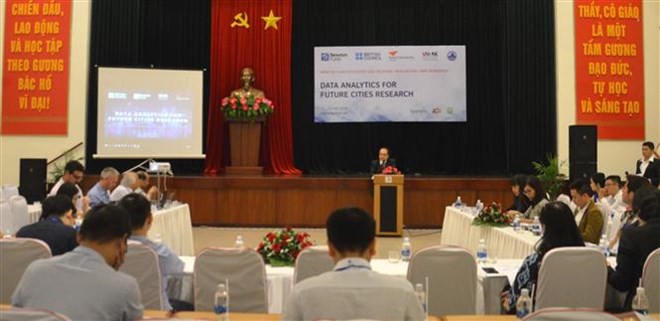 At the symposium
A symposium themed "Data Analytics for Future Cities Research" is being held in the central city of Da Nang on July 11-13 as part of the Researcher Links programme funded by the Newton Fund. 
Jointly held by the Vietnam-UK Research and Training Institute under the Da Nang University and the UK's Aston University, the event aims to connect young researchers with Vietnamese and foreign leading experts operating in data science.
In her opening speech, Vice Director of the municipal Department of Science and Technology Vu Thi Bich Hau said many new urban areas are under development in Da Nang such as Hoa Xuan, Da Phuoc, and Golden Hill. 
However, the rapid development of urban areas is causing pressures on the city in terms of sustainable urban development, she noted. 
The municipal authority looks to address the issues in building a smart and environmentally-friendly city to become one of the driving forces for socio-economic development in the central region, she added.  
Hau affirmed that the municipal authority is always willing to listen to the opinions of scientists and supports the practical and useful research for Da Nang's development in the future. 
She expressed her hope that Aston University, the Vietnam-UK Research and Training Institute, and the municipal Department of Science and Technology will continue to promote cooperation and contribute to developing high-quality human resources towards turning the city into a centre of science and technology. 
Participants are focusing their discussion on new methods, techniques, and applications of data analytics for the sustainable development of cities in the UK, Vietnam, and other ASEAN countries.
The Newton Fund is the UK's official development cooperation programme in the field of research and innovation. It builds research and innovation partnerships with other countries to support their economic development and social welfare, and to develop their research and innovation capacity for long-term sustainable growth. 
The fund is managed by the UK's Department of Business, Energy, and Industrial Strategy, and delivered through 15 UK delivery partners.
Quang Binh pilots tours of new caves
Authorities of the central province of Quang Binh have decided to pilot tours of some new caves at the World Natural Heritage site Phong Nha-Ke Bang National Park, dubbed the "Kingdom of Caves".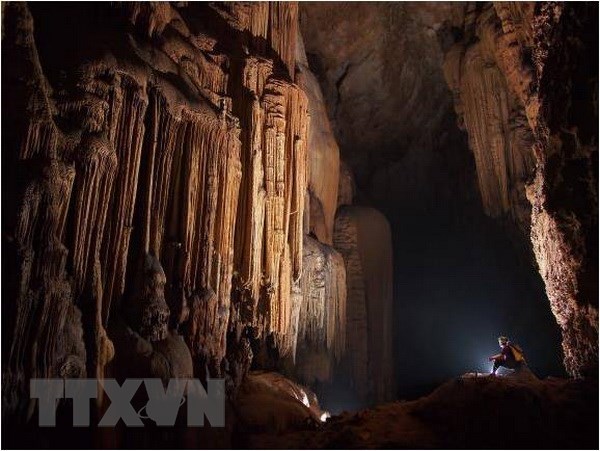 A cave at the park 
Specifically, the management board of the park will partner with Jungle Boss Ltd., to pilot a two-day and one-night tour of the Dai A, Over, and Pygmy caves at the cost of 600,000 VND (26.6 USD) per person. 
Earlier, on July 4, Oxalic Ltd., was allowed to pilot a two-day and one-night tour of the Va and Nuoc Nut caves, worth 8 million VND per person, and a one-day tour of Nuoc Nut cave at the cost of 1.65 million VND per person. 
The new tours are part of a plan to diversify tourist products at the park. 
Lying in the ecological restoration area at the park, the Dai A, Over, and Pygmy caves boast unique and unspoiled natural landscapes. 
The Va and Nuoc Nut caves are incomparable due to their unique, grandiose, and magnificent beauty. 
The Phong Nha-Ke Bang National Park was recognised as a World Heritage site by UNESCO in 2003, thanks to its impressive scenery and archaeological value.
It is also home to Son Doong cave, which was recognised in 2016 as the largest of its kind by three international organisations, including the UK-based Guinness World Records, Hong Kong-based World Record Association, and the US and India-based World Kings.
Since early this year, tourist arrivals in Quang Binh have reached nearly 1.9 million, up about 17 percent year-on-year, bringing an estimated revenue of 2 trillion VND (88.8 million USD), marking a year-on-year increase of 15 percent.
In 2018, Quang Binh strives to greet 3.5 million tourists by the end of the year, including 120,000 foreigners. 
Mekong Delta records over 12,000ha of damaged crustacean farms in H1

The Mekong Delta provinces saw 12,410ha of giant tiger prawn farms damaged and plagued by diseases in the first six months of 2018, up more than 26 percent against the same period last year.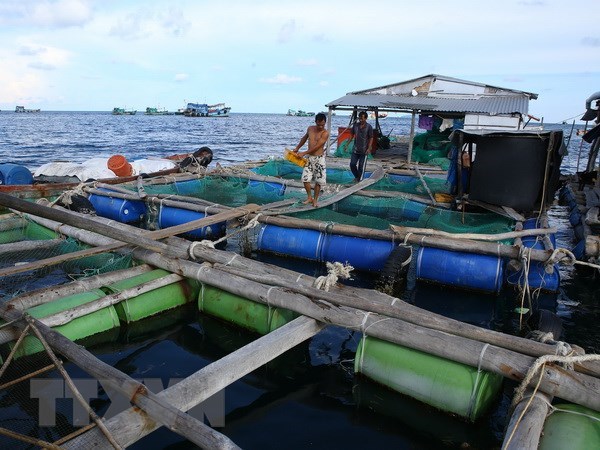 Farmers harvest shrimp in the Mekong Delta province of Ca Mau
According to the animal health sub-department in the region, the affected farms are located across 157 communes of 25 districts in the notable shrimp hubs of Ca Mau, Bac Lieu, Kien Giang, Soc Trang, and Tra Vinh. Kien Giang province recorded the highest damaged area at over 7,172ha.

A report from the Directorate of Fisheries showed that in 2017 alone, brackish water shrimp farming covered 720,000 ha nationwide, of which 621,000ha was for giant tiger prawns and the rest white-leg shrimps.

The farming area yielded 689,000 tonnes of shrimps in 2017, up 5 percent from 2016. In 2018, Vietnam aims to expand its shrimp yield to 720,000 tonnes.

The directorate said the farming area and productivity of Vietnamese giant tiger prawn farms account for between 30 and 38 percent of the global figure. Giant tiger prawns have high commercial value, stable market, and good competitive capacity. 
Vietnam vows to work towards sustainable fishery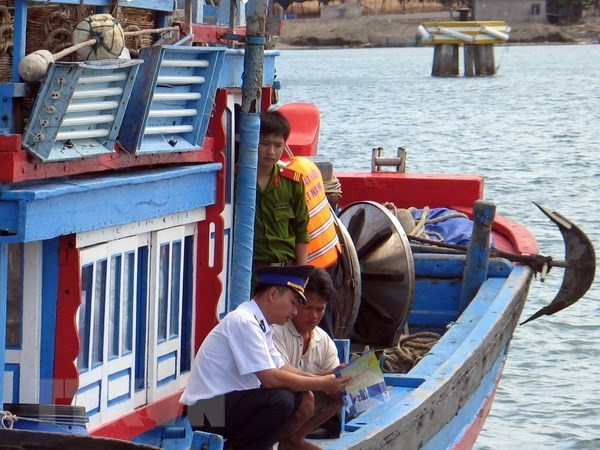 The Vietnamese Government's decision on July 9 to join the Agreement on Port State Measures (PSMA) of the UN Food and Agriculture Organisation (FAO) to prevent and fight illegal, unreported, and unregulated (IUU) fishing has received positive response from the FAO Committee on Fisheries (COFI) and the international community.
The statement was made by Nguyen Ngoc Oai, General Director of the Directorate of Fisheries under the Ministry of Agriculture and Rural Development, in an interview granted to the Vietnam News Agency on the sidelines of the 33rd COFI session held at the FAO's headquarters in Rome, Italy, from July 9-13.
The move was of more significance as it was announced during the COFI's regular session in front of FAO leaders and representatives of member states, Oai said.
COFI leaders and delegates highly evaluated Vietnam's decision, affirming that it demonstrated the country's responsible commitments to international issues towards the sustainable development of fishery, he stressed.
According to the official, with its participation in PSMA – the first important international agreement on fishery, Vietnam will focus on building legal frameworks, intensifying management over foreign ships and imported seafood, increasing information exchange between parties involved and strengthening monitoring over offshore fishing.
The Government assigned the Ministry of Agriculture and Rural Development to coordinate with relevant agencies in implementing the agreement in line with current regulations.
Adopted by FAO member countries in 2009, the agreement took effect on June 5, 2016. It was assessed to be a turning point in the fight against law violations in the fisheries sector. 
As of May 2018, PSMA had been joined by 54 nations and the European Union (EU), of which the EU, the US and Japan are Vietnam's important seafood export markets.
COFI, a subsidiary body of the FAO Council, was established by the FAO Conference at its 13th Session in 1965.
The committee presently constitutes the only global inter-governmental forum where major international fisheries and aquaculture problems and issues are examined and recommendations addressed to governments, regional fishery bodies, NGOs, fishworkers, FAO and international community, periodically on a world-wide basis.
Logo contest launched to mark Vietnam-Canada diplomatic ties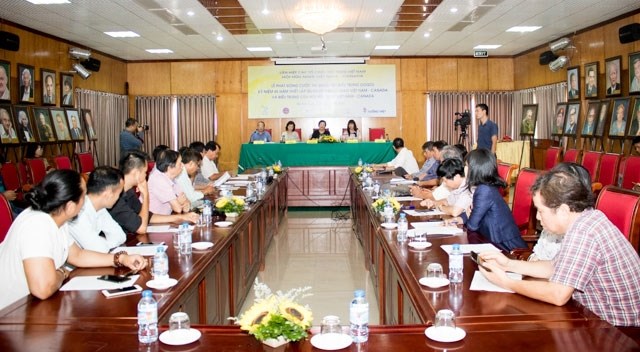 At the launching ceremony of the logo design contest in celebration of the 45th anniversary of Vietnam-Canada diplomatic ties (Source: http://www.nhandan.com.vn)
The Vietnam-Canada Friendship Association under the Vietnam Union of Friendship Organizations (VUFO) launched a logo design competition in Hanoi on July 11 in celebration of the 45th anniversary of bilateral diplomatic ties (August 21, 1973).

The winning logo will be used in activities marking the 45th founding anniversary of Vietnam-Canada diplomatic ties as well as other celebrations of the Vietnam-Canada Friendship Association.

Vietnamese individuals and organizations, overseas Vietnamese, and foreigners living in Vietnam are able to join the competition with unlimited number of entries.

There will be one first prize worth 10 million VND (435.2 USD), one second prize worth 5 million VND, and three consolation prizes worth 1 million VND each.

The date for submission is from July 11 to September 25, 2018.

Participants could send their works to the VUFO office at 105A Quan Thanh street, Ba Dinh district, Hanoi.

Speaking at the launching ceremony, former Vietnamese Ambassador to Canada and Vice Standing Chairwoman of the Vietnam-Canada Friendship Association Nguyen Thi Hoi said Vietnam and Canada have witnessed positive development in their rapports via strengthened friendship, win-win cooperation and mutual respect.

The most recent highlight was the issuance of a joint statement establishing a framework for the bilateral comprehensive partnership on the occasion of Canadian Prime Minister Justin Trudeau's official visit to Vietnam in November 2017, she said.

The joint statement mapped out orientations and measures to boost cooperation in various fields, including people-to-people exchanges, she added.

Since its establishment in May 1999, the Vietnam-Canada Friendship Association has hosted a number of activities to promote Vietnamese land and people to Canadian friends and vice versa, thus enhancing their mutual understanding, she noted.
Garment sector works to promote social dialogue
Social dialogue in the garment-textile sector is expected to improve following the signing of a memorandum of understanding of a project to promote social dialogue and collective bargaining in the garment sector in Hanoi on July 10. 
The signatories were the Vietnam General Confederation of Labour (VGCL), CNV Internationaal Foundation of the National Confederation Trade Unions CNV in the Netherlands and the Vietnam Chamber of Commerce and Industry. 
Addressing the signing ceremony, VGCL Vice President Mai Duc Chinh said Vietnam has integrated extensively into the world, and has signed many free trade agreements, requiring the country to satisfy international standards. 
The Vietnamese trade union sector has carried out programmes aiming to improve the quality of collective bargaining, inked collective work agreements and set up a library storing tens of thousands of collective work agreements of enterprises. 
The project will be piloted in a group of businesses in Van Lam district, the northern province of Hung Yen. 
CNV Internationaal has worked with trade unions in developing countries since its establishment in 1967, promoting workers' rights using a consultative model.
Training given for early intervention for autistic children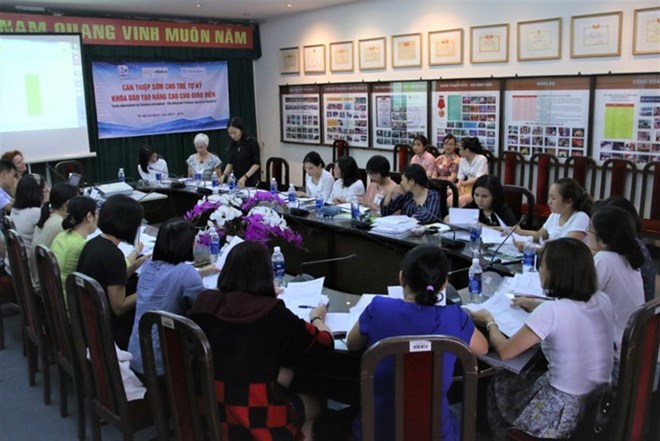 Saigonchildren continues to collaborate with experts to provide advanced training to selected trainees in intervention for children with autism. (Photo Courtesy of saigonchildren)
Teachers and therapists from schools and hospitals around the country have resumed training in practical autism intervention skills.
They had started training last year as part of a three-year project, "Early Intervention for Children with Autism", coordinated by the Saigon Children's Charity CIO (saigonchildren).
In its second year, the project focuses on enabling key lecturers and teachers to work closely with parents of autistic children through practical coaching sessions. There are also two workshops for parents on July 11 and 18.
With financial support from Bleach Family for the first two years and the Lufthansa Help Alliance for the final year, all trainees and parents are offered free training and workshops by leading experts in the field.
It is also a valuable opportunity for parents, teachers and specialists to exchange information with senior clinical specialists from the UK on early treatment, phonetic therapy and behaviour management for children with autism.
Saigonchildren said in a release that autism is a developmental disorder which affects language and communication and often leads autistic people to live isolated lives.
However, if autism is diagnosed and addressed early, children can go on to develop their full potential and integrate into society.
In Ho Chi Minh City, reports from psychiatric clinics at paediatrics hospitals show that the number of children diagnosed with autism has skyrocketed from 2,563 in 2012 to around 200,000 last year.
Despite a growing demand for appropriate intervention for children with autism, there has not been consistent guidance for teachers and parents on how to best support these children, which is why, saigonchildren said, it has been working with international experts in autism and specialists from across Vietnam to develop a new approach.
The three-year project is a joint initiative with the National College of Education HCMC and OWL Therapy Centre.
Court upholds sentences against anti-State instigators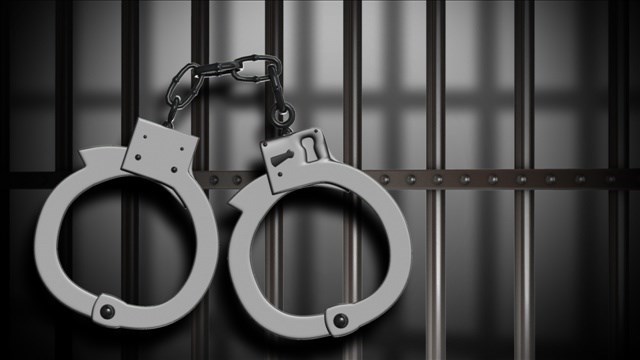 The High-Level People's Court in Hanoi on July 10 maintained prison sentences handed down on three men on the charge of conducting propaganda against the State of the Socialist Republic of Vietnam by the first instance court. 
The defendants are Vu Quang Thuan, 52, from the northern province of Thai Binh; Nguyen Van Dien, 35, from the northern mountainous province of Yen Bai; and Tran Hoang Phuc, 24, from Ho Chi Minh City. 
According to the appeal court's verdict, Thuan will spend eight years behinds bars and be put under surveillance for five years after he completes the jail term. Meanwhile, Dien and Phuc received prison sentences of six and a half years, and six years, respectively, along with four-year surveillance each. 
Based on the content of seized video clips, objects and documents, statements of the defendants and witnesses, legal assessments and public debates at court, the judging panel concluded that between October 2016 to early March 2017, Thuan, Dien and Phuc produced and posted 17 video clips on the internet, stored documents that defame the administration. The trio spread distorted and fabricated information on the Party leadership as well as the State management and instruction during national construction, development and defence. They also defamed and insulted Party and State leaders. 
Their acts aim to propagandise and incite people to oppose the State and stir public anxiety, the judging panel said.
Vietnam ranks 45th in Global Innovation Index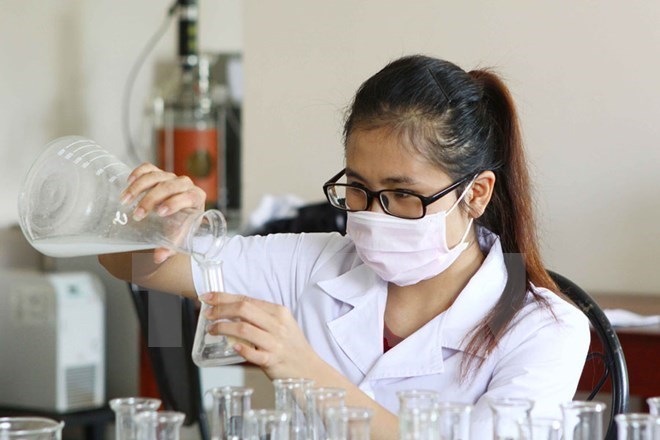 Vietnam ranks 45th out of 126 economies in the Global Innovation Index (GII) 2018, up 14 places compared to 2016, according to the GII report announced by the World Intellectual Property Organisation (WIPO) on July 10. 
In the GII report 2017, Vietnam was at the 47th place among 127 economies over the world.  
Among 30 low middle-income countries, Vietnam ranked the second in terms of the index.
Innovation is now widely recognised as a central driver of economic growth and development. 
The Global Innovation Index aims to capture the multi-dimensional facets of innovation by providing a rich of database of detailed metrics for 126 economies.
Over half of communes nationwide not meet criteria on natural area, population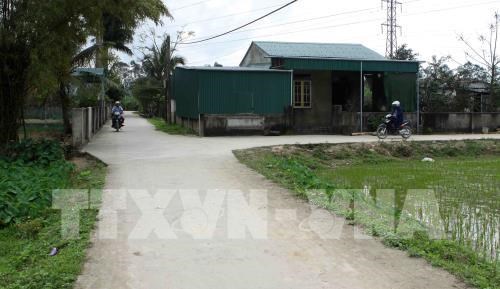 More than half of the total 11,162 communes nationwide (6,191 communes or 55.46 percent) do not meet even 50 percent of the criteria on natural area and population as set by Resolution 1211/2016/UBTVQH13, according to Phan Van Hung, director of the local administration department under the Ministry of Home Affairs. 
Resolution 1211 specifies that a commune in plain and mid-land regions should have an area of at least 30 square kilometers and a population of at least 8,000, while for those in mountainous and high land areas the criteria are at least 50 sq.km and 5,000. 
Also according to Hung, 259 out of the current 713 district-level administrative units nationwide do not meet 50 percent of the criteria on acreage and population set by Resolution 1211, either. 
Therefore, it is necessary to rearrange administrative units at communal levels, he said, stressing that the move is to implement the Resolution 18-NQ/TW adopted by the 6th plenum of the 12th Party Central Committee on continuing to reform, rearrange the political system for a streamlined and effective apparatus. 
The rearrangement and merger of administrative units that do not meet 50 percent of acreage and population criteria from now to 2021 will be guided by the principles of transparency and democracy with the involvement of local voters and in accordance with set procedures. Priority will be given to merging a unit that do not meet criteria in its status quo with an adjacent unit of the same level, Hung said.  
The resolution also set the target of completing the rearrangement of administrative units at district and communal levels in accordance with set criteria between 2022 and 2030. 
The number of administrative units from provincial to communal levels has changed many times since 1975. 
From 1975 to 1986, the number of provincial-level units dropped from 72 to 40, then increased to 64 as of November 2003. In May 2008, the number reduced to 63 with the merging of Hanoi and Ha Tay province and remained the same until present. 
Regarding district-level units, the number increased from 431 in 1986 to 713 in 2016. 
The number of communal-level units rose to 11,162 in 2016 from 9,657 in 1986. 
Hung said with the promulgation of the 2013 Constitution, the 2015 Law on Organisation of Local Administration and the Resolution 1211/2016/UBTVQH13, the number of administrative units at district and communal levels has been kept at 713 and 11,162, respectively, until now. 
According to the Ministry of Home Affairs, the division of administrative units in the early years of the economic reform produced some positive effects, stimulating local socio-economic development, investment in local infrastructure and bringing the administrative apparatus close to the people. 
However, it also resulted in a cumbersome apparatus with large numbers of State employees along with rising spending on salary payment and operational costs. 
The large number of administrative units also caused difficulties in making long-term and macro development plans, and broke up local resources and potential. 
Quang Binh's tourist accommodation in short supply
Special tourism products in Quang Binh province have attracted high volumes of both domestic and foreign visitors. However, accommodation capacity cannot keep up with high demand from tourists, putting stress on the province's tourism sector.

June and July are peak tourist season months in the central coastal province of Quang Binh. In June alone, the locality welcomed 1.8 million tourist arrivals with 85,000 foreign visitors, representing a year-on-year 16.3 percent and 22.8 percent rise, respectively.

Hoang Huy Giap, a visitor said: "I surfed the Internet to make an online booking but no rooms were available. I had to ask my friend to go around to local hotels and luckily I was able to find one."

"Promotional programmes have been carried out during weekdays. We have also worked with tourist agents to develop more tourism attraction on low-season days," said Nguyen Anh Tuan, Director of Thanh Phuc Hotel, Dong Hoi City, Quang Binh province:

Despite the massive influx of visitors, there are still only 300 accomodation facilities in the area, with a limited number of two- to five-star hotels which are in great demand.

According to Nguyen Van Ky, Chairman of Quang Binh's Tourism Association, tourism here is not busy year round, so building new hotels seems unreasonable. "However, given the current overload in local hotels, we have worked with hotels to upgrade rooms as well as provide more choices for visitors, such as homestays or other options," he added.

As activities to mark 15 years of Phong Nha Ke Bang heritage are about to take place, the province estimates the number of tourists flocking to the locality to increase exponentially. Quang Binh hopes to solve this complex problem of overloading in accommodation service. The tourism association is planning to diversify the range of accommodation products, as well as pushing forward promotional activities that lower hotel prices on weekdays.