Last update: 17:19 | 10/07/2018
Israel water week opens in Vietnam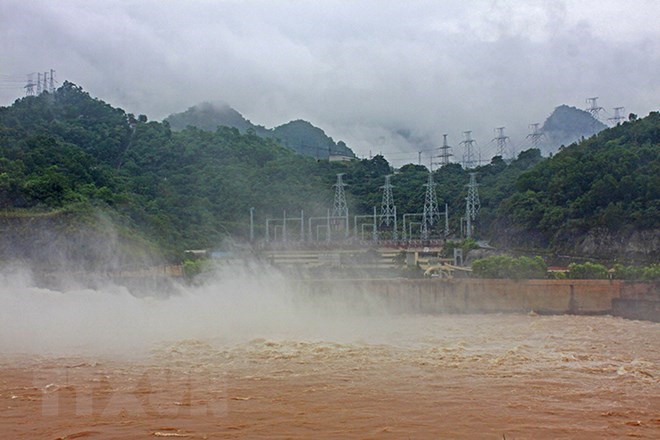 Vietnamese and Israeli experts will discuss sustainable management of water resource. 
The Israel Water Week is taking place in Hanoi from July 9-13 with a string of activities to promote sustainable management of water resource, the Embassy of Israel in Vietnam said on July 9.
The event is held by the embassy and relevant agencies in collaboration with the Ministry of Natural Resources and Environment, the Ministry of Science and Technology, and the Agriculture and Rural Development. 
Israeli and Vietnamese experts will share experience in sustainable water resource planning and management, and innovation in the water sector at a conference on July 13.
Besides, a conference on Israeli water standardisation is underway until July 12 with five sessions: water policy in Israel, management of water suppliers, drip irrigation, waste water recycling and international standards, and industrial sewage treatment.
Also, a conference on the role of technologies in the water sector's development will be held on July 12 afternoon. Nearly 20 Israeli companies and experts, and Vietnamese representatives will join the event to discuss Israel's water technologies.
Drip irrigation, industrial sewage treatment, and sewage filtering and recycling will be on the table.
Seminar talks protection of world natural heritages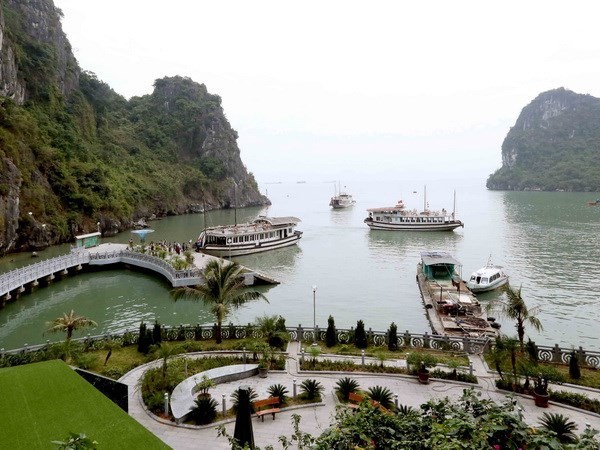 A corner of Ha Long Bay in Quang Ninh province 
An international seminar on world natural heritages and sustainable development in the new context opened in the northern province of Quang Ninh on July 9. 
The event is co-organised by the Ministry of Culture, Sports and Tourism (MCST) and the UN Educational, Scientific and Cultural Organisation (UNESCO). 
Speaking at the function, MCST Deputy Minister Dang Thi Bich Lien said the seminar focuses on topics such as the strengthening of legal framework to protect heritages and boost sustainable development, cohesion of local communities, and public-private partnership at world heritage sites. 
Many solutions to harmonisation of relations between preservation and development are also put forth at the event. 
Vietnam has eight UNESCO-recognised heritages, including five cultural, two natural and one mixed ones, Lien said, adding that over the past years, the Government has paid due attention to protecting and restoring global values as well as managing, safeguarding and promoting the values of heritages. 
According to her, the world heritages in Vietnam have been demonstrating their role as an important resource for economic development. However, amid the rapid development of the tourism sector, policymakers and heritage managers are facing new challenges, including the appearance of new factors and increasing engagement of businesses. 
It is time to assess the real situation of heritages in the context of Vietnam's active participation in the 2030 Agenda for Sustainable Development and the Sustainable Development Goals of the UN in order to fully understand the contributions of the world heritage sites in Vietnam. 
Michael Croft, UNESCO Chief Representative in Vietnam, said that the seminar serves as a forum to find out a sustainable solution that both meets development requirements and preserves the values of world heritages. 
UNESCO specially acknowledges the presence of delegates from private sector at the event, he said, noting public-private partnership is a core factor in the sustainable development of heritages. 
During the three-day seminar, participants will provide recommendations on practical measures to enhance the protection and promotion of world heritages towards sustainable development.  
The UNESCO world heritage sites in Vietnam include the Central Sector of the Imperial Citadel of Thang Long – Hanoi (recognised in 2010), the Citadel of the Ho Dynasty (2011), the Complex of Hue Monuments (1993), Ha Long Bay (1994), the Hoi An Ancient Town (1999), the My Son Sanctuary (1999), the Phong Nha-Ke Bang National Park (2003), and the Trang An Landscape Complex (2014).
Hue remembers those killed in 1885 French massacre
A ceremony for remembering the "May 23 incident" victims conducted by a group of xich lo (pedicab) drivers. 
Residents of the former imperial city of Hue will light incense and offer food this week to remember the victims of a French massacre in 1885.
Almost every home, private business facility and public office hold ritual ceremonies in commemoration of Hue residents who died on the day the citadel of the Nguyen Dynasty (1802-1945) fell into the hands of French colonists.
There are also ceremonies held at the community level within alleys, communal houses and holy temples.
In 1885, around 1,200 people were killed after French troops attacked the former capital. The date was May 23 in the lunar calendar, so local residents recall it as the "May 23 incident" or "the day of the capital falling".
From May 23 to May 30 (lunar calendar), residents conduct outdoor ceremonies not only for family members but also people who died outside their homes during the incident and became "wandering souls".
As part of the Vietnamese tradition of offering food to the death altars on memorial days, Hue residents offer various types of food for the incident's victims, including rice, pork, chicken, cassava, sweet potato and whatever they could afford.
A small fire is set to keep warm those who fell into rivers and canals during the incident.
Researchers said the ceremony of remembering the victims is the only one that occupies the whole city; no one regards it as a superstitious activity.
They also view the ceremony as evidence of the profound humanity of Hue residents.   
There are two temples built for the victims in the city. One was built inside the citadel by King Thanh Thai (1889-1907) in 1894, nine years after the incident. Today the Hue Monuments Conservation Centre, a local governmental body that manages all relics built by the dynasty in Hue, supervises the temple.
Another was built behind and outside the imperial palace by local residents. Today locals hold a grand ritual ceremony each year to memorialise the victims.
Both the temples have been restored recently. The one built by the king was conserved following recognition by local authorities as a heritage relic in 2013. The resident-built temple received facelift one year later thanks to contributions by locals.-
Vietnam, Finland co-hosted event on risk management in water supply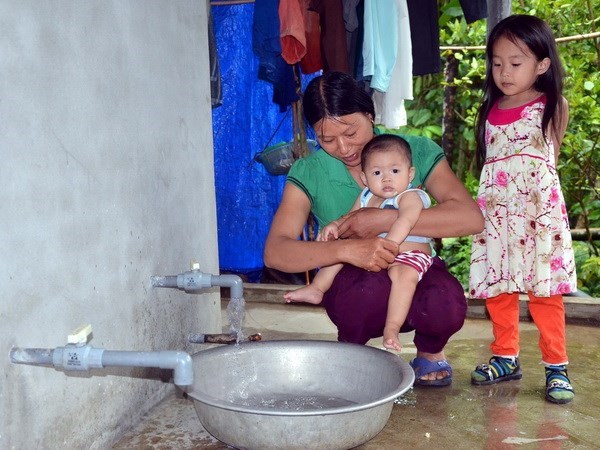 A seminar co-hosted by Vietnam and Finland in the framework of the United Nations Economic and Social Council (ECOSOC) High-level Political Forum has spotlighted the importance of access to safe water and smooth water supply especially in urban areas.
The July 9 event drew the participation of representatives from the Ministry of Construction's Technical Infrastructure Agency, Finland's Poyry company and Aalto University, the World Health Organisation, and many representatives from UN members.
The Water Safety Plan (WSP), developed by Finland to reduce risks in water supply, has been piloted in Hai Phong and Da Nang cities, and Dong Nai province. The useful tool for ensuring safe drinking water has been adjusted to suit Vietnamese water plants and the country's regulations. 
Many experts described this as a vivid illustration for the sounding public-private partnership with Finland in the research on water safety plan as recommended by the WHO.
Vietnamese representatives affirmed that the pilot projects are in line with the water plants' capacity, and the WSP helps the plants ensure steady operation as well as have effective measures to prevent and address interruption in the supplying system.
The move will contribute to the realisation of Indicators 6.1 and 6.2 on drinking water and sanitation and hygiene under the Sustainable Development Goal 6, they said.
Summer camp marks 15 years of young Vietnamese connections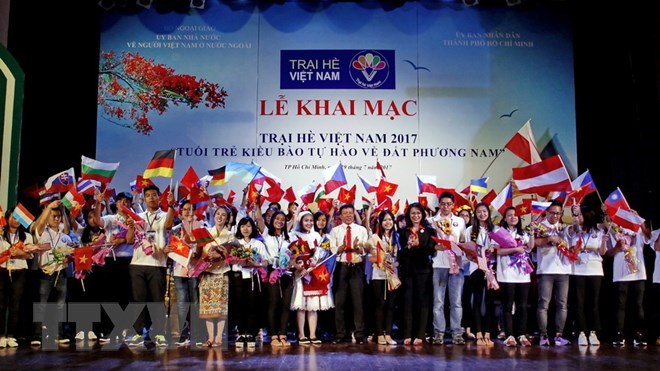 The opening ceremony of the Vientam Summer Camp 2017 in Ho Chi Minh City in July last year 
The Vietnam Summer Camp 2018 takes place from July 10 to 15, marking 15 years of the event connecting local and overseas Vietnamese youngsters.
This year's summer camp will be attended by about 120 young Vietnamese aged between 16 and 24 from 29 countries, including Algeria, the UK, Austria, Poland, Belgium, India, Kazakhstan, Cambodia, Qatar and Indonesia, according to the State Commission on Overseas Vietnamese Affairs.
It will feature various activities in 11 localities, including the camp opening ceremony at the Temple of Hung Kings in Phu Tho province, the closing event in Buon Ma Thuot city of Dak Lak province and visits to historical and cultural relic sites in Hanoi and the provinces of Ninh Binh, Nghe An, Ha Tinh, Quang Binh, Quang Tri, Thua Thien-Hue, Quang Nam, Kon Tum and Dak Lak.
Participants will also engage in charitable activities in the central provinces of Nghe An and Quang Nam along with exchanges with domestic youths and overseas young entrepreneurs.
The summer camp aims to enhance young expatriates' connectivity with the homeland. It will help them learn about the country's culture, history and patriotic traditions while creating a chance for them to improve their Vietnamese language skills and learn more about Vietnam's policies.
Since it was first held in 2004, the annual Vietnam Summer Camp has attracted about 2,000 young people from more than 30 countries and territories.
Vietnam strives for ambitious goal of female-led enterprises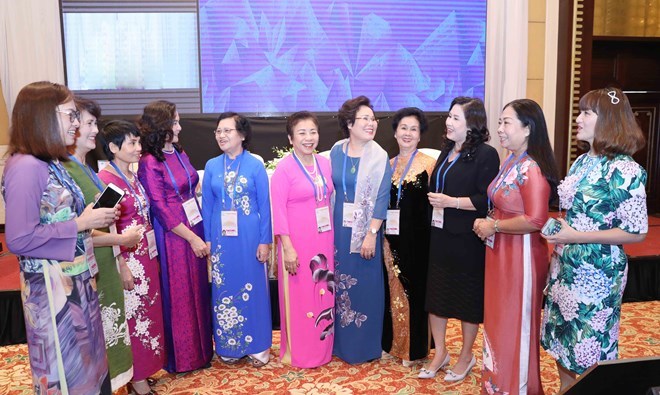 Vietnamese representatives talk on the sidelines of the 2017 APEC Women and the Economy Forum in Hue city in late September in 2017 
Vietnam aims at having 350,000 women-owned firms by 2020, meaning the number of female entrepreneurs must triple in the next three years, a rate even faster than the overall growth speed of business volume nationwide.
The information was released at a forum and leadership training session for women organised by the Vietnam Association for Women Entrepreneurs (VAWE) in Ho Chi Minh City on July 10.
Vice President of VAWE Cao Thi Ngoc Dung said women-led firms account for about 25 percent of the nation's total number of companies, equaling more than 100,000 firms.
However, she noted that most of them are of small and micro size, with low competitiveness, and restricted access to information and technology. 
Women entrepreneurs also have to deal with social prejudice of women's role in business. The rise of the international economic integration and fourth industrial revolution is offering opportunities to the group but requiring them to continuously pursue innovation.
Stephen Berlinguette, chief representative of the US Agency for International Development (USAID) in HCM City, said women face more disadvantages than men in starting their own businesses, which reflects not only gender inequality but also a negative impact on economic development.
He pointed out that the growth of any economy would be hindered if half of their population are not facilitated to get involved in business.
Therefore, female entrepreneurs in Vietnam and in the world need to be equipped with leadership skills, Berlinguette said, adding that narrowing gender disparity gap can promote the formation of innovative growth models.
India provides free artificial limbs for Vietnamese with disabilities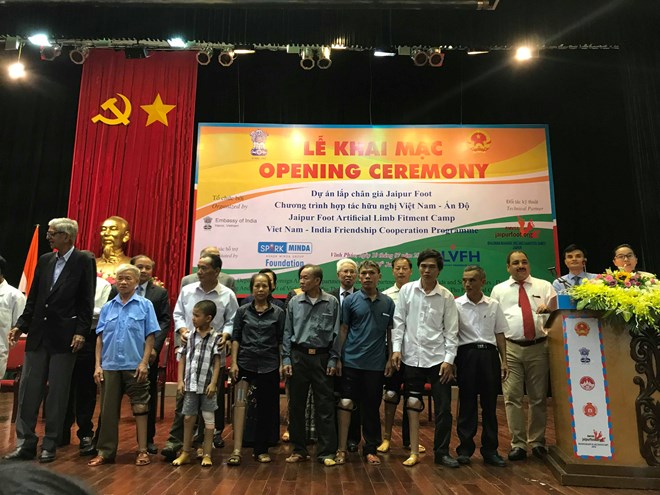 Representatives of patients in Vinh Phuc receive free artificial limb on the opening ceremony 
More than 500 people with disabilities in the northern provinces of Vinh Phuc and Phu Tho will have an opportunity to receive artificial limbs from the Jaipur Foot Artificial Limb Fitment Camp, which is part of a Vietnam – India friendship cooperation programme.
The launch of the Jaipur Foot Artificial Limb Fitment Camp on July 10 in Vinh Phuc saw the participation of officials of Vinh Phuc province, the Ambassador of India to Vietnam, and representatives of Spark Minds, Jaipur Foot, and Ashok Minda, among others.
Speaking at the ceremony, Indian Ambassador to Vietnam Parvathaneni Harish said: "The loss of limbs during the many wars happened in Vietnam is a serious humanitarian issue and the Government and people of India are happy to help who have become disabled." 
He also stressed during the visit of Prime Minister Modi to Vietnam in 2016, leaders of the two countries decided to upgrade the relationship to a Comprehensive Strategic Partnership. The successful visit of Prime Minister Nguyen Xuan Phuc for ASEAN-India Commemorative summit in India in January and President Tran Dai Quang's State visit in March this year have given a fresh impetus to bilateral engagement.
Chairman of the People's Committee of Vinh Phuc Nguyen Van Tri lauded the programme as meaningful cooperation between the two countries.
Accordingly, technical personnel, equipment, materials and tools will be sent to Vietnam to deploy the work.
Under this humanitarian project, participating disabled people will be provided with artificial limbs free in July and August 2018.
The civilizational relationship between the two countries and strong people-to-people relations is over 2000 years old. In recent times, India stood by Vietnam during the period of national liberation, national reunification and national reconstruction.
The project represents a strong symbol of friendship and people-to-people cooperation between the two countries and is taking place just after both countries celebrated the Year of Friendship in 2017 to commemorate the 45th anniversary of diplomatic relations and the 10th anniversary of strategic partnership.
Dong Thap fights child drowning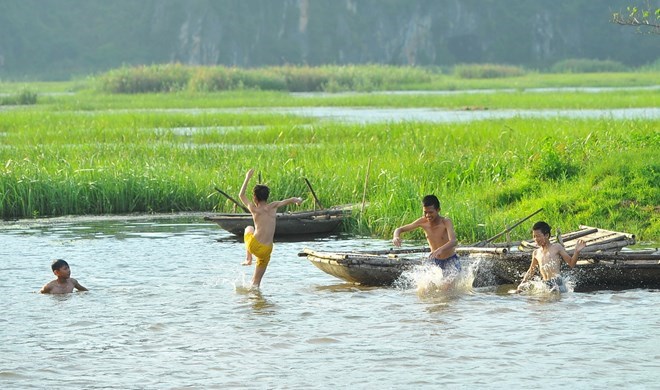 The Mekong Delta province of Dong Thap has been successful in its efforts to prevent children from drowning.
Outstanding models include the Safe House, Safe Community, Safe School, Safe Kindergarten, swimming training programme for children and action programme for children's safety on waterway traffic.
Huynh Duy Khuong, Vice Director of the provincial Department of Labour, Invalids and Social Affairs said that the Safe House model has been launched in 108 communes.
The localities have received financial support to prevent children's drowning. Some 70 percent of families engaging in the model have been certified as safe, he said.
Meanwhile, the Safe Community certification has been presented to 16 communes, wards and towns.
The provincial Department of Education and Training has issued regulations on the building of safe schools with measures against accidents and drowning among kindergartens. 
So far, the model of community-based safe kindergarten has covered 1,358 pre-school facilities with 26,438 children from 18 months to 5 years old.
At the same time, the provincial Centre for Sports and Physical Training annually gives summer swimming training to 500-800 children aged from 9-15.
Dong Thap has also strengthened communications among parents on the need to intensify the training of life skills to children, including preventive measures against drowning, while mobilising social resources in building swimming pools in schools.
According to Vice Director of the Vietnam Sports and Physical Training Administration Pham Van Tuan, drowning is the leading cause of death in children and adolescents in Vietnam, especially in the summer and storm season.
He noted that an initial report showed that the ratio of children who can swim in Vietnam remains under 30 percent.
A report by the Ministry of Labour, Invalids and Social Affairs showed that about 2,000 children lost their lives to water in Vietnam each year between 2015 and 2017.
Operation of communal health clinics should be standardised: Minister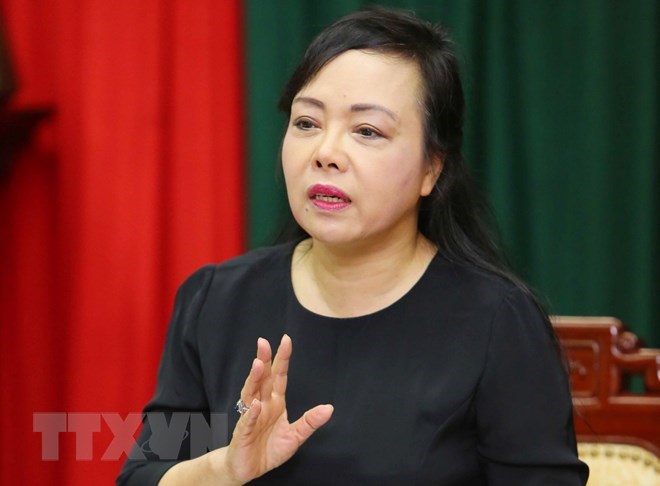 Minister of Health Nguyen Thi Kim Tien. 
People deserve comprehensive healthcare at the commune-level medical stations even when they are not ill and for this to happen, the operation of these stations must to be standardised, Minister of Health Nguyen Thi Kim Tien has stressed.
The stations are now capable of providing vaccinations and nutrition counselling but are bad at detecting, monitoring and treating chronic diseases such as diabetes and high blood pressure, she told the launching ceremony of a training course on care for chronic diseases at commune-level medical stations in Hanoi on July 9.
The grassroots healthcare system is failing to win public trust as people hesitate to visit communal health clinics, largely because these establishments lack medicine and capable personnel, while the medical costs at the stations covered by national health insurance are low, Tien said.
The Ministry of Health has been piloting 26 standardised communal health clinics in eight cities and provinces, including three in Hanoi. These clinics have been provided with well-trained and experienced medical workers able to not only give health counselling, vaccinations and primary medical checkups but also perform ultrasound scans or electrocardiogram tests and manage non-communicable diseases such as diabetes, high blood pressure or chronic obstructive pulmonary disease, the minister noted.
She also said that the ministry has been facilitating education for general practitioners and day-care services alongside home-based healthcare as an alternative to hospital admission. Furthermore, the ministry has been working to develop a database of personal health records.
Speaking at the event, Dr. Jun Nakagawa from the World Health Organisation said about 380,000 deaths a year in Vietnam result from non-communicable diseases (NCDs) and that NCDs are blamed for 73 percent of all deaths nationwide. More than 40 percent of these deaths occur in people under the age of 70, Nakagawa added.
The main reason behind this is the lack of care services for non-communicable diseases at primary care providers, she said, stressing the necessity to reform Vietnam's primary healthcare sector.
Better management of non-communicable diseases can only be achieved by improving capacity of communal health clinics and a clear financial mechanism to allocate funds collected from service fees at the clinics is also required to motivate health workers, she added.
The training course is scheduled to take place in Hanoi, Ho Chi Minh City, Ninh Binh, Thanh Hoa and Ca Mau, among other areas. 
2019 regional minimum wage discussed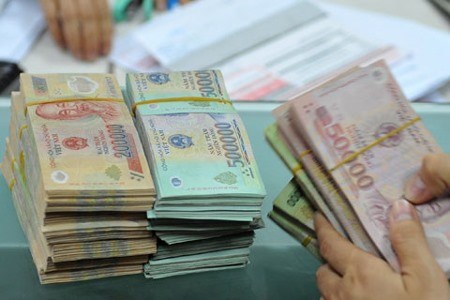 The National Wage Council on July 9 opened its first meeting of the year, discussing the regional minimum wage change to be applied next year. 
The National Wage Council convened its first meeting of the year in Hanoi on July 9, discussing the regional minimum wage increase for next year.
The change will affect about ten million people who are working with labour contracts in non-State enterprises. 
At the meeting, the Vietnam General Confederation of Labour (VGCL), which represents employees, proposed an increase of 8 percent in the regional minimum salary while the Vietnam Chamber of Commerce and Industry, reprsentating businesses, asked for the wage to remain unchanged in 2019.
Addressing the event, Deputy Minister of Labour, Invalid and Social Affairs cum Chairman of the council Doan Mau Diep said that according to Resolution 27-NQ/TW on salary reform that the Communist Party of Vietnam Central Committee issued in May 2018, the State would gradually not intervene in the wage policy of enterprises but promote negotiations between employers and employees.
He said that from now until 2020, regional minimum wage must be adjusted to ensure minimum living conditions for employees, especially those who are paid the least.
"When negotiating minimum wage changes, factors such as GDP, labour productivity, salary on labour market and employers' budget must be taken into account," he said.
According to VCCI Vice Chairman Hoang Quang Phong, most domestic and foreign employers told the chamber that next year is not the right time to adjust the minimum wage as they want to increase their financial capacity or spend funds – which they can arrange – on training and improving employees' skills to better meet job requirements and increase productivity.
"The minimum wage should be increased then, in the further future," Phong said.
Meanwhile, VGCL Vice President Mai Duc Chinh said the 8-percent increase proposed by his agency is suitable as Vietnam's gross domestic product (GDP) in the first half of this year grew more than 7 percent compared with the same period of last year.
"The economic growth is notable and labourers deserve benefiting from the economic development," he said.
He also said that Government decided the 7-percent increase for employees working in State organisations and enterprises this month, despite its tightened budget.
A recent survey by the VGCL showed that the monthly minimum wage could cover about 92 percent of minimum living conditions for employees while Vietnam targeted that by 2020, the minimum wage could ensure their minimum living conditions.
Currently, the minimum wage is applied for four different regions in Vietnam as follows: Region I:  3.98 million VND (189 USD); Region II: 3.53 million VND (168 USD); Region III: 3.09 million VND (147 USD) and Region IV: 2.76 million VND (131 USD). The highest rate covers urban parts of Hanoi, Hai Phong, HCM City, Dong Nai and Ba Ria - Vung Tau.
The 2018 regional minimum wage is 6.5 percent higher than that of 2017, equal to 180,000-230,000 VND (8-10 USD) a month.
Quang Binh sees accommodation overload during tourist season
Muong Thanh Quang Binh hotel (Photo: agoda.com)
Quang Binh province, which is famous for its cave systems, incredible mountain scenery and sprawling beaches, has attracted a huge number of both domestic and foreign visitors. However, Quang Binh's accommodation capacity cannot keep up with high demand from tourists, putting stress on the province's tourism sector.
"I surfed the Internet to make an online booking but no rooms were available," said Hoang Huy Giap, a visitor from Hanoi. "I had to ask my friend to go around to local hotels and luckily I was able to find one." 
June and July are peak tourist season months in the central coastal province of Quang Binh. In the months to June, the locality welcomed 1.8 million arrivals with 85,000 foreign visitors, representing year-on-year  rises of over 16 percent and nearly 23 percent, respectively.
Despite the massive influx of visitors, there are only 300 accomodation facilities in the area, with a limited number of two- to five-star hotels which are in great demand. 
According to Nguyen Van Ky, chairman of the Quang Binh Tourism Association, tourism in Quang Binh province is not busy year round, so building new hotels seems unreasonable but the sector has urged diversified services to meet visitors' demand.
"Given the current overload in local hotels, we have worked with hotels to upgrade rooms as well as provide more choices for visitors, such as homestays or other options," said Ky. 
As activities to mark 15 years of Phong Nha Ke Bang heritage are about to take place, the province estimates the number of tourists flocking to the locality to increase exponentially. 
Quang Binh hopes to solve this complex problem of overloading in accommodation service. 
The tourism association is planning to diversify the range of accommodation products, as well as pushing forward promotional activities that lower hotel prices on weekdays.
Nguyen Anh Tuan, director of the Thanh Phuc Hotel in Dong Hoi city, said his facility will carry out promotional programmes during weekdays and work with tourist agents to develop more tourism attractions on low-season days in order to reduce overload during weekends.
Quang Binh has a 116.04 km coastal line. It is home to the UNESCO World Heritage Site Phong Nha – Ke Bang National Park and the world's largest cave Son Doong.
Vietnam commits to fighting money laundering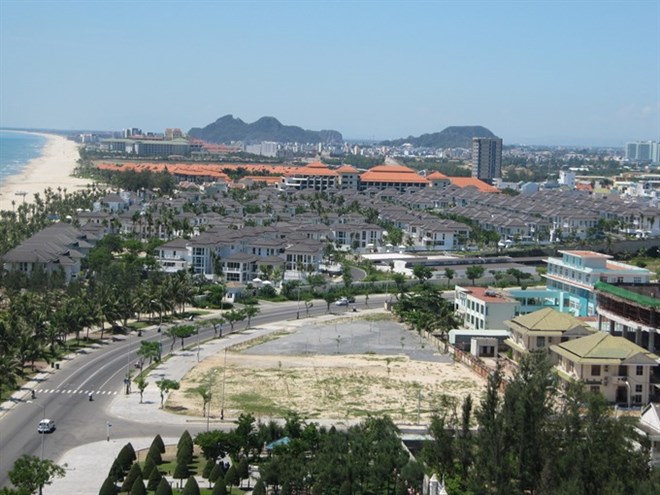 A luxury villa project in coastal central Vietnam. Buying property under assumed names is a popular method of money laundering. 
The 2015 penal code includes revised articles and supplements to fight money laundering, said Chief Justice of the Supreme People's Court Nguyen Hoa Binh said at a workshop in the central city of Da Nang on July 9.
He said that some of the regulations are unclear, and guidance is needed to ensure the laws against money laundering are effectively carried out.
"Money laundering criminals often disguise illegal sources of money from their offensive activities with sophisticated means. So, we need a law enforcement force with legal knowledge support and the comprehensive legal system to fight the crime effectively," said Binh.
"Many efforts have been made by Vietnam's judicial system in dealing with the crimes for years, and it's still a challenge as Vietnam has integrated more deeply into the global economy," he said.
Binh said money laundering is not a traditional crime in Vietnam, but criminals had used cash to buy property, cars, jewels and precious assets under the names of other people in the country.
He said the workshop was an opportunity for experts, lawmakers and organisations from Vietnam, Australia and the United Nations Office on Drugs and Crime (UNODC) to share experience and ideas on the resolution of the judges' council of the Supreme People's Court before issuing the penal code on money laundering.
Jean Cuthill from the anti-money laundering assistance team under the Australian Government's Department of Home Affairs suggested that Vietnam needed to provide assessors on the wide range of data and statistics on many examples of money laundering investigations, prosecutions and convictions across a range of different types of crimes, particularly those that are highly profitable.
She said that Vietnam and Australia were members of the Asia Pacific Group on Money Laundering (APG), and Australia is a member of the Financial Action Task Force (FATF) with 37 members.
Cuthill said Vietnam had a mutual evaluation of FATF in 2008 and the next evaluation will arrive in 2019.
"Vietnam should also demonstrate technical compliance with the FATF standards and assessment of effective anti-money laundering regimes. FATF has 40 recommendations on the prevention of anti-money laundering, terrorist financing and the proliferation of weapons of mass destruction," she said, adding that more than 190 countries and territories committed to implement 40 recommendations approved by the FATF.
Deputy Chief Justice of the Supreme People's Court Nguyen Tri Tue said Vietnamese money laundering was first addressed in the penal code in 1999, and the FATF had removed Vietnam from the list of countries with weak measures to combat money laundering and terrorist financing in 2014.
He said Vietnam highly appreciated the suggestion from experts on predicate offenses, and the country prosecuted three former officials of Vinashin Ocean Shipping Company (Vinashinlines) on charges of embezzlement in 2016 as well as an online gambling case last year.
According to the investigation agencies, the police had initiated probes against 83 people who were allegedly involved in the online gambling ring. Among them, 41 were accused of organising gambling, 38 of gambling, four for illegally trading invoices, two for money laundering and one using the internet to appropriate assets. 
The probe initially found that the money was paid via legal and gateway payments exceeding 9.58 trillion VND (425.7 million USD). More than 9.29 trillion VND, or 97 percent of the total, was transferred via pre-paid telecom cards and game cards. About 168 billion VND was sent from bank accounts.
From 2011-15, Vietnam's criminal police force investigated 1,378 corruption and economic offense cases involving more than 3,400 offenders, reclaiming 197 million USD for the state budget, according to a report by the People's Supreme Court.