"Street knight" teams keep HCM City neighbourhoods safe
Last update: 11:36 | 17/05/2018
VietNamNet Bridge – As a way of respect, many people in HCM City call the men who volunteer to protect them from neighbourhood thieves "knights of the street", an expression that was first used in Binh Duong Province.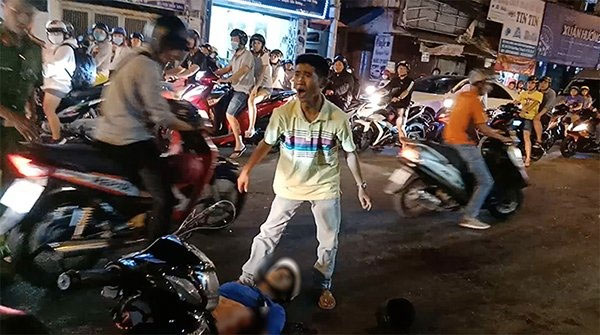 Two volunteers of the Tan Binh Knights, one of the many volunteer teams who protect HCM City residents, died on Sunday after being stabbed to death. — Photo: VNN
Though some of the men work for social or government organisations, others are not affiliated with any organisation. But, they all share a dedication to keeping their neighbours safe and secure.
Two volunteers of the Tan Binh Knights, one of the many volunteer teams who protect HCM City residents, died on Sunday after being stabbed to death. Two men have been arrested in connection with the incident.    
Though Nguyen Duc Huy, one of the "knights of the street" who was injured on Sunday, was still in the hospital, he said yesterday that he hoped that city residents would work together to protect the city's order.
"Only by doing this can we prevent criminal behaviour and protect the city's security," Huy said.  
The street knight team model was first suggested by a group of HCM City Law University students in 2003 when they were interns working in Binh Duong Province, which had many thefts and social problems because of the large number of industrial parks in the area.
In 2006, Binh Duong officially recognised the street knight model in an aim to ensure security and attract young people to join the movement. At that time, many other provinces learned from and later developed similar models.
In HCM City, there are many different groups of "street knights". Famous street knights like Nguyen Tang Tien, Nguyen Van Minh Tien and Tran Van Hoang have been officially recognised for stopping or catching hundreds of thieves.
Challenges
Despite their bravery, the people who volunteer for these teams are not trained or equipped with weapons. They have no authority to arrest people.
"The model should be praised, but it should not be encouraged because it's too dangerous for normal people on motorbikes without training or equipment to try to chase criminals, who are often on motorbikes," lawyer Tran Mai Hanh from DC Counsel Law company said.
"The street knight works like a policeman, but they don't have support. They suffer more danger, but they are respected by everyone," Nguyen Van Hau, deputy chairman of HCM City's Lawyers Association was quoted as saying in Lao Dong (Labour) newspaper.
Many street knights have been injured and some have died in accidents while chasing thieves.
In recent years, many people have questioned whether these groups should continue to exist. If the street knights "arrest" people without evidence, it is difficult for police to handle these cases.
Although most of the street knights are sincere, some street knights have violated laws and have become criminals.
In late August in 2012, for example, the HCM City People's Court sentenced a group of three "knights" to 18-30 months in prison on charges of "consumption of assets obtained by criminal acts."
In this case, three street knights arrested two thieves. But on the way to the police headquarters, the two thieves suggested that the three knights could share half of the VND120 million (US$5,500) that they had stolen. The affair was discovered and the knights were prosecuted and sentenced.
HCM City People's Court recently tried a case involving a street knight who had gone after a thief and died during the chase.
New regulations
HCM City authorities have pledged to consider regulations to support street knights.
HCM City Party Secretary Nguyen Thien Nhan suggested that the teams could be equipped with a knife-proof vest when he visited the hospital on Monday where the injured men involved in the incident last Sunday were staying.
Major General Phan Anh Minh, deputy director of HCM City Police Department, has also promised to create a new policy for street knights.
"The spirit of the street knight should be encouraged along with support from local authorities because if indifference is common, no one would dare fight thieves and robbers," Nguyen Viet Phu, a student from Phan Thiet University, said.
Colonel Nguyen Hoang Thao, director of the Binh Duong Police Department, noted that the "street knight" model had several problems.
"In many cases, the volunteers do not properly pursue the law, but in the current situation, it is accepted. However, local authorities should take measures to help them understand the law and the limits of their job," he said.
Binh Duong Province, which had experience with such teams, could offer advice as well to HCM City, he added.
All 91 communes in Thu Dau Mot City in Binh Duong Province have crime-prevention clubs similar to the street knight club in HCM City.
All of the clubs are under the management of the police, and the head of the commune police is head of the club.
"All information about activities of club members must be given to local police and the police force has the major responsibility to chase and arrest criminals," Colonel Thao said.
"Members of such crime-prevention clubs are often provided training in law and martial arts to protect themselves and support the police force," he added.
Being a member of a street guard force could be less dangerous for street knights, he said.
All communes in the country have a street guard force composed of local civilians, but they cooperate with the police to ensure security and order.
The street guard forces are protected by law, supported with equipment, and given authority to protect security. They also receive pay from local authorities.
Some have suggested that street knights in HCM City could shift to becoming paid members of street guard forces. They would then be better protected, equipped and trained, and have the authority to arrest thieves.
Source: VNS