Last update: 17:53 | 12/03/2018
Suspected murderer in Bình Dương turns himself in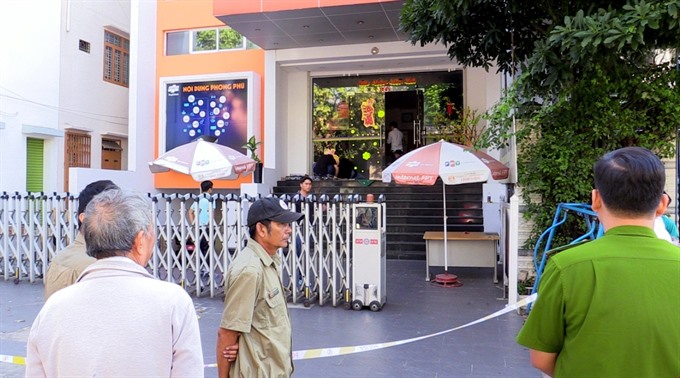 Police put up the parameters around FPT Telecom Company in Chánh Nghĩa Ward, Thủ Dầu Một City, following a murder on March 9. The suspect has surrendered himself to the police on March 11. 
Bình Dương Police on Sunday announced they had arrested a man alleged to have murdered his colleague at FPT Telecom Company in Chánh Nghĩa Ward, Thủ Dầu Một City.
The victim is Nguyễn Văn Đông, 21, from the southern province of Đồng Tháp.
The captured suspect is Đỗ Long, 23, from the Central Highlands province of Gia Lai.
Long and Đông were guards of the Bảo Thiên Long Company, and were assigned to work at the FPT Telecom Company in Bình Dương Province. During their time working at the tech company, they reportedly did not get along well and were involved in multiple rows and fights.
On March 9, they had an argument at work, and Long is alleged to have stabbed Đông dozens of times with a knife, killing him at the scene. Long then fled to hometown.
Đông's body was discovered the next morning by the cleaning lady, who then reported the case to the police.
Long surrendered to police on Saturday night in Lale Commune in Chư Pưh District, Gia Lai Province.
The Bình Dương Province Police took Long to Bình Dương Province for further investigation.
Fire destroys 40ha of forest in Gia Lai
A fire that broke out in the Ia Grai protection forest in the Central Highlands province of Gia Lai was brought under control on Sunday morning.
However, more than 40ha of forest, comprising pine trees planted in 2015, was destroyed.
Lê Tiến Hiệp, head of the forest's management board, said that the fire occurred on Friday afternoon.
More than 200 people from the management board, provincial Border Guards and local residents from Ia Chía and Ia O communes were called to extinguish the fire.
The team managed to temporarily halt the fire on Friday night. However, due to dry conditions and strong winds, the flames reappeared. Ia Grai District authorities called for more firemen from Đức Cơ District to stamp out it.
Ia Grai District authorities kept a close watch on the scene to prevent the fire from re-occurring.
The cause of the fire is under investigation.
Vietnamese Buddhist Association hold requiem in RoK
The Vietnamese Buddhist Association in the Republic of Korea (RoK) held a requiem at Phung An pagoda in Seoul on March 11 to pray for national peace and prosperity.
Hundreds of Vietnamese Buddhist followers including migrant workers, students and members of Vietnam-RoK multicultural families across the RoK were present at the event.
Buddhist nun Thich Nu Gioi Tanh, Chairwoman of the Vietnamese Buddhist Association in the RoK, said the requiem aims to pay tribute to ancestors and soldiers who sacrificed their lives for Vietnam's national independence and freedom.
She highlighted significant contributions of Vietnamese Buddhist community in the RoK to charitable activities in the host society and the homeland.
At the ceremony, a representative from the Vietnam Buddhist Sangha (VBS) Central Committee announced a decision to recognise the Vietnamese Buddhist Association in the RoK as a member of the VBS.
The association's chairwoman pledged to accompany other Vietnamese associations in the RoK to build a strong community of overseas Vietnamese and contribute significantly to the development of the two countries' relations.
At the end of the requiem, participants offered incense and released flower garlands to commemorate the deceased and prayed for a New Year of peace and prosperity.
Ha My massacre commemorated in Quang Nam
A ceremony commemorating the 50th anniversary of the Ha My massacre took place at the Ha My Monument, in Dien Duong ward, Dien Ban township, the central province of Quang Nam on March 11.
The event saw the presence of a 40-member delegation of the Republic of Korea-Vietnam Peace Fund, representatives from the Quang Nam province chapter of the Vietnam Union of Friendship Organisation, local authorities, and crowds of people, witnesses and relatives of victims.
The RoK delegation, including professors, physicians, teachers, farmers, artists, students and social activists, offered incense and floral wreaths to commemorate the innocent victims of the massacre, and expressed their apology to Vietnamese people for the involvement of RoK soldiers in the killing.
Fifty years ago, on the morning of February 25, 1968, the 24th day of the first lunar month of the year Mau Than (Year of Monkey), 135 Ha My villagers, most of them being elderly, women and children, were killed by troops of the RoK "Green Dragon" brigade.
Speaking at the ceremony, President of the RoK-Vietnam Peace Fund, Kang U-il expressed his pain and deep regret for the massacre, saying that the truth must be brought to light in order to draw lessons from history and to ensure that such tragedy will not happen again. 
Previously, the fund visited families and relatives of the massacre victims, and presented 35 bicycles to students of the Phan Boi Primary school in Dien An ward, Dien Ban township.
The RoK-Vietnam Peace Fund, a non-governmental organisation, was launched in 2016 by the National Human Rights Commission of Korea, with the purpose to promote the "Sincere apologies to Vietnam" movement launched in 1999.
More Japanese cherry trees planted in Hanoi
The Japanese retail group AEON planted 500 more cherry blossom trees at the Hoa Binh Park in Hanoi on March 10 as part of the activities to celebrate the 45th anniversary of Vietnam-Japan diplomatic ties.
The event, which was attended by Japanese Ambassador to Vietnam Kunio Umeda and Chairman of the municipal People's Committee Nguyen Duc Chung, was held by the AEON Environmental Foundation in response to a project planting one million green trees in the capital city.
Ambassador Kunio Umeda said the planting of cherry blossom trees in Hanoi is also meant to contribute to environmental protection.
He hoped the trees will grow well, making Hoa Binh Park an ideal place for Hanoians to relax and enjoy cherry blossoms.
Chairman of the AEON Environmental Foundation Takuya Okada said since 2014, the foundation has grown nearly 100,000 trees in Hanoi and the central province of Thua Thien-Hue. 
He added that the foundation has planted 200 cherry blossom trees at Hoa Binh Park last year.
The trees were selected from the variety from Japan's Fukuoka prefecture, which has similar climate to Hanoi, he said, noting his hope that they are growing well and expected to blossom in the future.
Chairman Nguyen Duc Chung said the cherry blossom trees that he planted at Hoa Binh Park one year ago are developing well, symbolising the continuous development of the friendship and comprehensive strategic partnership between Vietnam and Japan as well as between Hanoi and AEON Group.
He hoped the event will help raise public awareness of environmental protection.
More than 200 Vietnamese and Japanese volunteers joined hands to plant the cherry trees.
Vietnam's maps on show at Berlin international tourism fair
Maps of Vietnam are on show along with tourism products at Vietnam's booths at the 2018 International Tourism Exchange Berlin (ITB) in Germany from March 7-11.
Through the map exhibition, the country wants to provide visitors with more information about Vietnam's tourism as well as highlight its sovereignty over Hoang Sa (Paracel) and Truong Sa (Spratly) archipelagoes.
More than 40 leading travel companies from Vietnam are participating in this year's ITB, one of the biggest tourism festivals in the world, aiming to promote their tourism products and services.
The Vietnamese booths are set up on an area of 500 square metres, drawing a large crowd of foreign visitors thanks to the provision of a diverse number of products and services.
Deputy Director General of Vietnam National Administration of Tourism (VNAT) Ha Van Sieu said there are good of opportunities for Vietnam to develop tourism in the future, as many travel agencies consider Vietnam a 'rising star' and a safe and friendly new destination.
However, the biggest challenge for the tourism industry at present is how to improve its competitiveness in the region and beyond since most of Vietnamese tourism businesses are small- and medium-sized ones.
Therefore, it is necessary to invest in human resource development and seek the most efficient way to promote tourism, he suggested.
According to the General Statistics Office of Vietnam, more than 2.86 million foreigners visited Vietnam in January and February 2018, up 29.7 percent from the same period last year.
Vietnam aims to serve between 15 and 17 million foreign and 78 million domestic travellers this year, with total revenue expected to hit 620 trillion VND (27.28 billion USD), up 21.35 percent on year.
With a growth of 30 percent in tourism in 2017, Vietnam for the first time came on the list of countries with fastest tourism growth speed in the world, ranking at the 6th place.
Ben Tre hosts Mekong Delta Francophone Day
The 21st Francophone Day of the Mekong Delta opened in Ben Tre on March 11 in celebration of the International Francophonie Day (March 20) and to mark the 45th anniversary of the Vietnam – France diplomatic ties (April 12).
The event was jointly organised by the Ben Tre province chapter of the Vietnam Union of Friendship Organisations, Francophone international organisations, and Can Tho University.
Many activities were held during the event, including a French speaking contest on the theme of Vietnamese and French cuisine, a cooking contest focusing on French dishes, and bilingual art exchanges. 
Jean Philippe Rousse, attaché of cooperation and cultural activities at the Consulate General of France in Ho Chi Minh City, said French is the fifth most widely used, the second mostly learnt language in the world and the second official language at international organisations.
Ben Tre has the largest numbers of French language learners and teachers in the Mekong Delta region, with 4,000 students and 30 teachers at secondary and high school levels.
Vice Chairman of the provincial People's Committee Nguyen Huu Phuoc said more than 100 graduates from the Ben Tre senior high school for gifted students have received tertiary education in France.
Over the past time, numerous local students have received scholarships of France-based universities and institutes, which will encourage more students to learn French and lay the foundation for the cooperation between Ben Tre and France in the future, he said.
The Francophone Day of the Mekong Delta is the biggest annual get-together of the Francophone community in the Mekong Delta.
It is rotationally organised by four regional localities. This is the fourth time Ben Tre province has ever hosted the event.
Firefighters stamp out tanker blaze in Hai Phong port city
Firefighters successfully stamped out the blaze of a tanker at Port K99 in in Hai An district, the northern port city of Hai Phong on early March 11 after eight hours of battling.
According to the municipal People's Committee, the fire broke out at 4:30 pm on March 10 on Hai Ha 18 oil tanker which was carrying 900 cubic metres of A92 petrol.
When the incident happened, the tanker was pumping petrol ashore. However, a fuel pump was malfunctioned, so the process was stopped for the ship to be pulled out of the wharf for repair. An explosion occurred immediately after that, leading to fire.
Right after the incident, Minister of Public Security To Lam, Secretary of the municipal Party Committee and Chairman of the municipal People's Council Le Van Thanh, Chairman of the municipal People's Committee Nguyen Van Tung, and Vice Chairmen of the municipal People's Committee Pham Van Ha and Nguyen Van Thanh, came to the scene to direct firefighting efforts.
More than 400 firefighters and 15 fire trucks were sent to put the fire under control.
According to the initial information, no human losses have been reported so far and the tanker has been removed to a safe area.
Prime Minister Nguyen Xuan Phuc also sent a dispatch to the National Committee on Incident, Disaster Response and Search and Rescue, the Ministries of Public Security, National Defence, and Transport, and the People's Committee of Hai Phong, requesting them to work out all measures to prevent the blaze from spreading to other areas and ensure absolute safety for nearby residents.
Danang requested to rescue Dien Hai Citadel
Danang City's Department of Culture and Sports director Huynh Van Hung has proposed the municipal government quickly come up with a plan to rescue the special national historical relics of Dien Hai Citadel, which is seriously being trespassed.
Hung told the Daily on March 8 that several existing structures have encroached on the citadel. The Danang Museum is located right in the relic's core zone while the city's Administrative Center and Thach Thang Cultural House encroach on the relic's buffer zone, he said.
Moreover, Hung proposed closing down the boat station along the Bach Dang River as it is located opposite to the relic's entrance, thus spoiling the landscape and architecture.
"Although the boat station does not encroach on Dien Hai Citadel according to the law of heritage, it is blocking the entrance to the relic site," said Hung.
Chairman of Danang City Huynh Duc Tho has assigned the Department of Culture and Sports to work with the Department of Construction to rework the zoning plan for Dien Hai Citadel, including the possibility of relocating the boat station.
Danang City authorities will organize a ceremony on March 29 to receive the Certificate of Special National Historical Relics for Dien Hai Citadel and to commence work on stage one of rehabilitating and restoring the citadel. Dien Hai Citadel, previously Dien Hai military post, was constructed in 1813 near Danang estuary.
Proceeds from auction of U23 team's ball, jersey presented to poor districts
The 20 billion VND (878,000 USD) collected from the auction of the ball and the jersey with autographs of all members of U23 Vietnam team, the runners-up of the Asian Football Confederation (AFC) U23 Championship last January, was presented to 20 deprived districts of 12 provinces nationwide in Hanoi on March 11.
Prime Minister Nguyen Xuan Phuc attended the presentation ceremony, which also saw the presence of head coach Park Hang-seo and players of the U23 Vietnam team along with representatives of the 20 localities.
The beneficiary districts are Dong Van and Meo Vac of Ha Giang province, Muong Khuong and Si Ma Cai of Lao Cai, Ha Quang and Bao Lac of Cao Bang, Van Ho and Sop Cop of Son La, Muong Te and Sin Ho of Lai Chau, Muong Lat of Thanh Hoa, Ky Son and Tuong Duong of Nghe An, A Luoi of Thua Thien-Hue, Tu Mo Rong and Kon Plong of Kon Tum, Bac Tra My and Tay Giang of Quang Nam, Tan Phu Dong of Tien Giang, and Tra Cu of Tra Vinh.
Addressing the event, Prime Minister Nguyen Xuan Phuc appreciated the warm response that organisations and people nationwide gave to the auction. He also congratulated FLC Group on winning the auction.
He asked authorities of the 20 districts to use the presented money to build 500 houses worth 40 million VND (over 1,750 USD) each for revolution contributors, policy beneficiary families and low-income earners.
He also encouraged Vietnam's football to take more firm, confident and drastic steps forwards after the excellent performance at the AFC U23 Championship so as to deserve the trust of fans across the country. 
The Government leader also took this chance to call on all-level authorities and sectors to follow the spirit of U23 Vietnam to make strong reforms and be united and determined to develop the country.
The ball and the jersey were initially gifts from the U23 team to PM Phuc. 
On February 1, the PM handed over the gifts to Minister of Labour, Invalids and Social Affairs Dao Ngoc Dung and Minister of Information and Communications Truong Minh Tuan for auction.
The auction from February 6 to February 11 attracted people from all social strata. FLC Group initially bid 12 billion VND (526,800 USD) for both items and then raised the sum to 20 billion VND to win the auction.
Vu A Dinh scholarship fund mobilises support in RoK
The Vu A Dinh scholarship fund, established in 1999, aims to support ethnic minority students from poor families who achieve outstanding academic performances, said former State Vice President and Chairwoman of the fund Truong My Hoa.
At a meeting with representatives from the Vietnamese community in the Republic of Korea (RoK) on March 10 to mobilise support for the fund, Hoa noted that academic investment for children is crucial, particularly those from ethnic minority groups.
Some 5,000 scholarships are presented to the needy every year, helping them overcome difficulties and contribute to society, she added.
At the event, Vietnamese Ambassador to the RoK Nguyen Vu Tu underlined the sound relations between Vietnam and the RoK in the past 25 years, particularly cooperation in education and people-to-people exchange. 
He said that there are 50,000 Vietnamese students studying in the East Asian nation and the figure is expected to rise.
Meanwhile, representatives from the Vietnamese organisations in the RoK introduced their activities to support the needy in the homeland and vowed to support the impoverished students.
India tourism promotion event held in HCM City
Inviting all Vietnamese citizens to experience the different flavours of Indian culture, cuisine and nature was the theme of a tourism-promotion event that was held by the Consulate General of India in HCM City.
The event, named 'Visit India in 2018', was organised in the city last Friday, attended by representatives of the city's Department of Tourism, Vietnamese and Indian tourism enterprises, and other relevant agencies.   
It called on the travel industries from both sides to boost the bilateral people-to-people exchange in line with the guidance given by the leaders of the two countries. 
Speaking at the event, Indian Consul General K. Srikar Reddy in Việt Nam highlighted the historical and civilisational links between two countries. He said:"Việt Nam is a strong pillar of India's Act-East Policy."
The longstanding India-Việt Nam ties are based on strong mutual trust, understanding and a convergence of views on various regional and international issues.
Over the years, there has been regular exchanges of high level visits between the two countries. 
The leaders of both countries have agreed to intensify cooperation in the fields of culture, tourism and people-to-people exchange while widening and deepening cultural and historical ties.
Tourism has been identified as a priority area for cooperation. 
Last year, foreign tourist arrivals in India were 10.17 million, an increase of 15.6 per cent compared to 2016.
Meanwhile, the number of Vietnamese visiting India has increased 60 per cent during the last five years.
Nguyễn Thị Ánh Hoa, deputy director of the HCM City's Department of Tourism, said the city welcomed about 57,000 Indian visitors last year, an increase of 10.4 per cent over 2016.
India is renowned for its cultural, historical, religious and natural heritage, and offers unique experiences unparalleled by any other country in the world. 
The country attracts tourists thanks to its diverse traditions, life styles, colorful fairs and festivals, geographical diversity, attractive beaches, 36 World Heritage sites and 25-bio-geographic zones.
According to World Travel and Tourism Council's research, the world's 10 fastest growing destinations for leisure-travel spending in the period of 2016-26 will be India, followed by Việt Nam, China, Thailand and other countries.
Feasibility study for southern railway project done
The Southern Institute of Science and Technology has finished the feasibility study for a high-speed railway project linking HCMC and Can Tho City, said the institute's head Tran Cong Hoang Quoc Trang.
The five southern localities which the 139-kilometer railway would pass through have agreed on the recommended route.
In particular, the HCMC-Can Tho railway would run in parallel with HCMC-Trung Luong-My Thuan expressway. It would begin at Tan Kien station in HCMC and run to stations in Long An, Tien Giang and Vinh Long provinces before ending at Cai Cui Port in Can Tho City.
The railway would a track width of 1,435 mm. There would be 10 stations in 10 cities along the line.
According to a statement issued by the institute, it has worked with some 15 interested investors and decided to pick Canada's MorFund as its partner. Both sides have agreed on the public-private partnership (PPP) investment model and many times reported to the HCMC government on the model.
The HCMC-Can Tho railway project has received much attention from the Canadian government and the Canadian Minister of Foreign Affairs has written to the HCMC chairman showing support for the Canadian investor's cooperation. The consul general of Canada in HCMC on January 17 also wrote to the institute's head expressing hopes that both sides can reach agreement on the PPP format and saying that Canada will assist in technology and project management.
The institute on February 2 signed a memorandum of understanding (MOU) with MorFund on an investment scale of 6.3 billion Canadian dollars, or some US$5 billion. The MOU is considered a legal basis to proceed to the next steps of the project's financing.
The institute plans to report the project to the Ministry of Transport, the Prime Minister and the National Assembly this year so that it can get off the ground soon.
In November 2013, the institute and the U.S.-based EDES also signed a MOU on cooperation in the HCMC-Can Tho railway project. However, no official contract between the two sides has been inked since then.
According to the institute, the HCMC-Can Tho railway would be first used for cargo transport and would not consider transporting passengers until 2025.
Red Spring blood donation festival takes place in Hanoi 
The National Institute of Hematology and Blood Transfusion (NIHBT) has collected nearly 10,300 units of blood from donors at the Lễ hội Xuân hồng 2018 (Red Spring 2018) blood donation festival in Hà Nội.
Organised by the NIHBT and the Hà Nội Steering Committee for Voluntarily Blood Donation Mobilisation, the year's largest blood donation festival aims to collect at least 8,000 units of blood from 15,000 participants, mainly youth and students, from March 3 to 11.
"The annual festival has basically aimed to assist during the blood shortage for emergency aid and treatment at hospitals, as well as provide safe and sufficient blood for development of high medical techniques, such as organ transplants and cancer treatment, saving lives of patients with fatal diseases," said Deputy Minister of Health Nguyễn Viết Tiến on Saturday.
Tiến also expressed his hope that humanitarian blood donations would be further expanded among each family, as well as the entire society in the coming years.
"The country experiences a blood supply shortage after the Tết (Lunar New Year) holiday due to the demand for blood being higher than our preserved amount," said NIHBT director Bạch Quốc Khánh .
"Red Spring festival remains the best way to handle the situation. We organised this year's event in many places in the city over nine days to offer more opportunities for donors to donate blood and to increase the quality of healthcare for donors," said Khánh.
Trần Minh Đức, a teacher, travelled more than 100 kilometres from Thái Nguyên Province to Hà Nội to donate blood at the festival.
"I'm very excited to share my blood to help needy patients, and I'm very happy when I can do something useful," said Đức.
Đức said that this is the 15th time he has donated blood since he was a student more than 10 years ago.
Đức said that he learned about the festival through his Facebook social network. He added that he will explain the benefits of voluntary blood donations with his students and friends to increase the community's awareness about such humanitarian activities.  
The festival organisation board said more than 60,300 units of blood were collected from 190,000 participants during ten Xuân Hồng blood donation festivals, since the first festival was held in 2008.  Last year, the festival received more than 9,300 units of blood, compared to 9,000 units during the previous year. 
Construction begins for two railway roundabouts in Quảng Nam Province
The central province of Quảng Nam, in co-operation with local car firm Trường Hải, commenced construction of a railway flyover roundabout at one of the busiest crossroads on National Highway No 1A, in Núi Thành District, and a road linking Chu Lai Port to Đà Nẵng-Quảng Ngãi Expressway.
The flyover, invested in by Trường Hải to the tune of VNĐ600 billion (US$26.5 million), will be a key project to reduce traffic at the crossroad of the national highway and north-south railway system as well as on the route from the Chu Lai Port and Chu Lai-Trường Hải Industrial Complex to the expressway.
It is scheduled to open to traffic this August.
The flyover will allow non-stop travel on the national highway and hasten transportation of cargo from the seaport to the road system and Chu Lai Airport.
A pedestrian bridge will be built to create a safe way to cross the railway system.
Minister of Transport Nguyễn Văn Thể said the project will play a crucial role in providing safe transport for all vehicles at the busy road-railway crossing.
He said the flyover will be a symbol of Quảng Nam Province, and it will help speed up travel to roads, railways, seaports and airports from Chu Lai Open Economic Zone.
The ministry also approved eight flyover bridges in flood-affected areas in Quảng Nam Province, Thể added.
Chairman of Trường Hải company Trần Bá Dương said the project will be a challenge for construction companies and workers with its strict construction schedule.
He said the company will work to complete the project on schedule to mark the 15th anniversary of the foundation of the Chu Lai Open Economic Zone.  
The crossroad section is used by more than 9,000 workers and vehicles from the Chu Lai-Trường Hải Industrial Complex as well as numerous vehicles that traverse the national highway and railway systems.
Mekong Delta enjoys tourism growth
Tourism in the Cửu Long (Mekong) Delta region has enjoyed a boost in tourist arrivals and revenue in the first two months of the year.
During the period, Cần Thơ City received 1.8 million tourists, up 19 per cent year-on-year, according to the city's Department of Culture, Sports and Tourism.
The city's tourism revenue rose by 28 per cent to reach VNĐ515 billion (US$22.6 million).
Trần Việt Phường, director of the department, attributed the surge in tourist arrivals to rising demand for travelling during the Tết (Lunar New Year) holiday and various festive activities held in the city during the holiday.
Famous tourist attractions, such as Cái Răng floating market, Mỹ Khánh tourism village, Trúc Lâm Phương Nam Zen Monastery, Bình Thủy ancient house, and cồn Sơn (Sơn islet), were crowded with domestic and foreign tourists during Tết, Phường said.
To lure more tourists, the city has fostered tourism promotion and links with other major cities, such as HCM City, Đà Nẵng and Hà Nội, he said.
Last year, the city welcomed 7.5 million tourists, up 40 per cent year-on-year, and tourism revenue surged by 61 per cent to VNĐ2.9 trillion ($127.6 million).
Kiên Giang Province's tourism income topped the region last year, totaling VNĐ4.58 trillion ($201.4 million), said Phạm Vũ Hồng, chairman of the provincial People's Committee.
The province is encouraging enterprises to invest in infrastructure and tourism facilities, as well as upgrade historical, cultural and scenic sites to serve tourists, Hồng said.
It has enhanced tourism marketing and promotion in local markets and abroad, he said.
The province has mapped out four key tourism zones, including Phú Quốc Island, Hà Tiên- Kiên Lương, Rạch Giá- Kiên Hải and U Minh Thượng National Park, he said.
The number of tourists visiting the province totaled more than 1 million in the first two months of the year, up 2.5 per cent year-on-year.
Đồng Tháp, Long An and Tiền Giang provinces have collaborated with HCM City to develop the "One journey, three destinations" route tour to promote the sustainable tourism development in the Mekong Delta region.
Jutatip Maneephan wins fourth stage of Biwase Cup
Asian Games gold medalist Jutatip Maneephan won the fourth stage of the Bình Dương international women's cycling tournament, the Biwase Cup, yesterday.
The Thai cyclist won the 50km race around Xuân Hương Lake in Đà Lạt City in a time of 1:14.41.
Lee Euheen of South Korea's Samyang and Yoshikawa Miho of Japan were the runners-up.
Lee Joohee of South Korea holds the green jersey award as the best sprinter with 28 points.
Despite finishing in 12th in this stage, Nguyễn Thị Thu Mai of Gạo Hạt Ngọc Trời An Giang retains the yellow jersey for the best overall time of 9:31.49 after four stages.
In the team rankings, Biwase Bình Dương lead, followed by Gạo Hạt Ngọc Trời An Giang and the Netherlands.
Today, cyclists will compete in the fifth stage from Nha Trang to Phan Rang City, lasting 120km.
The event features nearly 140 cyclists from nine foreign teams and nine domestic.
Quảng Ninh beat Đà Nẵng at league's first game
Quảng Ninh Coal defeated SHB Đà Nẵng 1-0 in the first round of the Nuti Café V.League 1 at Cẩm Phả Stadium yesterday.
Taking full advantage of playing at home, Quảng Ninh scored the opener in the 18th minute through Brazilian striker Teofilo Eydison.
Eydison's goal drove the home side on but they couldn't best goalkeeper Nguyễn Thanh Bình again.
In the second half, the visitors flooded forward to attempt to level the score.
However, they nearly fell behind further in the 54th minute when Bình fouled Marcus Vinicius of Quảng Ninh in the penalty area. Fortunately for the visitors striker Mạc Hồng Quân failed to score from the spot.
In the 79th minute, Đà Nẵng were presented a glorious opportunity to equalise when goalkeeper Huỳnh Tuấn Linh of the hosts fouled national U23 striker Hà Đức Chinh in the box.
Brazilian Đỗ Merlo stepped up to take the spot kick for Đà Nẵng but failed to level the scores.
The hosts controlled the remainder of the game, taking away all three points.
In other matches yesterday, Hà Nội FC beat Hải Phòng 1-0, while Nam Định tied with Cần Thơ 0-0.
On Saturday, defending champions Quảng Nam FC drew with Sài Gòn FC 1-1 at Tam Kỳ Stadium.
Although Quảng Nam controlled the first half, they didn't create many dangerous attacks on Sài Gòn's box.
After the break, the two sides pushed forward to seek goals. In the 47th minute, Hà Minh Tuấn headed the ball into the Sài Gòn net to open the scoring.
In the 62nd minute, following a defensive mix-up, Lê Hoàng Thiên levelled the score for the visitors.
At Pleiku Stadium, Hoàng Anh Gia Lai (HAGL) played out a goalless draw with former champions Becamex Bình Dương.
The event drew much attention of fans and media in the country, with HAGL heavily tipped for the title this season.
The stadium was full of fans who wanted to see HAGL's midfielder and captain Lương Xuân Trường after two years of playing in South Korea on loan and other stars such as Nguyễn Công Phượng, Nguyễn Văn Toàn, Vũ Văn Thanh and Nguyễn Phong Hồng Duy who played for the national U23 team during their run to the final of the AFC U23 Championship in China in January.
However, Bình Dương, who are in the process of bringing new blood into their team, gave the hosts plenty of trouble but failed to score. 
5,000 people walk in Hanoi on Good Deeds Day
Around 5,000 people joined a voluntary walk around Hoan Kiem Lake in Hanoi on March 11 to mark Good Deeds Day.
The event was jointly held by the Vietnam Youth Federation's Central Committee, Vietnam Volunteers Centre and FPT Corporation. It was also aimed to mark FPT Community Day on every March 13.
The walk participants include FPT staff the most along with local residents and many singers and musicians. Each participant contributed VND100,000 (USD4.54) to raise funds for social security projects, including the construction of playgrounds for children.
Nguyen Thi Thu Van, vice chairwoman of the Vietnam Youth Federation's Central Committee, said that voluntary campaigns would be the focus of the federation in the next five year, aiming to call for young people to contribute more to community projects.
Bui Quang Ngoc, general director of FPT, said that since 2010, the corporation has selected March 13 as FPT Community Day so that their staff can contribute to helping disadvantaged people in the country.
On the sidelines of the walk, the Vietnam Voluntary Centre and FPT Corporation signed an agreement for social security programmes in 2018, including repairing houses for the poor and supporting schools in remote areas.
​Two Vietnamese-American girls saved after being kidnapped for ransom
Police in Ho Chi Minh City have rescued two young Vietnamese- American girls and arrested their suspected kidnappers, who previously demanded a ransom of US$50,000.
Officers under the police department in District 11 saved six-year-old T.H.B.N. and eight-year-old T.H.M.A. on March 10.
Their father, 45-year-old Tran Hoang, reported their abduction to police officers on March 7.
The two girls are studying at an international school in the city, according to the family.
Footage from the school's security cameras showed that Lam Thi Phuong Dung, 15, who is the housekeeper, picked up the two children at their school on March 7.
Phuong then walked them towards a strange man, who later carried the girls on his motorcycle to an unknown location.
About an hour later, T.T.C., Hoang's mother, received a text message from a strange number via Viber, which said that they were holding her two granddaughters.
The abductors told the family to prepare their money and not to call the police, or the two girl's lives would be harmed.
At 2:00 pm on March 9, they kidnappers sent a second message, asserting that the ransom worth US$50,000 must be delivered at an area near the Dau Tieng Rubber Company in southern province of Binh Duong.
Based on the initial information, officers started probing Dung's relationship with multiple people, and dispatched units to various locations in Ho Chi Minh City, as well as in Binh Duong and the southern province of Tra Vinh for verification.
Following relentless efforts, investigators were able to determine where the girls were held.
They carried out a raid on a tenanted house in Binh Tan District on March 9, where the two children were staying with Dung.
The victims were still in good health conditions but did not seem to be as active as they normally are.
Thanks to Dung's statements, officers apprehended Truong Huong, a 58-year-old Vietnamese- American woman who is also one of Hoang's best friends.
Huong refused to answer any of the officers' questions and demanded the presence of a consular representative.
Police have also arrested a relative of the young girls for allegedly being involved in the kidnap.
Further investigation is ongoing.
Festival to bolster Vietnam – Japan cultural exchanges
Hanoi youths will have an opportunity to explore Japanese culture during the Taiyou Matsuri (Sun Festival), which will take place at the Vietnam National University of Agriculture in Hanoi, on March 13.
The event, the second of its kind, aims to create a free venue for students to boost exchanges with the Japanese-speaking community in Hanoi, as well as foreigners who share a passion for the Japanese culture and language.
The festival will introduce visitors to cultural practices, signature dishes and folk games of the two countries.
Visitors are invited to learn Japanese calligraphy and Origami (Japanese paper folding art), try on Kimono and Yukata (casual summer kimono), as well as a sumo wrestler costume, and make Japanese traditional masks and dolls.
They can also take part in a performance of cosplay costumes and a lucky draw with many interesting prizes.
Lam Dong province acts to preserve gong culture
The Central Highlands province of Lam Dong has approved a plan to preserve and promote the gong cultural space, which has been recognised by UNESCO as an intangible heritage of humanity.
The scheme aims to gradually restore the values of the gong culture space as well as the traditional lifestyles of ethnic minorities in the province, as a way to safeguard their cultural identity and provide a boost for tourism.
Lam Dong province's programme also seeks to train a new crop of young instrumentalists who can protect and keep the gong culture alive.
The plan is part of Vietnam's commitment to UNESCO for safeguarding the tradition, which was originally proclaimed as a masterpiece of the intangible heritage of humanity in 2005.
The cultural space of gongs is practised by 17 ethnic groups in five provinces across the Central Highlands, namely Kon Tum, Gia Lai, Dak Lak, Dak Nong, and Lam Dong.
Dong Nai advances extra payment for Texwell Vina workers premium
The People's Committee of Dong Nai province yesterday approved an extra advance of nearly VND1.4 billion (US$61,000) on the provincial budget to pay social premium for workers of Korean Texwell Vina Compay, which owner has run away, so that they can enjoy unemployment insurance and maternity regime after ending labor contracts with the company.
In an announcement sent yesterday, the provincial Labor Union said that so far 1,700 social insurance books have been returned to workers and the remaining of 300 books have not been received.
Ms. Nguyen Hoa Hiep, deputy chairman of Dong Nai People's Committee, said that the province has worked to ensure rights for workers of the company and mobilized businesses in the province to receive workers of over age 40.
Previously, Dong Nai had advanced on its budget to pay half of January wage for the workers to celebrate the Tet holiday. The Vietnam General Confederation of Labor also gave them Tet presents worth VND600,000 each.
Inorganic fertilizers badly harm Vietnam's environment
Vietnamese farmers use 11 million tons of fertilizers annually, of which, only one million tons is the organic fertilizer while the remaining is inorganic, according to the Department of Plant Protection's statistic released at a meeting on developing organic fertilizer for the country's agriculture sector in Hanoi yesterday.
As of December, 2017, the number of registered organic fertilizer products for agricultural production is 713, accounting for 5 percent compared to total products registered with 14,318.
According to the Ministry of Agriculture and Rural development (MARD), manufacturing and using fertilizers in moderation will help increase productivity and produce quality.
However, for a long time, Vietnamese farmers have used synthetic or inorganic fertilizers which depleted the quality of soil and badly impacted on fruit and vegetable meanwhile organic kinds - an essential element for the growth of microorganisms in the soil can help improving humus in the soil , the growth of microorganisms in addition to providing nutrients to the soil.
Developing production of organic fertilizers both boosts organic agricultural production and takes advantage of waste products in planting, breeding and revamp soil environment.
However, at present, the country has 180 licensed manufacturers to make organic fertilizers, accounting for 24. 5 percent over 735 units. These 180 manufacturers make 2.5 million tons annually, just accounting for 0.1 percent compared to their chemical fertilizer plants with 26.7 million tons a year.
Therefore, at the meeting, experts warned that this is good opportunity for investors to pour capital into producing organic fertilizers in next 5 - 7 years.
Speaking at the meeting, Minister of Agriculture and Rural Development Nguyen Xuan Cuong proposed enterprises adopting hi-tech in manufacturing organic fertilizer to protect environment. Moreover, he promised to have preferential policies to support firms.
Additionally, the Ministry will increase supervision on the quality of fertilizers to set order in production and business of fertilizers. The Ministry petitioned the government to have preferential policies in production capital, special treatment in soil hiring as well as tax exemption for individual and organizations to make organic fertilizers.
Moreover, the government should have mechanism to support firms to build their brand names and growth of production.
The Minister suggested local administrations encouraging farmers to increase utilization of environmentally friend fertilizers as well as enhance supervision to discover fake fertilizers or low quality kinds.
HCMC needs to build 80,000 houses annually
The Department of Construction in Ho Chi Minh City forecast that the city needs to build 80,000 houses annually to meet rising demand of accommodation of residents.
Buildings will be built in new urbans and in districts which have complete infrastructure. New buildings to replace old ones inner-city areas such as districts 1, 3, 4, 5 will set up to exploit land efficiency.
Meantime, four new urbans including Thu Thiem, Hi-tech area, South including the South area and Hiep Phuoc Harbor, northwest including Cu Chi and the national highway 1A and Southwest area including Binh Chanh district.
HCMC strives to raise residents' satisfaction to administrative procedures
HCMC has been striving to increase residents and businesses' satisfaction level to administrative procedures to over 80 percent and individuals' satisfaction in education and health fields to over 80 percent by 2020.
Currently, it is implementing solutions to efficiently materialize Politburo Conclusion 21 and National Assembly Resolution 54 on piloting specific mechanisms for HCMC development.
Specifically, the city focuses on building specific mechanisms according to the resolution to untie knots in finance, land, apparatus and human resource in public administrative field to develop fast and sustainably, according to the draft statement on administrative reform results in the phase of 2011-2017 and directions and missions in 2018-2020 which the city People's Committee has recently sent to the city People's Council.
The People's Committee said that administrative reform leadership and instruction has been conducted drastically, closely and thoroughly in a timely manner from city to ward levels.
Administrative reform has been sped up and procedures have been simplified and streamlined in construction and land field.
The city has set up a working group headed by the chairman of the People's Committee to solve investment procedures. One door mechanism and one stop shop mechanism have been carried out to gradually improve resident serving quality. Agencies have received and returned documents through post and telecom service.
The city has also paid attention to building and improving the staff of cadres and officials to contribute in bettering state management efficiency. However surveys show that residents and organizations' satisfaction to public administrative service and public services has increased insignificantly.
Obtained results have failed to meet the target in the action program of the city Party Committee to implement the resolution on administrative reform program in the phase of 2016-2020.
Administrative procedures in some fields such as invesment, land and construction are still complicated. Annoucement and publicization of administrative formalities have been slow while the number of procedures conducted under one door and one stop shop mechanisms and electronic public services of level 3 and 4 has been few.
Public workforce cut has neither been stepped up nor paid attention to appropriately. Decentralization has not been implemented thoroughly and stably.
Therefore, the city People's Committee has set out specific missions to continue taking the initiative in conducting and intensifying surveys of residents and businesses' satisfaction to the service by government agencies to rectify limitations in a timely manner.
Besides increasing residents and businesses' satisfaction to administrative procedures to over 80 percent, the city will study breakthrough innovations in institutions in combination with strong administrative reform, change from pre to post inspection in administrative procedure implementation, intensify application of information technology to contribute in developing e-government.
Especially the city would focus on carrying out the plan of the city People's Committee to materialize NA Resolution 54 on schedule and ensure quality.
The committee has suggested promoting supervision and feedback role of the city People's Council and Vietnam Fatherland Front committee in administrative reform.
HCMC records three cases of measles
Three people were taken to hospital with diagnosis of measles during two past weeks, repported the Preventive Medicine Department in Ho Chi Minh City.
According to the Department, in three first months of the year, the city recorded 2,187 cases of dengue inpatients, a year-on-year decrease of 30 percent; 255 hand-foot-mouth cases and one case of disease caused by Zika virus, a drop of 42 percent and 93 percent compared to 2017.
Three cases of meales are most noticeable.
Following the hospitalization of three measles inpatients, experts warned of the possibility of reoccurrence of the ailment as the year in the measles period is 3-5 years. This year is the peak year for the disease as per the period.
The youngest patient is a 18-month-old infant in district 2. According to the baby's relative, the baby lived in the North where measles is plaguing and he has moved to the city lately.
The second patient is a toddler in district 6 and the third is a 23 year old person in District Phu Nhuan.
Through epidemiology investigation to isolate the district, no link between cases of measles which adults and children both suffer.
Medical workers warned weather transaction make children's resistance weaker; accordingly, parents should look after their kids well.
To actively prevent the disease, parents need to take their children to infirmaries for vaccination as per the National Expanded Immunization Program.
When a person experiences symptoms like fever, rash, red eye, and running nose, they should go to the nearby clinic. Infected people should be kept isolation especially children and unvaccinated people to prevent transmission.
Four Vietnamese women artists exhibit artworks in China
Four Vietnamese female painters traveled to China for the Spring Song Art Exhibition in Nanjing, capital of China's Jiangsu Province, March 8- 16.
Artists, including Nguyen Thi Tam, Tran Thi Thuy Linh, Huynh Phuong Thi dai Trang and Viet Thi Kim Quyen who are members of the HCM City and Vietnam Fine Arts Associations, will exhibit their paintings describing Vietnamese natural landscapes and people.
The exhibition will feature nearly 50 paintings using various materials by 22 women artists from Myanmar, Malaysia, Thailand, and Vietnam. It aims to give a regional fine art exchange for insiders.
ILO: Women have fewer chances than men in labor market
Women have fewer opportunities to participate in the labor market and hold senior positions than men, especially in developing countries, according to a survey by the International Labor Organization (ILO).
The survey released in Hanoi on March 8 showed that most of female workers have to do temporary jobs in the informal sector.
Only 48.5% of females participate in the labor market this year, 26.5 percentage points lower than men. In addition, the jobless rate among women is 6%, 0.8 percentage point higher than men.
Deborah Greenfield, ILO deputy general director for policy, said it is difficult to achieve gender equality in the labor market despite many achievements and commitments on the issue.
The unemployment rates among women and men in developed countries are not so different. There are even fewer unemployed women in Eastern Europe and North America.
Meanwhile, in Arab and North African countries, the number of jobless women doubles that of men due to social prejudices hindering females from doing paid jobs. The report also said that the number of males holding managerial posts is four times higher than women.
The gender discrimination in Vietnam is not as great as in many other parts of the world. However, there is inequality in opportunities to get jobs and the quality of jobs between female and male workers.
According to the latest employment survey, 71% of females are employed while the rate is 80.6% for males.
In 2016, the number of unpaid female workers was 12.4% higher than men. Among wage earners, male workers are monthly paid VND5.3 million, 10.7% higher than females.
Ben Thanh market to apply safe-food model next month
Ben Thanh Market in HCMC's District 1 will pilot the model of safe-food market, with the first step being to upgrade sanitation facilities next month, said Le Quang Thien, head of the management unit of the market.
According to Thien, the management unit is working on necessary procedures for the market renovations so that the safe-food market model can be piloted there, particularly with pork trading.
Renovations at the market include the replacement of tiles of kiosks and shelves, lighting systems, water supply and drainage, and food storage among others.
There will also be a separate functional area and spacious aisles in addition to hygiene and fire safety facilities.
Thien said all pork sold at Ben Thanh Market has clear origin. In particular, 41 pork kiosks of 36 traders at the market sell pork sourced from Vissan, the country's biggest food processor.
The implementation of the safe-food market model at Ben Thanh market is part of the 2016-2020 pilot food safety program. In the first phase of the program, the safe-food market model is applied for pork trading at Ben Thanh Market in District 1 and Hoc Mon Wholesale Market in Hoc Mon District.
The aim of the program is to develop a market model which meets food safety standards, with a focus on the origin and quality of products.
Safe-food markets must satisfy different criteria concerning products, traders, market facilities and inspections.
Every main criterion has detailed requirements. For instance, food products for sale must have documents showing their origins, food safety certificates or testing documents. The origin of food products must be traceable and comply with technical requirements like residues of veterinary medicine and heavy metals.
Besides, food traders at markets must have trading registration certificates, and be certified or pledge to meet food safety standards specific to the food categories they trade in.
The program will be expanded to 12 traditional wet markets after the first phase and all traditional markets in HCMC after 2020. After pork, such a model will be introduced to other farm produce, essential goods and catering services.