Eastern North-South Expressway feasibility study to be approved in August
Last update: 17:22 | 12/03/2018
The Ministry of Transport is accelerating work on the feasibility study for the Eastern North-South Expressway so that it could be approved in August.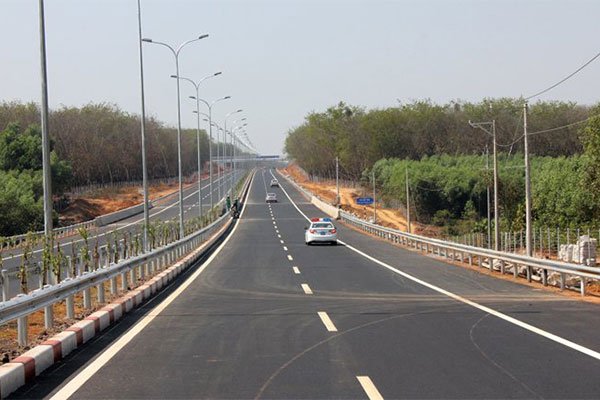 A section of the HCMC-Long Thanh-Dau Giay Expressway 
According to the Department of Public-Private Partnership (PPP) Projects under the Ministry of Transport, the progress of drawing up the framework for site clearance of eight PPP sub-projects of the expressway project is secure.
However, the management boards and consulting agencies of the expressway's components should quickly complete the components' feasibility studies on time, said the department.
Studies for some of the subprojects were conducted in 2009 and 2010 so their data and related procedures should be reviewed and adjusted.
Paperwork on some sub-projects is moving slower than expected, including Dau Giay-Phan Thiet and Nghi Son-Bai Vot sections.
Among three components that are funded by the State budget, My Thuan 2 Bridge is the only project that has had its bidding plan approved. The plan comprises four packages, namely pre-feasibility study, environmental impact assessment, framework for site clearance, and appraisal consultancy. The contractor will be selected in late March.
Minister of Transport Nguyen Van The has required that all components of the Eastern North-South Expressway be approved no later than end-July.
Two other components financed by the State budget, including Cao Bo-Mai Son and Cam Lo-La Son sections, and three PPP components namely Dau Giay-Phan Thiet, Ninh Binh-National Highway 45 and National Highway 45-Nghi Son sections should be approved no later than end-May while six remaining components should be approved no later than end-July.
The head of the management board of each subproject shall take responsibility for meeting the timeline.
The North-South Expressway project was approved by the National Assembly in late 2017. The total cost of the project is estimated at over VND118.7 trillion (about US$5.2 billion), including VND55 trillion in state capital sourced from the mid-term investment fund for major projects and VND63.7 trillion from the private sector.
According to the NA resolution issued on November 22, over 650 kilometers of the expressway will be built from now to 2020 with separate components. Expressway sections on the eastern side to be developed include those from Nam Dinh to Ha Tinh, from Quang Tri to Thua Thien-Hue, and from Nha Trang in Khanh Hoa Province to Dau Giay in Dong Nai, and My Thuan 2 Bridge connecting Tien Giang and Vinh Long provinces.
Relevant agencies will have to prepare plans to recoup investment capital for those components financed by public capital, and have mechanisms to supervise and use the investments efficiently.
As for project components under the public-private partnership (PPP) format, such agencies are required to overcome drawbacks of the investment mode and follow the recent supervision report of the NA Standing Committee.
SGT